Digital Asset Management For Video: What's The Best Software?
Eager to discover a comprehensive digital asset management solution for your video content? Start optimizing your workflow and ensure seamless access to all your videos in one place.
Indeed, managing digital assets gets tough and time-consuming sometimes for every content creator. Also, if your daily tasks are related to content creation you need a lot of digital files to be ready and available to use. However, saving them manually on your device just complicates your task.
Whether you're a designer, Filmmaker, Social media marketer, or even a YouTuber and you often get irritated by managing hundreds of media files on your computer.
However, you can get rid of this headache by using DAM software that will help you minimize the pain of combining and saving your files one by one.
Read Also: Digital asset management for designer
What is Video Asset Management (VAM)?
Video asset management is usually a software or tool that is designed with AI to automate and bring ease to the life of content creators and other companies who work with digital assets to achieve their daily work goals.
What's the difference between VAM and DAM?
VAM is built for the purpose of organizing and managing video assets. Some VAM functions include storage to save videos and also to distribute files with your colleagues and team. A VAM is more focused on helping marketing agencies and content creators who use multiple digital video assets to complete a single project.
Whereas DAM stands for Digital asset management, it uses the latest AI (Artificial intelligence) to help companies manage a variety of their assets like images, 3D assets, documents, audio files, and many other formats of media. DAM is usually used by big companies to organize their marketing assets and keep them in a neat format.
In short, VAM is more focused on only organizing Video content, while DAM is more efficient when it comes to managing digital assets as it supports a variety of digital media file formats.
Who needs video asset management?
Digital asset management for video can be a need for any individual or a company that has tasks related to editing or using multiple videos in a single project. A VAM will help you get your tasks done in no time, so if your daily tasks require a lot of organizing consider using a VAM to boost your productivity on a different level.
Benefits of video asset management software
Here is how a VAM will bring ease to your life:
Formatting: A VAM lets you store your videos in different folders. Which can further be formatted into metatags and notes.
Ease: You can simplify your content creation tasks by importing your videos into video asset management software so you don't have to look for media files on your device whenever you need them.
Categorizing: You can categorize your projects and files by creating multiple folders inside your VAM, so they don't get mixed.
Keep your team updated: You can notify your team and suggest edits to your team and colleagues by adding annotations to media files.
Boost your productivity: Maximize your productivity by using AI-enhanced video management software, which makes your media assets to be easily located, by simply searching for the file name, note, or filtering files by ratings and colors.
You might want to know: Why is video asset management vital to YouTuber?
How do we select the best VAM software?
To decide on the best VAM software you must first think about the needs that you want the VAM to fulfill. If you're considering a VAM for your colleagues to increase productivity and to achieve goals as a team, you must look for a cloud-based VAM, where your video assets can be stored online and can be accessed by colleagues if you allow them to.
However, if you're an individual whos running a YouTube channel or a designer, and needs a kickstart to simplify daily content-creating tasks, a simple VAM software would be the best, as you can install it on your Windows and MacOS and import your files into it.
---
8 Best Video Asset Management Software
Here is the list of 8 best VAMs that can be used as a solution for your Video organizing needs.
1. Eagle
Video from Eagle

Trying VAM for the first time? Make sure it's Eagle, as Eagle has the most simple and easy-to-use interface which makes it accessible to everyone. If you're a logo designer, filmmaker or YouTuber Eagle is a game changer for various reasons.
With this VAM you can create smart folders, which use advanced AI to automate your organizing process. Furthermore, you can customize these folders with colors and tags. The enhanced and smart filtering system will boost your productivity to the maximum and will also minimize the risk of losing important files.
Also, if you're someone who wants to import free stock videos, short clips, and images to your device, Eagle enables you to do that with the Eagle browser extension. With this, you can easily save new ideas for your next project.
Unlike any other DAM tool, Eagle comes with 30 days of a free trial, so you can entertain yourself with Eagle's cool features and smart AI system and then make a choice.
Features:
Filter files and folders with colors, tags, and comments
Import digital assets in a variety of formats, from up to 100 supported formats for windows and 109 formats for MacOS
Inside editor: you can edit and crop your media files within the software
Save files from the internet, including YouTube, Pinterest, Vimeo, and ArtStation and from other platforms with Eagle browser extension
Pricing: Offers 30 Days free trial. $29.95 for a lifetime license
Operating system: Windows and MacOS
Website: https://en.eagle.cool/
2. Brandfolder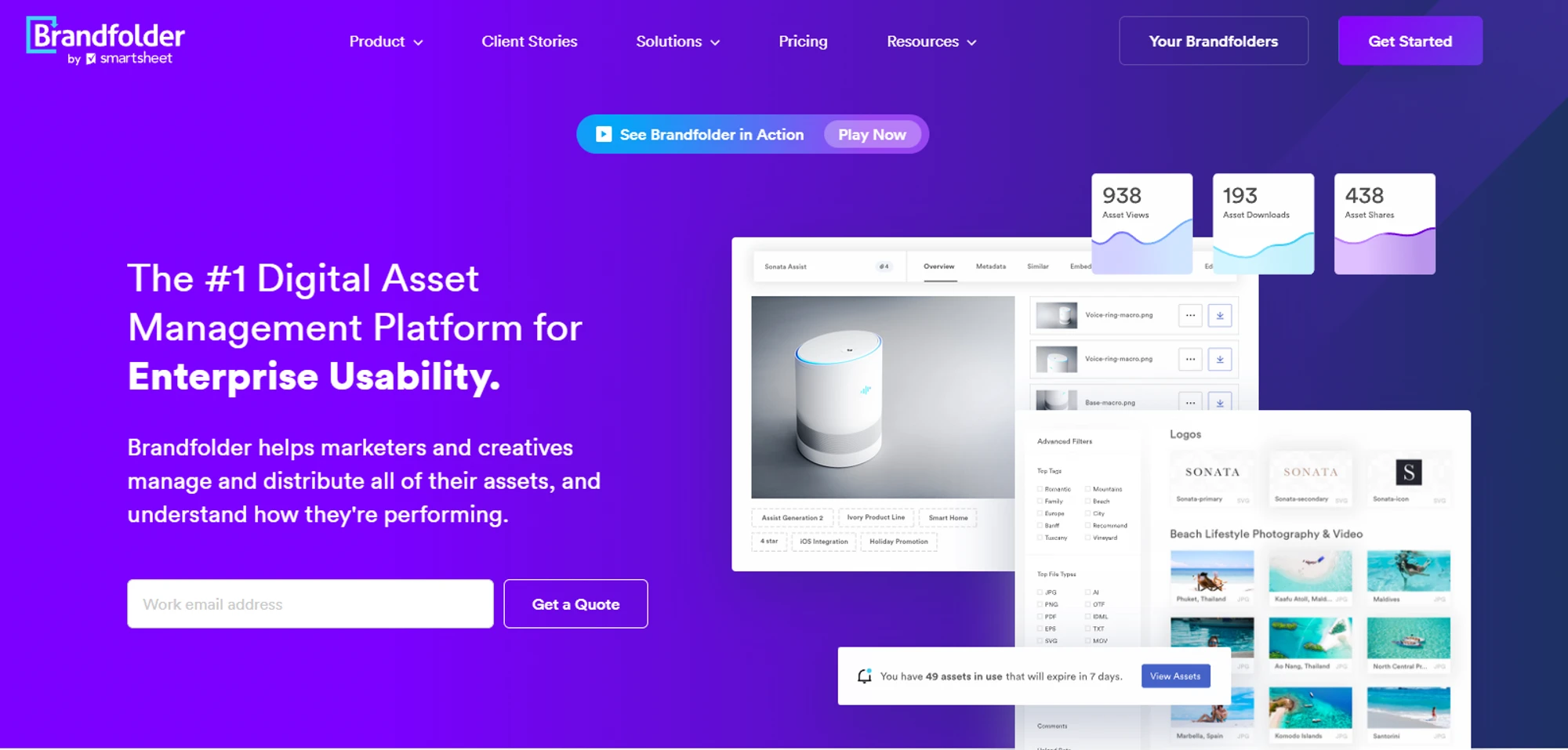 Image from Brandfolder

Looking for one solution to fix all your asset organizing problems? Brandfolder will do the job, whether it's sharing files with stakeholders or creating customized filters for your digital assets it's all easily done in Brandfolder. The software is designed with the latest AI to help you get rid of managing your assets headache. However, they do not offer any free trial, but you can book a demo to experience the features the application provides.
Features:
Lets you crop, resize or reformat your assets
Advanced insights into assets that are being used
Grant privileges to your team members and add restrictions
Pricing: Contact them
Operating system: Windows and MacOS
Website: https://brandfolder.com/
3. Vidispines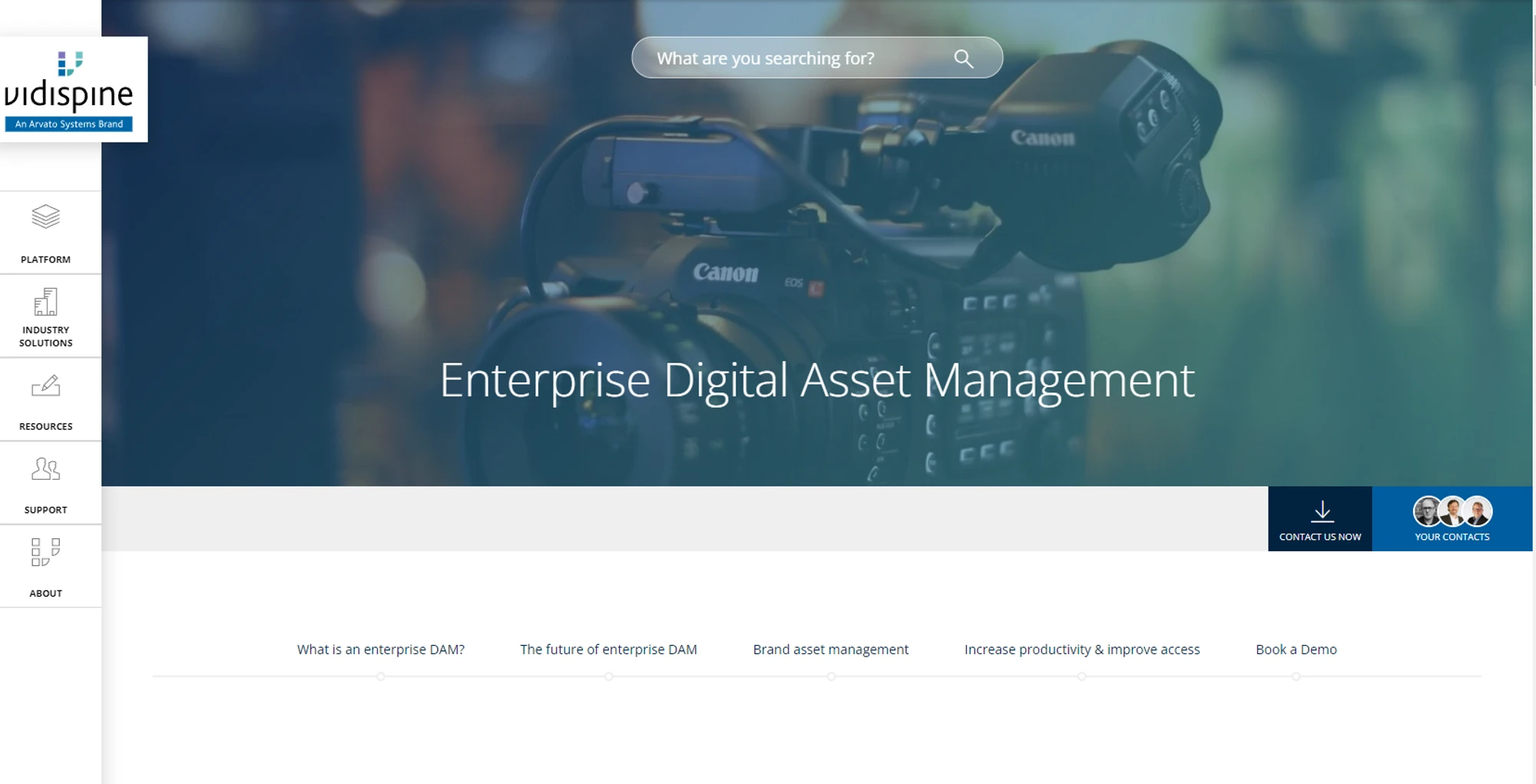 Image from Vidispines

Looking for cloud-based Digital asset management? Vidispines is doing it for the past few years to help marketing agencies and content creators achieve their goals. They have a complete suit for all your managing asset needs. You can book for a demo to see what they have to offer.
Features:
User-friendly features to help you quickly find assets you're looking for
Manage everything through a single interface, nothing complicated
Live updates on assets to see what's the next task you have
Pricing: Contact them
Operating system: Windows and MacOS
Website: https://www.vidispine.com/
4. Mediavalet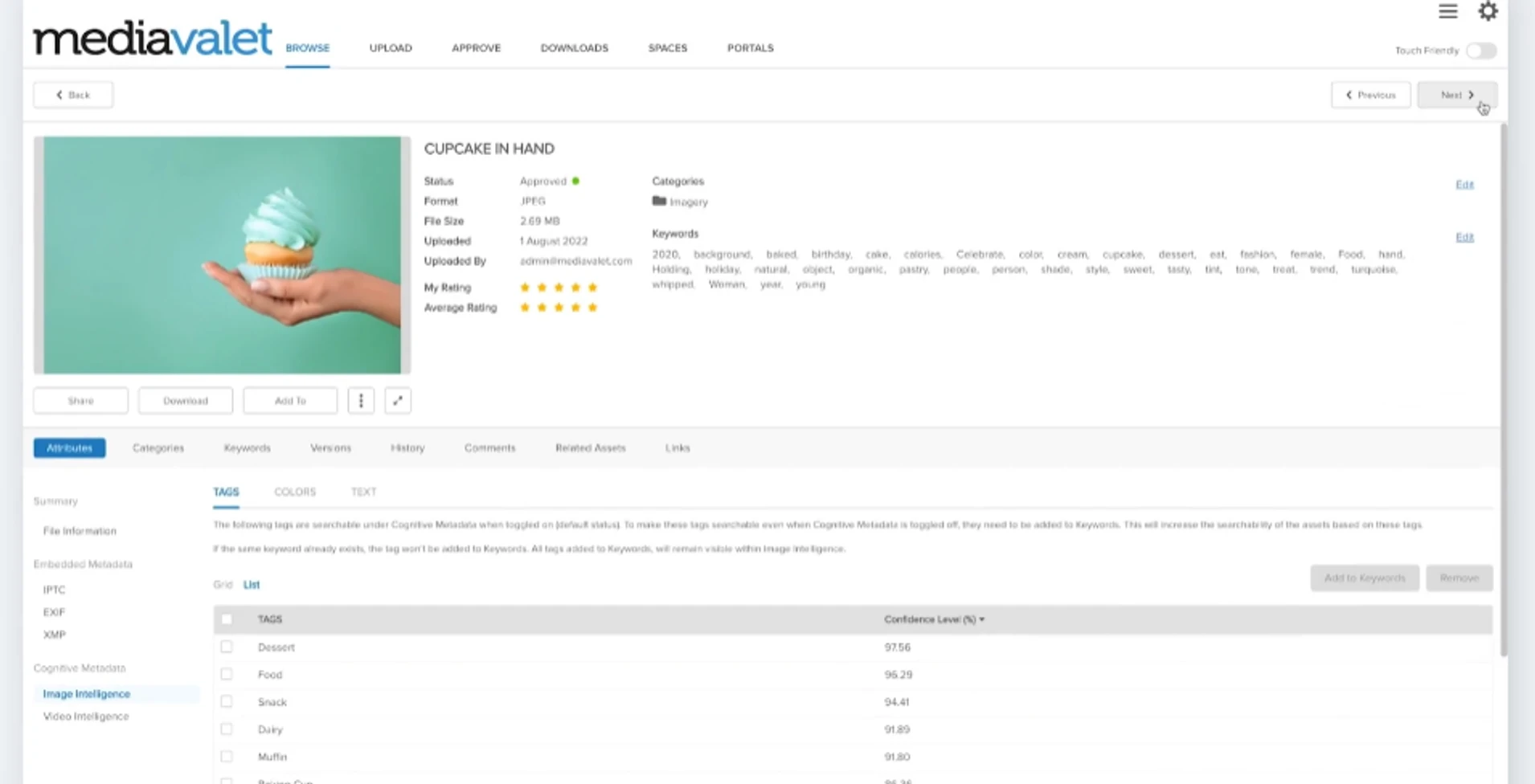 Image from Mediavalet

Mediavalet is a cloud-based digital video asset management tool, which is designed with awesome features to satisfy your organizing needs. You can upload tons of media assets and add categories or keywords to your files. Moreover, if you don't want to categorize your files manually Mediavalet also has a solution for that, you can upload your files and just enable Artificial intelligence to detect and add relevant tags to your files.
Features:
Uses smart AI to search for assets by tags, ratings, and colors
Directly change the video format, and dimensions and automatically translate video captions
Distribute your assets by creating departments and granting access to specific users
Pricing: Contact them
Operating System: Windows and MacOS
Website: https://www.mediavalet.com/
5. IPV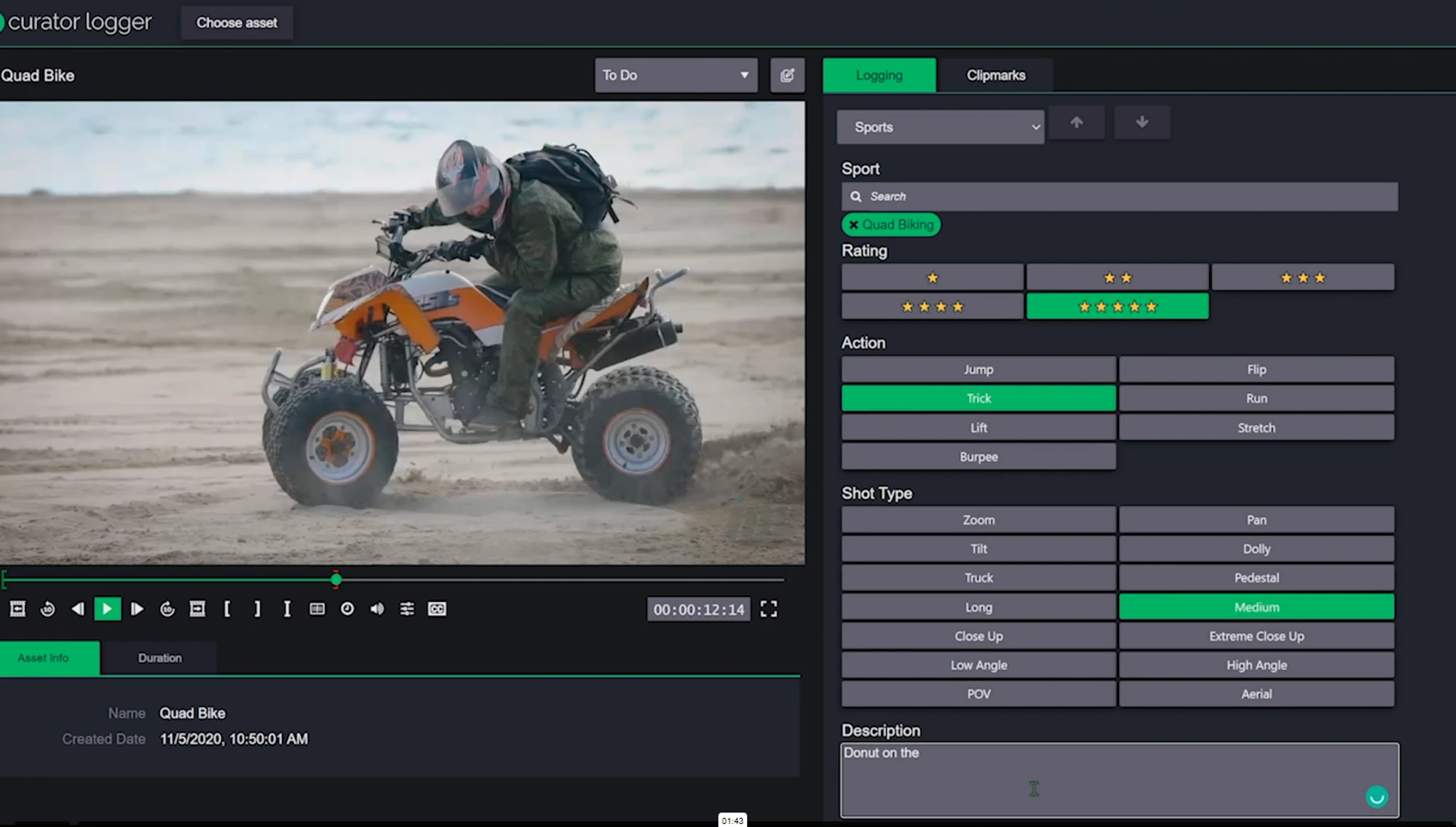 Image from IPV

In need of a simple yet advanced DAM tool? IPV has earned its reputation by being used by brands like WarnerMedia, NASA, NBA, and others. This DAM tool comes with many features but the main one being the curator logger, which allows you to edit, add annotations to specific sections of the videos, and categorize your video assets all within the application.
Features:
Offers cloud-based editor to implement changes to the video assets
Curator Clip link: with this feature you can search the clips on the internet and directly import them to your DAM or to other applications like Premiere Pro
Can be added as addon in video editing software like Premiere Pro, enabling you to create your content piece in a single window
Pricing: Contact them
Operating system: Windows and MacOS
Website: https://www.ipv.com/
6. Imagen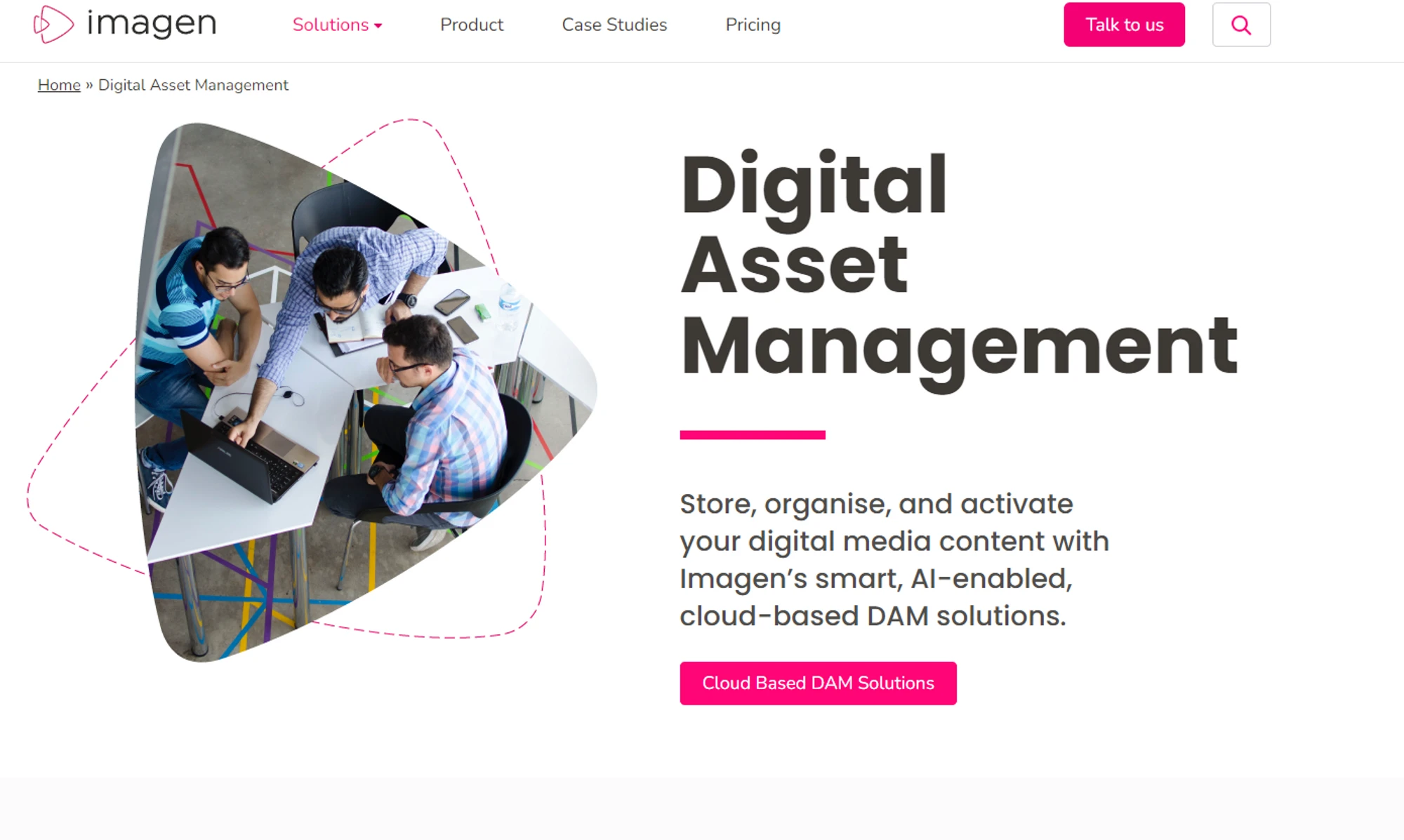 Image from Imagen

Imagen is the best choice for an individual who's working for a marketing agency or a company, you can perform your content sharing and organizing tasks in this DAM tool. The cloud-based system allows you to quickly share digital assets with your team whenever they ask for them. Also, it's a great solution for growing companies that have trouble managing their assets, Imagen comes with advanced AI programming to suit all your business needs.
Features:
Download files from the cloud server with a single click in multiple formats
Stream live videos and schedule the date for the stream to be available
This digital video asset management software enables you to quickly share your assets on your social media handles
Embed your digital assets on other web pages
Pricing: Contact them
Operating System: Windows and MacOS
Website: https://imagen.io/
7. Bynder
Image from Bynder

Bynder comes with unlimited possibilities for video asset management, a great choice for online clothing stores, restaurants, and other businesses. The tool allows you to categorize your product's media assets with multiple filters. You can store all your business assets in this software and forget about ever losing them.
Features:
Multiple file export formats options for social media and other needs
Crop and edit your assets before exporting them
Add usage details and tags to your products and assets to give clear instructions to your distributors and team members.
Create multiple categories for all your products and assets
Pricing: Contact them
Operating system: Windows and MacOS
Website: https://www.bynder.com/
8. Keepeek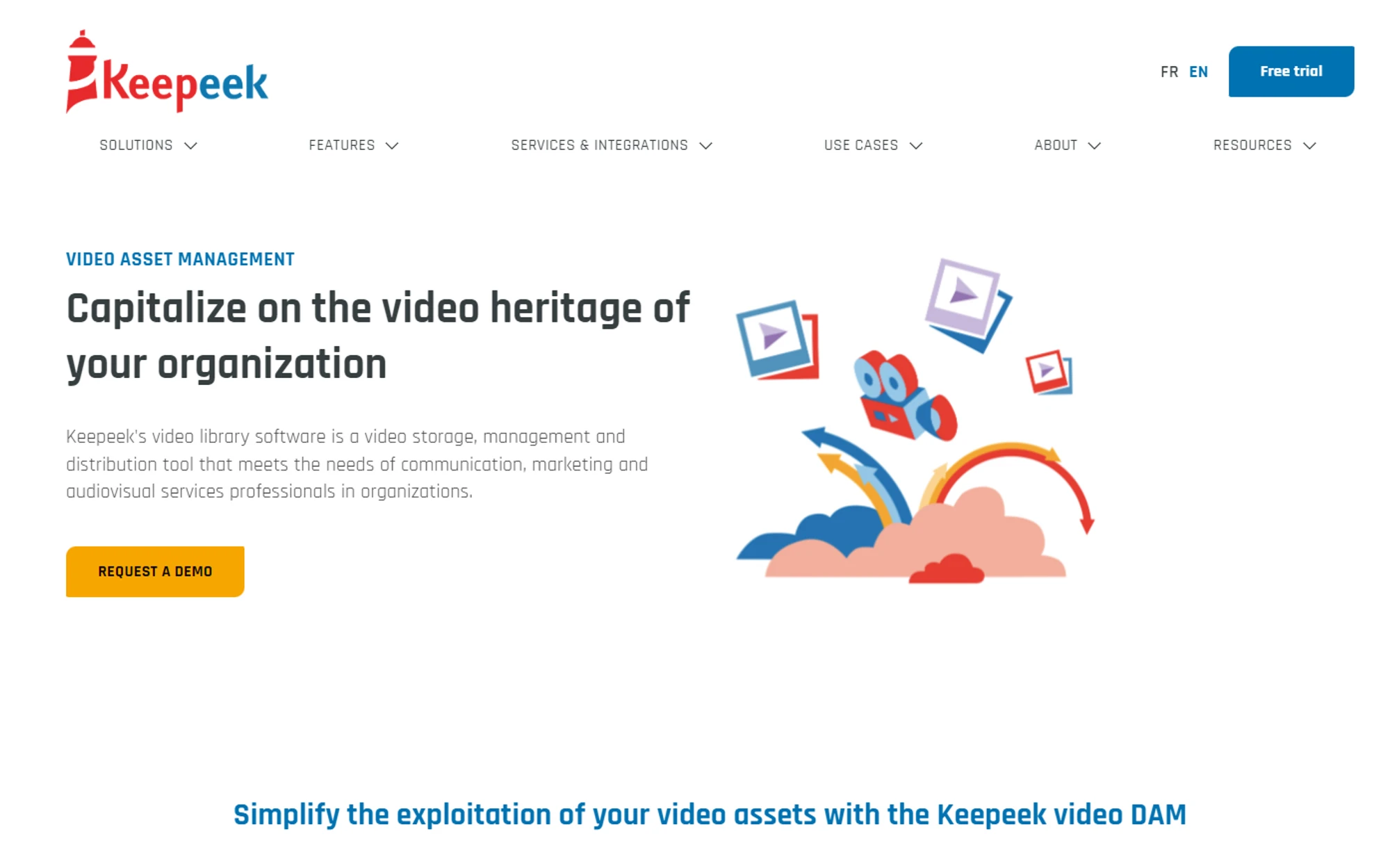 Image from keepeek

Finding software where you can store your videos and also manage them at once? Keepeek has made it possible, moreover, it also provides enough space to upload large assets and keep them safe on Keepeek. An easy browsing system allows you to find videos with few clicks, you can also preview and add comments to your media assets to suggest changes to your team.
Features:
Fewer storage costs because of optimized storage options for certain types of video assets
Microsoft Azure allows you to download and upload your files much faster compared to other public servers
Get annotations by the team on video assets to implement changes
Pricing: Contact them
Operating System: Windows and MacOS
Website: https://www.keepeek.com/
---
FAQ
What are video assets?
Video assets can contain raw footage, graphics, and effects that are used by filmmakers, designers, and companies to keep their audience engaged and updated.
Video assets are important for any kind of visual representation, it helps you to give your audience a clear meaning to what you're talking about in your message.
What's the best practice to organize my video assets?
Organizing video assets becomes irritating sometimes, and also you can lose track of your video assets if you don't keep them well organized. Following these tips can help you in organizing your video assets:
Allocating your video assets to a specific drive on your computer, and renaming the drive to a custom name would also help, for example: from "Local Disk" to "My Video Assets"
Create multiple sub-folders to categorize your video assets
Rename every video asset with a specific keyword for example: "Motorbike stock footage", this will help you to find your videos by searching for the keyword
Try video organizer software like Eagle, to help you store all your video and digital assets in one place.
---
Conclusion
Indeed, Video asset management plays an important role to help companies grow and also simplifies the tasks for team members to collaborate on a certain project and introduce new ideas and implement changes to the video assets.
As an employee or an employer, you always need to have a software where you can store your video assets to help you with your daily tasks without getting your energy drained by finding your video assets manually on your computer.
The above-mentioned tools will make all your organizing problems disappear, however, most of these tools aren't buyer-friendly enough to give you a free trial before purchasing.
That's why Eagle is the only software that allows its users to first experience the features of their VAM before purchasing. You can entertain yourself with Eagle premium benefits for 30 days straight and if it suits your needs well you can proceed to purchase it for a lifetime at only $29.95.
Video from Rolando Barry (using Eagle as my 3D design library)