2022 Eagle Black Friday Sale & Giveaways
Hello friends! We are the Eagle team.
This year, Eagle will be celebrating Black Friday 2022! During this period, anyone who purchases Eagle license or Add seats to your Eagle license will enjoy a 30% discount!
In addition, there will also be a bonus AirPods Pro 2 Giveaway for those who help share the Eagle Black Friday 2022 event page, so no matter you are new to Eagle or our old friends, we welcome you to enjoy this celebration!
Let Eagle help you manage all your design files and project to stay productive! 🙌🏻
---
Eagle Black Friday Event Detail 2022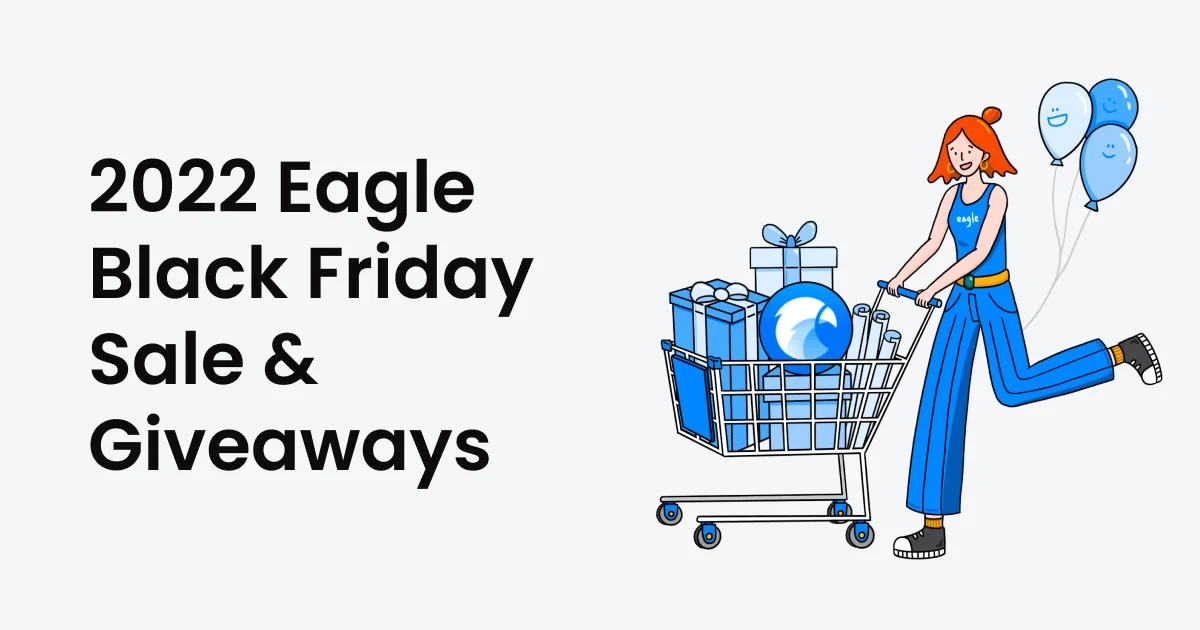 I. Save 30% on Eagle license (Starting NOW)
During the Black Friday event period, you can enjoy a 30% discount on Eagle license or add seats to your existing Eagle license.
---
II. AirPods Pro 2 Giveaway
Whether you are new friends or old friends, as long as you have an Eagle license, you get to win an AirPods Pro 2 by sharing this Eagle black Friday event page!

Event Period: 2022/11/11 (Fri) 00:00 - 2022/11/30 (Wed) 23:59 (GMT+8 time zone)
Prize: AirPods Pro 2 x 5
Result Announcement: 2022/12/6 (Tue) 12:00 (GMT+8 time zone) on Eagle social media & blog.
How to participate?
Share this event page on any of your social media, it can be Twitter, Instagram Facebook, etc, you name it!
For example: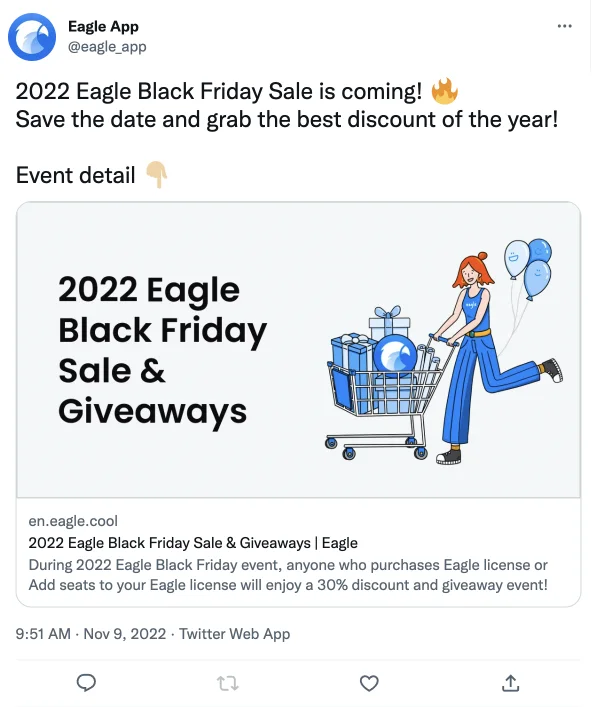 Step 2 Fill Out the Form to Validate Your Participation
To let Eagle team validate your participation and reach out to the lucky winner, please fill out your Eagle license and proof of your sharing.
Submit the form: https://forms.gle/pxUc8NTpqLxtVk5f6

INPORTANT: Please submit the form during the event period 2022/11/11 (Fri) 00:00 - 2022/11/30 (Wed) 23:59 (GMT+8 time zone)
That's it. Thank you for participating!
---
Terms and Conditions
【Save 30% on Eagle license】
Everyone is welcome to participate, no discount code or validation is required.
You are allowed to purchase up to 20 licenses or seats at once.
The license key purchased during Eagle Black Friday 2022 is bound with your email automatically and is non-transferable and unchangeable.
You are entitled to use either a Black Friday event discount or a coupon code, it cannot be used at the same time.
【AirPods Pro 2 Giveaway】
You must have an Eagle license to participate in the giveaway. One license is eligible for one opportunity.
Please share the link or screenshot to help Eagle Team validate your participation.
You are required to double-confirm your submitted information, those who fail to meet the requirements will not receive further notification.
Giveaways or discount offers may not be assigned, exchanged, sold, transferred, combined, or redeemed for cash or other goods and services not expressly stated here as included.
Giveaways can be redeemed for cash if you are incapable of receiving an international package.
Eagle Team reserves the right to check the validity of any participant and hold a final interpretation of these terms and conditions.