The Best Google Photos Alternative - Eagle App: Full Comparison, Features, Pricing
As one of the top photo management tools in the world, Google Photos is best known for its free and unlimited storage. However, this service is terminated last year and people have been frustrated with this.
Are you looking for an alternative to Google Photos? Do you want to organize your photos better and categorize all the image and video memories efficiently? Let's take a look at Eagle!
In this article, we are going to review the abilities of Eagle and Google Photos on "Organization, Search, and Browse" and their pros & cons. Whether you are finding bigger storage for your photo library or improving efficiency to organize photos, the following help you find the best solution.
Without further ado, let's get started!
---
I. Eagle vs. Google Photos: Introduction
Eagle - A Comprehensive Digital Asset Management Tool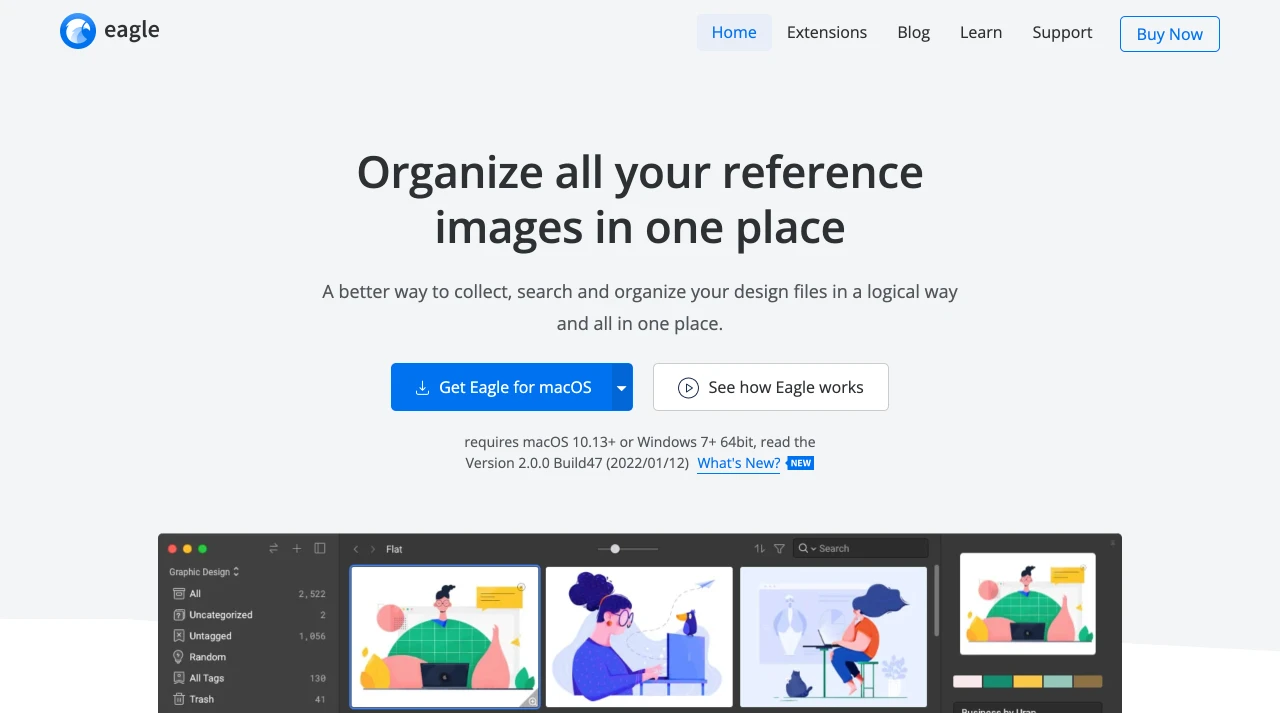 Image from Eagle Homepage

Eagle is a digital asset management tool that has expertise in collecting, organizing, searching, browse functionalities. It covers the whole design workflow and you can add tags, smart folders, ratings, etc. to manage all kinds of creative files with ease.
Eagle supports more than 90+ file formats, you can import and organize images, videos, audio, fonts, gif all in one place. Not to mention the color, time, BPM, file format search filter that can help you find what you need in less than a second. Finding files is no longer like looking for a needle in a haystack!
Google Photos - Auto-Create Memories on Cloud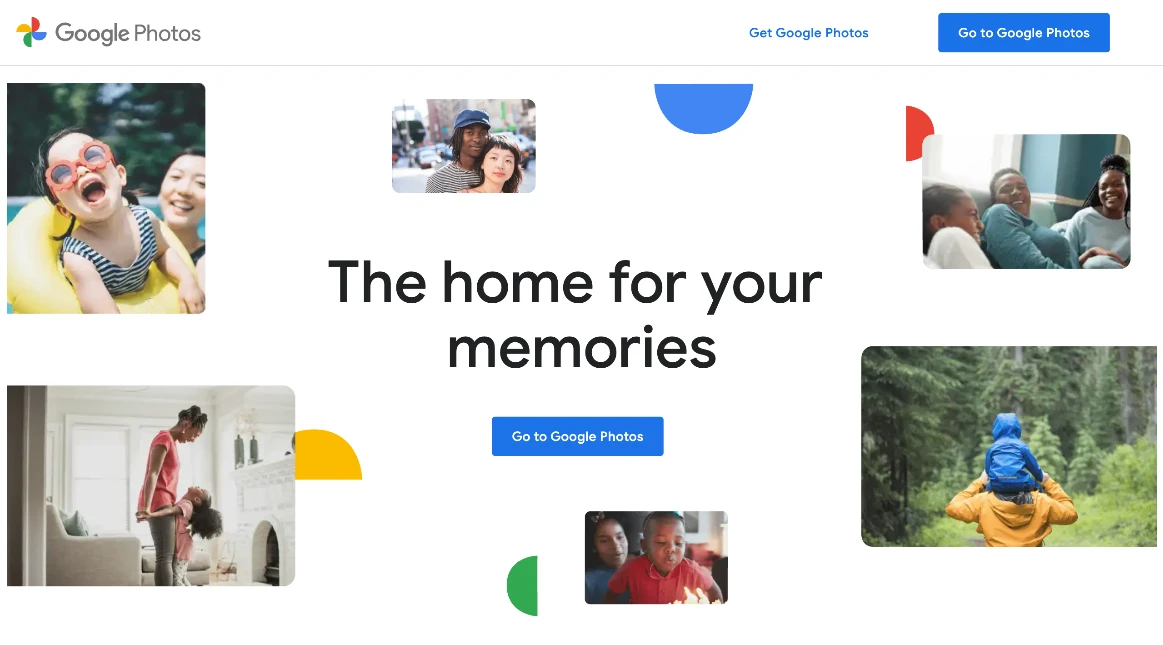 Image from Google Photos

Google Photos, is known for being the best photo management software in the world. Besides the unlimited storage we mentioned, the way it auto-syncs and backup photos also make people stan. You can upload photos from your mobile devices wherever you go and all of your memories are saved!
Eagle and Google Photos are both useful tools to collect precious images and videos. But there are differences when it comes to the ability of organizing. Here's a simple comparison:
Eagle is best for
Google Photos is best for
• Those who need customizable or auto-category & tags
• Wants to build hierarchical folders for multiple projects
• Needs to organize photos, videos, audio, PDFs at the same time
• Wants 15G storage for free
• Eager to upload photos to cloud service from mobiles
• Can operate on cross-platform and sync immediately
• Like AI auto-detect and categorize
In short, if you only need to organize "Photos" and 15G storage, Google Photos can meet your need, but if you want to find a specific photo among all and manage all types of digital files at once, Eagle is a hidden gem you should not miss!
How People Use Eagle? User Reviews From Different Fields of Designers

・How to Organize Concept Art Reference & Assets Eagle App Review
Next, we will carefully compare the pros and cons of the two tools regarding their abilities to "Organize, Search, Browse". If you would like to learn more, stay with us!
---
II. Eagle vs. Google Photos: Organize
Organize
Eagle
Google Photos
Hierarchical Folder
✅
❌
Annotation
✅
on anywhere
✅
only in description box
Custom tags
✅
❌
Auto-categorize by theme
❌
✅
Auto-syncing
✅
with the help of cloud sync software
✅
How Eagle Organize Photos?
Can add tags and customize "Action"

In addition to basic folders, Eagle lets you add tags, ratings, comments and more and you can write down your thoughts in different forms. There is also "Smart Folder" to help you auto-categorize images with customizable conditions. You don't need to assign the photos to folders by each!

Not only that, you can make use of "Action" to create a shortcut to get one or more tasks done with just a click. For example, you can combine multiple steps such as categorizing files into folders, labeling pictures with tags and giving ratings as a shortcut. How convenient!

Image from Eagle "Action"






Support all file formats

Image from Eagle Support formats

Eagle supports more than 90 file formats, including image, video, audio, gif, fonts, icon, 3D models, documents. The only thing you need to do is create a folder such as "Europe trip", then you can add all related images, assets for VLOG, schedule in there. The files won't be cluttered anymore!'



Pros
Cons
Unless you have synced the Eagle library with cloud services, you cannot browse and organize files on mobile devices at the moment
How Google Photos Organize Photos?
Google products are strong at working across the software. For instance, Google Photos is compatible with Google Map and make the auto-locate more precise, then the system can auto-generate albums by location.
OCR technology and syncing with cloud

Image from Google Photos Organize

Google Photos has the built-in OCR technology for detecting human faces and landscapes. It can also create "Memories" from time to time and help you look back on family reunions and daily life! Moreover, the sync-in-real-time feature let you view photos on other devices, no matter which device you are taking photos of.






Detect the location

Video from Google Blog


You can activate "Location tags" to record the locations where the photos are taken. You can use this function to add notes, save time and more.






Pros
You can find the photos were taken in the same place, at different time
Most of the time you don't need to manually assign the photos to albums
Cons
You can only add tags for file format, time and location, no more personalize filters
You cannot add more albums into albums, no hierarchical structure
One photo cannot be added to different folders/albums
You cannot add annotations on images
In a Nutshell
On the organizational side, it is obvious that Eagle is stronger than Google Photos such as the way it filters files or adds notes to photos. Eagle is best for those who want to organize their images in diverse and personalized ways, with the help of smart folders and more.
It is a pity that we cannot use Eagle on mobile devices now and therefore you need a desktop to create a well-organized library; for those who have plenty of photos to organize, Eagle is not a professional tool to handle raw data and OCR technology, is a little troublesome.
Read also: Tips for file management

.How to Organize Media & Asset Library
---
III. Eagle vs. Google Photos: Search
The more photos we save, it is even harder to remember all the information and where they're saved. And this is where a robust search function comes in. Feature-rich filters can help us find what you need within a second!
Search
Eagle
Google Photos
By time
✅
✅
By location
❌
but the URL of image and video is auto-saved
✅
By tag
✅
✅
By color
✅
❌
By size
✅
❌
Fuzzy search
✅
❌
By multi-condition
✅
❌
Save recent search
✅
❌
How Eagle Search Files?
You can search for files by typing file name, tags, time, color, file format, or even URL in Eagle. You don't have to look through every folder to find the specific photo you want! Below is a few special Eagle search functions:








Image from Eagle Fuzzy Search

Using the word-matching technology that can predict the input text structure, Fuzzy search helps you to find the photo without typing in the full filename. For example, if you want to find "Design Pattern", you can enter "dpn" or "desip" to find it.

Eagle also saves the common-used search conditions to help you find the files more quickly.






Smart folder - Filter files with multiple conditions

Image from Eagle Smart folder

Unlike a regular folder, smart folder can filter all the files according to the condition you set, including time, file format, dimension, etc. Then, all assemble files will be categorized into that smart folder, even the ones added after!






Color filter

Video from Carlos Dordelly - How Eagle app is improving my workflows




What if you don't remember the filename, format, or dimension? You can find images even with colors!

Besides for searching files, color filter is the best when you are looking design inspiration. Like, your client specific a blue poster, and then Eagle can help you find the related ones and add spice to your design!






Pros
No need to open every folder to find what you need
You can save the common-used search conditions
Cons
Organize the filename, tags, folders beforehand is recommended
How Google Photos Search Files?
The auto-detect function of Google Photos can analyze the objects in the photos and you can search by them.





Search by theme

There are categories listed automatically including landscape and themes where you can find similar photos, screenshots, selfies, or videos. However, you cannot create personalized categories.

Use #Hashtag to find similar content

Add "#" before whatever you want to search, you can find the photos that have the objects in them. For example, type in "#birthday" and "#graduation" and you can find the photo that meets the condition.






Search by person

Video from Google Blog


As the system recognize the human faces and pets, you can then label your face group to classify family, work, social meet-up memories. You can also choose to hide a part of faces and archive sensitive information.






Pros
No need to add tag manually, the system categorize the files that meet the condition
Auto-detect location, landscape, scenario, time
Cons
Cannot search by any condition
You can only search for photos instead of the whole album
In a Nutshell
Similar to the organization feature, if you need more customizable search filters, Eagle is more suitable for you; if you like the built-in categories or only need basic searchability, feel free to try Google Photos first.
---
IV. Eagle vs. Google Photos: Browse
Browse
Eagle
Google Photos
Hover preview
✅
❌

Change layout
(List, waterfall)
✅
❌
Custom thumbnail
✅
❌

Custom sorting
✅
✅
Cross-platform collaboration
✅
✅
UI design
Made for desktop
Website and mobile app
How to Browse Photos with Eagle?
Under different scenarios, we might need different browsing modes. Eagle provides waterfall, justified, grid, list layouts that are capable of either studying long pictures or viewing detailed information, and you can change the layouts by shortcuts.
You can even hover preview, spacebar preview, custom thumbnails to browse images and videos without opening the files!





Video from Eagle Layouts


To further enhance the user experience, Eagle offers various layouts and you can easily change them with shortcuts.






Hover preview

Video from Eagle Hover preview


If you want to quickly browse a video, a GIF file or an audio clip, just hover your mouse on the file then you can preview it, increasing the speed of looking for files!
Pros
Custom layouts and list size. Browsing piles of files is easy
You can browse the content by hover preview without clicking in
Cons
No slideshow at the moment
How to Browse Photos with Google Photos?
The way Google Photos browse files is simpler, only list and grid. Sometimes it crops the photos that have special dimensions.





Memories

Video from Google Blog Memories


The "Memories" within Google Photos curates the recent or year-ago photos and make them into an album. This helps to bring up the photos you might never want to look up again, as long as there are similarities of color in the photos.
Pros
Classic photos and memories can be relieved
Thematic presentation of photos, you can view similar scenes and content at once
Cons
Can only be categorized by Google Photos, users can't choose and make memoirs
In a Nutshell
Google Photos can only browse photos with basic layouts which cannot satisfy the users who own a wide variety of photos. With Google Photos, you are not able to quickly preview photos like Eagle, saving you time and effort when browsing files. That said, Eagle can almost replace Google Photos in terms of browsing function.
---
Ⅴ. Conclusion
Whether it is Eagle or Google Photos, we can use it to help you compile a large number of videos and videos, but, if you haven't figured out your need first, it is hard to maximize the benefits of both tools.
If you want to take a lot of photos and upload them to the cloud, view them on different devices in real-time or you don't necessarily need complex categorization, then Google Photos is good enough for you.
However, if you want to manage all formats of files at once, create personalized categories, and set up exclusive filter conditions for each folder to improve search efficiency, then Eagle is an ideal alternative!
We've also listed other comparisons that you might be interested in, hope you find the right photo management tool that suits you!
Eagle
Google Photos
Storage
It stacks up computer storage. You can sync files with cloud services like Dropbox or Google Drive
Basic: 100G
Pricing
$29.95


One-time payment

, no additional fees for updates

Basic

: $20/yr


Standard

: $30/yr

Features
・Experitse in images, collection, organization, personalize management
・Robust search filter and functionality
・Locate the images with Google Map
・Auto-categorization
Support formats
ALL formats
including image, video, audio, psd, ai, pdf, SVG gif, 3D, and 90+ more
Video, screenshot, photo, panorama, scanned files
Best for
1️⃣ Those who know how to organize files
2️⃣ Needs to manage all kinds of files in one place
3️⃣ Want to improve productivity and streamline workflow
1️⃣ Has loads of people and landscape photos
2️⃣ Like to categorize the photos by the system's default
3️⃣ Mainly used for long-term storage of photos, no subsequent editing functions are required
Download Link
Download Eagle
Download Google Photos
Need other reviews for file management tools?

・Top 22 Must-have Apps to organize your design files
・Best Guide to Digital Assets Management Software for Designers