How to Use YouTube Challenges to Grow Your Brand
YouTube challenges are a great way to grow your following and attract new subscribers. You can use them to tap into the social platform's massive horde of traffic to increase your brand's visibility with viral challenges that can generate millions of views.
Read the rest of this article to discover how participating in YouTube challenges can help your brand to grow its presence and increase its reputation across multiple digital marketing channels.
How YouTube Challenges Help You Grow Your Brand
First, let's take a look at the many benefits of doing YouTube challenges and how brands use them as part of their growth strategies.
1. Engage Your Audience
Participating in YouTube challenges is a way for brands to engage with wider audiences in an interactive way.
You can get users to record themselves performing an action and post it on your brand's YouTube channel. However, be aware that in some situations you may need to get a privacy policy signed, but in most cases, content on YouTube can be cross-shared as long as you attribute proper credit to the creator.
Those users encourage other people to repeat the challenge and soon a chain reaction forms, making it more likely that the video will go viral.
This is a very engaging type of content that can get your brand in front of a broad audience of users with very little effort on your part.
2. Keep Up With the Latest Trends
Another reason to use YouTube challenges is so your brand can keep up with all the latest trends.
A simple online search will show you that each year there are dozens of YouTube challenges that go viral, and a tool such as Google Trends API will show you the metrics behind those challenges. You can leverage this tactic to grow your own brand with relevant and interesting YouTube content.
So, make sure you're always on the lookout for new, fun, trending YouTube challenges that you can take part in.
3. Create Shareworthy Content
One of the biggest challenges faced by most YouTube content creators is the ability to create and share high-quality, engaging content on a regular basis.
They often run out of ideas for original content and trending YouTube challenges can help you come up with tons of user-generated content (UGC) that can be shared across social media, email newsletters, blog articles, and other on-site content. In the meantime, you should discover the best time to post on Instagram, the type of content your Facebook followers would like to consume, and other social media facts.
Here are some examples of popular food-related challenges that actively generate UGC:
Candy Challenge: Participants have to taste candies and/or chocolates while blindfolded and then guess the name of the candy.
The Chubby Bunny Challenge: The goal of this challenge is to pronounce "Chubby Bunny" while stuffing as many marshmallows or genuine chubby bunny candies as possible in your mouth.
Eat it or Wear it: Write random food names on paper and put them in a bowl. Each person pulls one out and afterward, you have to choose if you'll eat it or wear it.
One Color Cooking Challenge: You have to cook a dish but you can only use ingredients of a single color.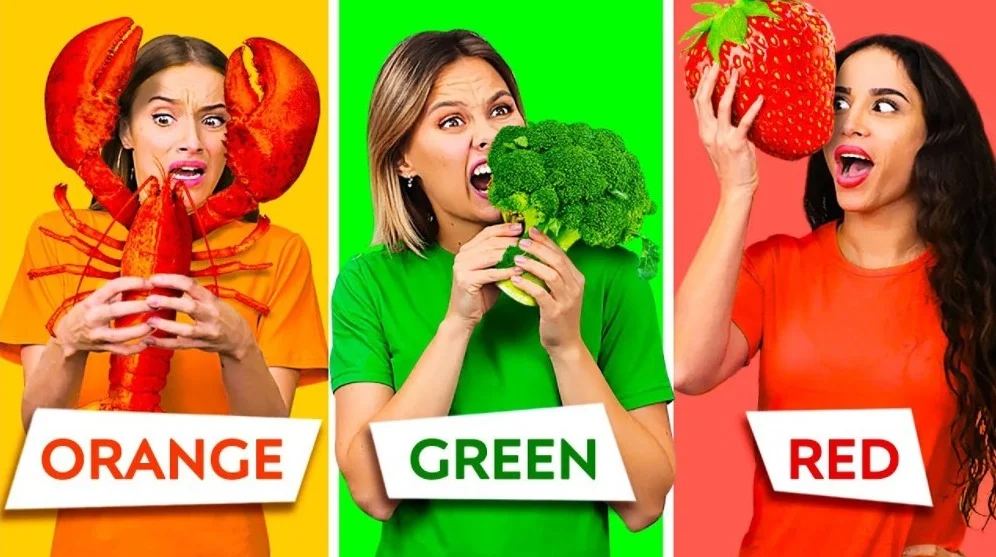 Image from Source
Of course, there are dozens of other types of YouTube challenges you can create, such as:
"Try Not To …" Challenges: E.g. Try not to sing along challenge.
24 hours YouTube Challenges: E.g. Live in your bathtub for 24 hours.
Couples YouTube Challenges: E.g. Who knows me better challenge.
Partner/Group YouTube Challenges: E.g. Egg roulette challenge
Funny YouTube Challenges: E.g. Roast yourself challenge.
Trending challenges can be irresistible to your viewers, but you must also keep in mind that some challenges can be evergreen, such as the wildly popular ice bucket challenge where you pour a bucket of chilled icy water on yourself.
Pro Tip: Film multiple YouTube challenges at a time to generate more content.
This type of challenge-based content is usually short and straightforward. It's easy to edit, and if you have created a filming schedule, then it won't take much time to record your challenges
If you want to see any success from challenge-based videos, make sure you give your target audience lots of content by filming many different challenges at a time.
4. Sets Your Brand Apart as a Leader
You can get tons of inspiration from previous YouTube challenges that you can use for your future videos.
Not only will you be able to produce exciting new content for your followers, but you'll also set yourself apart from all the rest.
By producing engaging challenge videos, you'll make your brand more credible and more of your audience will perceive you as a leader and not just a follower in your space.
Also, doing YouTube challenges opens up opportunities for expanding your network by making it possible for you to collaborate with other YouTubers and your subscribers.
---
Challenges of Creating YouTube Challenges
There's no denying that there are tons of benefits to doing YouTube challenges which is why the social site is filled with them.
However, there are also some challenges (excuse the pun) that come with creating these types of videos.
For example:
1. You Need a Large Following
In order to succeed, you need a large following of people interested enough in your brand to try the challenge. You can create the most awesome videos for YouTube challenges, but if no one is watching them, the likelihood of your YouTube challenge being a success or going viral is very low.
2. You Must Ensure the Safety of Challenges
One of the most important things you must do before running a YouTube challenge is to ensure that you only promote safe and sensible challenges.
Never record any risky challenges, particularly if children will be watching your videos. The last thing you want is for your brand to experience backlash for creating a YouTube challenge that endangers the health or lives of your viewers.
3. Your Challenges Must Be Unique
When starting out, it's always a good idea to start with simple YouTube challenges before you move on to the more daring ones.
But either way, you must ensure that your challenges are unique so you can maintain the interest of your viewers.
A single smart, imaginative concept for your brand's YouTube challenge could be exactly what you need to jumpstart your YouTube marketing and encourage your followers to share your brand's content.
Fortunately, there's tons of inspiration online for challenge ideas that will make you popular this year and beyond so you can continue to grow your following and generate lots of new subscribers to your channel.
Here are a few fun YouTube challenges to kickstart your brainstorming process:
The Speed Drawing Challenge
No Hands Eating Challenge
Innuendo Bingo Challenge
Last to Leave Challenge
The Chubby Bunny Challenge
The Floor is Lava
The Ice Bath Challenge
Touch My Body Challenge
Blindfolded Drawing Challenge
Boyfriend Does My Makeup Challenge
The Brain Freeze Challenge
Kids vs Adults Challenge
The Smoothie Challenge
The Say Anything Challenge
Blindfolded Makeup Challenge
The Disney Challenge
Try Not to Laugh Challenge
Disney Pancake Art Challenge
Not My Hands Challenge
Say Anything Challenge
Ghost Pepper Challenge
McDonald's Roulette Challenge
Baby Food Challenge
Bean Boozled Challenge
Extreme Sour Candy Challenge
Saltine Cracker Challenge
YouTube challenges are a great way for both new and seasoned YouTubers to strengthen their audience and attract new visitors to subscribe.
And the best part about all these popular challenges is that they are easy for new YouTubers to try.
However, before you can get started with that, you'll need to have the right tools at your disposal.
---
Tools for Creating YouTube Challenge Videos
Creating YouTube content doesn't have to be hard if you have the right tools.
The basic tools for all aspiring YouTubers include cameras, such as a camcorder, action camera, or DSLR. You may also need things like stabilizers (tripods, gimbals, GorillaPods, etc.), microphones, and lighting equipment.
If you're a creator who spends a lot of time hosting live streams, then that could require a different set of tools.Of course, you could forgo all the high-end recording equipment and simply use your smartphone.
In fact, most YouTube challenges take place on the go, so it's easier to shoot the videos using your phone.
Regardless of the types of tools you use, you will need to have an efficient system for editing, organizing, and storing your YouTube content.
Also depending on the scale and size of your channel, you might choose to invest in cybersecurity through the use of a VPN, Antivirus Software, advanced Firewall services, and many others.
Listed below are some of the most effective tools to help you do professional YouTube challenges, even with little to no prior experience.
Image Organizer and File Manager
Image from Eagle App user Rolando Barry
Perfect for video editors, illustrators, and designers, Eagle.cool is one of the easiest ways to organize your digital assets in a logical way in one convenient place.
If you run a YouTube challenge, you'll have hundreds or even thousands of images and videos to sort through.
You can use this tool to categorize and organize all your assets more efficiently.
Eagle lets you tag images and files so you can find them quickly and easily when you need them.
Use color-coded folders and smart folders to automatically filter images by name, and annotate specific areas of images.
Additional features include:
Browser Extension: Use this tool to collect images from websites.
Better Design Research: Store design mockups, illustrations, screenshots, and more.
Video Bookmark: Organize Youtube / Vimeo links and easily preview in Eagle.
Screenshot: Use Eagle to capture what inspires you.
Drag and drop: Drag and drop images from other apps.
Clipboard: A handy way to copy and paste any image you like.
You also get keyword search, color filter, and advanced filter to find images based on image formats. This way, you'll be able to browse your files with ease.
Best of all, this organizer works with all types of formats and integrates with a wide number of design and editing tools, as well as cloud storage services for seamless workflows.
2. PlayPlay
Online Video Editing Tool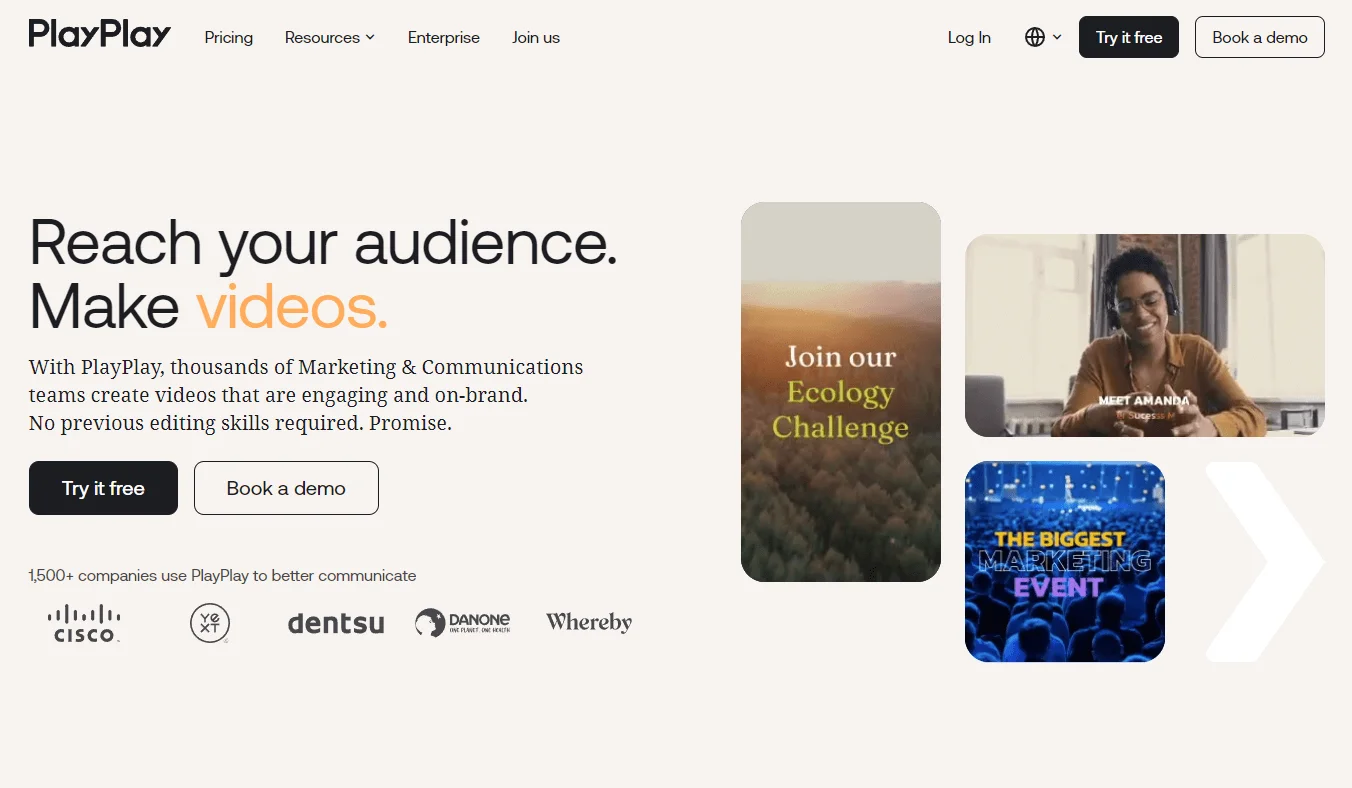 Image from Source
For the most part, YouTube challenges are easy to film and edit. However, you can make your work even easier by using the right video editing tools.
PlayPlay is one of the best video editing tools on the market. It has a plethora of templates, music options, videos, stock photos, and a wide range of visual effects and transitions that will make it easy for you to create awesome YouTube videos.
The platform is designed for ease of use and has a minimal learning curve compared to other YouTube video editing software, such as Adobe Premiere Pro or Final Cut Pro. This makes it perfect for beginners who are just starting out creating YouTube challenge videos.
3. TubeBuddy
A Tool to Optimize Your YouTube Content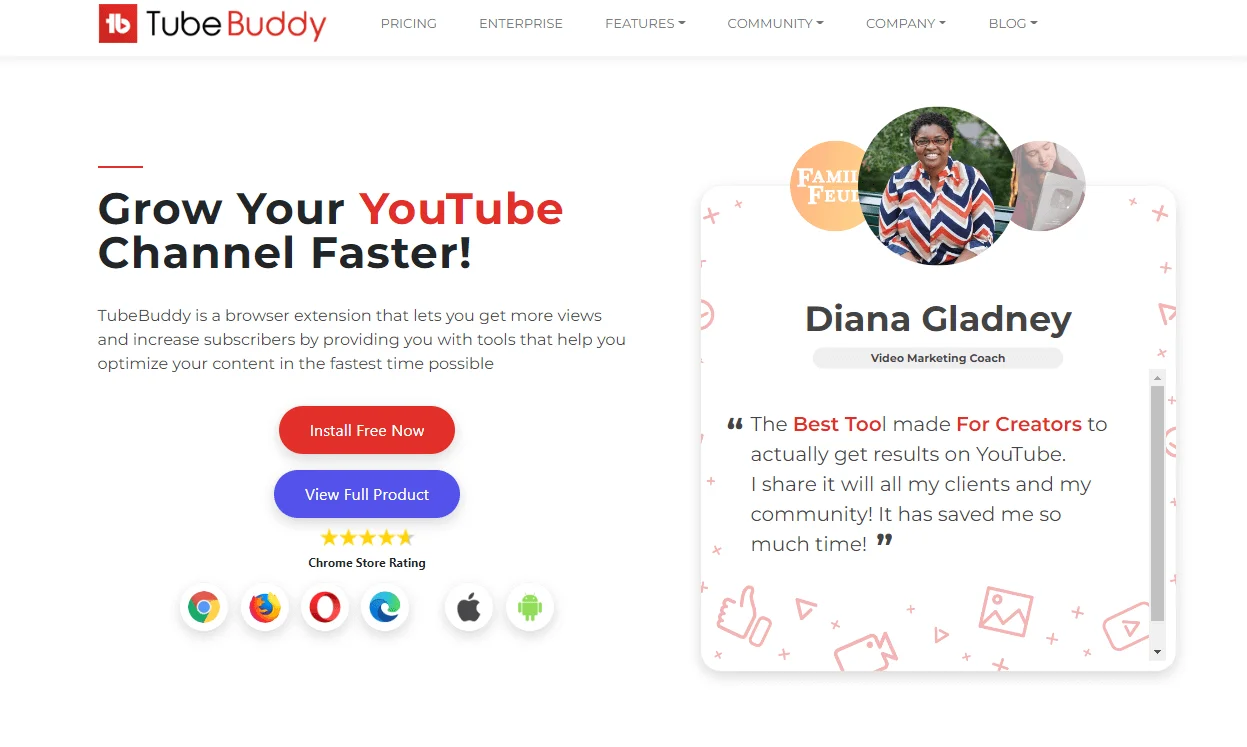 Image from Source
YouTube challenge videos typically perform better than standard videos on the platform. But, you can take additional steps to ensure your success with your next YouTube challenge by using a tool like TubeBuddy.
TubeBuddy is a browser extension that lets you get more views and increase subscribers by providing you with tools that help you optimize your content in the fastest time possible.
It has features like Advanced Keyword Research that help you find high-performing, searchable video topics, and then craft the perfect titles and tags.
You'll be able to rank higher in Google and other search engines. Furthermore:
The platform will guide you through Best Practices for YouTube to ensure your videos get you more views and subscribers.
You can use a variety of tools to promote your videos online and drive traffic to new uploads using existing videos.
Wondering if your video thumbnails could be improved? TubeBuddy's simplified A/B testing will provide you with the answer.
Pro Tip: Always make sure you monitor and review the feedback from your viewers after posting any of your YouTube challenge videos. You need to focus on serving the needs of your audience, and you can only do so effectively if you measure your performance and make the necessary improvements.
---
Do More With Your YouTube Challenge
These days, YouTube is a part of everyone's life. It has surpassed television and traditional cable to become one of the biggest and most popular video-sharing platforms currently available.
Creating and sharing YouTube challenges can be a very successful way to engage your closest brand ambassadors as well as lead generation. But it's important to remember that you present and future fans, followers, and converts are using many different platforms.
For the greatest reach, be sure to integrate your YouTube challenges throughout your digital marketing mix. Most website builders easily allow you to embed YouTube videos on landing pages, blog articles, and even right on the home page where first-time site visitors will be most likely to see it.
Other social networks like Facebook and Twitter also make it incredibly easy to cross-share content from YouTube. But you should also consider integrating TikTok and Instagram Reels as a way to really spread your challenge across the internet and get people to participate.
The truth is creating a YouTube challenge is just the first step toward a long, lucrative, and successful digital marketing campaign. Making the most out of your challenges requires proper channel management and making sure you use all the tools, platforms, and marketing channels at your disposal to make sure the challenge goes viral.
Over to you. Are you ready to start your own viral YouTube challenge for your brand? Share your thoughts with us!