Interior Design vs Interior Decoration: Definition, Tips, and Resources
When thinking of "interior design", some may recall reality shows such as "Interior Design Masters" or "Room Makeover" challenges on HGTV. However, we should notice that there are slight differences between "interior design" and "interior decorating", in order not to confuse your needs.
If you are interested in working in this field, you should accurately grasp the differences between these two occupations, so that you can work on the right path.
In this article, I'll walk you through the differences, daily work, and requirements to become an interior pro. To help you learn more about these professions, I curated 36 BEST practical interior design websites, including online design courses, inspiration and software. Hope it can help you learn interior design easily!
---
Differences Between Interior Design and Interior Decorating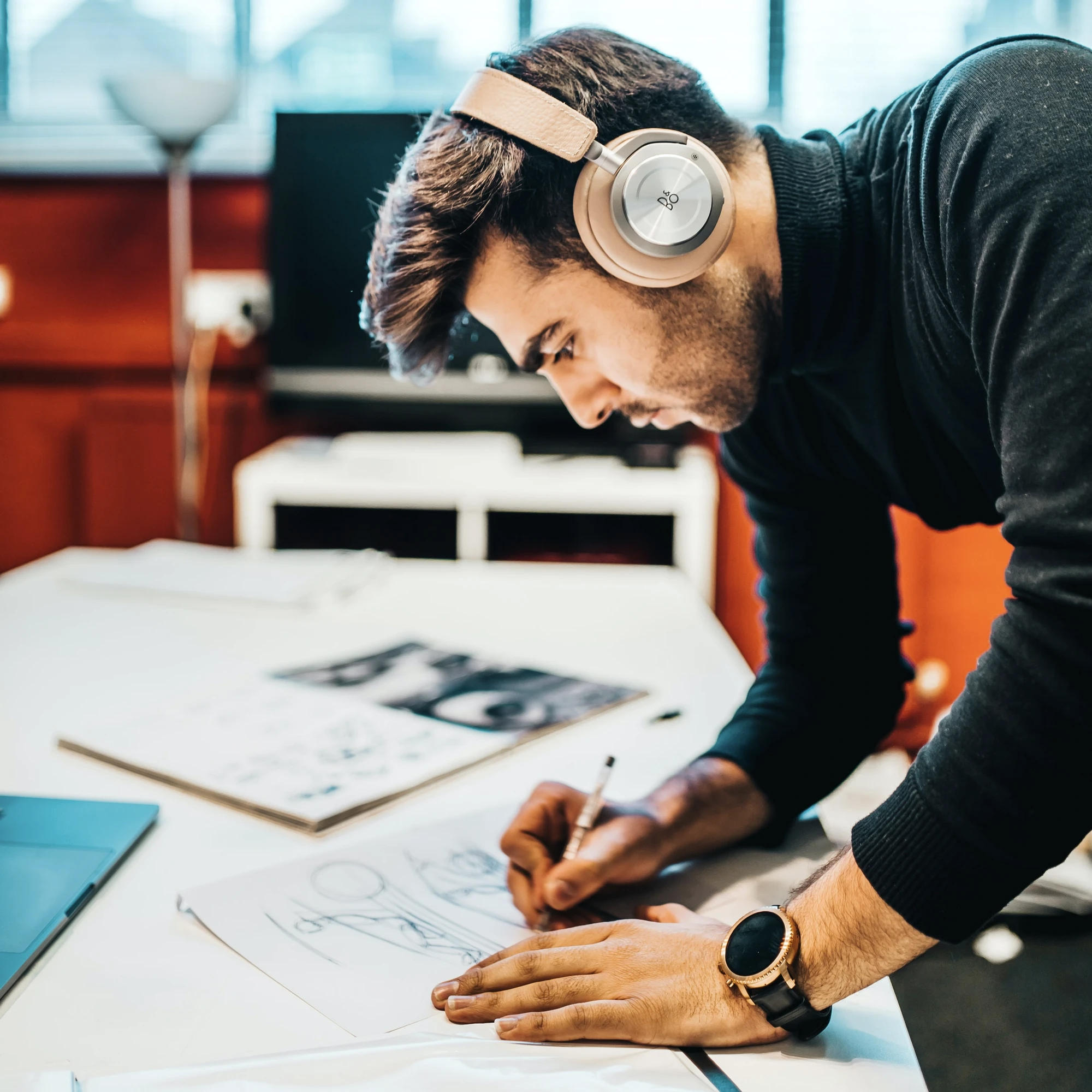 Image from Unsplash

They're often mistaken and there is really some overlap in interior design and interior decorating, even opinions may vary on exactly where to draw the distinction. From my point of view, they're fundamentally different.
Interior design:
Interior design is the art and science of understanding people's behavior to create functional spaces from drawing up the initial floor plans to placing the last decorative accent. They usually pay more attention to enhancing the function of a room, not just the look.
- What Does an Interior Designer Do?
Sketching design plans
Bidding on new projects
Estimating project costs
Picking materials and furnishings
Visualizing how spaces will be used
Overseeing project construction and installation
Coordinating with contractors regarding plans and specifications
Coordinating with electricians, painters, plumbers, and other professionals
Interior decorator:
On the other hand, interior decorators are the furnishing of space with decorative elements to achieve a certain aesthetic, without any structural changes, such as choosing paint, wallpaper, or lighting. Focusing more on practical aspects, so they will take into account the style inspiration, the texture of the used accessories, and the color scheme while working within its functionality.
- What Does an Interior Decorator Do?
Selecting furniture, paint, and other materials
Creating project timelines and sample designs
Meeting with clients to understand their needs and goals
Estimating project budgets, including materials and labor
Supervising the installation of furniture and other design elements
📌 In short, interior designers may decorate, but decorators do not design.
---
To go into detail, I'll talk about the requirements of interior designers and decorators in separate life stages:
How to Become an Interior Designer?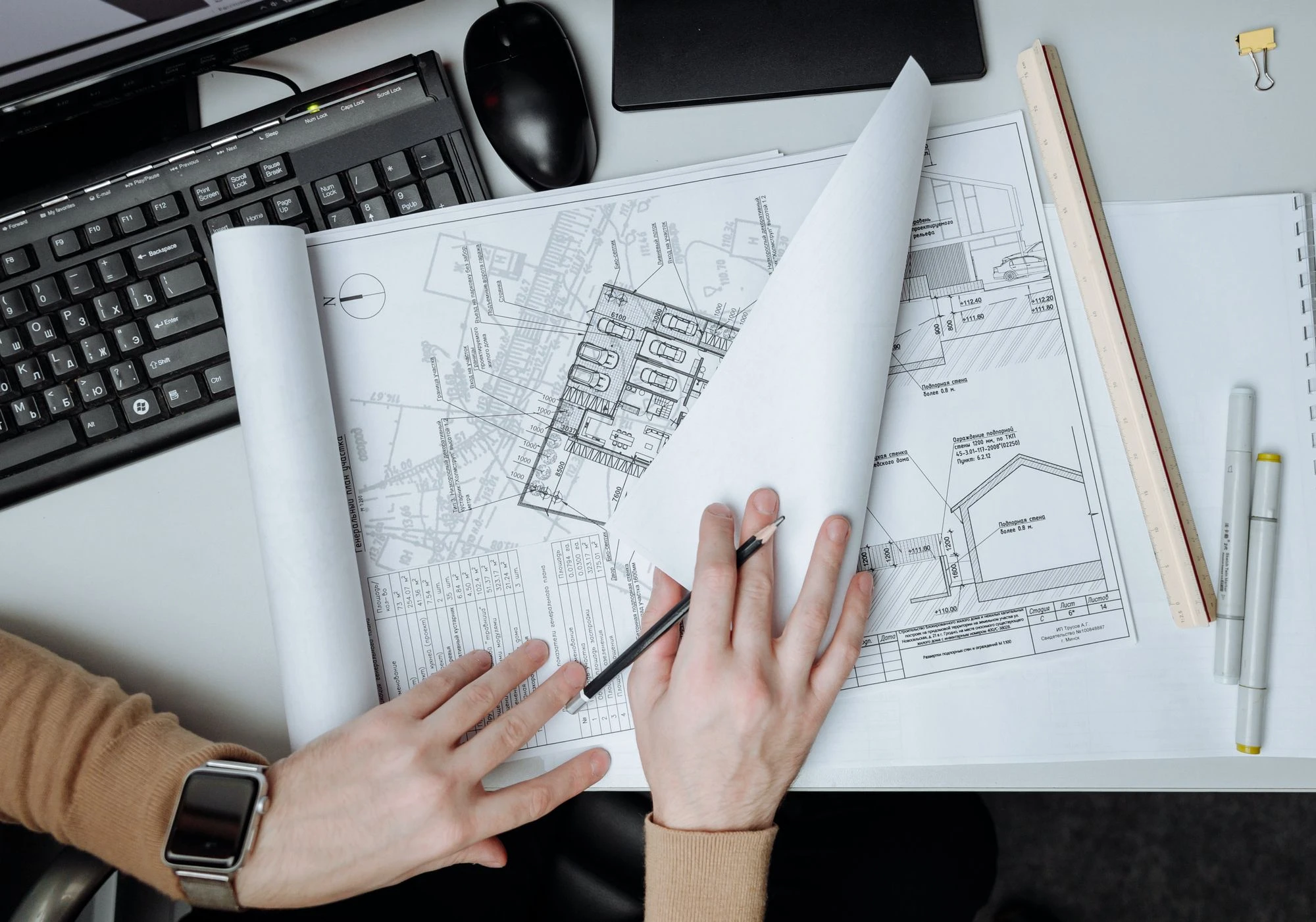 Image from Pixels

Schooling:
Interior design is a profession that requires specific schooling and formal training, so most interior design firms require designers to hold at least a bachelor's degree.
Overview of Interior Design Degrees: Whether the applicant desires to work as an assistant designer or serve as a postsecondary faculty member, interior design schools have programs to meet these needs. The following are the different types of degrees and what students can hope to gain from each.




Associate Degrees

Modern Architecture & Design: Looks at designs of the last two centuries, highlighting the emergence of specific design theories and stylistic elements. Traces modernization of style back to its origins.
History of Building Types: Provides an overview of how specific purpose-built spaces have evolved over time. Could include studies on corporate spaces, museums, hotels, or government buildings.
Color Theory: Reviews cultural, social, and psychological implications of color use, and the effects of color, including productivity and tranquility. Examines varied theories, optical illusions, the Bezold Effect, and contrasts.
Drawing: Examines various drawing techniques and how to translate an idea into a reality by hand or using digital drawing practices and tools.





Four-Year Degrees

Design Theory: Examines the literature and portfolios of leading designers of the past, including William Morris, Claude Perault, and more. It analyzes how these theories informed contemporary designs and how they can be used in modern interior design.
Textiles for Interiors: Surveys the historical production and use of fabrics throughout significant decorative arts periods and teaches students how various types of fabric are produced.
The Business of Interior Design: Provides an overview of the practical skills needed to succeed, including project management, research and problem solving, client interviewing, presentations for potential clients, and negotiating contracts.
Materials and Assembly: Examines the use of both hard and soft materials in developing spaces, creating partitions and changing environments. Reviews their historical applications and invite students to develop their own aesthetics for implementation.





Credentials:
The National Council for Interior Design Qualification (NCIDQ) is the most recognized certification of interior designers. Operating in a similar fashion as the legal profession's bar exam, in many states this qualification is required before students can begin practicing interior design.
Other bodies offering designation include the American Society of Interior Designers (ASID) and Certified Interior Designers (CID). While prestigious, these do not meet the same regulatory requirements as the NCIDQ.
However, there are just as many locations where no credentialing is required. So it's a good idea to find out what the situation is in your area before starting your search.
Become a pro:
You can choose to focus on a particular area such as residential, restoration, or commercial interior design and continue studying and digging the knowledge. You can also build an online design portfolio so that potential clients can find you in multiple ways. Last but not least, you can join organizations to take part in conferences, workshops, and summits that provide members with continuing education and networking opportunities, making your career shines!
Related Articles: How to Start a Design Portfolio: Beginner Guide & Inspirations
---
How to Become an Interior Decorator?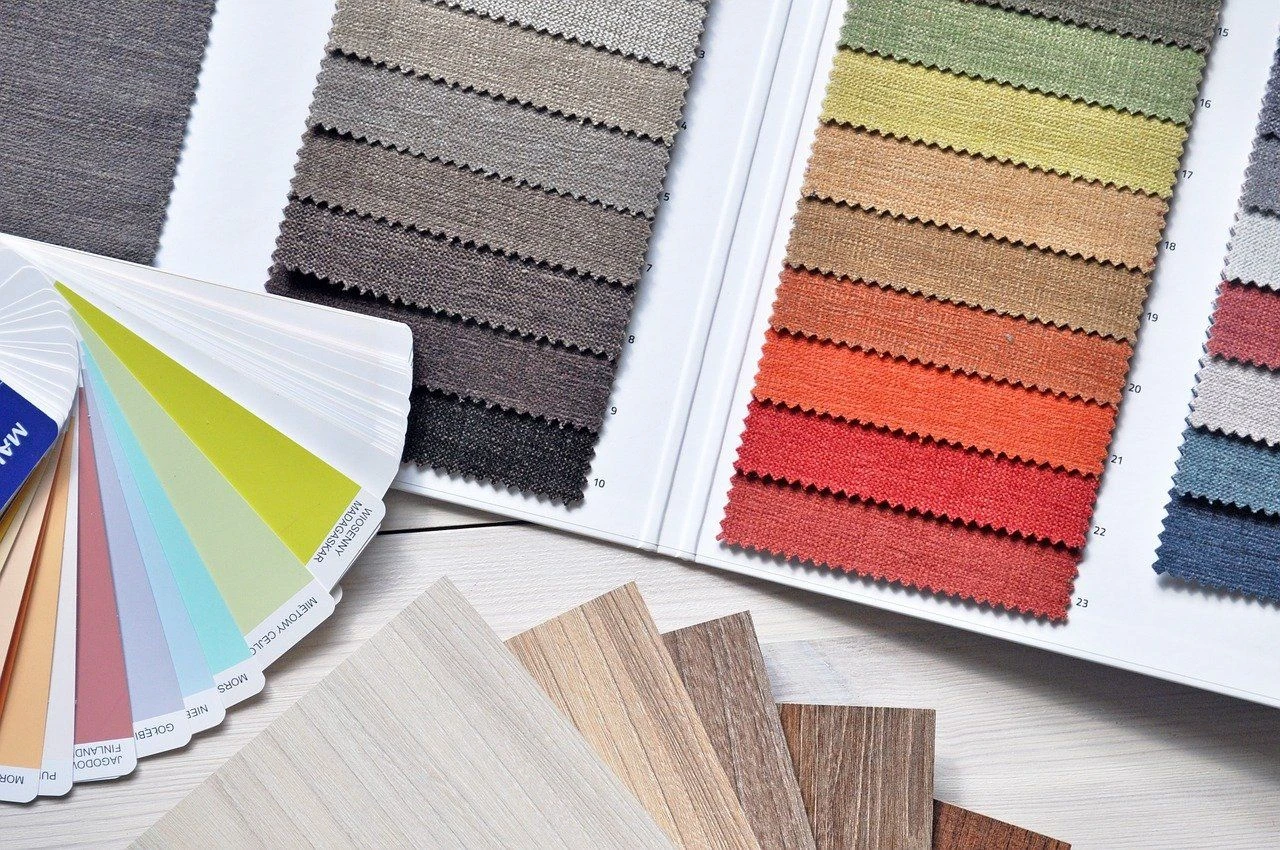 Image from Pixabay

Schooling:
Unlike interior designers, interior decorators can work without a degree. However, earning a degree or professional certification in interior decoration increases your value in the eyes of employers and shows that you understand the tenets of interior decoration.
What skills do you need as an interior decorator?
The following skills are crucial to creating excellent interior decoration projects:
Computer-Aided Design (CAD)
While proficiency in computer-aided design (CAD) is more of a necessity for interior designers, and interior decorators can also benefit from using CAD to visualize projects for clients.
Exceptional sense of design
As an interior decorator, you must be able to view a space and plan ways to improve its appearance. For example, you need to know if a change of fabric can improve the feel of a room or whether an office space needs its furniture rearranged to achieve the client's aims. Your ability to understand how to improve an existing design to increase its appeal is important in interior decoration.
Interior decorators must be effective communicators. You'll be spending a great deal of time working with your client to understand their needs and goals for a space, and understanding and patience are important tools. Interpersonal skills are also important when dealing with suppliers, interior designers, and builders.
Financial and budgeting skills
Part of the job of an interior decorator is creating and sticking to a budget for their projects. For this reason, skills in cost estimation and budgeting are a must. Careful financial management is crucial in making sure a project doesn't go beyond what your client intended to spend.
Become a pro:
Even though there are no schooling requirements for interior decorators, if you want to become a pro, you may consider taking some programs and courses that might include color schemes, furniture styles, and so on. Practices offered by organizations such as Certified Interior Decorators International (CID) and the Interior Design Society (IDS) are great options to take into consideration.
---
Best 14 Websites to Learn Interior Design and Decoration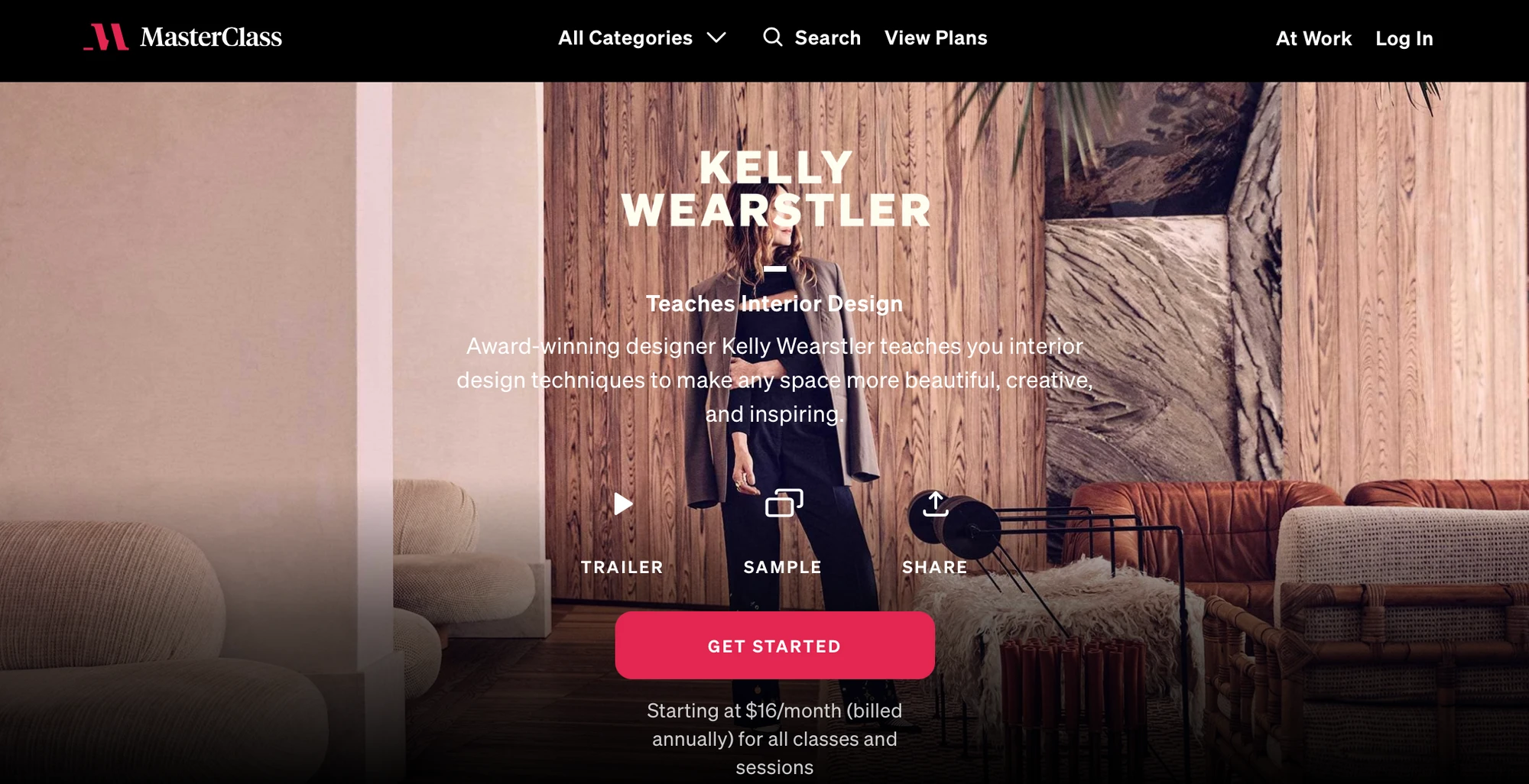 Image from MasterClass

MasterClass is an online teaching platform that provides hundreds of video lessons taught by well-known instructors in their field of expertise. Whether it be in writing, cooking, economics, and design in various fields, MasterClass delivers a world-class online learning experience.
The courses are available through an annual subscription, and these are typically not interactive, though at least one course included interactive assignments where the student acted with other students.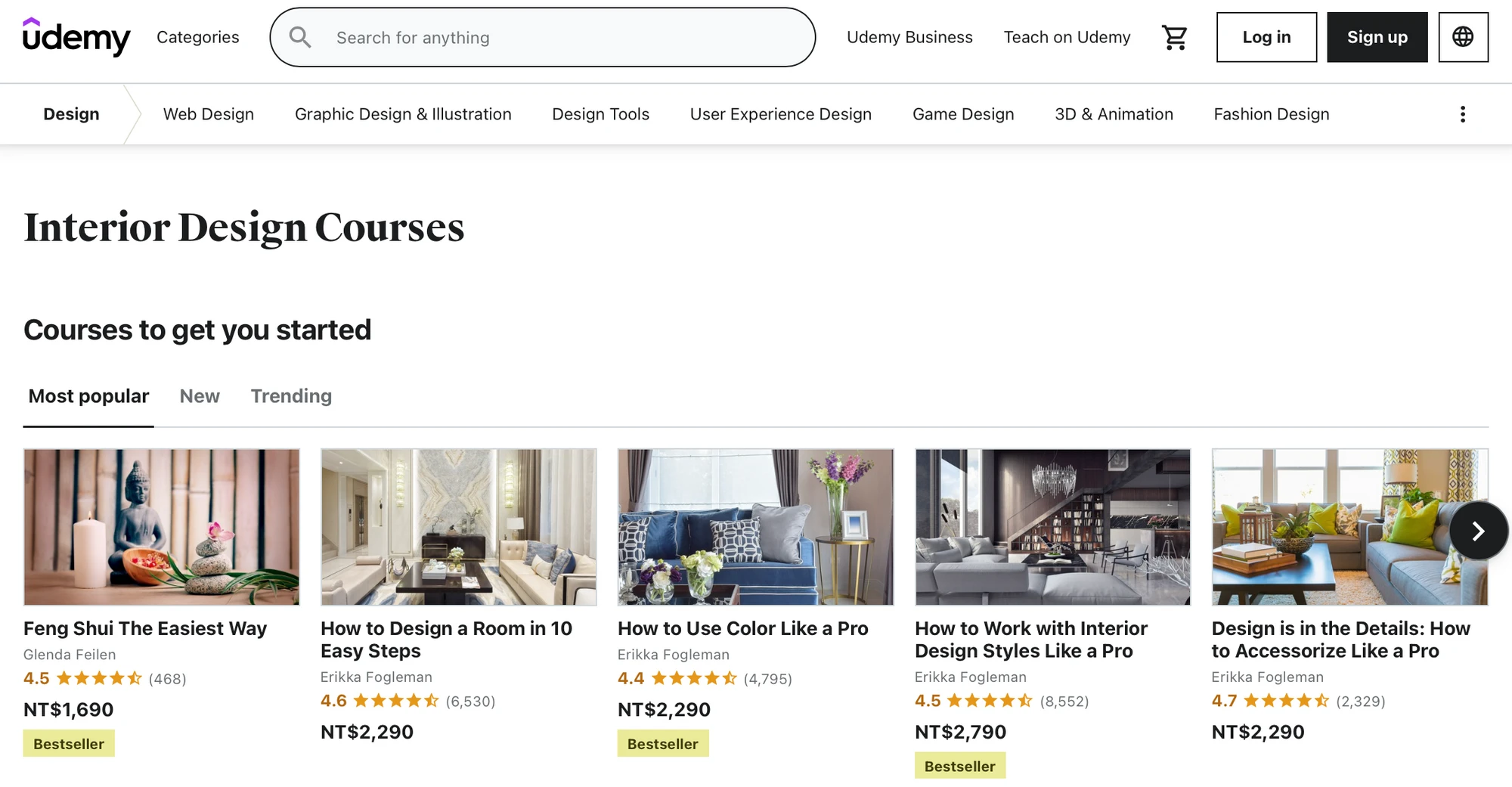 Image from Udemy

Udemy offers numerous online courses, some of which are interior design lessons. These lessons are designed and uploaded in such a way that allows each student to learn at their convenience. This makes studying easy for everyone regardless of previous experience or expertise.
Besides, the lessons have different prices as well as different durations. Thus, be sure to consider all these factors as you search for suitable interior design lessons on Udemy.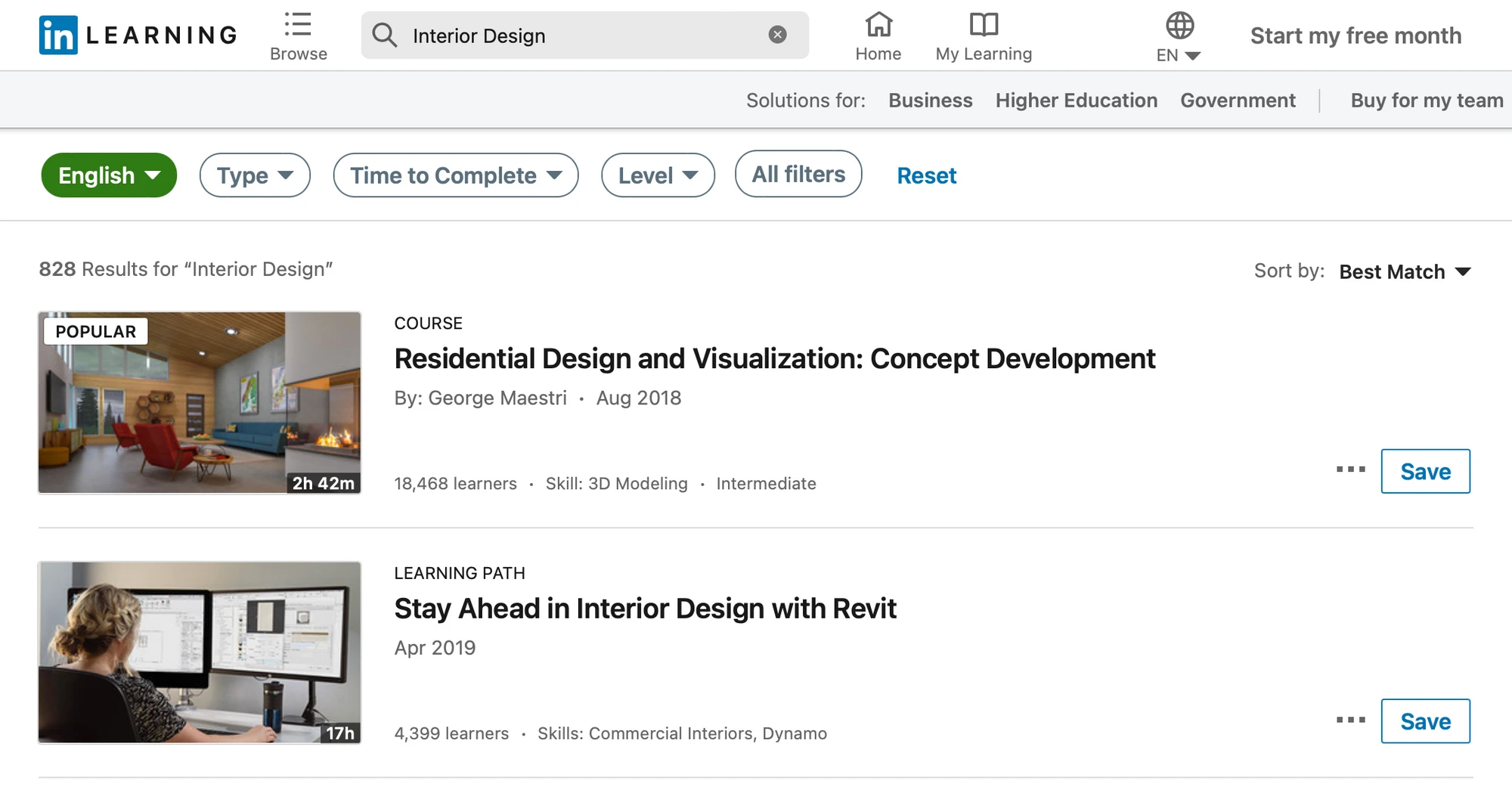 Image from LinkedIn Learning

There are over 2,000 courses that are related to interior design on LinkedIn Learning. Many of these courses have hundreds or thousands of students that are currently enrolled in them.
Therefore, if you want to know more about interior design, this platform is ideal for you. The courses focus on helping you reimagine or redesign the interiors of your living spaces, offices, and other areas to suit your particular tastes. No matter what the levels of your skills, you will find several interior design courses that are right for you!
Messy notebook after class? Try Eagle to automatically organize your interior design notes!

Image from Eagle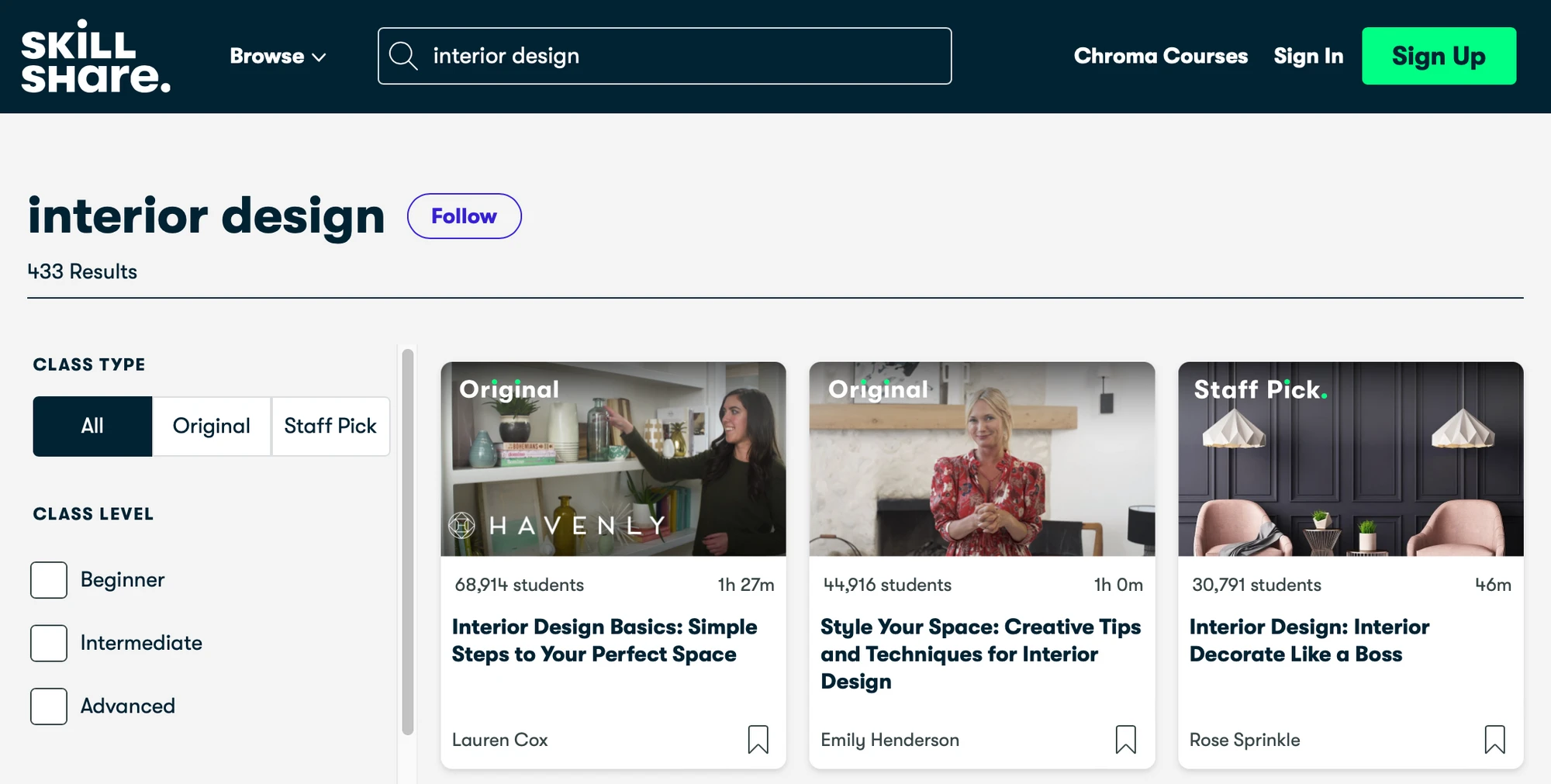 Image from Skillshare

Skillshare has an array of interior design lessons that revolve around designing homes and offices, home decoration, color palette, architecture and many more. The duration of the courses ranged from about 15 minutes to some hours.
While some of these lessons are entirely free, others are paid courses. However, whether paid or free, you can rest assured that these lessons will go a long way in ensuring that your knowledge of interior designs is improved.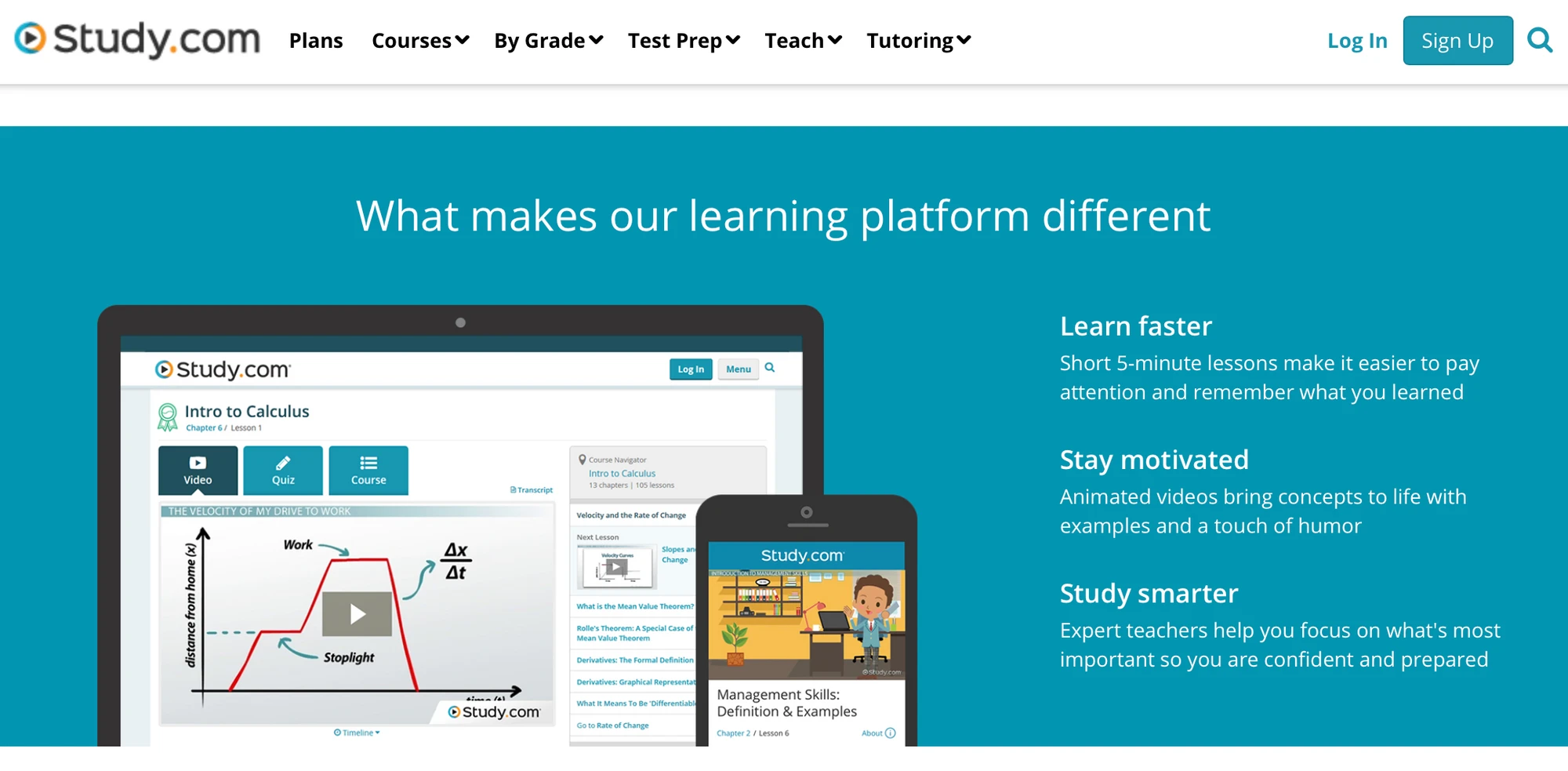 Image from Study

Study has hundreds of lessons in various aspects of interior design, covering from commercial interior design to residential interior design. Whether you are looking for introductory classes on the basic concept of interior design or advanced knowledge of how to design the interior of a place, there are many courses satisfying all your needs to help you work as a skilled interior designer!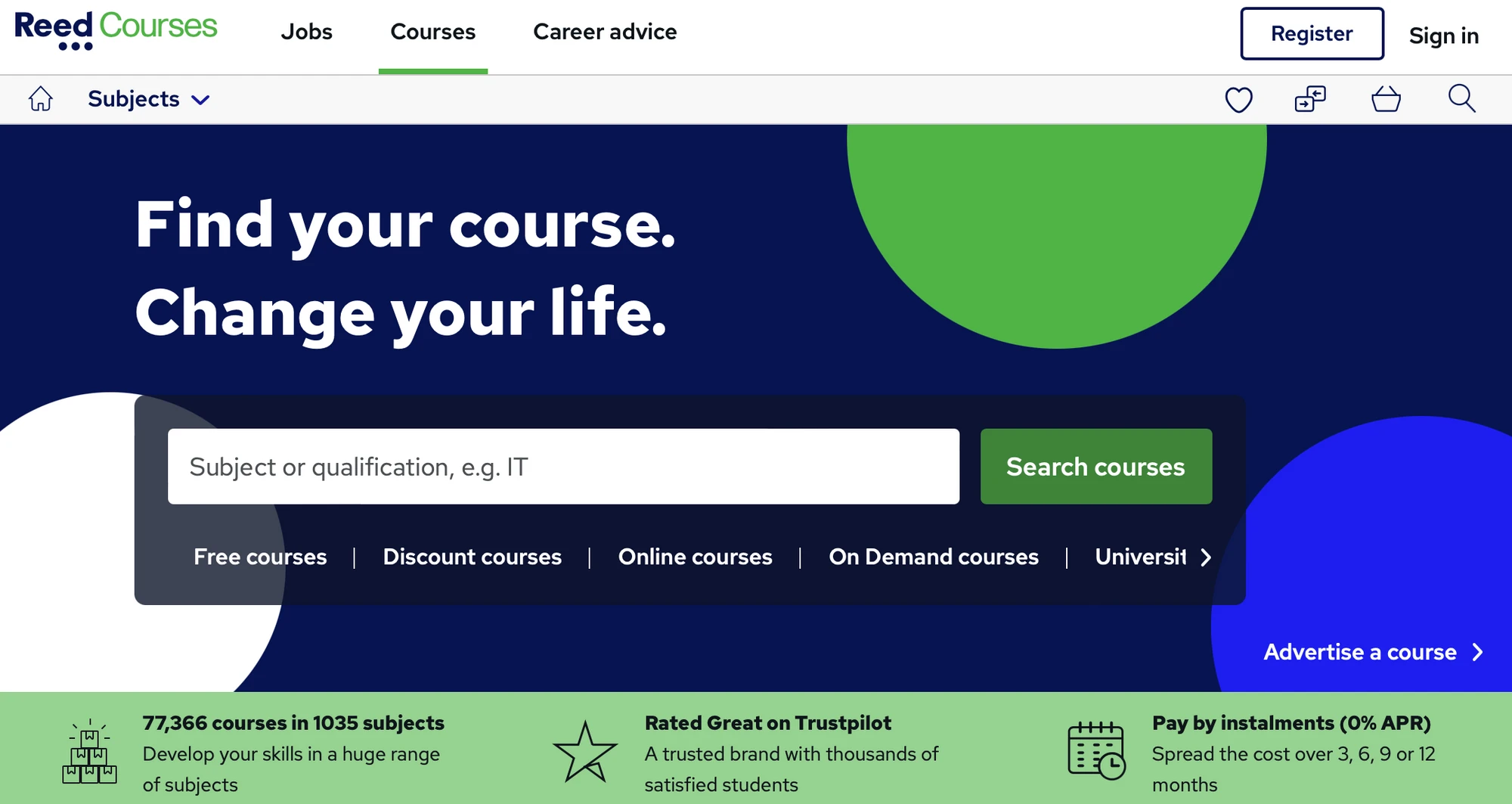 Image from Reed

Reed is a UK-based platform that offers different courses, including interior design lessons, provided by experienced and skilled interior designers. Similarly, the courses on Reed are at different levels based on the ability of the students, so that you can quickly choose one that meets your needs. Besides, you can even have the chance to get a certificate after completing the program!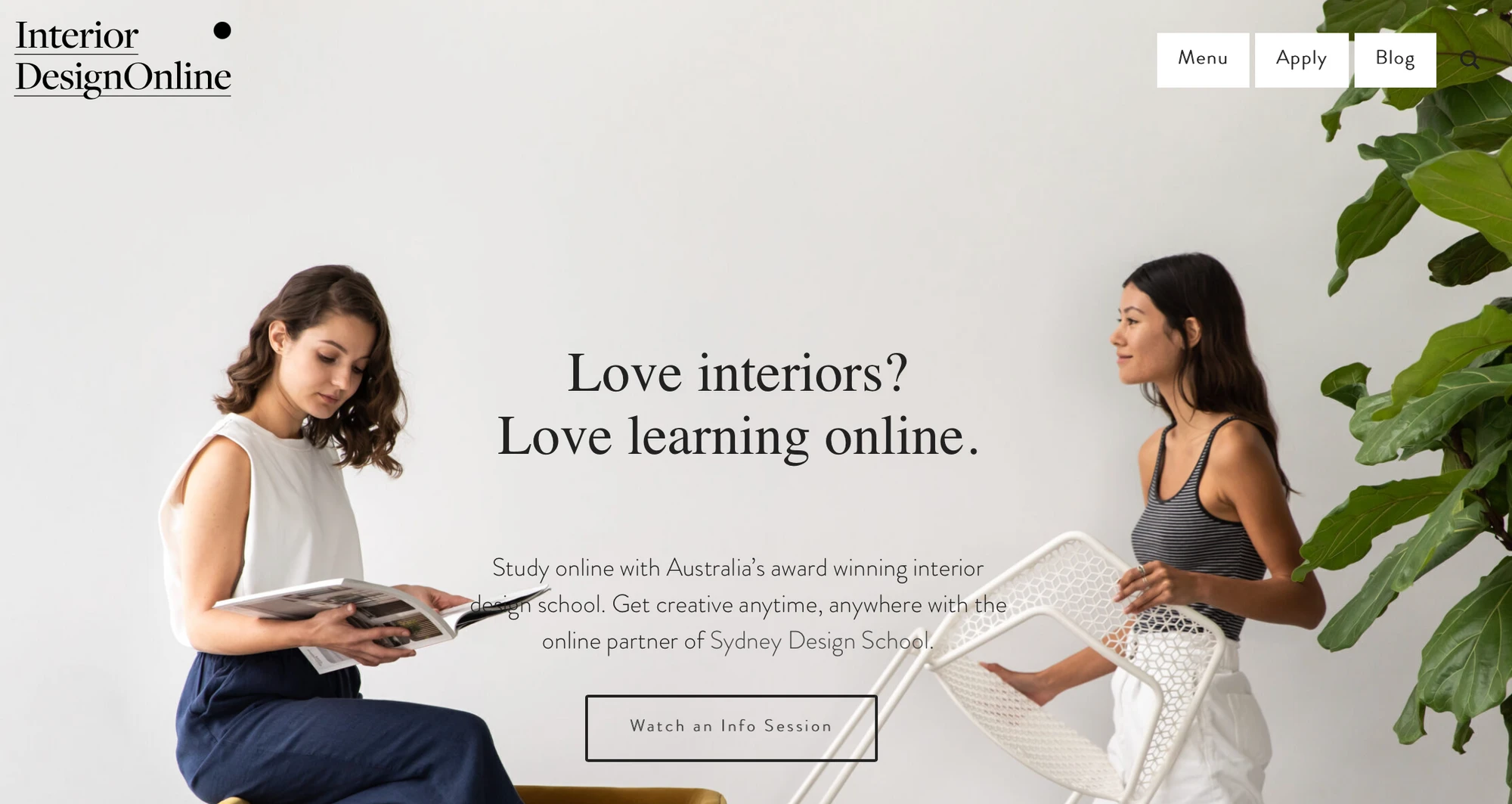 Image from Interior Design Online

In partnership with Sydney Design School, "Interior Design Online" offers exceptional interior design lessons. During courses, you will learn how to use Photoshop, Revit, AutoCAD, SketchUp, and InDesign to produce the best designs for the interiors of residential and commercial places. The high quality of the courses on this website ensures that you will learn everything you need to create spaces that bring inspiration for yourself and your clients.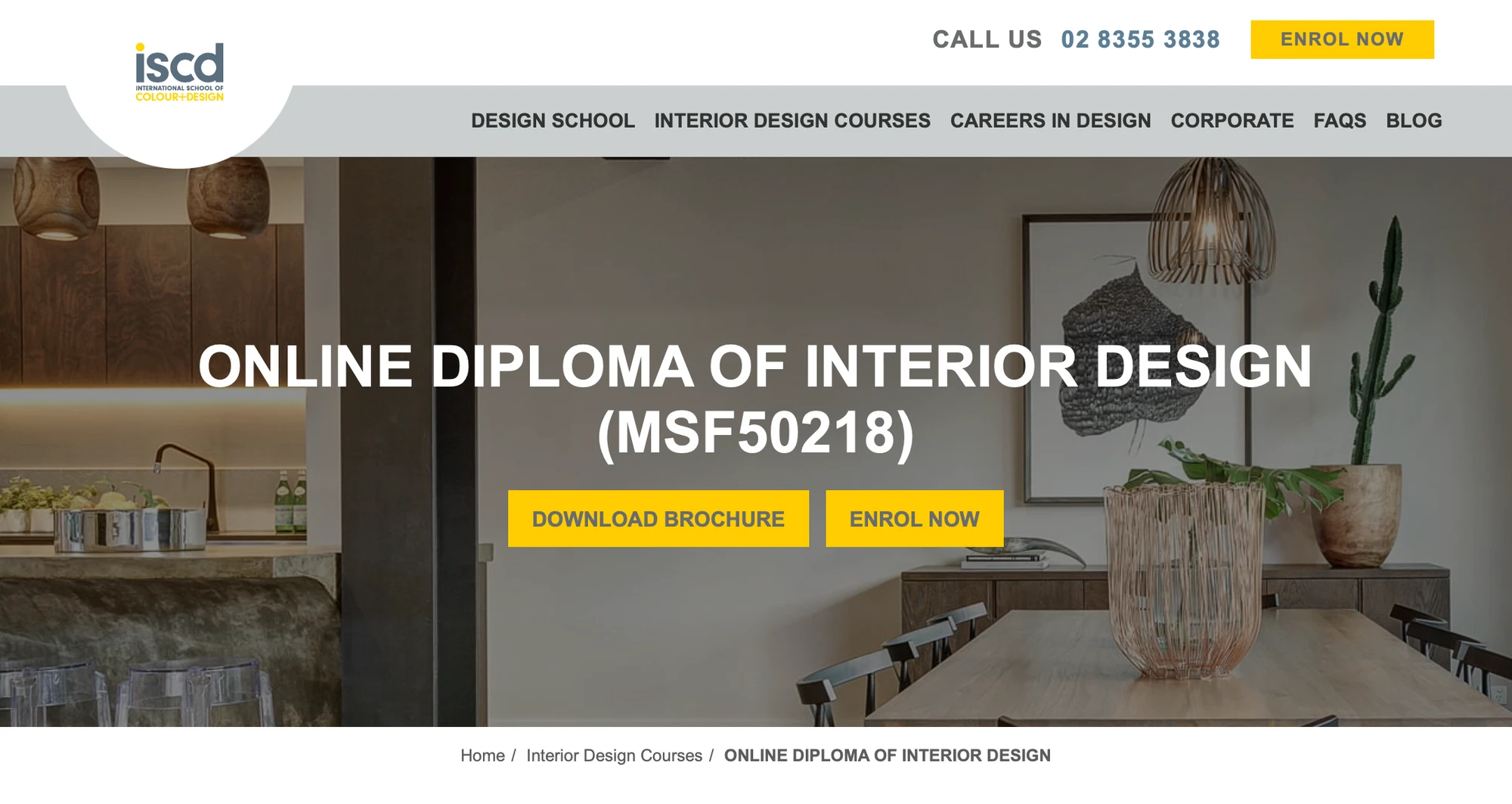 Image from Internatinal School of Colour and Design (ISCD)

ISCD is an online design school, and its Online Diploma of Interior Design is one of the nationally accredited programs for people who want to learn commercial and residential interior design.
If you want to find a job or set up an interior design firm, this lesson is for you. It will walk you through the application of InDesign, Photoshop, CAD, and other common design tools. There are also a variety of topics, including interior lightings, soft furnishings, spatial design, and interior scheming. On top of that, you will work on different projects with other students and experienced designers, which can be a great opportunity to enhance yourself!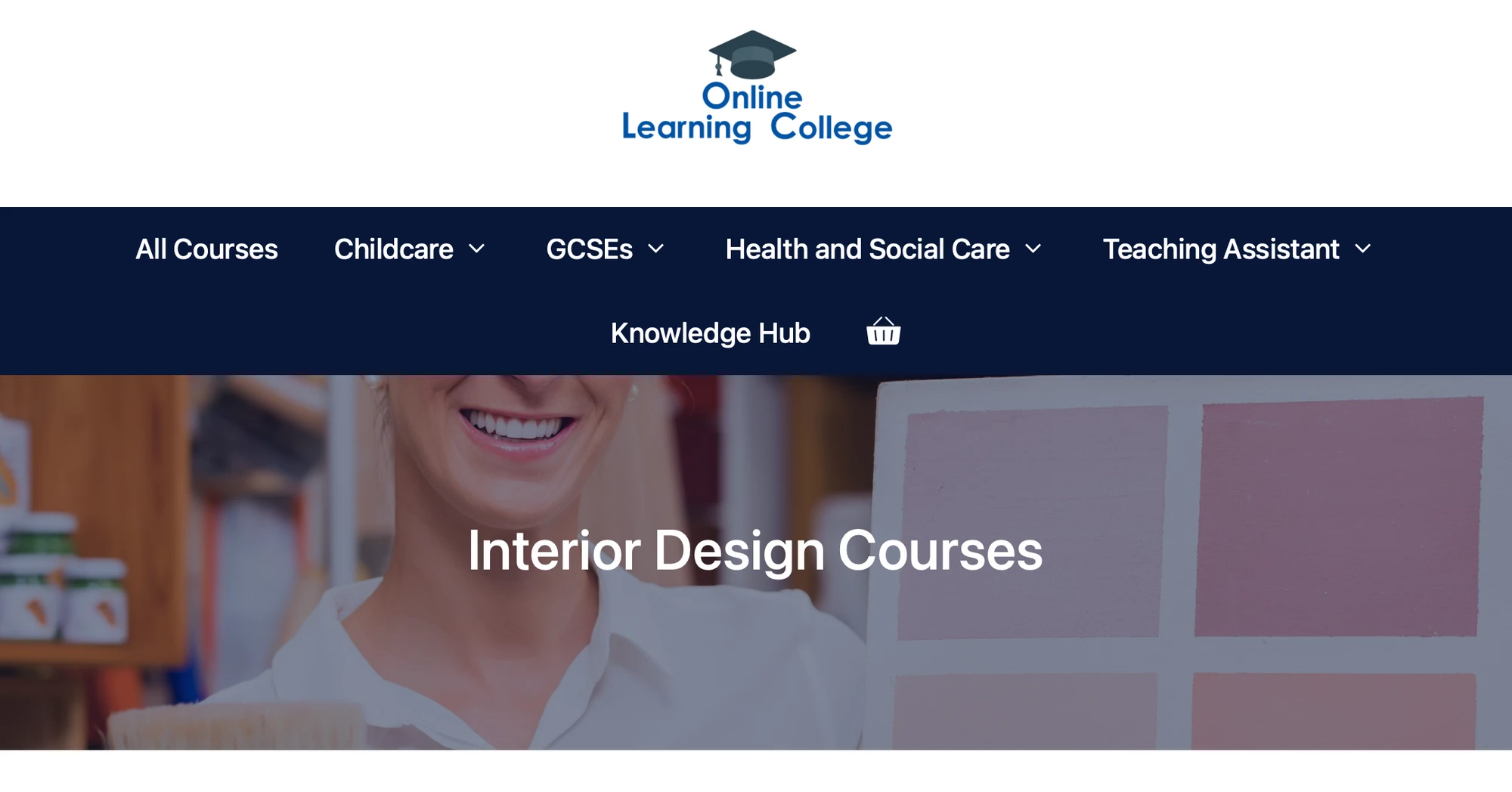 Image from Online Learning College

Online Learning College offers a handful of interior design courses. In addition to becoming an interior designer, these courses can also help you acquire the knowledge needed to work in the industry and satisfy the needs of your clients.
These courses are meant for anyone who wants to study how to work in the field and encounter success in their endeavors. Each of these courses provides you with loads of opportunities to start your career in the field or improve your skills. Don't hesitate to enroll in one of these courses!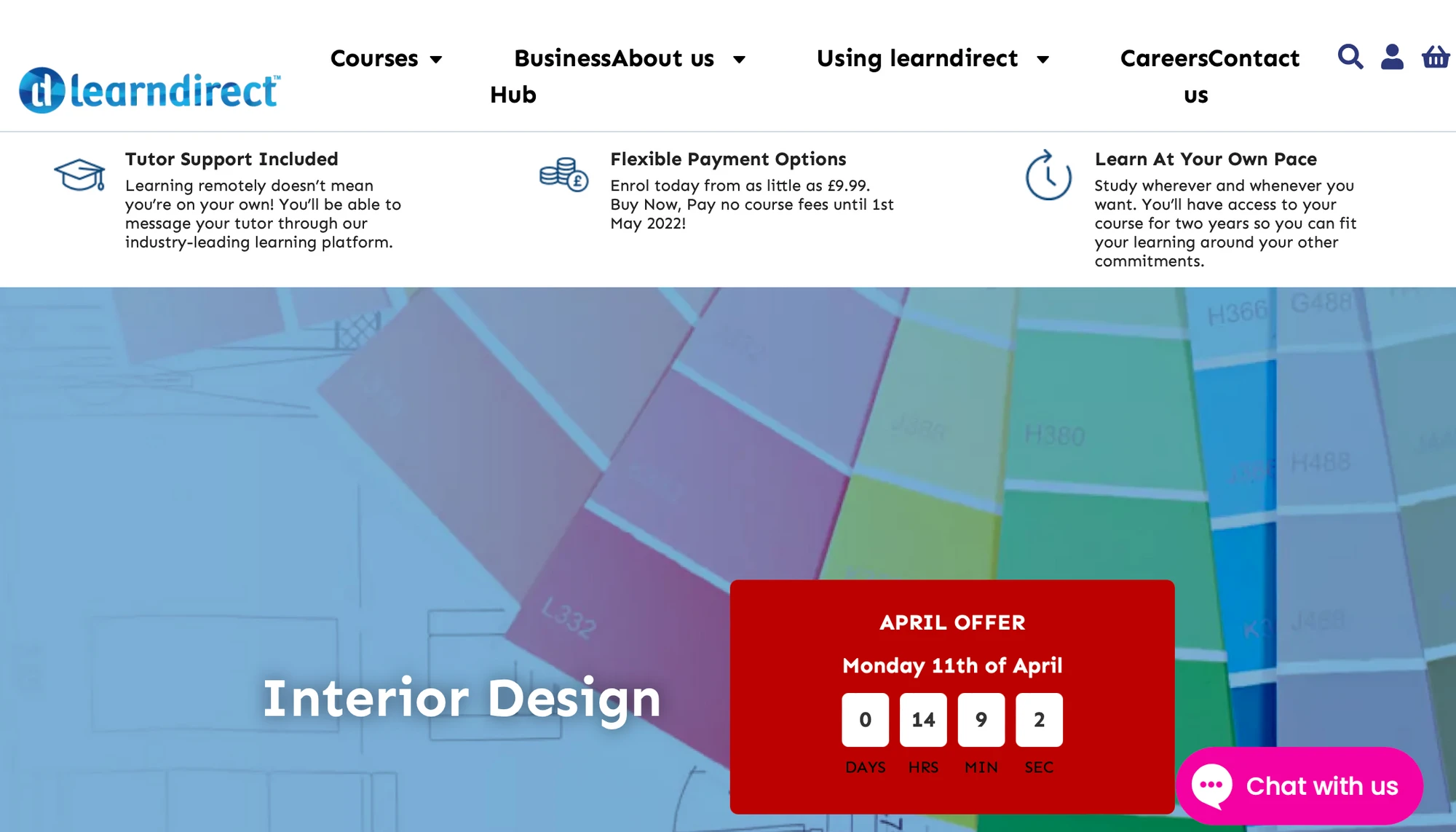 Image from Learn Direct

Learn Direct is an online learning platform in numerous fields, and you can also enhance your design ability by obtaining the Level 3 Interior Design Certificate. During the course, it will teach you how to use texture, space, and lighting to design indoor spaces of workspaces, homes and several other public centers. Believe that you can gain a lot from the lesson, and setting a great foundation for your interior design ability!
Image from KLC

The KLC Online Certificate Course is an excellent study option to learn interior design. From the basics of building construction, spatial planning to visual communication skills. The appeal of this course is its flexibility that you can study from home at a pace that suits you. Besides, it enables you to gain a professional qualification that is highly regarded within the Interior Design Industry.
Furthermore, it even provides a thriving online community, where students share ideas, show examples of projects and discuss coursework with each other. Come to join with them!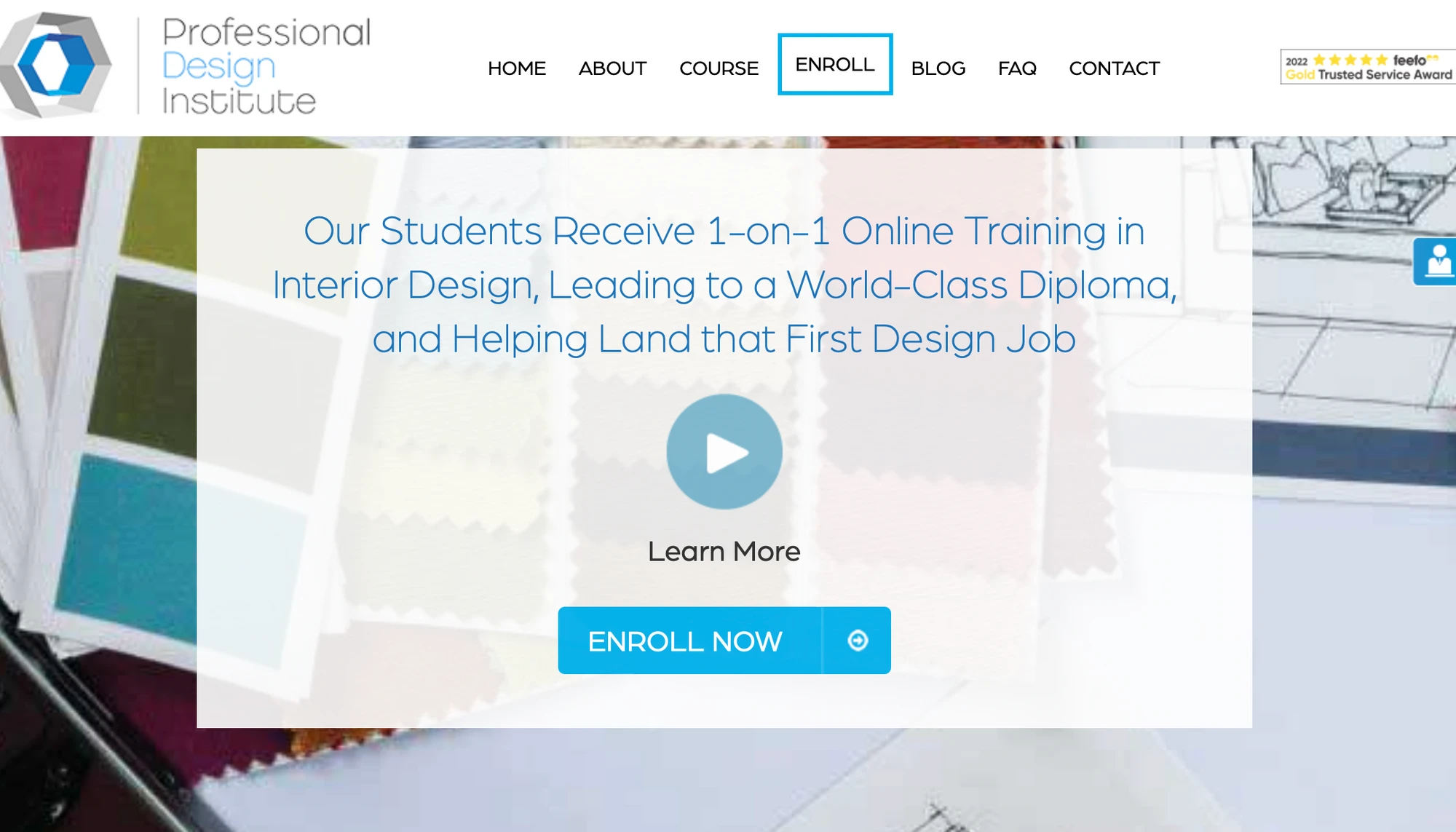 Image from Design Institute

Design Institute offers a 1-on-1 online interior design program that has been designed by experienced interior designers. The course comes with various topics, including Space Planning, Interior Lighting, Fixture and Equipment and Color in Interior Design, which can help you develop a basic understanding of designing interior spaces.
Besides that, you will even have a personal tutor to help you learn better, and get a diploma that you can use anywhere around the world after completing the course.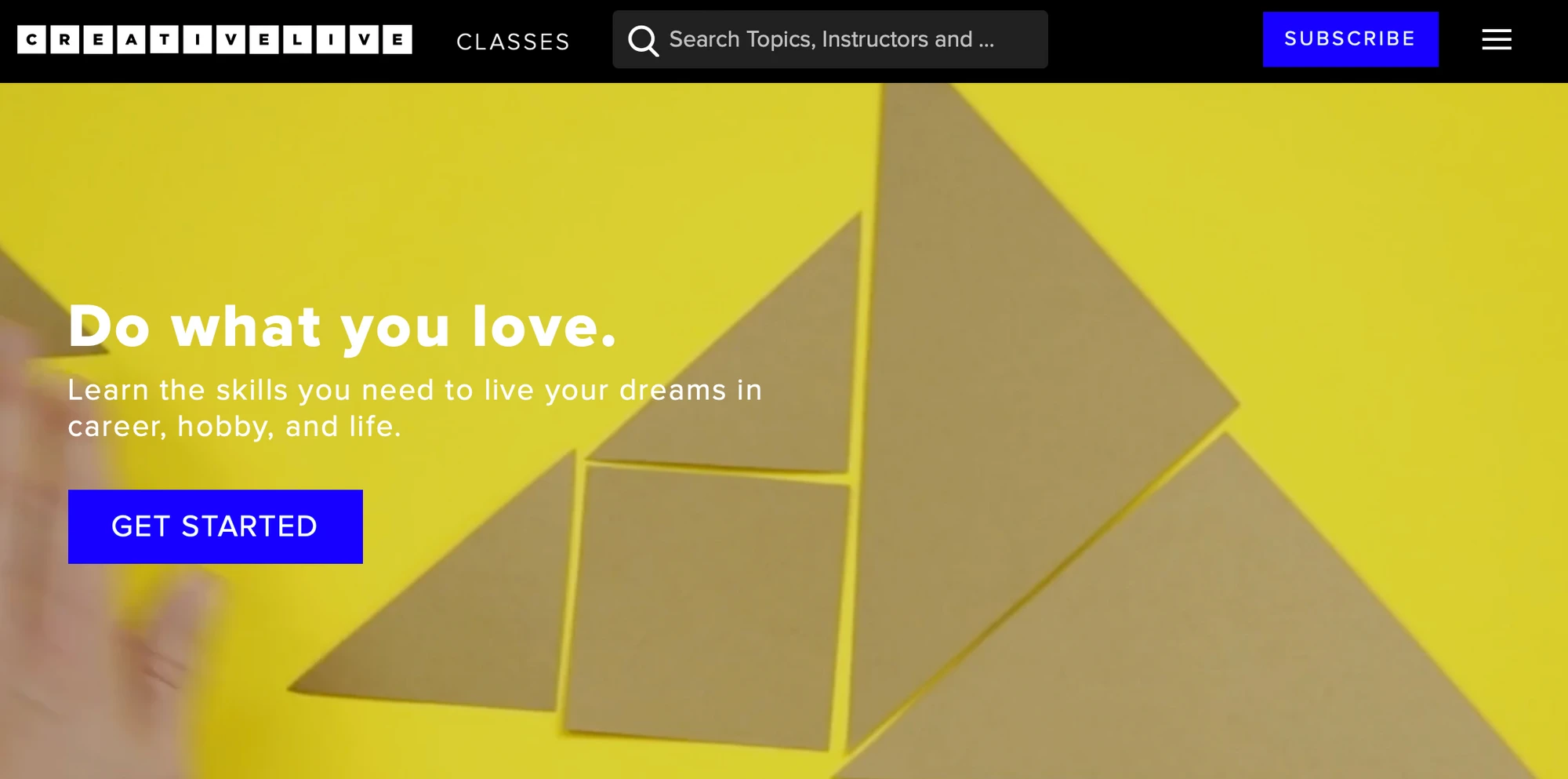 Image from Creativelive

CreativeLive is an online creative community that is aimed at entrepreneurs and creative professionals. It offers 2,000+ curated classes that are taught by 700+ handpicked instructors. Its classes focus on improving your creative skills and knowledge. So if you are someone looking to develop skills in writing, blogging, art or interior design, then CreativeLive may just be the right online platform for you.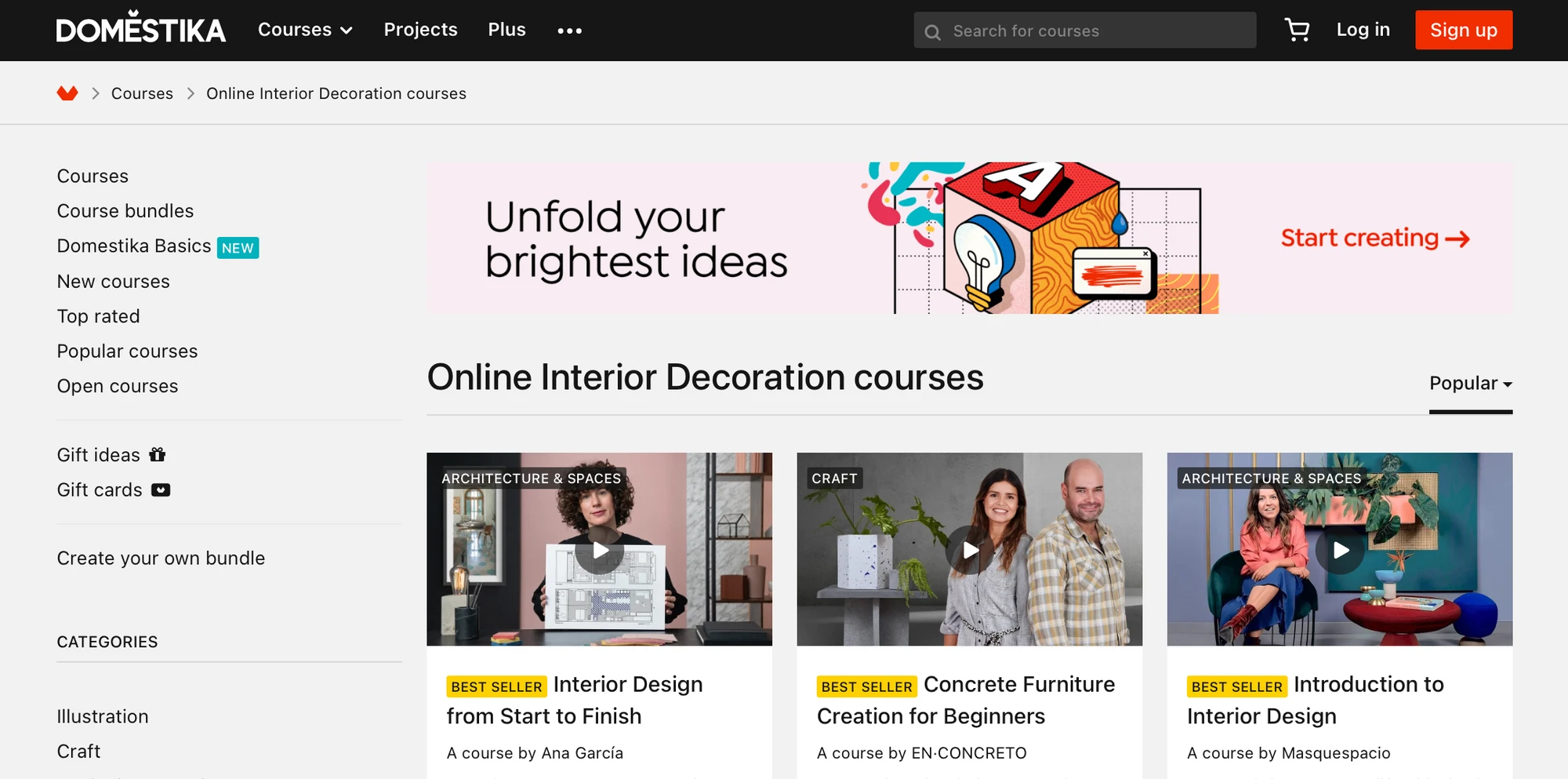 Image from Domestika

Domestika is a fast-growing community where the best creative experts share their knowledge and skills professionally online. It carefully curates the teacher roster and produces all the courses in-house, to ensure a high-quality online learning experience for everyone.
If you are interested in unleashing your creative potential to enhance your interior design ability, and connecting with like-minded creatives from around the world, Domestika is suitable for you!
Related article: 38 FREE resources for UIUX Newbies: Blog, Podcast, YouTube
---
Top 9 Websites to Find Interior Design Inspiration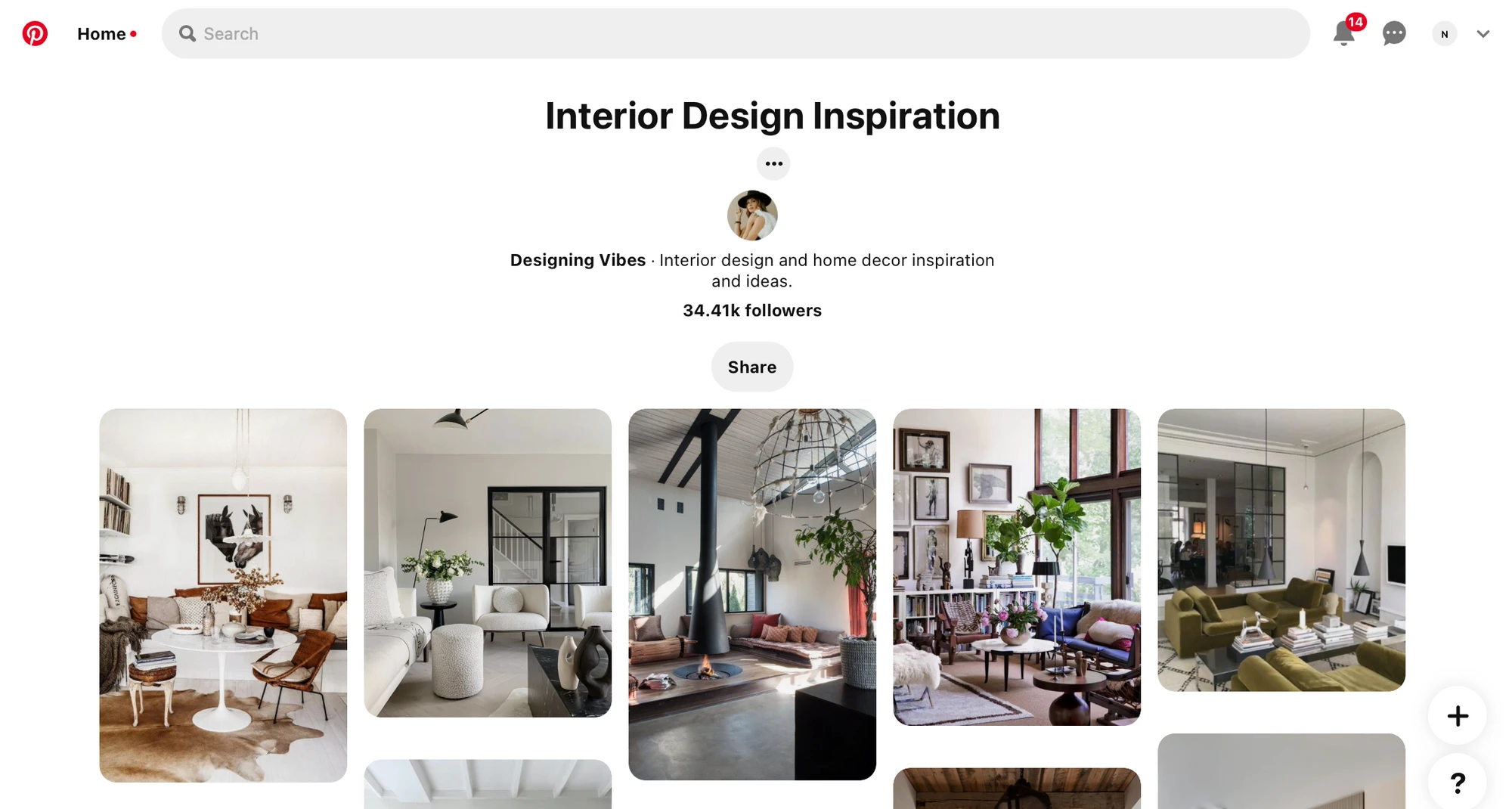 Image from Pinterest

Pinterest is an image-sharing platform where people post images of ideas and styles they like. It is absolutely filled with home decorating ideas. You can pin all your favorite web images on a virtual board to store the ideas that inspire you. This can become both your public profile and personal online idea book. The best part I like the most is that I can find them all in one place, which will save me hours of internet searching.
Unbelievable! Eagle can help you save all reference images with just one click!

Video from Eagle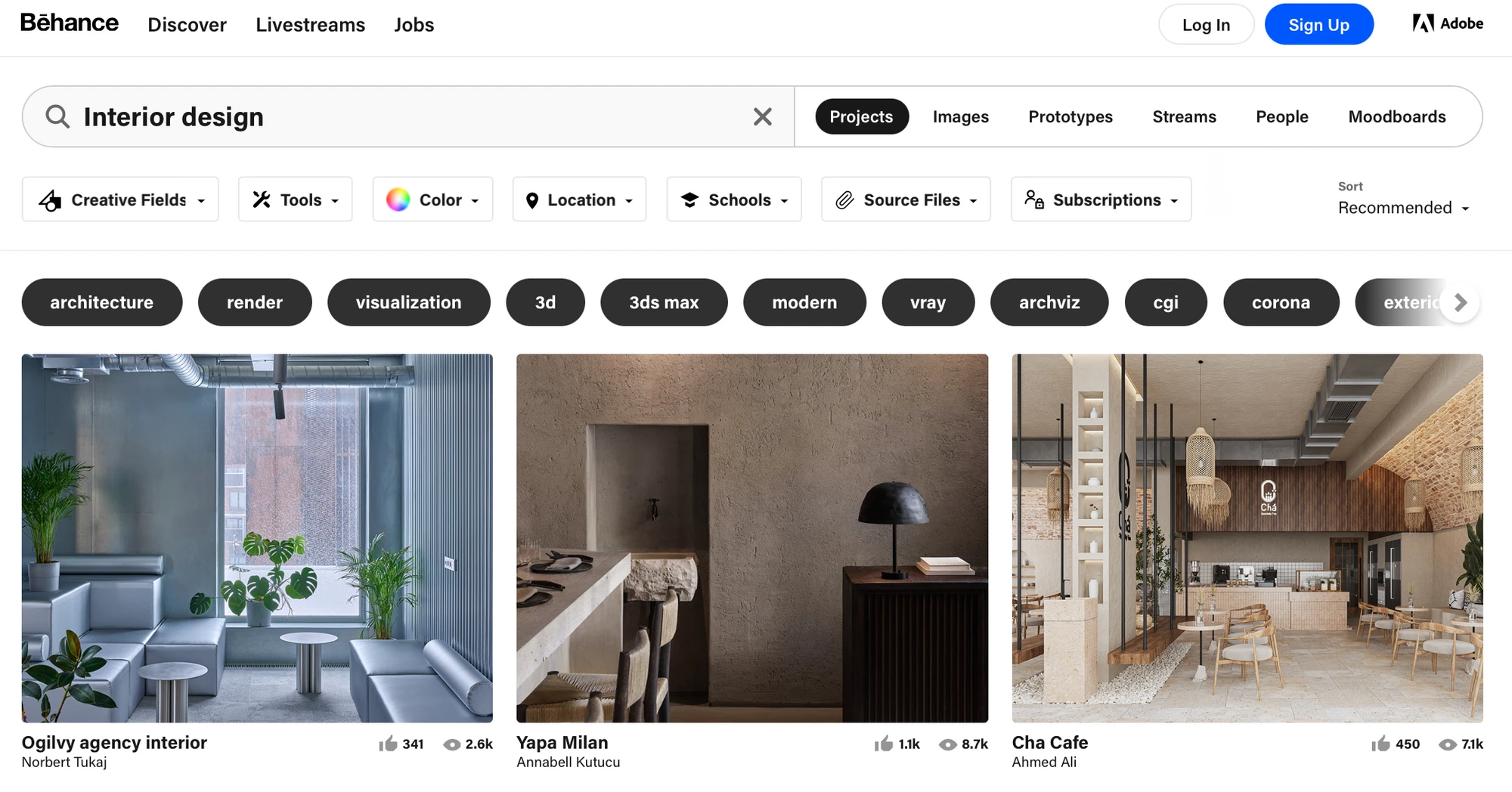 Image from Behance

Behance is a world-famous online community for designers to showcase and discover their creative work. Its search page with filters makes it easy to quickly find massive amounts of interior design inspiration, such as designers' original work and creative processes from all over the world. Also, you can also use it to view portfolio examples when you put together your own interior decorating work.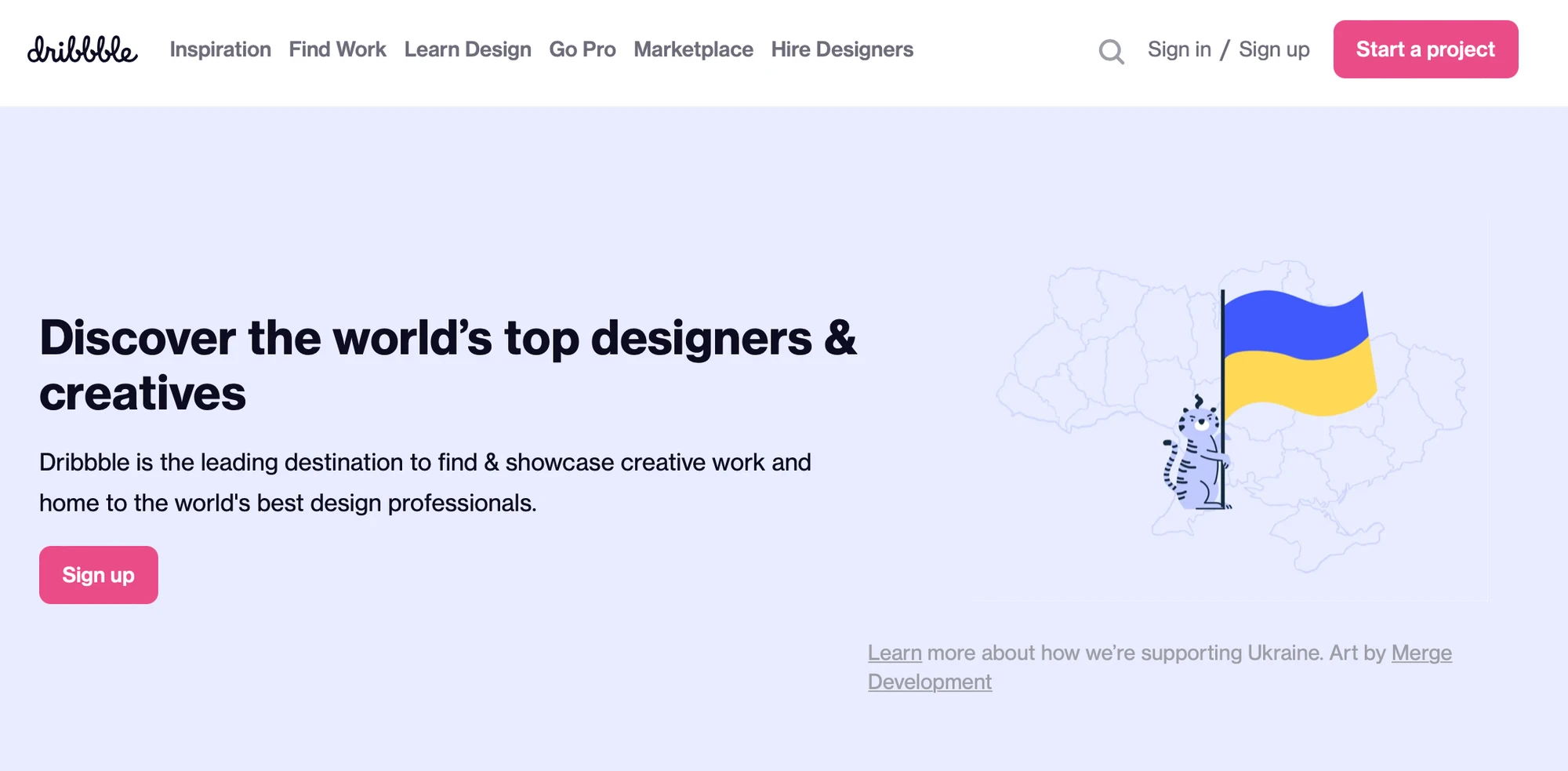 Image from Dribbble

Dribbble is one of the largest social media platforms for designers and creatives to share, grow their skills, and find design artwork. It's a great resource for designers to find interior design inspiration so that they can get inspired and create better works!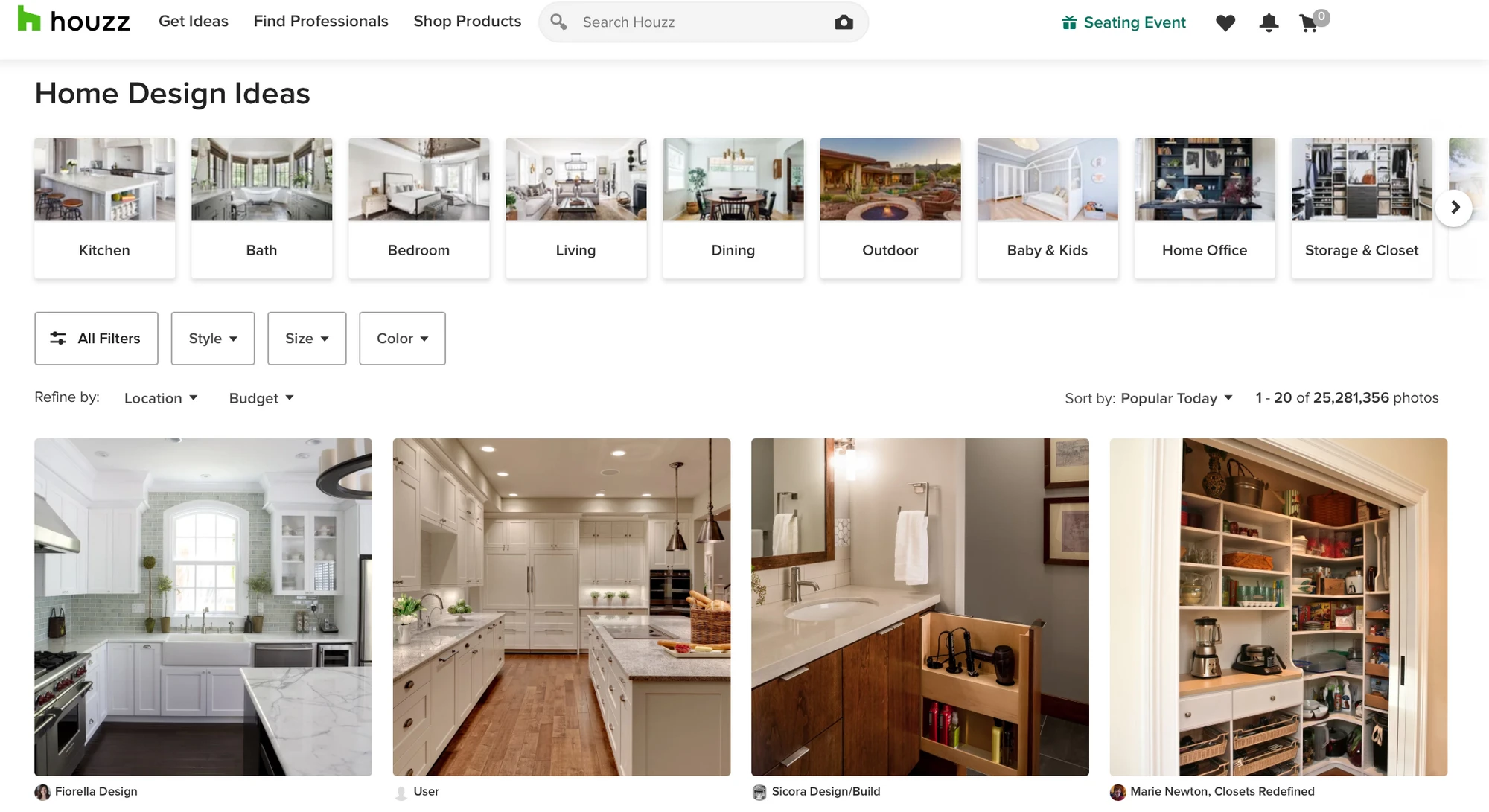 Image from Houzz

Houzz is one of the biggest interior design sites where you can get inspiration, find professionals and even shop online to buy the materials you want. It also offers practical tools for Interior designers. Whether you are a homeowner or an interior design beginner, Houzz can help you easily renovate and design a home by yourself!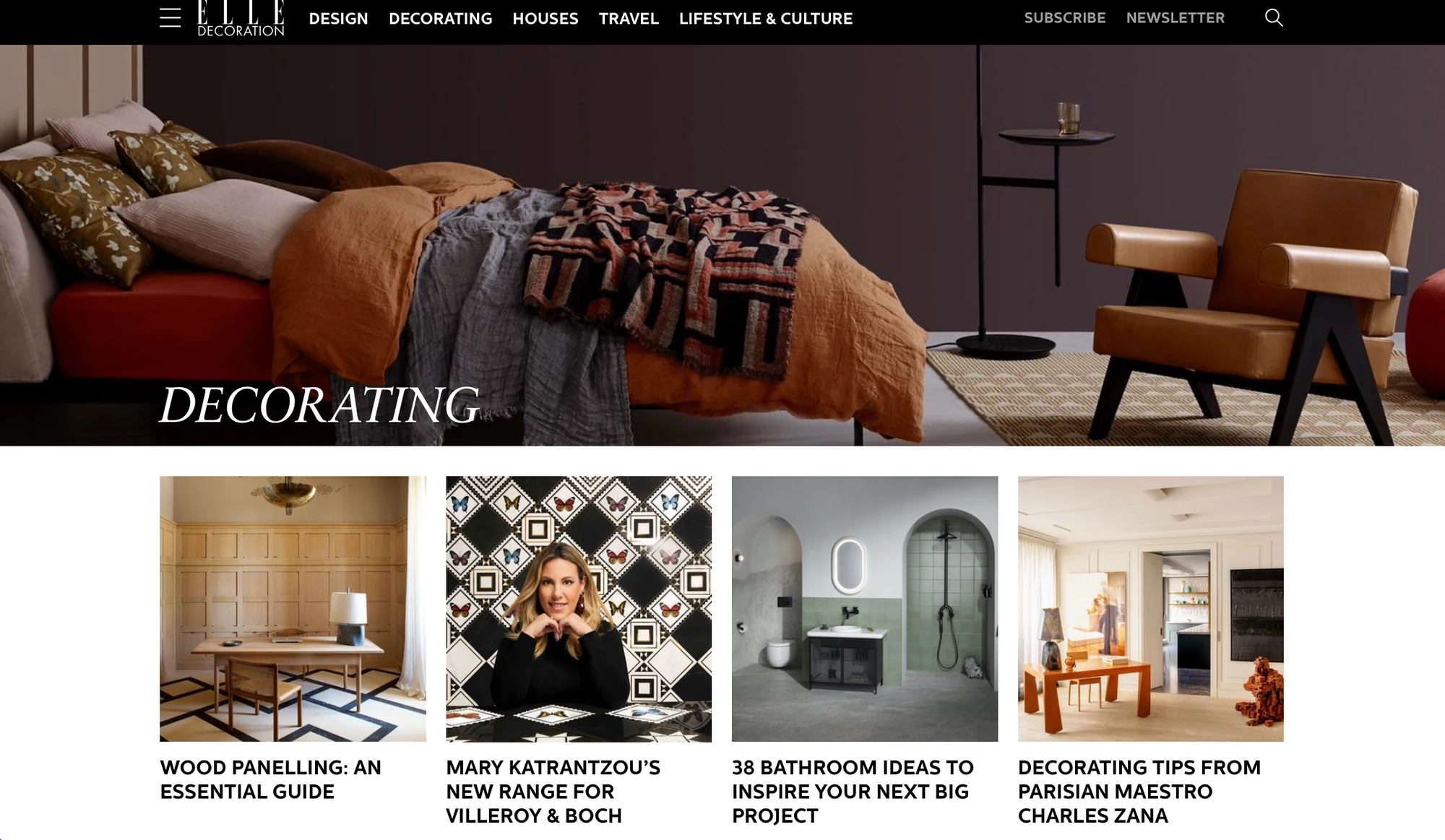 Image from Elle Decor
Elle Decor combines the best of interior decorating websites into one platform, offering a wealth of creative ideas, breathtaking house tours, renovations, product reviews, design expertise, and even celebrity styles. What's more, it also has useful articles on living life well.
Consider it the style bible for your home, where design and decoration meet ideas and inspiration.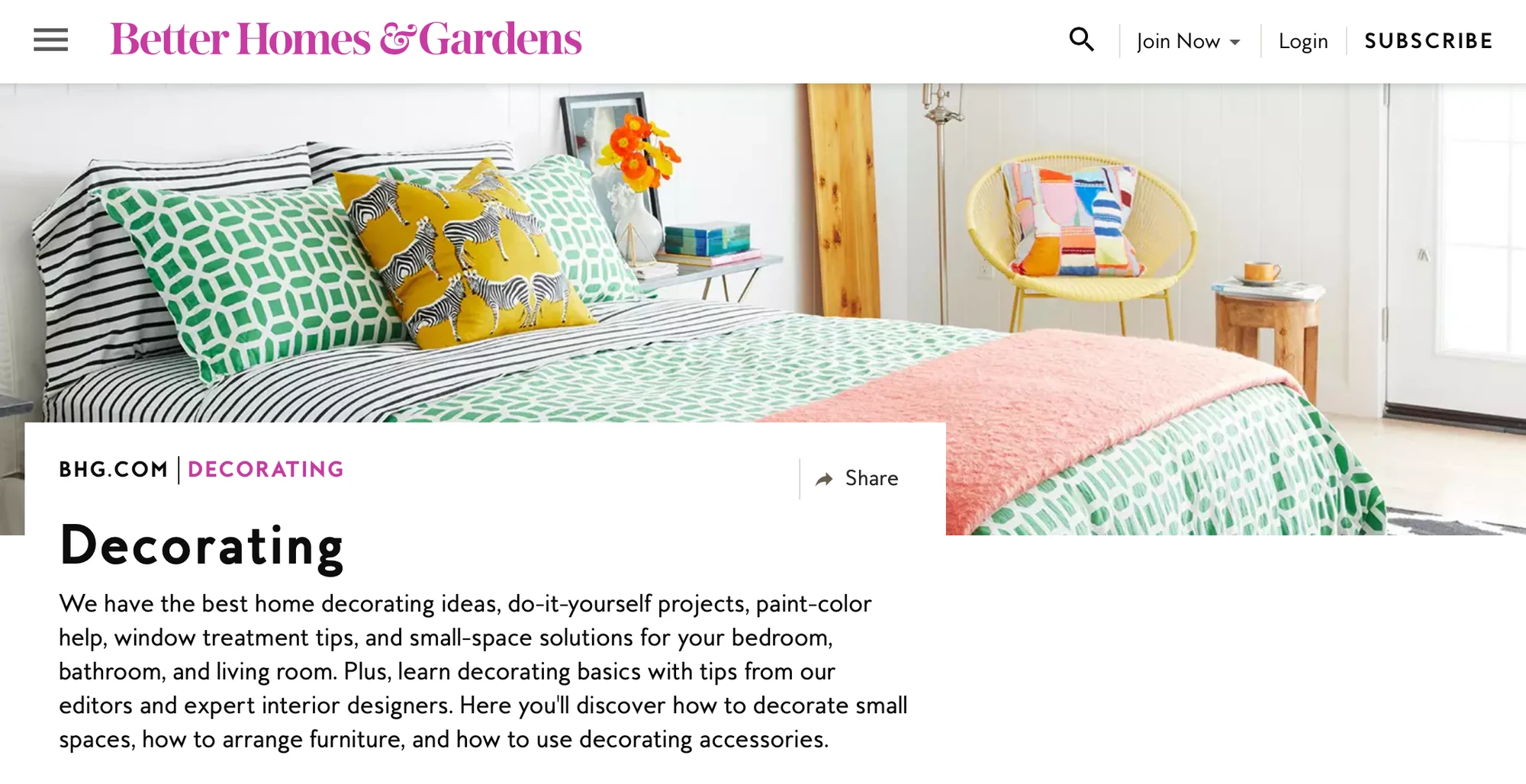 Image from Better Homes

BetterHomes is a one-stop-shop, stuffed with practical inspiration, professional tips, and do-it-yourself projects that will have your home converted in no time. There is also a navigation bar around each of the guides to help you quickly find the specific content. If you are an interior decorator, it can efficiently get you inspired among the goods on the website!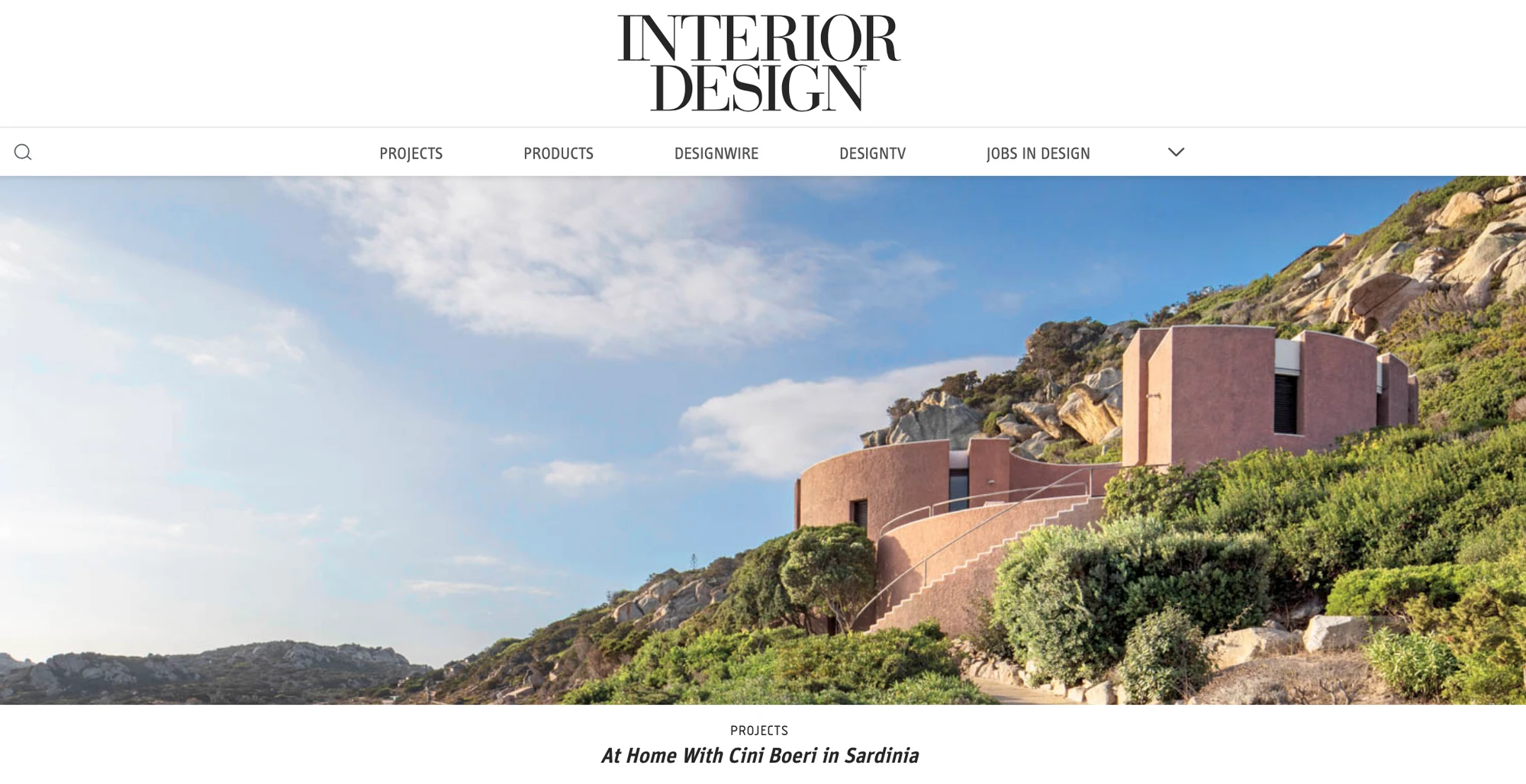 Image from Interior Design

Interior Design is the definitive resource for interior designers, architects and other designers, featuring groundbreaking projects, innovative new products, real-time design industry news, exclusive in-depth research and more.
Offering print, digital and events, Interior Design is your best tool to find creative inspiration and get the latest design news!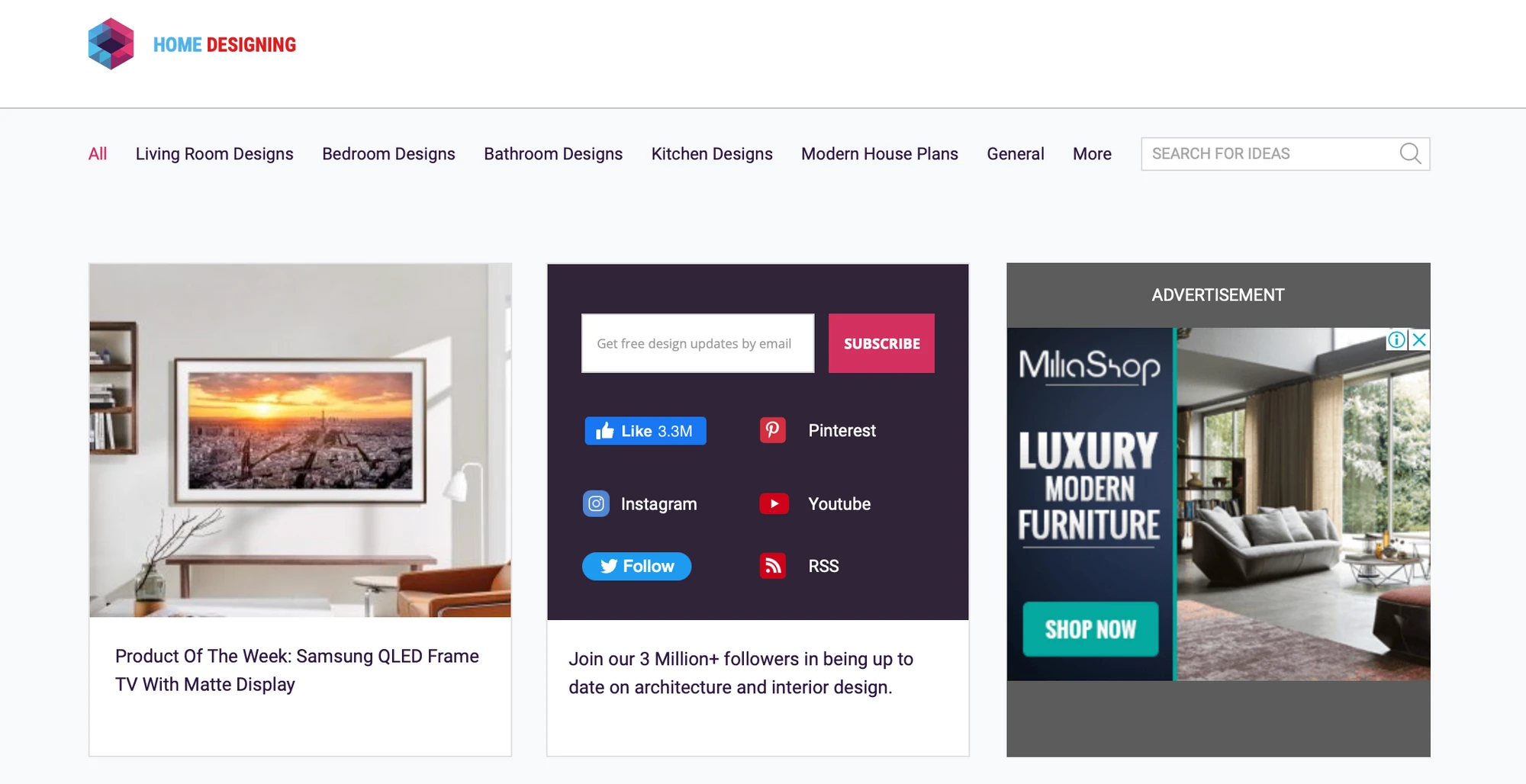 Image from Home Designing

Home Designing is an all-rounder interior design site, covering architectural innovations, cool homes, ideas for specific rooms, new design trends, products and occasionally decor tips.
Whether you are a casual enthusiast collecting ideas for your dream home or an interior design expert, if you come across a design you really like, you can save it quickly to your Idea Folder. It is the best one-stop source for you to find home design inspiration!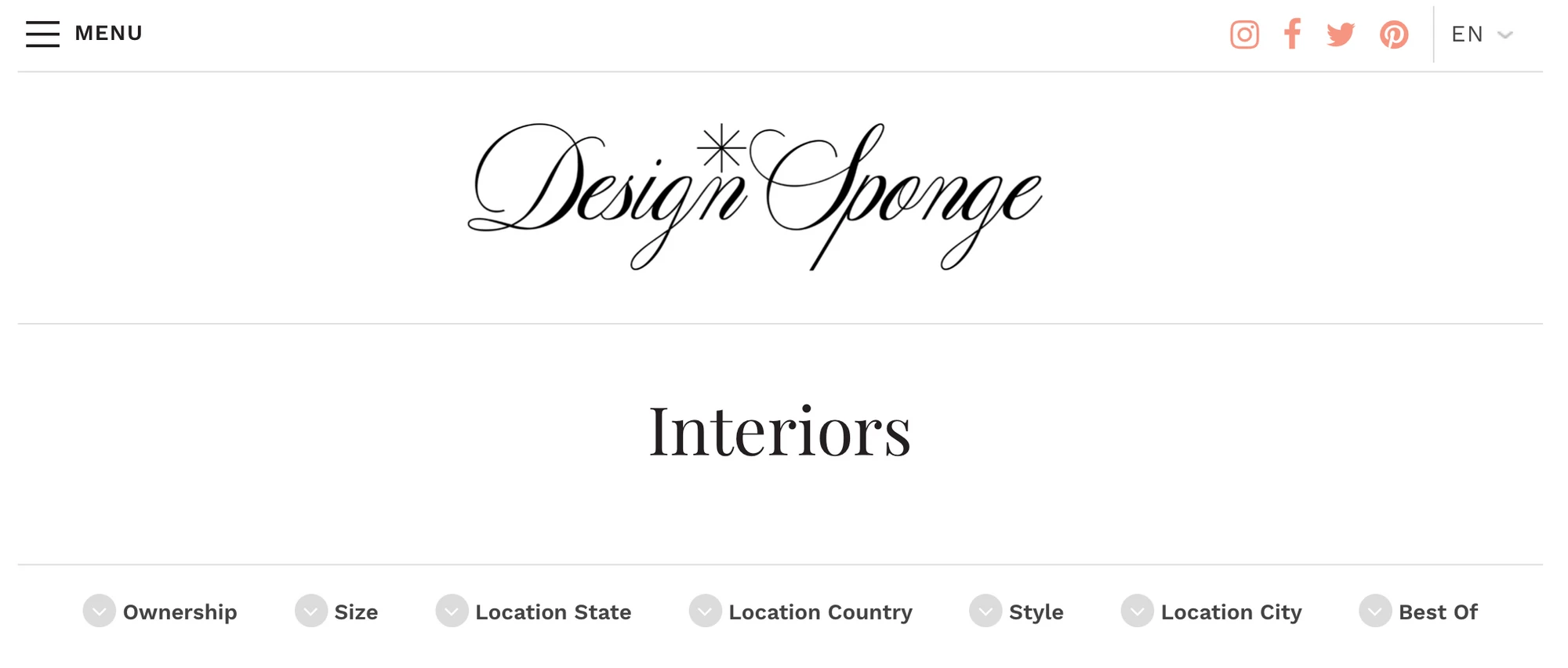 Image from Design Sponge

Design Sponge is one of the most popular interior design blogs in the world, collecting daily inspiration from all over the world. It doesn't only cover beautiful homes, objects and trends, but rather famous designers behind them, along with special experiences in their design careers.
Although the site has been closed since 2019, there are still many creative works, articles, and podcasts that are worth reading for you to get more design inspiration!
---
13 Best FREE Interior Design Software and Tools
Image from Sketch Up

SketchUp is the most comprehensive free 3D design software that is immersive enough to make it seem like you are moving through your future home, while being flexible enough to make it feel as if you're working with pen and paper.
The free version is perfect for hobbyists, while the pro version is more suited to professionals in architecture, construction, engineering and commercial interior design.
Platform: Web, MacOS, Windows
Pricing:
Sketch Up Free (Web only)
Sketch Up Pro (Desktop and Web): US$ 299/yr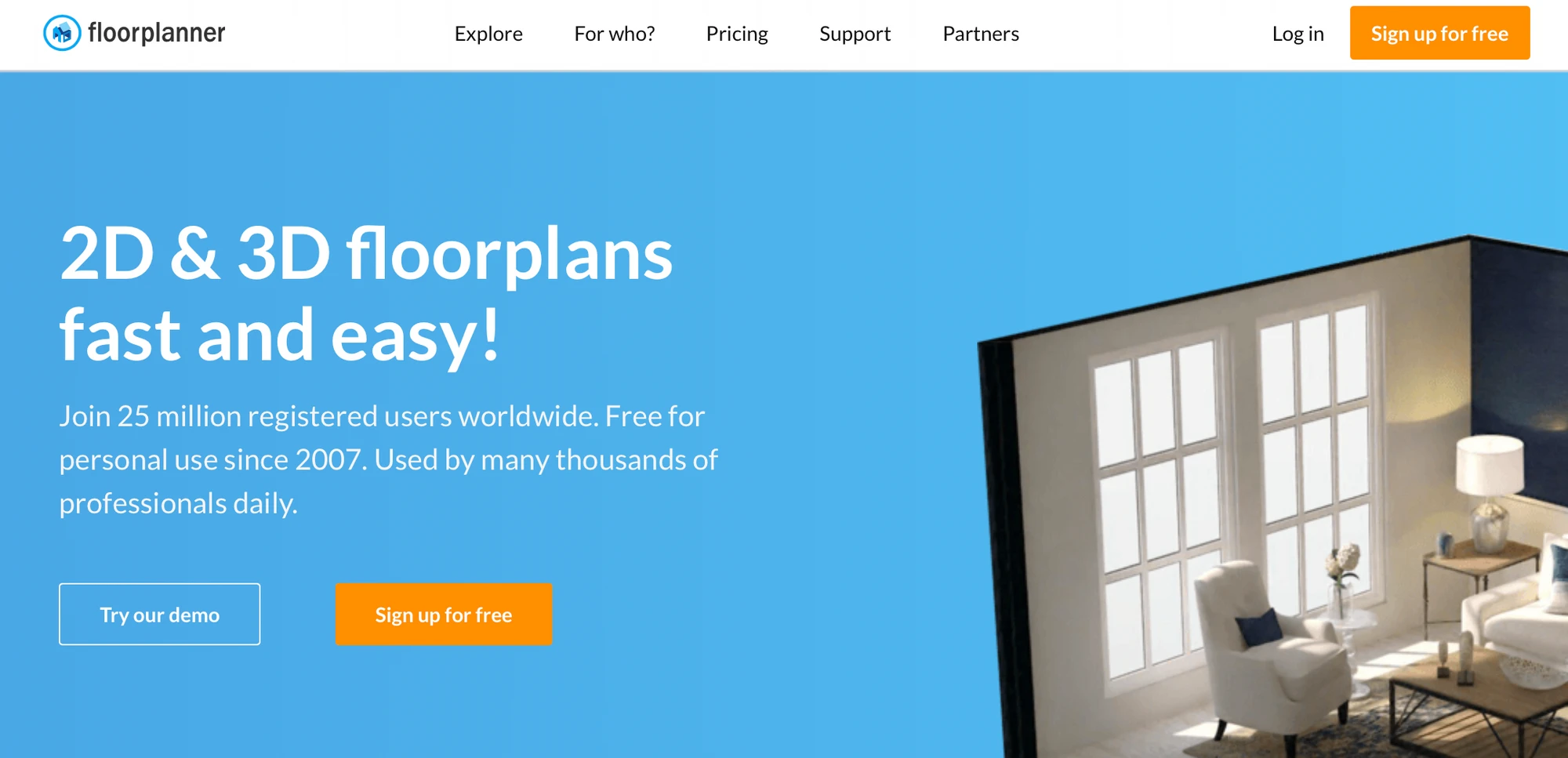 Image from Floorplanner

Floorplanner is a free online tool that you can design and decorate your space without having to download any software. As the name suggests, the core strength of this software lies within its excellent feature as a floor plan software. Besides, when the floor plan is completed, you can easily switch views and decorate the space in both 2D and 3D modes.
It's simple to use and easy to get the hang of, so if you're after something that doesn't require a steep learning curve, Floorplanner is a good choice for you!
Platform: Web
Pricing:
Basic: free
Plus: € 4/mo (Around US$ 4.34/mo)
Pro: € 24/mo (Around US$ 26.01/mo)
Want to manage all your design assets in one place? Eagle's here to help!

Image from Eagle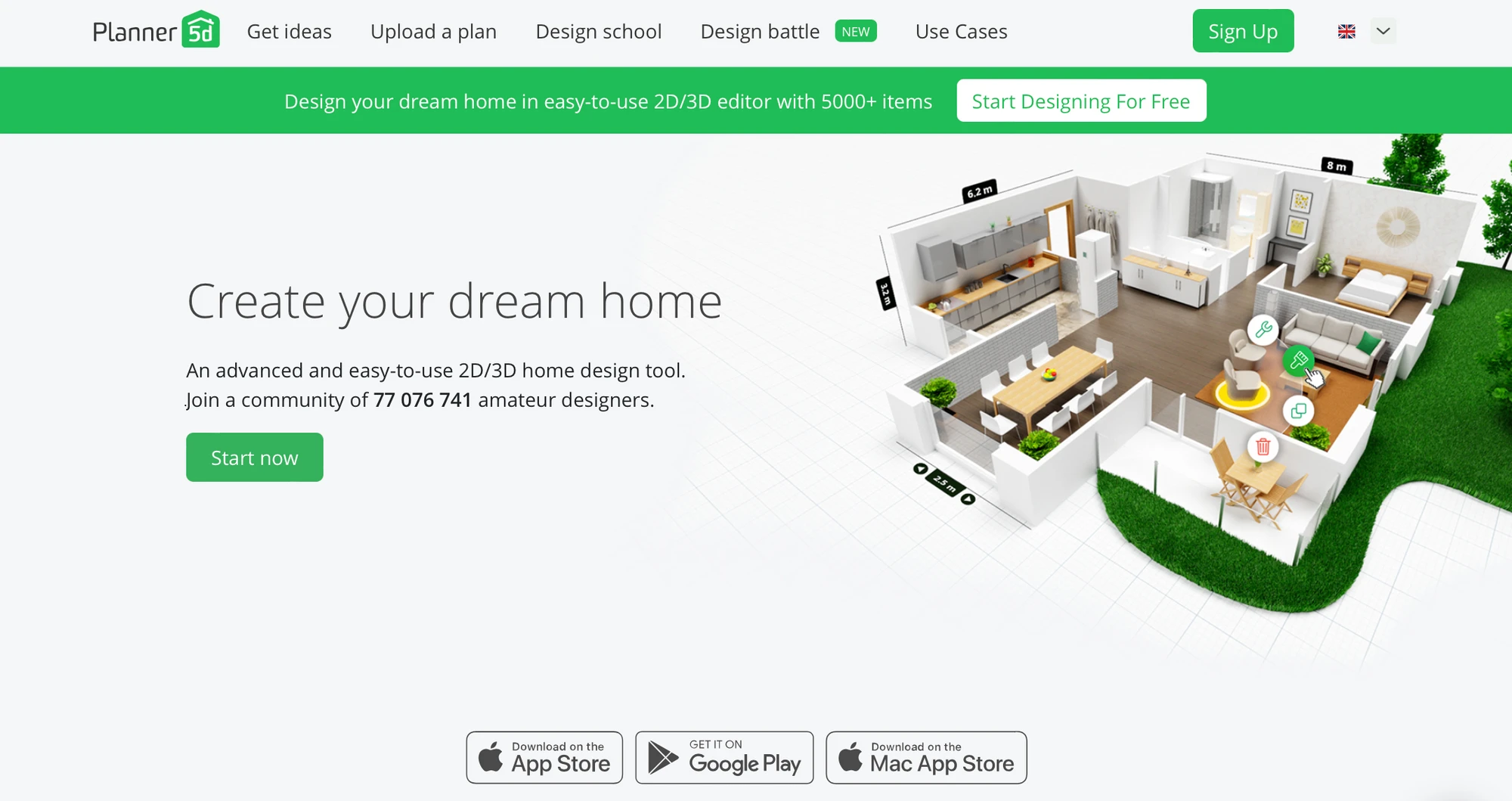 Image from Planner 5D

Planner 5D is the best-looking home design tool. Like the free version of Sketch Up, this tool is immersive, which means you are able to explore your design with your feet virtually on the ground.
With Planner 5D, you'll be able to start from scratch or use a template that is perfect for throwing together a quick floor plan, which saves you a lot of time. What's especially great about this software is that it works on iOS, which means you can create plans on your phone or iPad while you're on the move.
Getting started couldn't be easier. It is also equipped with drag and drop functions. You can easily build and move walls, high-resolution items, and pick the building materials, colors, and sizes of those items. The only downside is that if you want to use the in-app furniture, it can get expensive for anything other than the most basic beds, chairs or sofas.
Platform: Web, MacOS, Windows, Android, iOS
Pricing: free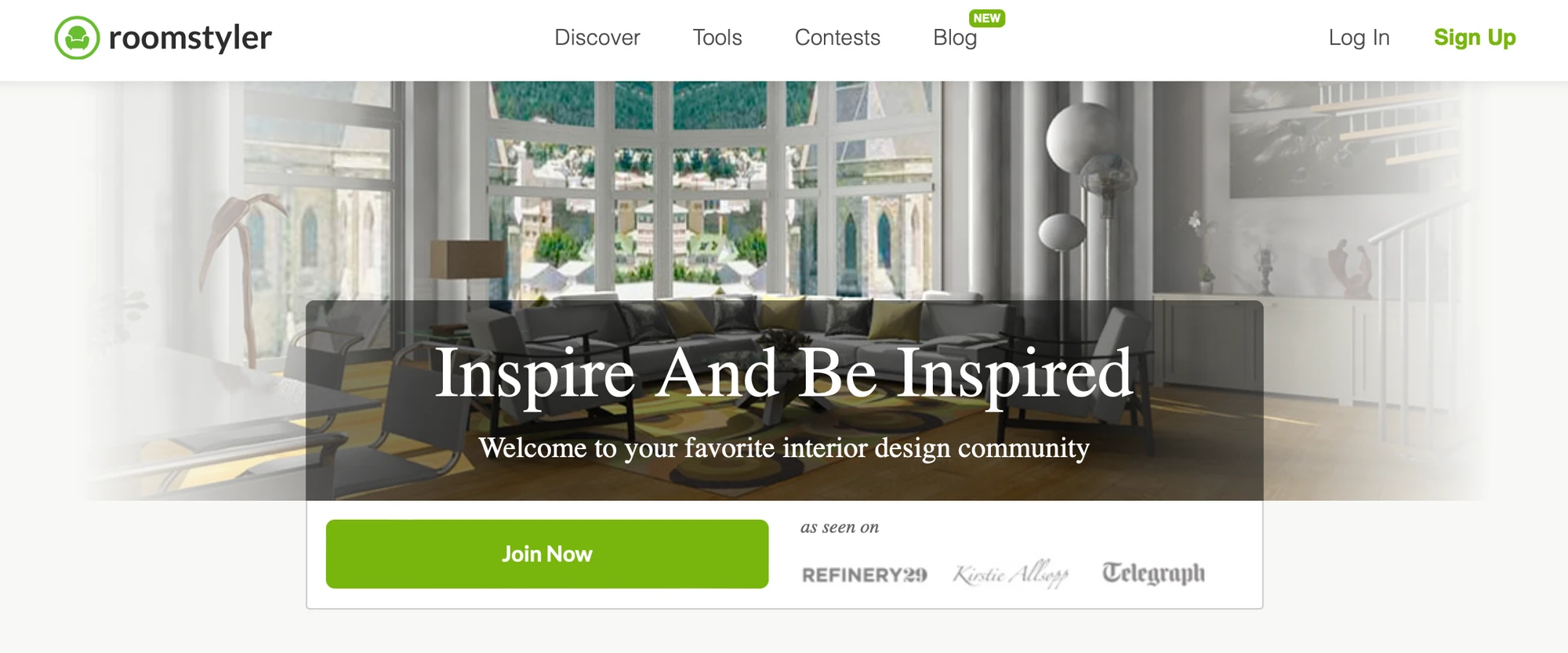 Image from Roomstyler

Roomstyler is a very intuitive app that you can pick up and master relatively easily as an interior designer. There's also a good playlist of tutorial videos for every question you might have about the tool.
The greatest part of this software is that you can create a customized room in a matter of minutes. This app also allows you to furnish your space using products from real brands, meaning you can more easily imagine how certain appliances you plan to buy will look in your new home. Most important of all, you can feel free to switch between 2D and 3D to get instant results!
Platform: Web, MacOS, Windows, Android, iOS
Pricing: free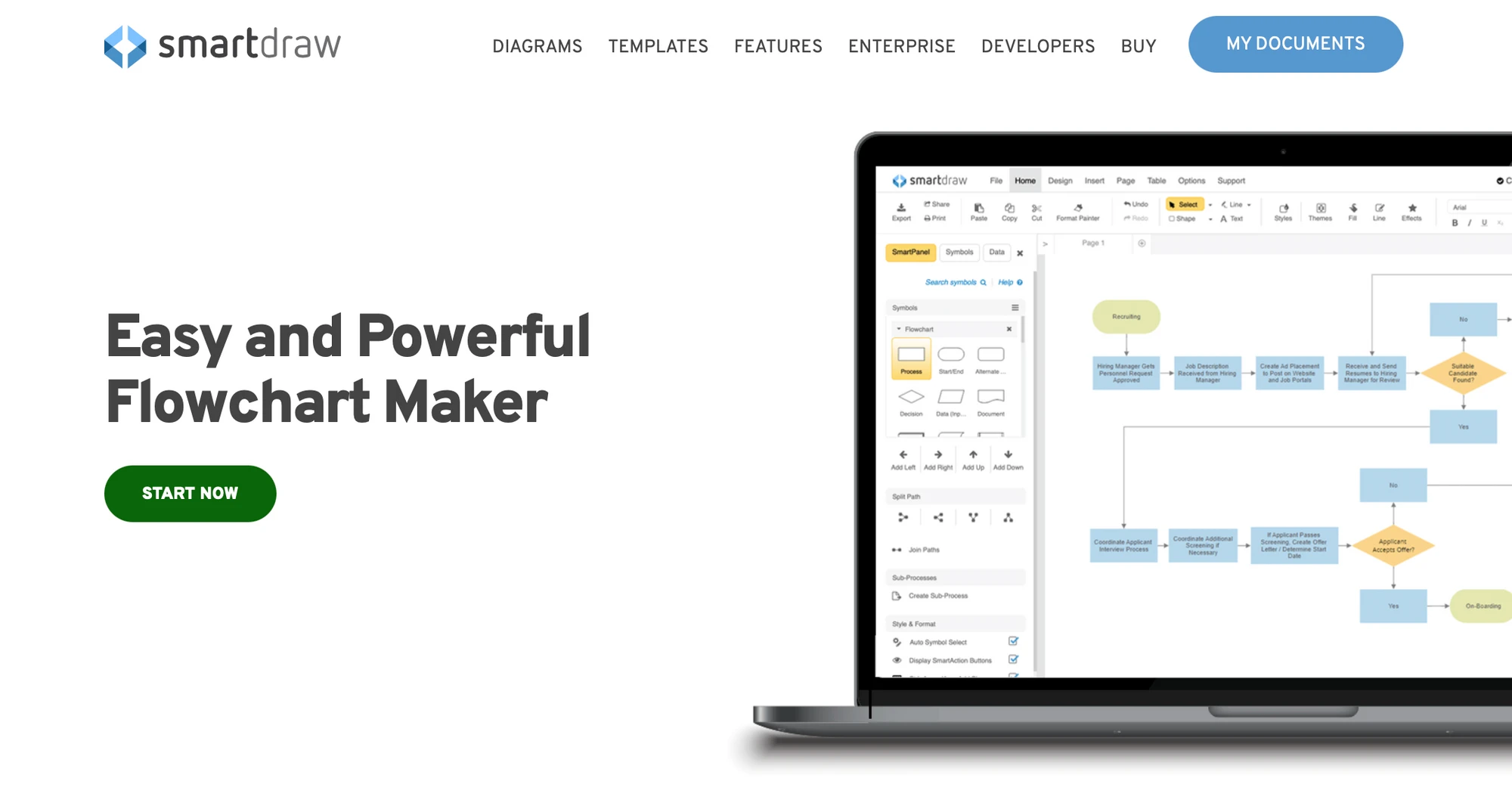 Image from SmartDraw

SmartDraw is a powerful floor planning software, also the best one for 2D drawing. It is easy to use for beginners but also advanced enough for more experienced interior designers. Users can begin with templates that can be customized quickly and easily. On top of that, it also makes sharing easy so users can collaborate on projects or share ideas.
The only downside to this tool is that it's only free for the first seven days, so if you plan on using it for longer or for multiple projects, it may be worth the upgrade.
Platform: MacOS, Windows, Web
Pricing: 7 days free trial
Single User: US$ 9.95/mo (Paid annually)
5+ User: US$ 5.95 per user/mo (Paid annually)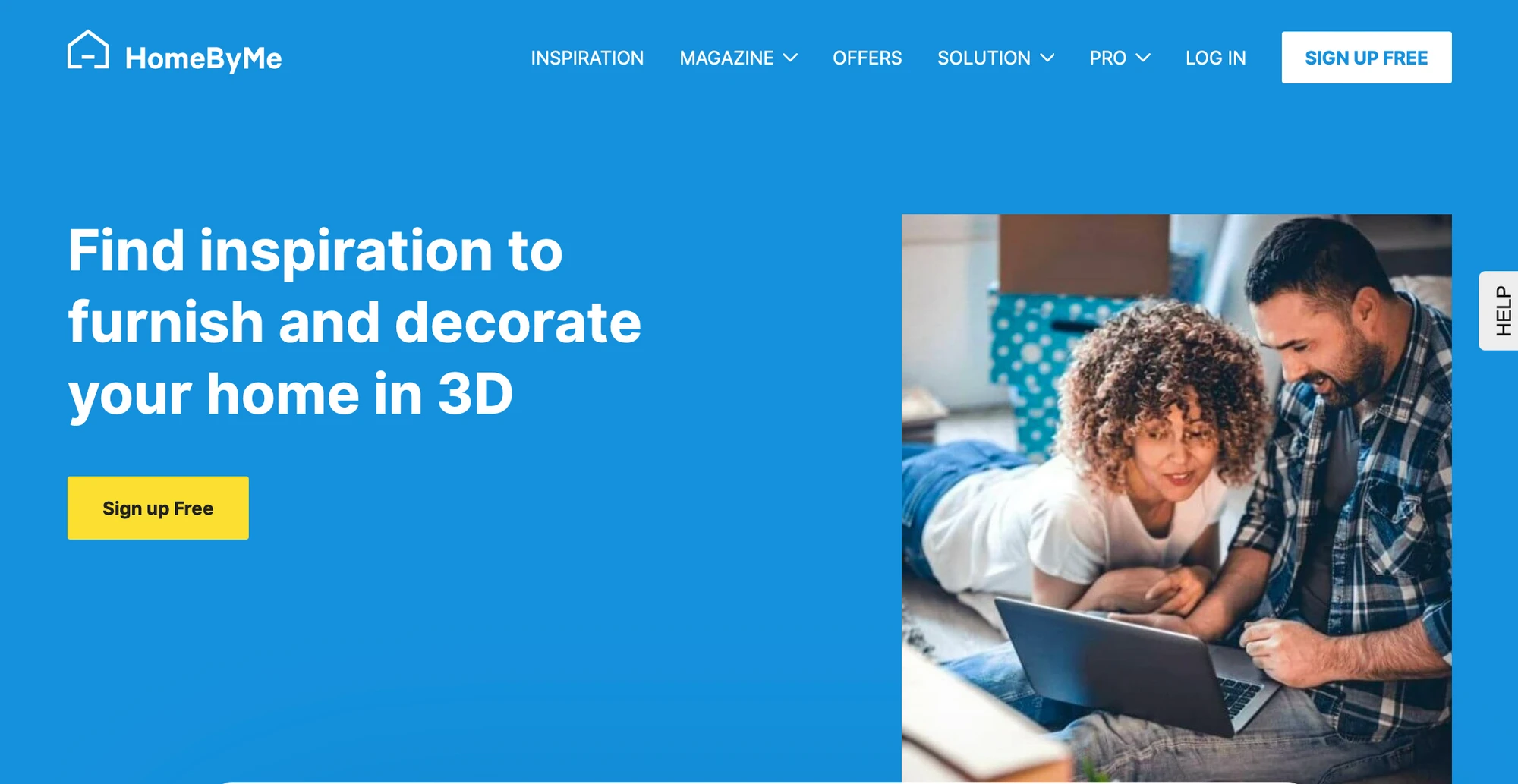 Image from HomeByMe

HomeByMe is an online room planner allowing you to create your floor plans in 2D and furnish your home in 3D, while expressing your decoration style. The way it works, is brands add their products to their catalog, which means you can have access to the actual furniture and decorations you used to create your space imaginatively!
Platform: Web, iOS, Android, MacOS (M1)
Pricing:
Starter Plan: free
One-Time Pack: US$ 17.32
Unlimited Plan: US$ 31.49/mo or US$ 313.95/yr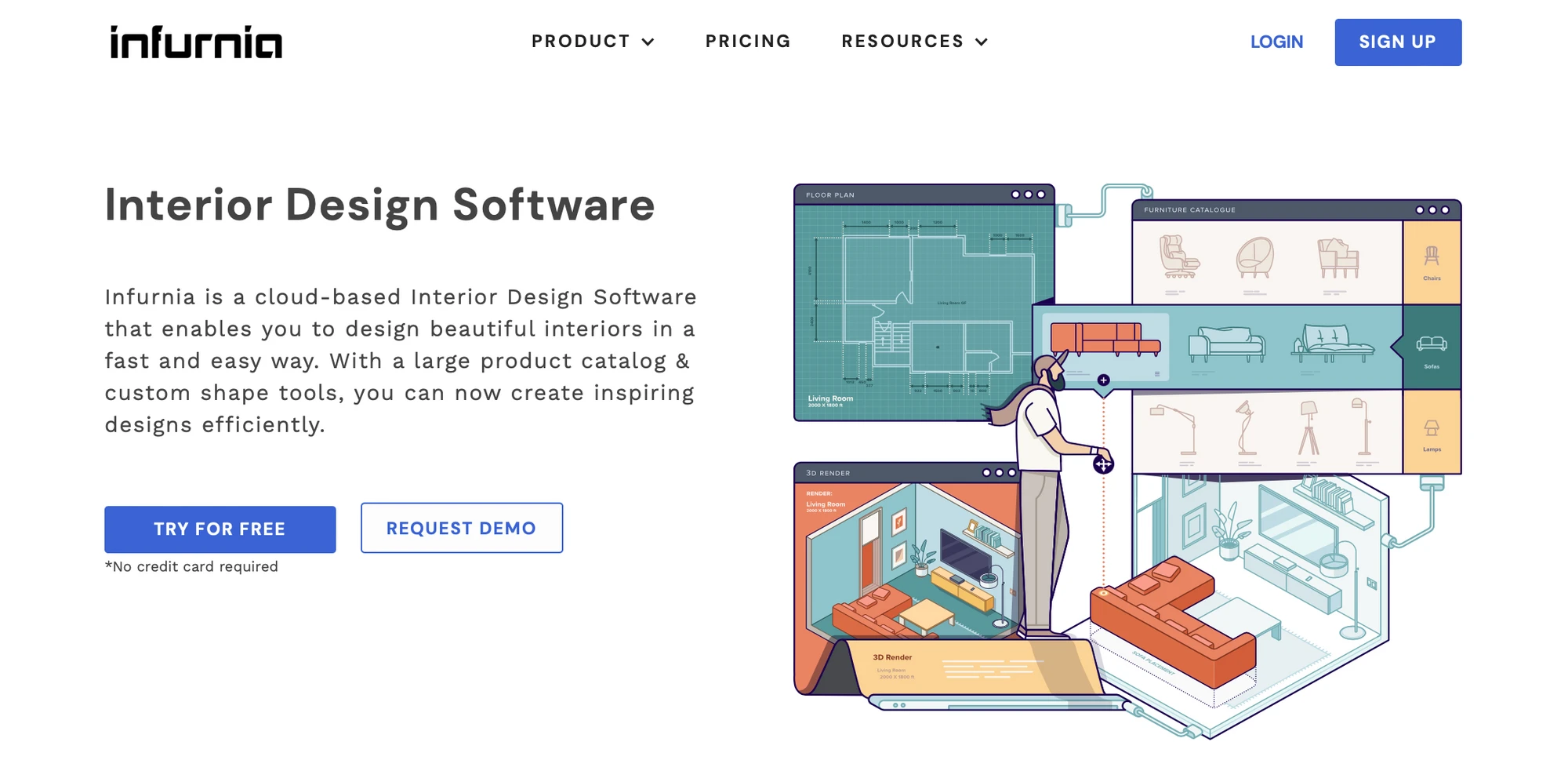 Image from Infurnia

Infurnia is a cloud-native interior design software, thus you can collaborate and interact with your teams or clients during the design process. Plans created in 2D can be instantly converted to accurate 3D depictions, while drafting tools can be used to add doors, windows, and beams to match your client's needs. Though Infurnia is less robust than some other options, it is easy to learn, so you can customize and share with ease.
Platform: Infurnia is a completely cloud-based design software. So, you can use it from any laptop, desktop, tablet with a working internet connection.
Pricing:
Professional: free
Business: US$ 600/mo (10+ people)
Enterprise: US$ 7500/mo (100+ people)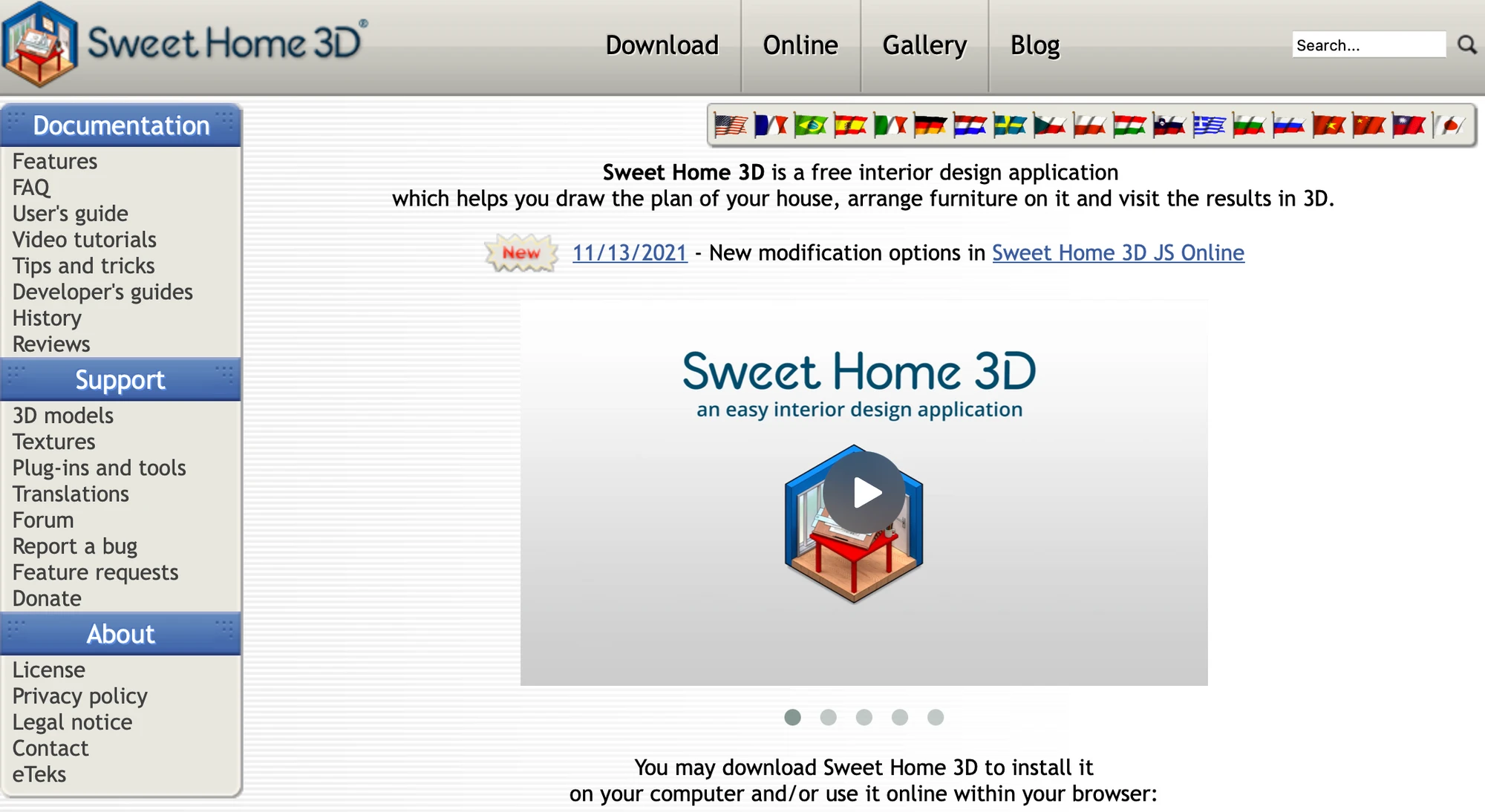 Image from Sweet Home 3D

Sweet Home 3D is a free and open-source interior design software, offering the drag and drop functionality to insert furniture items from categories like bedroom, kitchen, bathroom, and so on. Users can draw irregular walls, such as sloping or round ones, and design in both 2D and 3D views. What's more, you can even add more features through additional coding or simple plugins to help you create an eye-catching interior design!
Platform: Web, Windows, macOS, Linux and Solaris
Pricing: It's an open-source and free interior design software.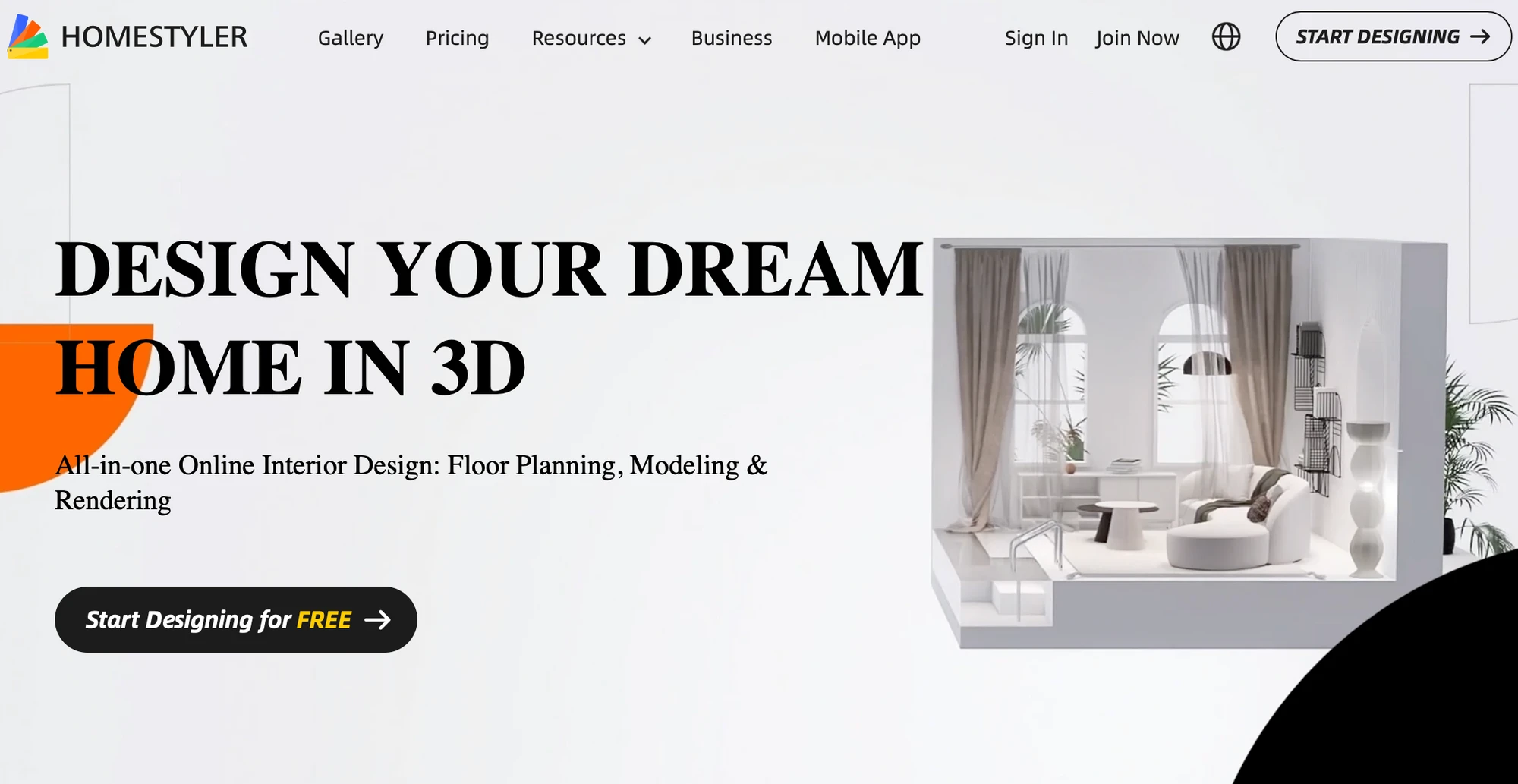 Image from Homestyler

Homestyler is a user-friendly app originally created by Autodesk, and now it is owned by Easyhome. It isn't a professional design software like AutoCAD, instead, it was created exclusively for interior design needs. You can easily make floor plans and angled walls, or place numerous objects. It is regarded as one of the best free interior design software choices for all-around utility.
Platform: MacOS, iOS, Android
Pricing:
Basic: free
Pro: US$ 4.9/mo
Master: US$ 9.9/mo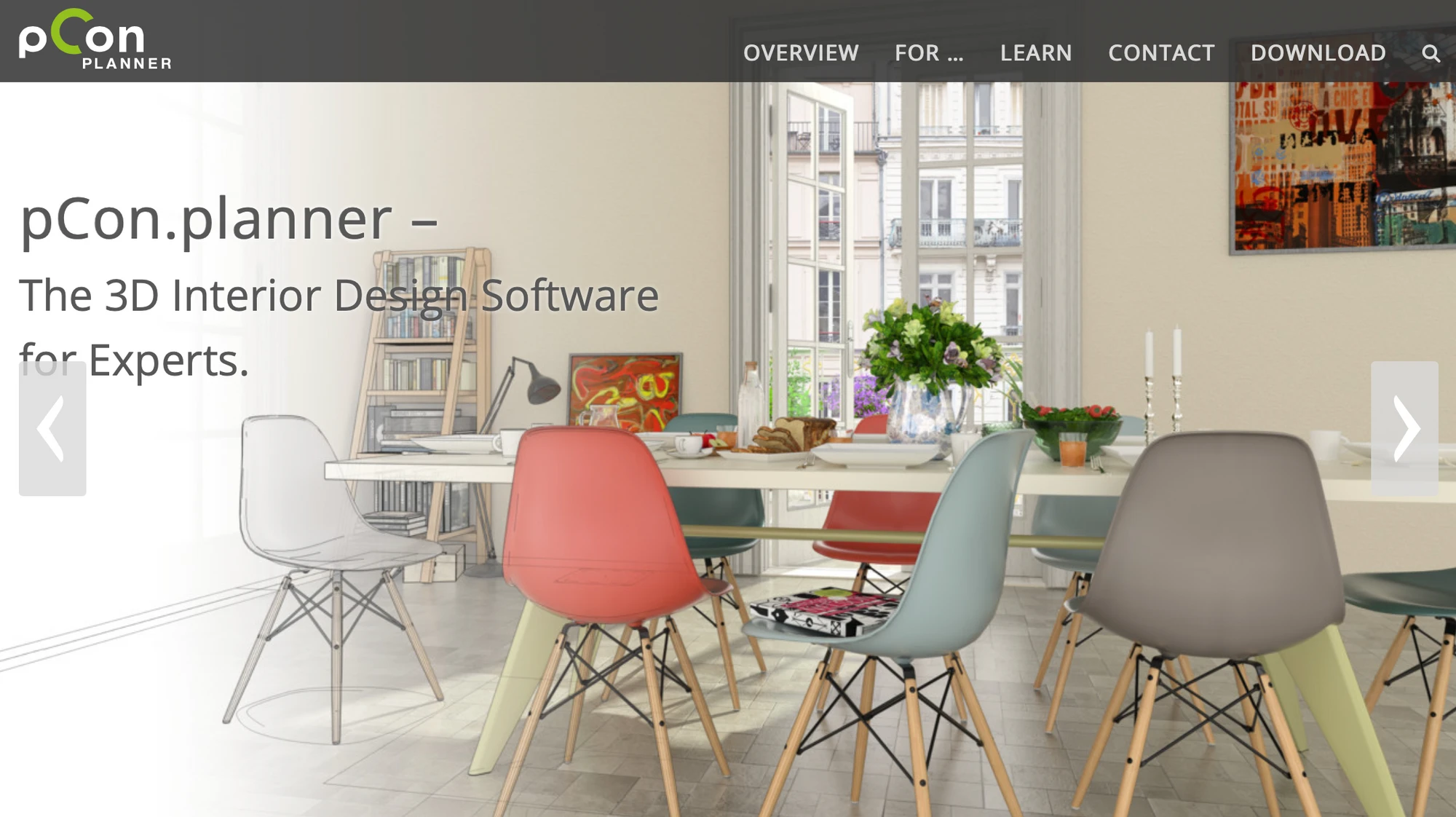 Image from pCon.planner

PCon.planner is free software enabling the design of rooms and other interior spaces together with furnishings and decor. You can find a large number of design materials to make use of inside its library.
Besides that, easy-to-use tools and functions are combined in pCon.planner, for designing rooms and editing the designs. If you don't know how to get started, there is a considerable number of tutorial videos just for you.
Platform: Windows
Pricing: free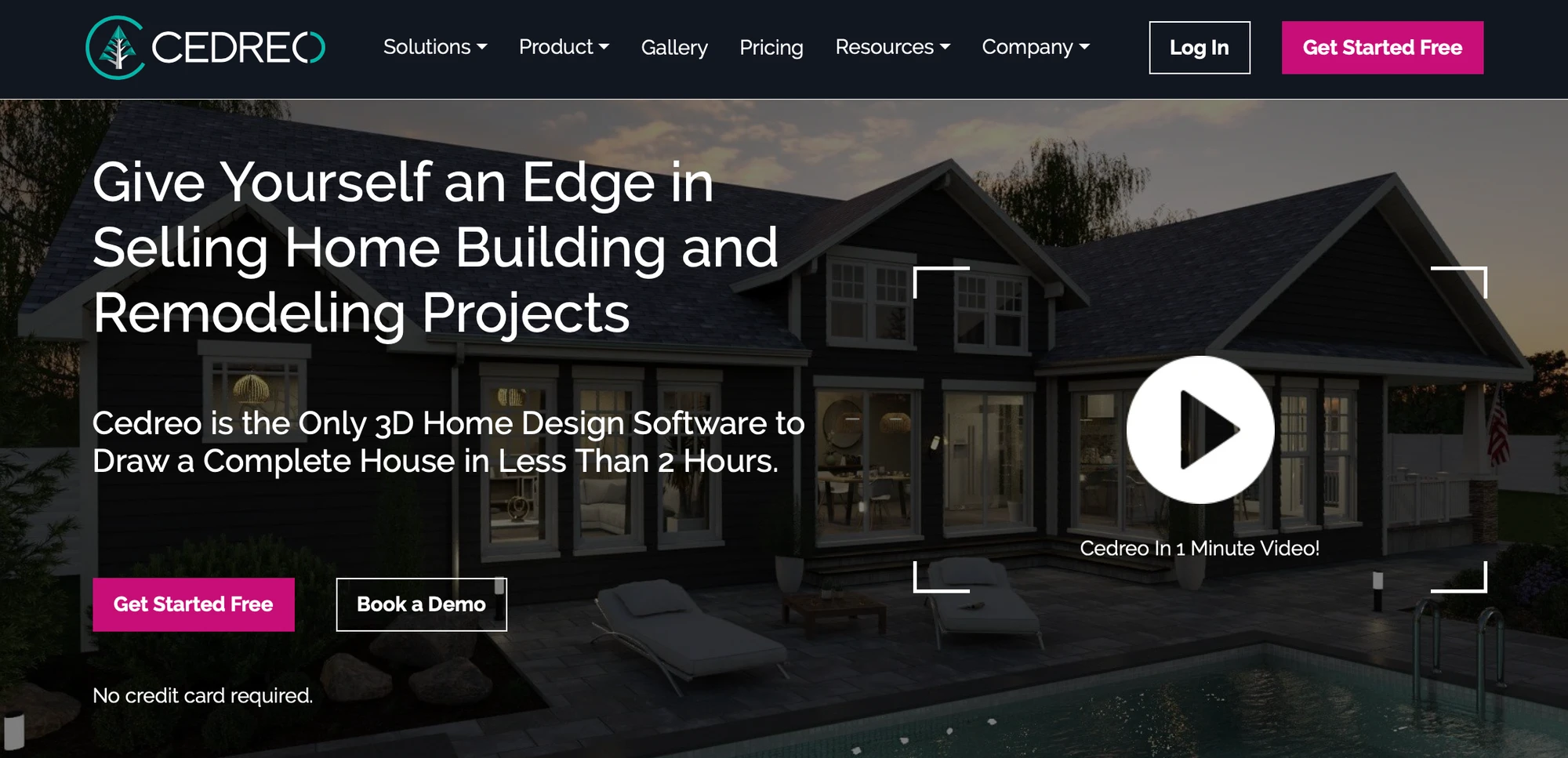 Image from Cedreo

Cedreo is an online interior design platform to create 2D and 3D floor plans. It is intuitive and easy to use, and helps users quickly create photorealistic interior designs using its library of 7,000+ customizable pieces of 3D furniture, materials and decorations.
Moreover, it is 100% cloud-based, so you can quickly show your clients exactly what their finished project will look like, and as a result, close more design contracts in less time.
Platform: Web
Pricing:
Free
Personal: US$ 99/ project (One project with full design capabilities.)
Professional: US$ 119/mo
Enterprise: US$ 149 per user/mo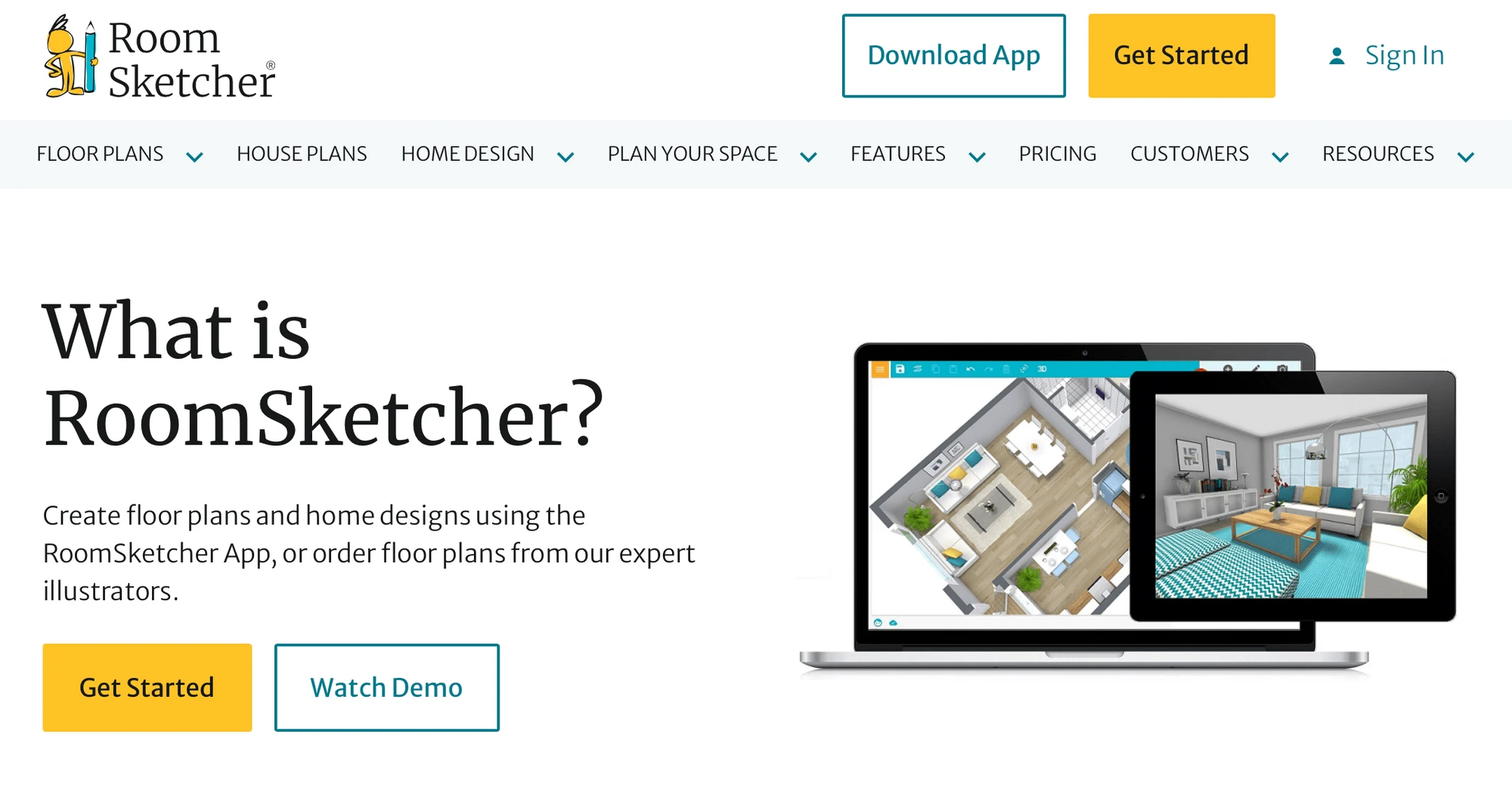 Image from Room Sketcher

Room Sketcher is an easy-to-use interior design software where you can create 2D floor plans and visualize the end product in 3D. To meet all your floor plan and home design needs, it is also packed with powerful features, including building curved walls, creating site plans, and high-resolution renderings. What's even better is that it is a web-based tool, which allows you to work on your project anywhere and at any time!
Platform: Windows, MacOS, iPad, Android tablet, and it allows to view on iPhone and Android phone.
Pricing:
Education: free
Personal: US$ 38/ level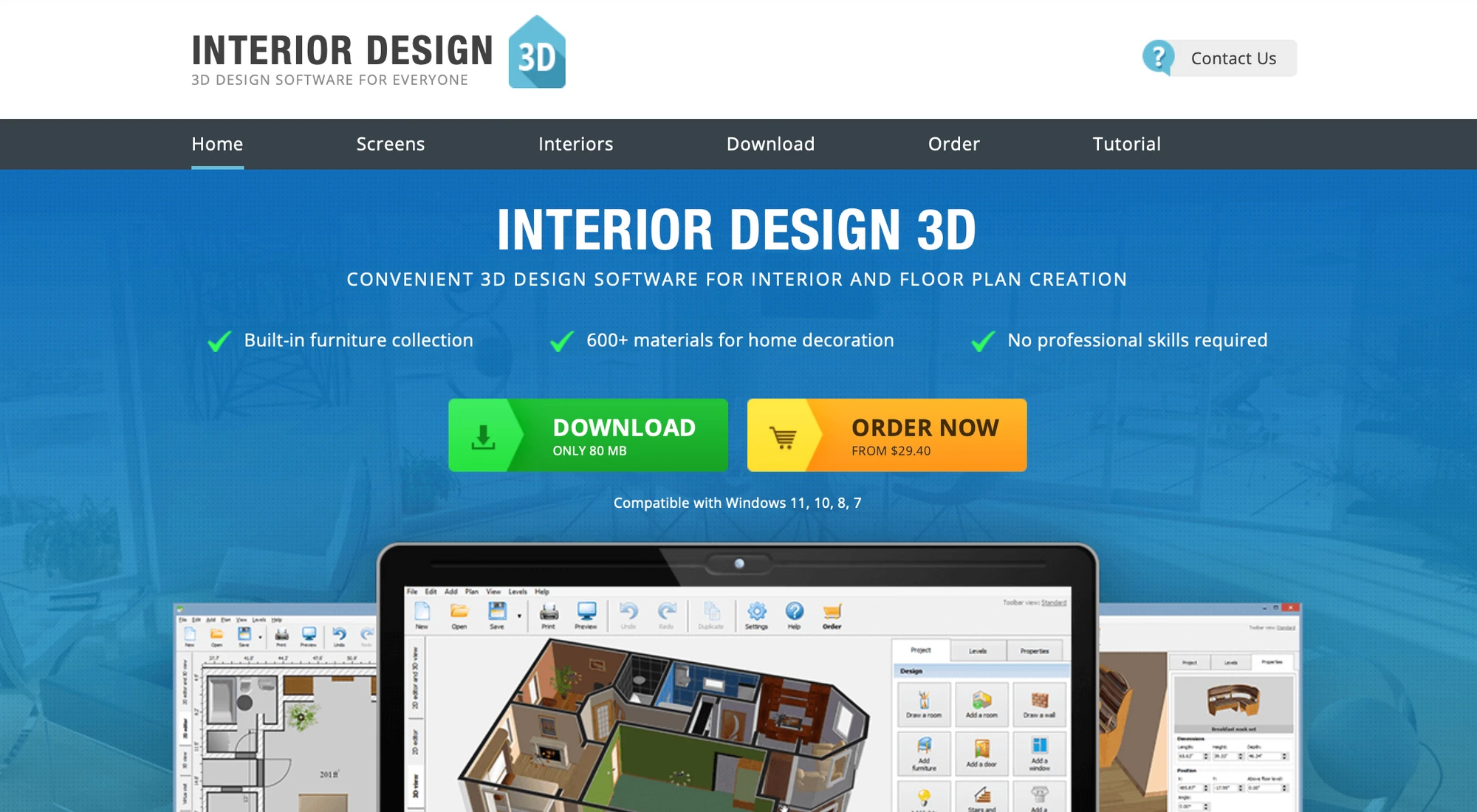 Image from Interior Design 3D

Interior Design 3D is an easy-to-use and powerful software for interior design, house remodeling, and floor layout creation. Thanks to its handy building tools, you can easily recreate your house blueprints or build the plan anew in both 2D and 3D view modes.
This software features 600+ decoration materials, a huge built-in library of furniture items, and a comprehensive set of sample plans to make home designing simple and enjoyable. Try the tool for free and experience its capabilities!
Platform: Windows
Pricing:
Free
Standard: US$ 49 (Perpetual License)
Delux: US$ 65 (Perpetual License)
Gold: US$ 83 (Perpetual License)
---
Too many interior design resources and a messy desktop? Eagle can help you organize!
After viewing all these stunning interior design resources, here's a practical step to improve your design by using an organizing tool! Eagle is a desktop productivity tool that enables a powerful organizing system for all types of design files.
With Eagle, you can easily collect inspiration, manage all your design files, and keep track of your communication with clients for months. What's even better, it can add tags, ratings, notes, and color filters to help you quickly find a specific housing reference among thousands without getting lost, Try Eagle!
Video from Eagle
Lastly, if you are eager to learn more design information and resources, visit and bookmark Eagle blog to become a better creative professional!

If you are still lacking inspiration and incentives to create something new, feel free to dive into Eagle Community to explore stunning assets shared by thousands of designers worldwide. Let Eagle be your best design assistant!