Best 14 Mood Board Tools in 2023: What is it & How to Create
Have you ever used a "Mood Board" during your design work?
If not, you may be missing out on something that can help you organize ideas and inspiration, which will streamline your communication with teammates and clients.
With a mood board, you can quickly convey a variety of concepts and feelings that are vital to your pitch but hard to express well verbally.
So, how to create a great mood board?
Here are the guides for graphic designers to create a mood board, including:
What is Mood Board?
Top 15 Mood Board Software & Tools for Graphic Design
How to Create a Mood Board?
What should be included in a mood board?
Without further ado, let's get started!
---
What is Mood Board?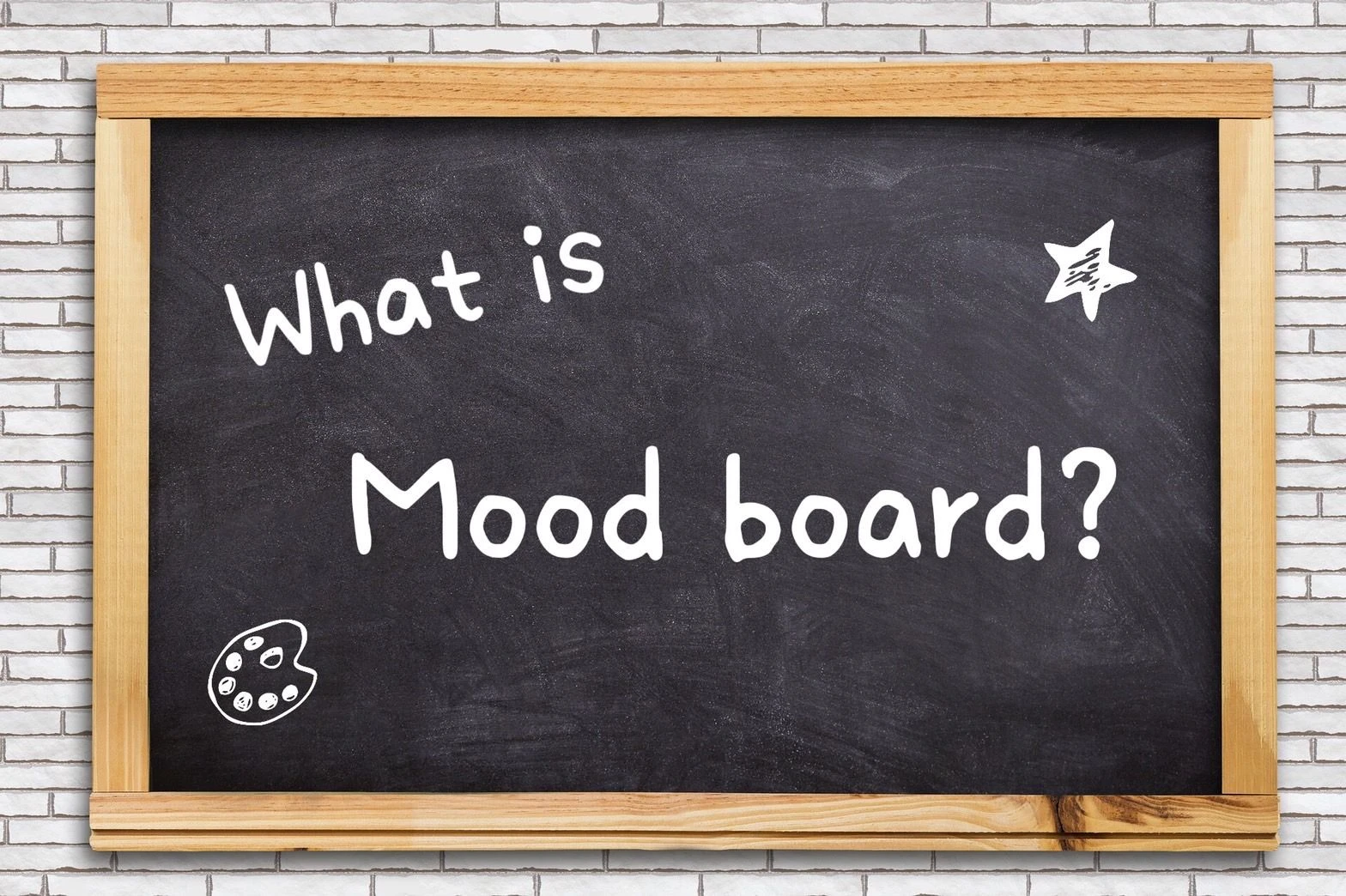 Image from Pixabay

A mood board is a place where you store your ideas and inspiration. Whether it is colors, images, fonts, and even words, mood board can help you showcase your design concept in a more visual way.
Mood boards are also an excellent way to display a creation's style before diving into the actual design process. They can be a valuable resource throughout the design project, to help keep the style and aesthetic consistent and track with a client's goals and expectations.
---
Top 15 Mood Board Software & Tools for Graphic Design
品牌

👑 Best Overall



Best for inspiration





Best for newbies





Best to integrate with Adobe softwares





Eagle

Pinterest

Canva

Adobe Express

Key features

-Supports over 90 design formats for creating mood boards
- support tags, ratings, annotations, colors categorization

Different design inspirations can be found here, mood board can be presented directly on the web
Provides many mood board templates, fonts, design elements and images
Mood board Can be exported to any Adobe software program


Pricing

One-time payment




US 29.95

Free

Free:

limited materials




Pro:

up to 5 person
US$12.99/month (paid monthly)
US$119.99/year (paid yearly)

Free:

limited features




Premium:

US$ 9.99 /monthly

Free Trial

30 days

Free with AD

Free with limited material and usage

Free with limited usage

Devices

Windows, macOS, chrome, safari, firefox, edge

web, iOS, Android, extensions

Windows, macOS, iOS, Android, web

Web
---
1. Eagle — Best Organizing Tool to Help You Create Mood Boards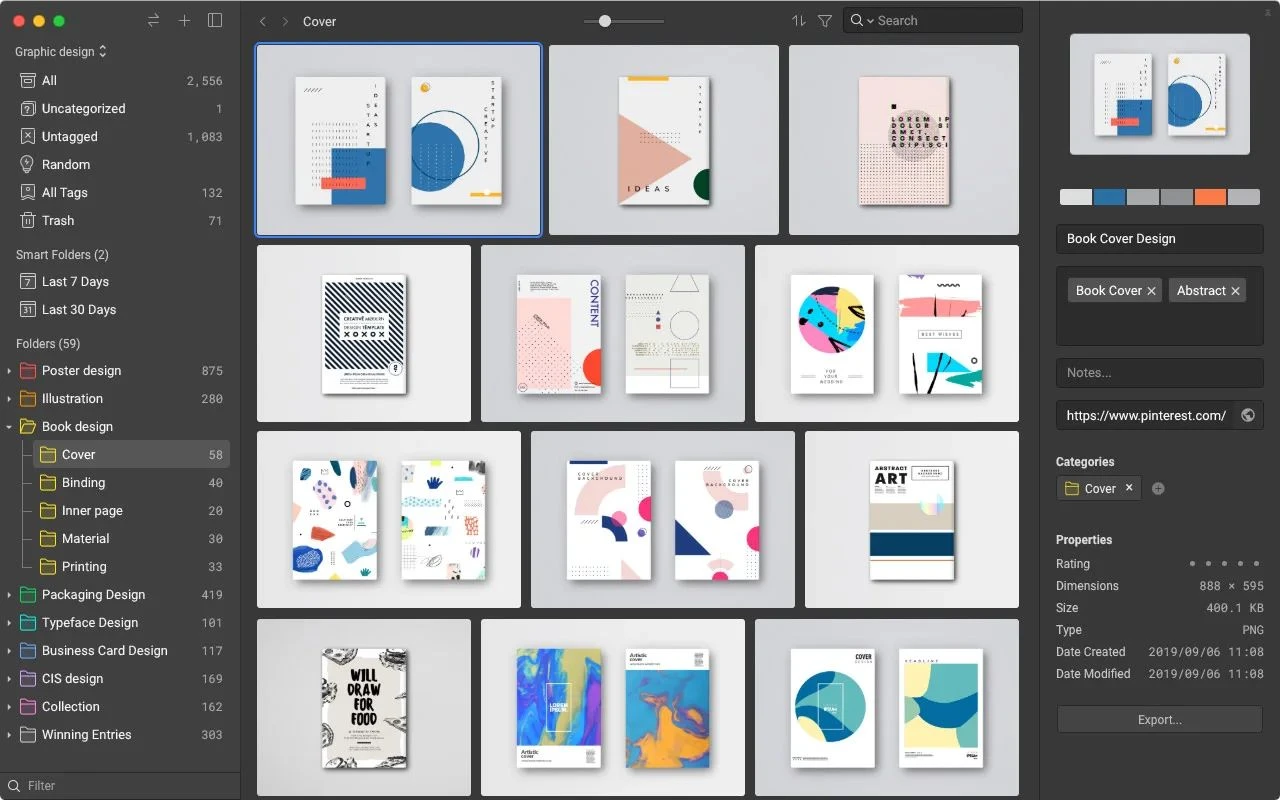 Image from Eagle

Before creating a mood board, you need a tool to organize all your design assets — Eagle app.
Eagle is a comprehensive digital asset management tool that makes it much easier to quickly find what you need with its robust search filter. You can also add tags, ratings, comments, or even write down your ideas & inspiration directly on all types of design files!
If you usually capture inspiration from the web, Eagle's Extension is right for you to collect them with just one click!
Key features:
Browse easily with various types of display
Write down your ideas and inspiration right on digital assets
Manage design files efficiently by adding tags, ratings, comments
Search by the tags, ratings, comments, color, date, file types, size, and more.
Support 90+ types of files, such as images, videos, fonts, 3D, audio, icon, GIF, RAW, etc.
Pricing: 30-day Free trial
One-time purchase with free updates: US$29.95 (One license for two devices)
Platform: macOS, Windows
---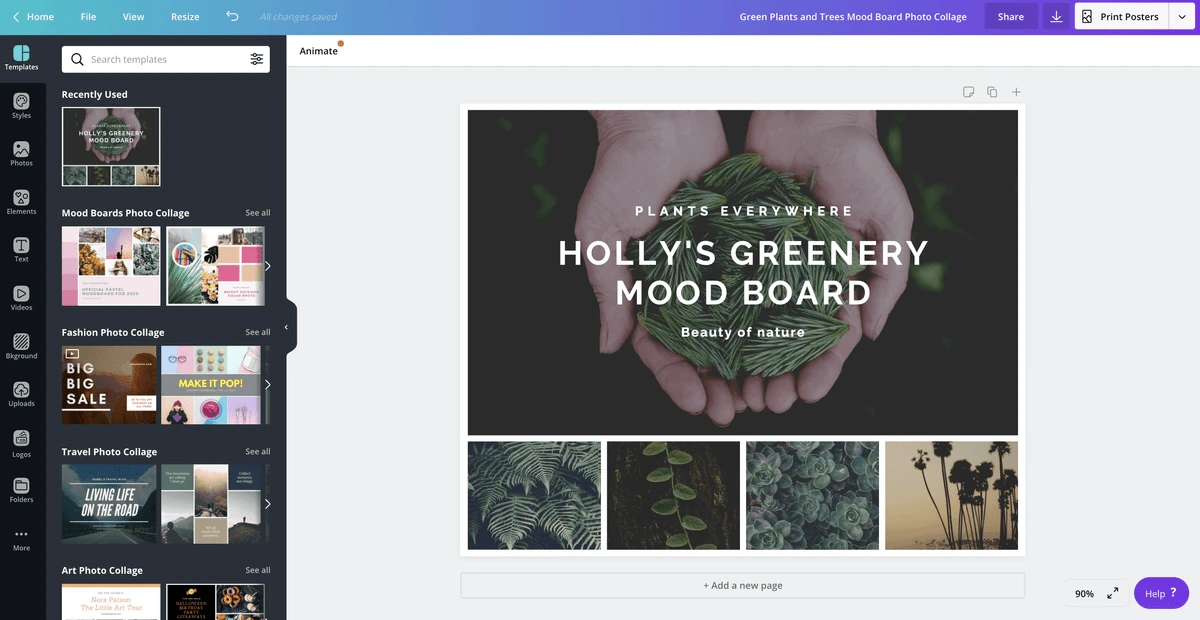 Image from Canva

Canva is a famous tool for designing a variety of creative assets, mood boards included. It offers thousands of mood board templates for you to create personal designs. Based on drag-and-drop tools, you can easily get your mood board started with Canva!
What's more, this storyboard software provides a variety of built-in fonts, design elements, and stock images to help you create a more diversified mood board!
Key features:
Editing color palettes
Sharing and exporting files with a simple link
Make stand out photos with Image Enhancer
Offering abundant templates, fonts, design elements, and images.
Pricing:
Free
Pro: US$12.99 /mo for up to 5 people
Platform: MacOS, Windows, iOS, Android
---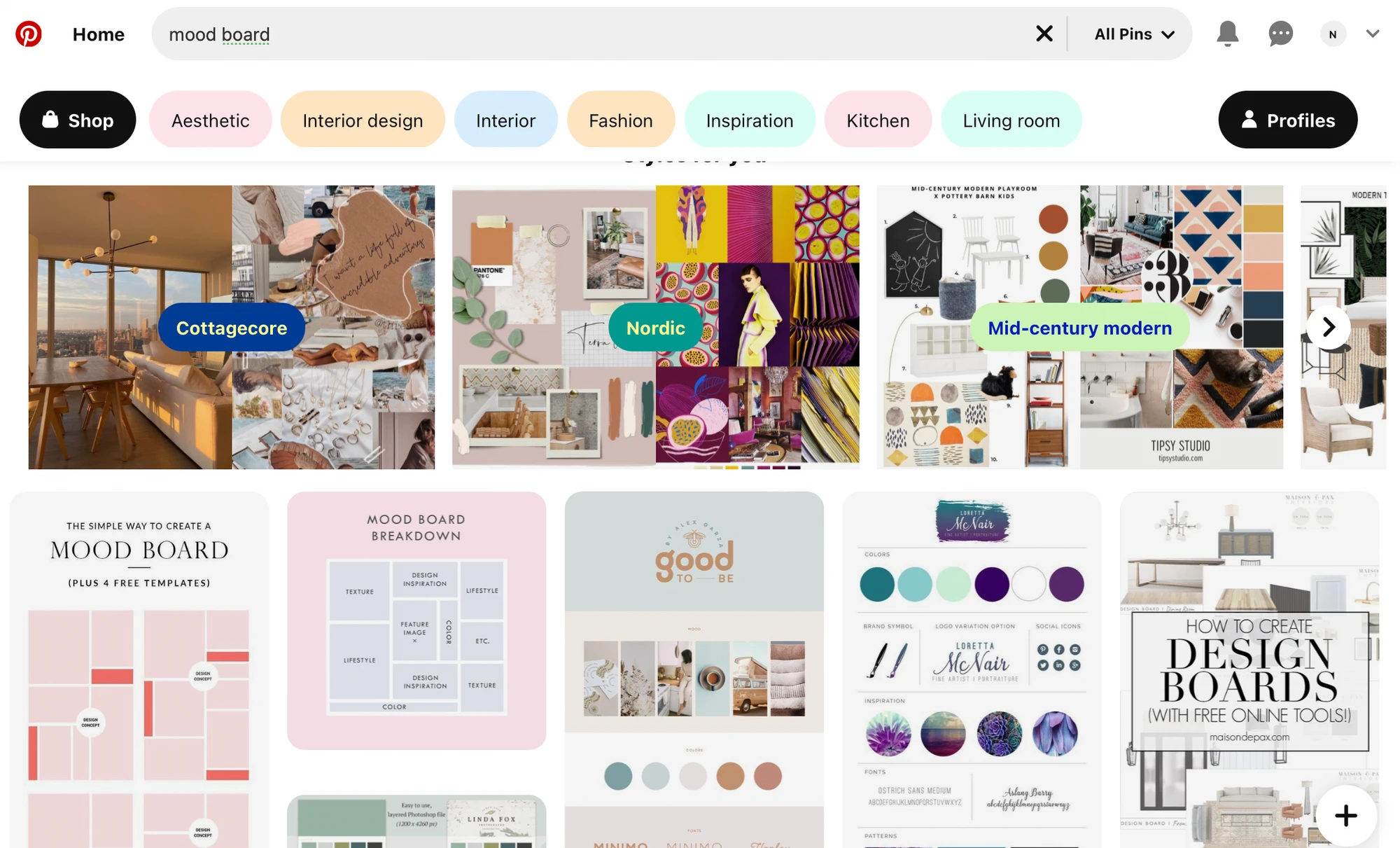 Image from Pinterest

Pinterest is a renowned online service, offering an amazingly diversified collection of images to serve as mood board references when creating. It allows you to add any images that are curated by others to "Pinboards" to become your custom mood board!
What's great about Pinterest is that the collections are already organized for you, making it easier to find and choose images you like.
Key features:
Rearrange your "pinboards" as you want
Use filters to narrow down search results
Use group boards to collaborate with your team and clients
Use the Pinterest browser extension to save links to your boards
Pricing: Free
Platform: Web, iOS, Android
---
Be More Efficient! Use Eagle to Batch Capture All Inspiration from Pinterest!
---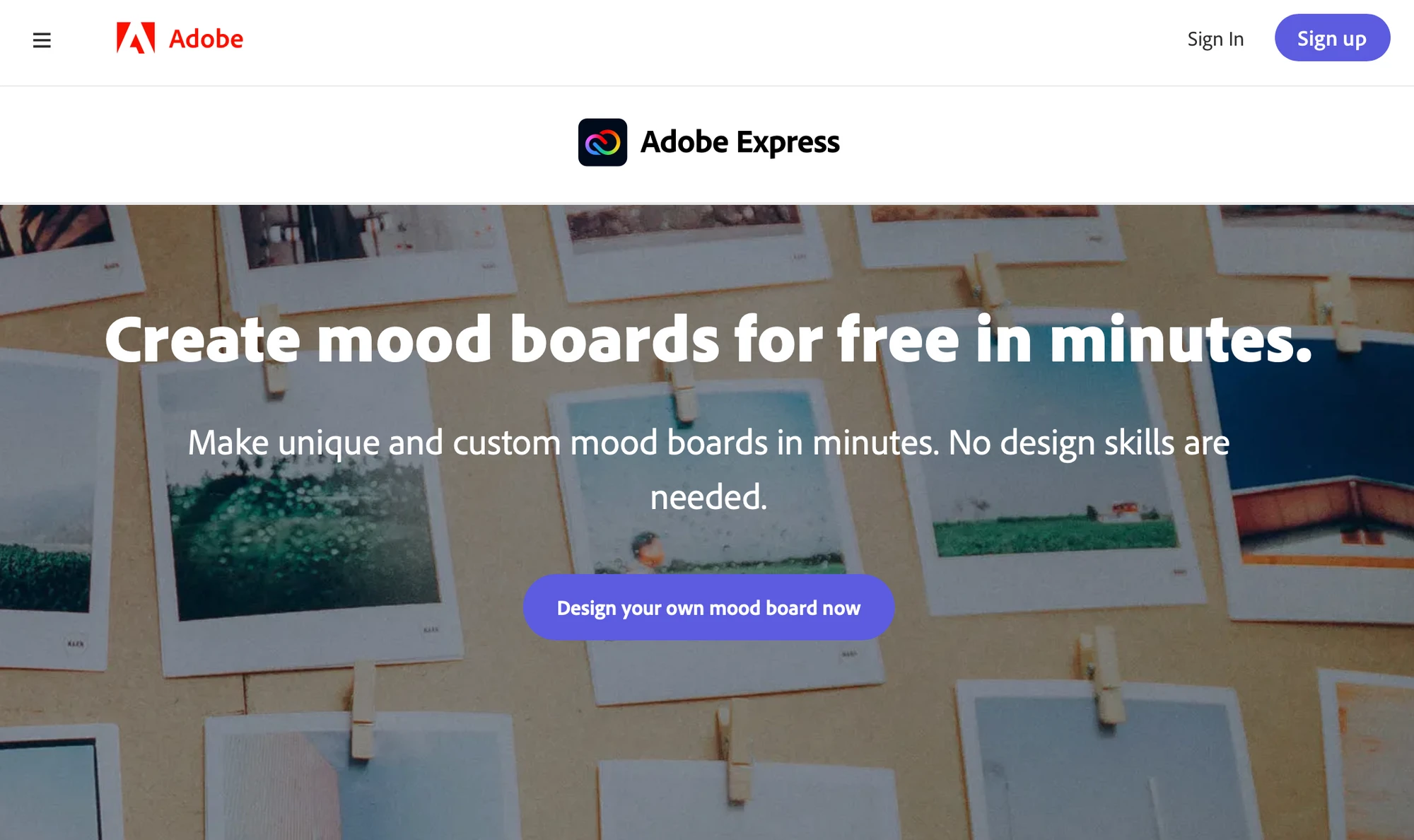 Image from Adobe Express

Adobe Express provides you with a range of customization options to ensure that you can create something that truly reflects your thoughts and ideas. You can resize your text, images, videos, move them around the page, apply special effects filters, make elements transparent, and change border configuration.
With Adobe Express, you can easily get started with tons of professionally designed templates and assets for graphic design content, logos, and more.
Key features:
Trim and edit video clips
Providing plenty of templates
Offering 18,000 licensed fonts from the Adobe Fonts library.
Instantly resize and reflow content to fit any size for social media platforms
Add design elements from tons of images, icons, backgrounds, and design assets.
Pricing:
Free
Premium: US$ 9.99 /mo
Platform: Web, iOS, Android
---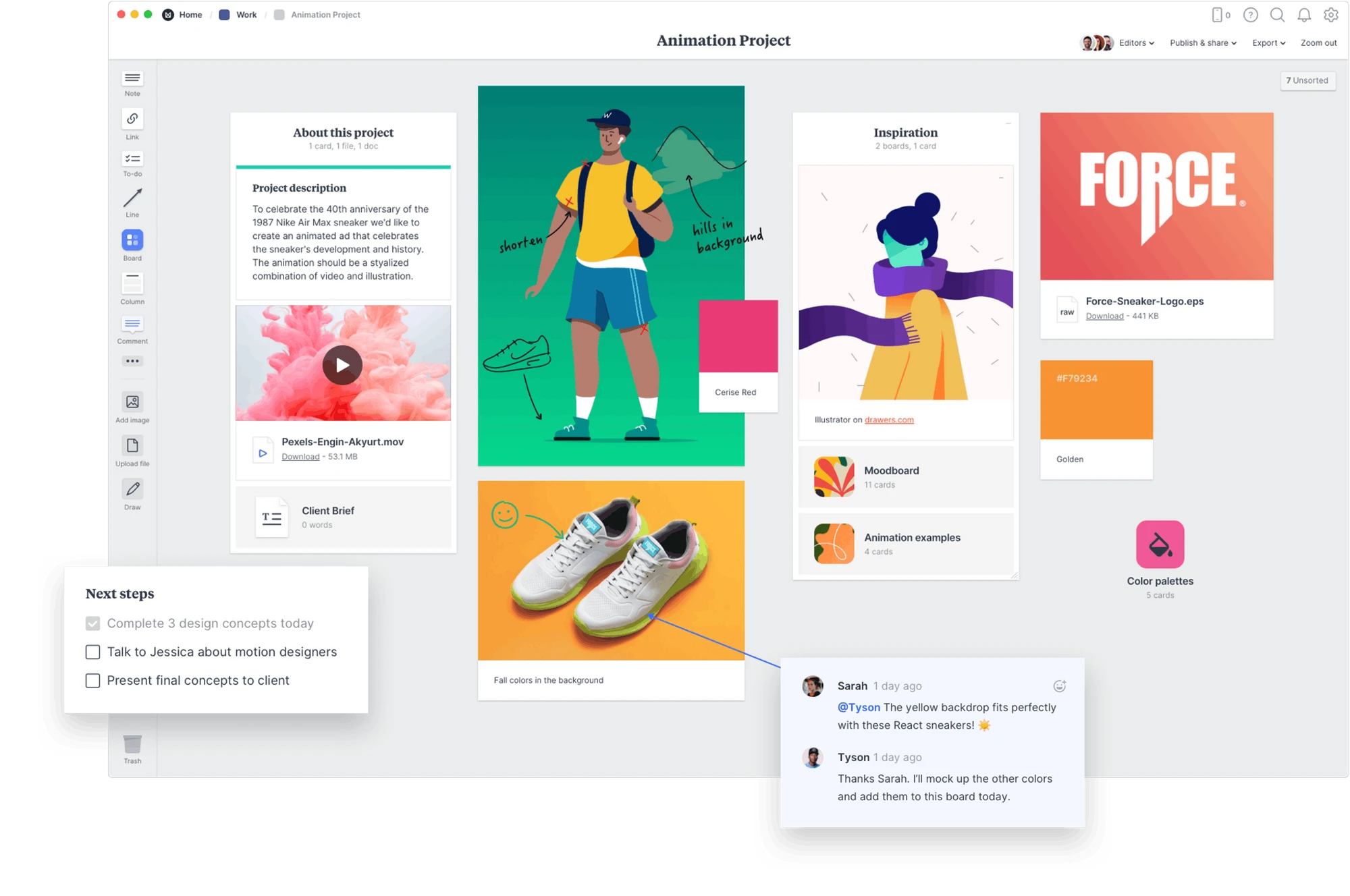 Image from Milanote

Looking for a tool to organize all your ideas? Milanote is worth trying!
Milanote is an easy-to-use online tool to help you collect everything in one place which has many spaces and levels of hierarchy to let your creative works fully develop. With Milanote, you can find the style you are aiming for by arranging images, videos, and links!
Key features:
Collaborate with your team in real time
Organize visually with its drag-and-drop interface
Save text, images & links from the web with its Web Clipper
Supports all common file types includes JPG, PDF, Word, Excel, etc.
Pricing:
Free
US$9.99 per user /mo (billed annually)
Platform: MacOS, Windows, iOS, Android
---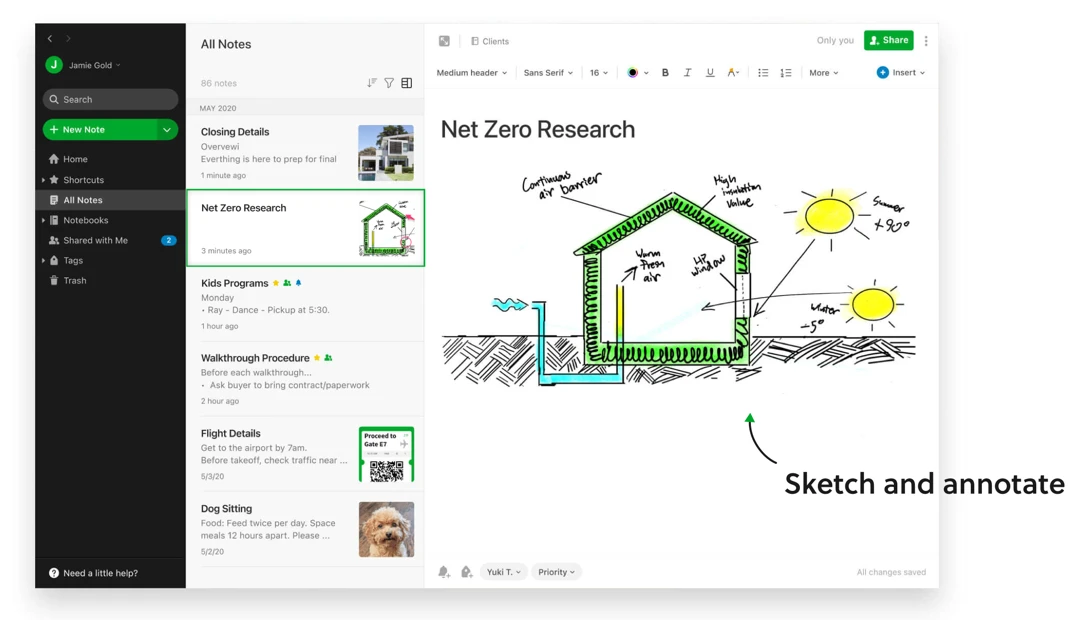 Image from Evernote

Evernote is a popular cloud-based software that is primarily used for note-taking. However, it can also be a powerful mood board creator. By building a new note as your mood board, you can easily drag images, videos, audio files, links into it alongside with writing notes. It is also available for sync across devices, including your phone, tablet, desktop, and web browser.
Key features:
Save time with many templates
Save articles, web pages, and screen captures directly with Web Clipper
Available for adding text, images, videos, audio, scans, PDFs, and documents
Integrated with other apps, such as Google Drive, Slack, Outlook, MS Teams, and Zapier.
Pricing:
Free
Personal: US$7.99 /mo
Professional: US$10.99 /mo
Platform: Cloud, SaaS, Web, MacOS, Windows, Android, iPhone, iPad
---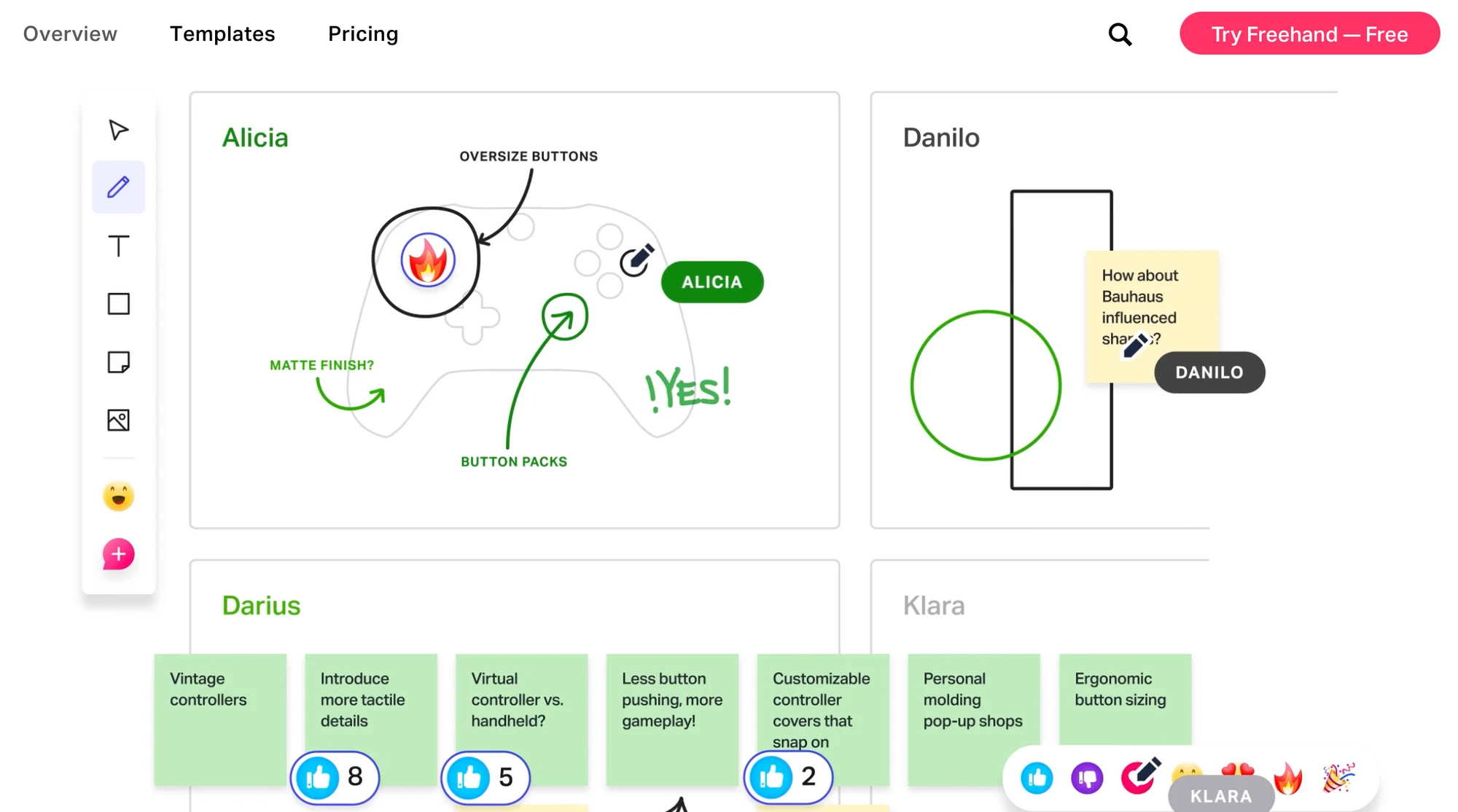 Image from InVision

While InVision is primarily a workflow management tool for designers, it also offers a mood board feature that is both stylish and intuitive. InVision allows you to create mood boards and organize your content with ease.
Besides that, you can even work with your teammates, and ask for feedback if you need it. It is available on mobiles and PCs, and supports all types of files.
Key features:
Text box to add easy notes and annotations
Sharing and collaborating with team members
Over 100 templates from world-famous companies
Common shapes to build a basic prototype or image thought
Connections with Microsoft Teams, Slack, and other popular tools
Pricing:
Free for
Pro: US$ 4 per user /mo
Platform: Web, MacOS, Windows, Android, iOS
---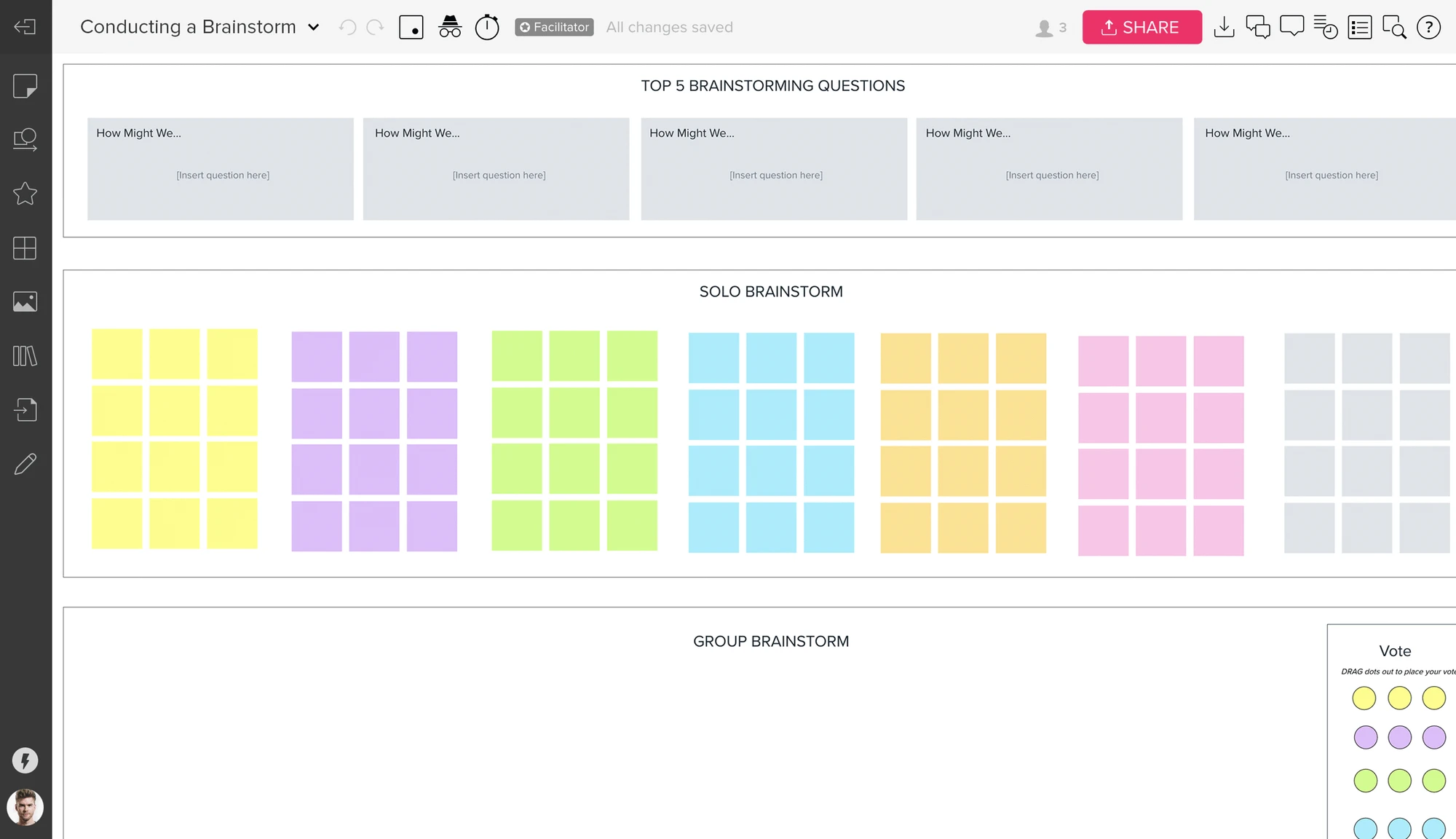 Image from MURAL

Want to craft a mood board with a team? Try MURAL!
As a digital mood board tool, Mural offers an array of options for collaborating online, which allows teams to imagine, discuss, and share their design ideas. You can drag images, create diagrams to your design mood boards, and it is even possible to start polls during the brainstorming session!
Key features:
Hundreds of built-in templates
Drag and drop images & GIFs with ease
Maximize creativity with freehand sketching and writing
Effortlessly add your thoughts, ideas, and feedback to it
Quickly search an extensive icon library to build a visual mood board
Pricing:
Free
Team: US$9.99 per user /mo (billed annually)
Platform: MacOS, Windows, Android, iOS
---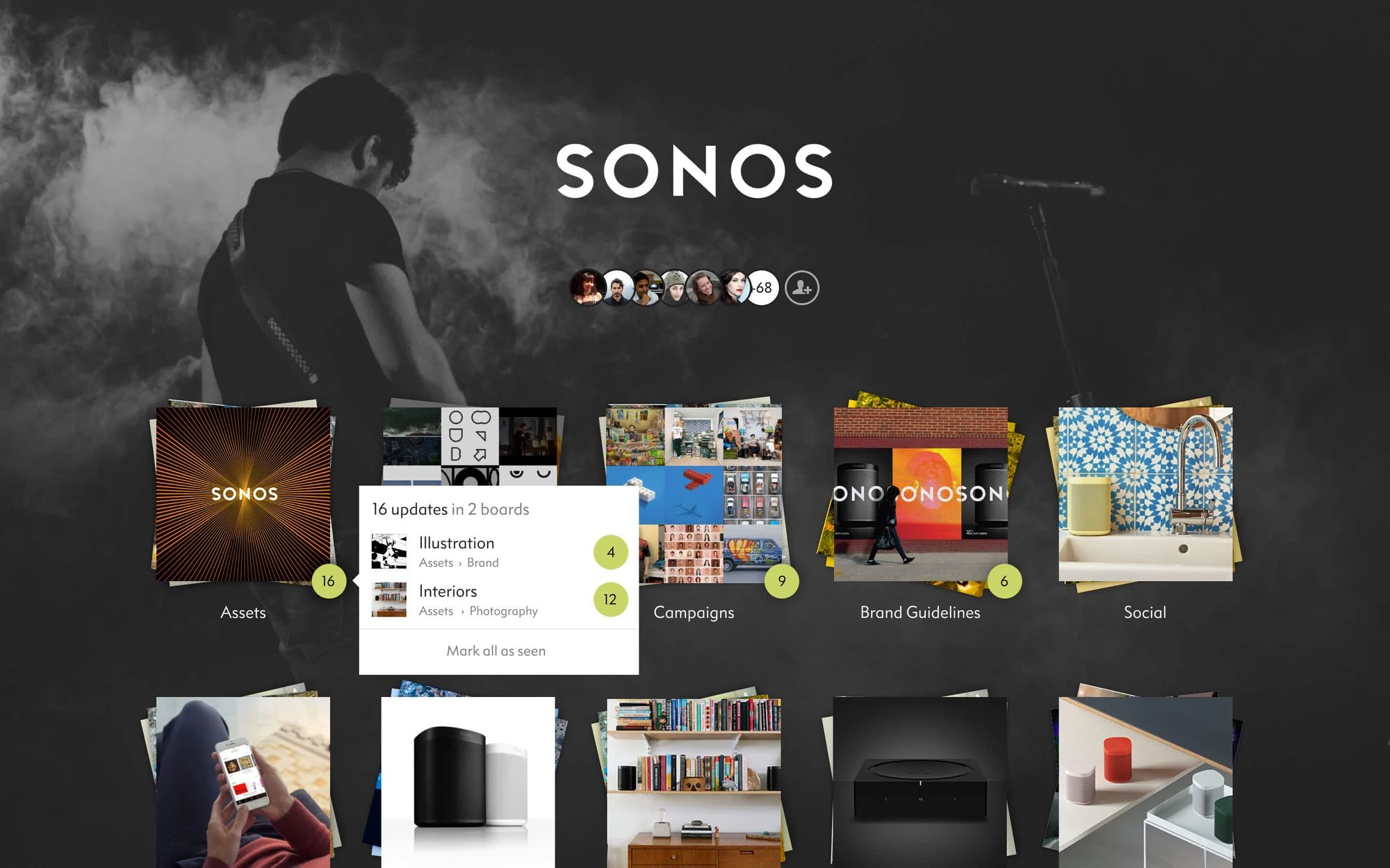 Image from Niice

Find it too difficult to create a mood board? Niice is right for you!
Niice is designed for you to gather all the ideas in one place, where you can give feedback, discuss in real-time with teammates, and even have presentation opportunities. With a drag-and-drop interface, you can create astonishing mood boards with ease. By clicking on an image, you can add a comment and add it to a sub-board like Idea Board or Theme Board.
Another noteworthy feature is the Niice Chrome extension, which allows users to grab and save images as they browse the web.
Key features:
Collaborate in real time
Import your existing guidelines or create new ones
Grab images from around the web with its Chrome extension
Browse thousands of images, PSDs, PDFs, prototypes and videos side-by-side
Pricing:
Starter: US$ 83.25 /mo (billed annually)
Growth: US$ 419 /mo (billed annually)
Platform: Windows, MacOS. Extensions available for Chrome, Safari, Firefox, and Edge
---
Eagle Extension— The most powerful inspiration collector

Find great image references on the web? Use Eagle Extension to quickly capture them!

Eagle's Extension has mighty features like collecting and batch-saving images and fragment with one click to help you capture images without limits! Try Eagle now!
---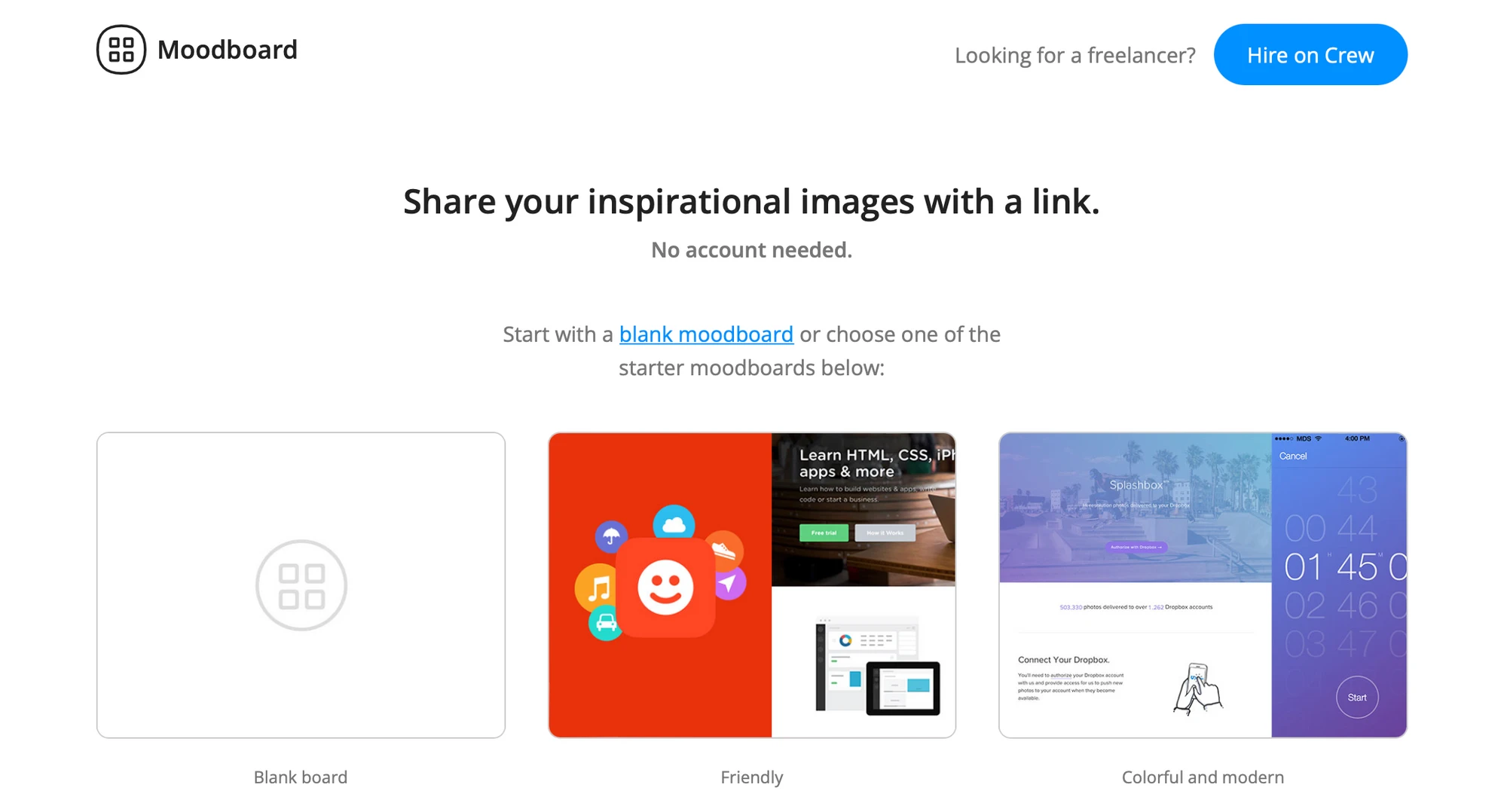 Image from GoMoodboard

GoMoodboard is one of the most popular online mood board tools, offering several templates for creating collages. Without registration, you just need to simply click and drag and drop your images into these templates. You can also start with a blank canvas and organize your own mood board. There is a possibility to add a comment to each image if you want to explain your ideas to the viewer.
On top of that, it is completely free and you can share your boards with a single link.
Key features:
No account required
Add comments to images
Provide several templates
Easily share with a single link
Pricing: Free
Platform: Web
---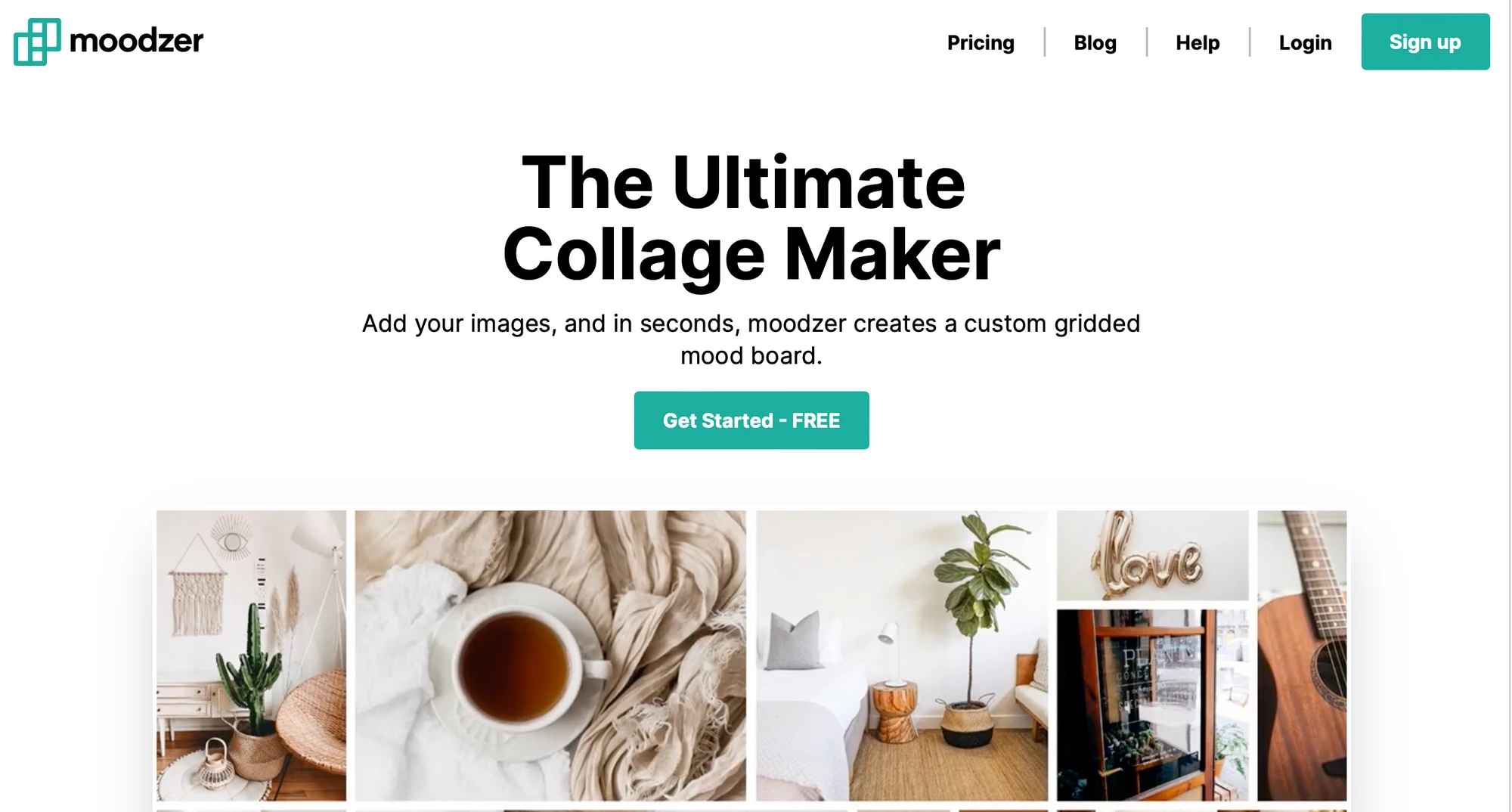 Image from Moodzer

Want to quickly create a collage of images to make a mood board? Give Moodzer a try!
Moodzer is a free mood board tool that is easy-to use. It will arrange them into a pretty grid after uploading images, which allows you to freely design your layouts by resizing images, applying filters, adjusting colors, or even adding overlays.
Moreover, you can also add text to the image, placing it anywhere with customizable fonts, colors, and sizes, while setting the size of the gutters between images to create an amazing mood board!
Key features:
Arrange images into grid system
Apply filters, edit colors and add overlays
Choose from a variety of fonts and manipulate them
Stylize, edit, and manipulate your images and color blocks effortlessly
Pricing:
Platform: Web
---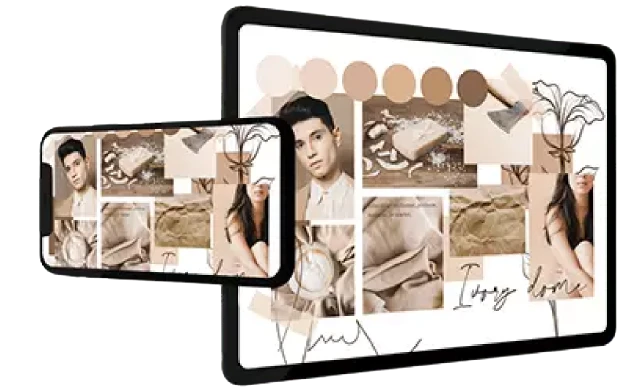 Image from Designhill Mood Board Creator

Designhill's mood board creator is one of the leading tools to visualize all your design ideas & inspiration. It offers an extensive library of professional templates to help you quickly start customizing them, as needed.
You can organize your images, texts, key messages, and other elements for inspiration purposes and communicate your thought process to your team. Most importantly, it's totally free!
Key features:
Full copyright ownership
Print ready designs for every need
AI-powered tool to provide your preferences & likings
Your final mood board design will come in high-resolution vector files
Pricing: Free
Platform: Web
---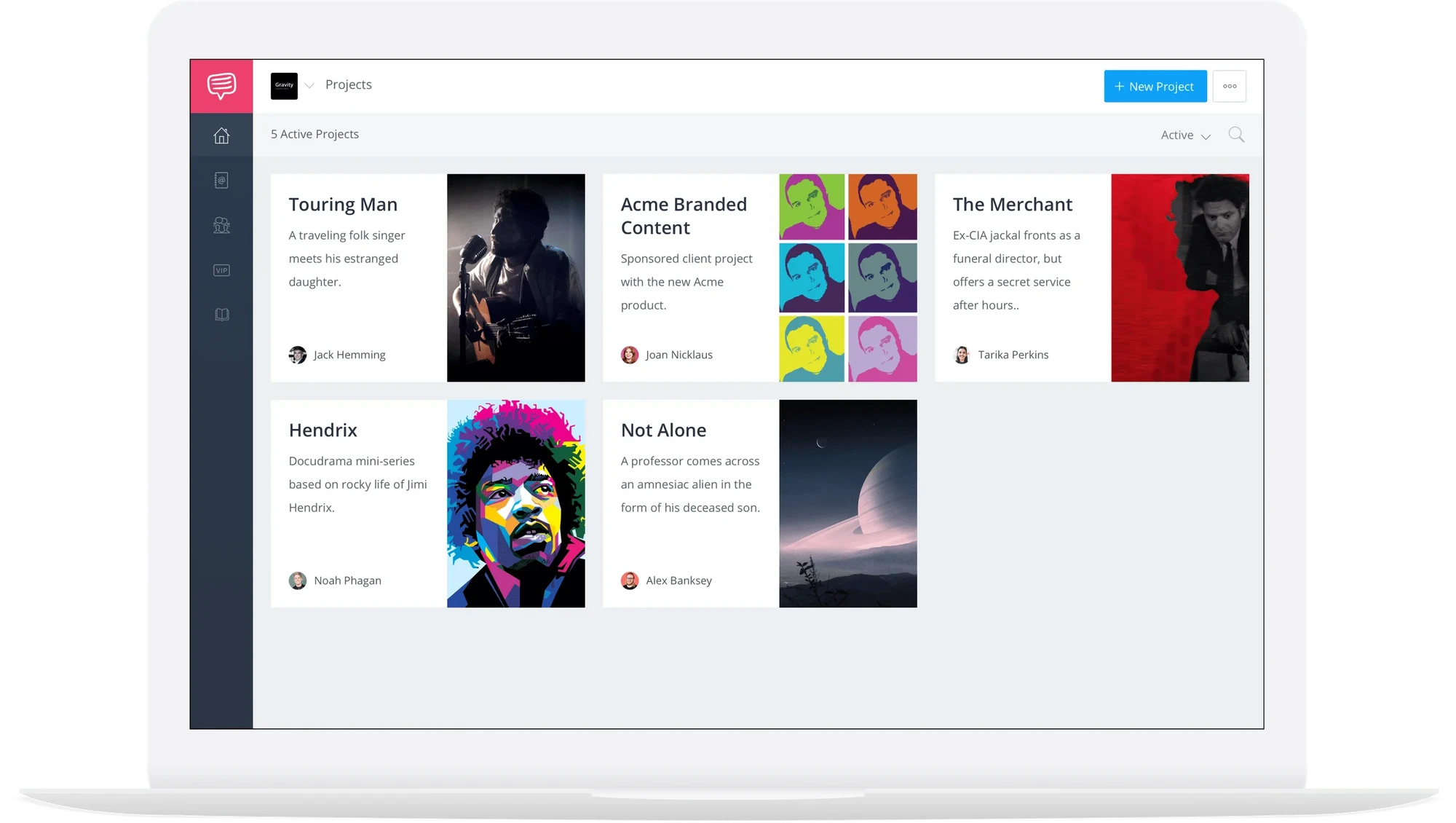 Image from StudioBinder

StudioBinder focuses on offering templates for image and video content. You can create 'shot lists' and 'storyboards' to organize your content as you want, and there are also tons of opportunities for customization. You can change your layout, frame size, and image specifications in seconds.
Though it is free, limited to creating one project at a time. If you want more options and larger storage space, you may need to pay for an upgrade.
Key features:
Print and share you works with others
Collaborate and comment on tasks & files
Adjust layout, frame size, and image specification
Robust and customizable shot list & storyboard builder
Pricing:
Free
Indie: US$29 /mo
Professional: US$49 /mo
Platform: Desktop for MacOS and Windows
---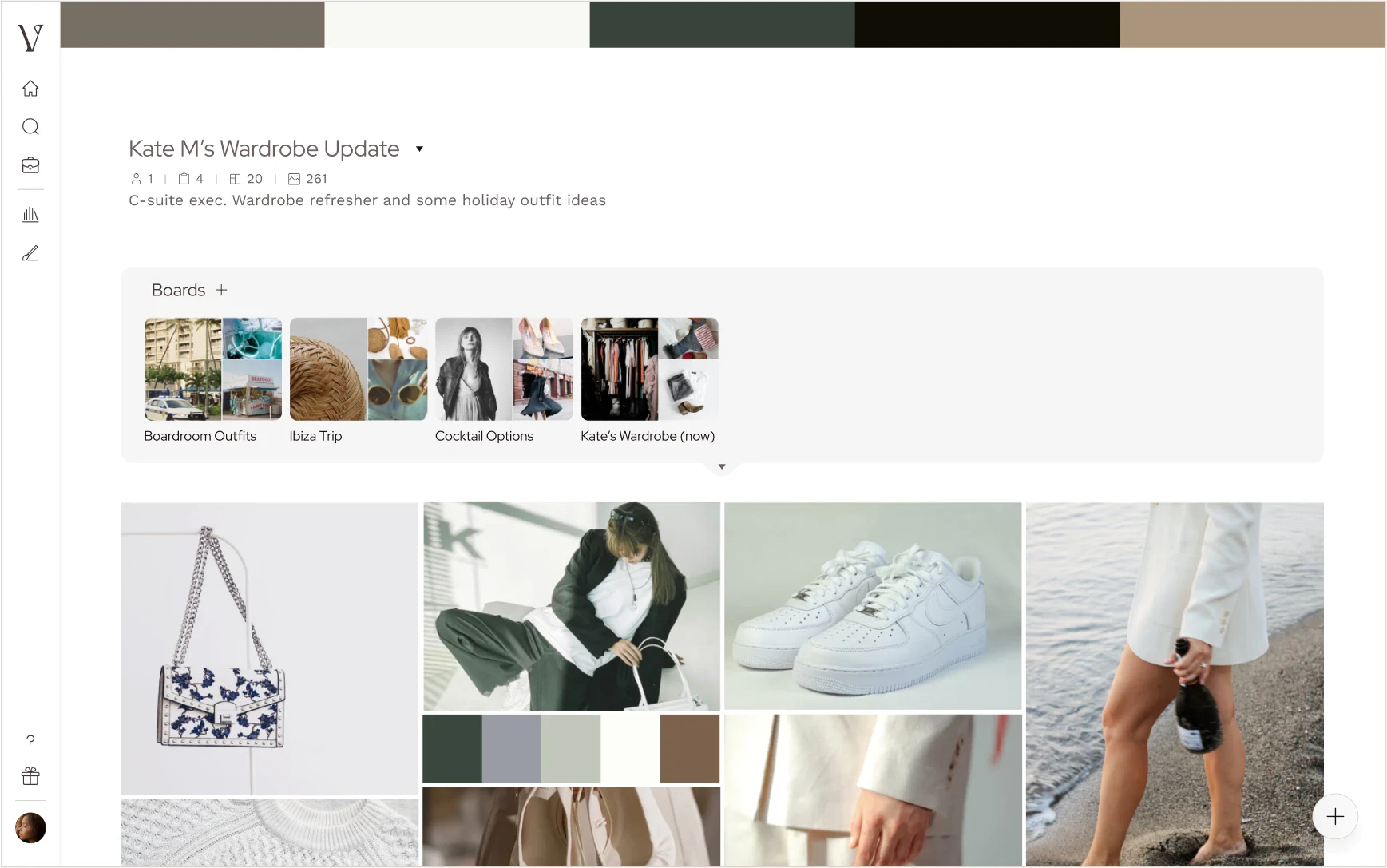 Image from Visualist

Visualist is a free online mood board creator that can export your mood board as a PNG, JPG, or PDF file. It gives you an unlimited canvas where you can upload images from your PC, offers a Chrome extension for you to add elements while browsing, and quickly collect any image on a web page to your Visualist board.
Besides that, it also features a lot like resizing, cropping, locking images and even a smart AI that can remove the background of any image in no time.
Key features:
Save time with smart automation
Use Smart AI to quickly remove the background
Use browser extension to save images from any website
Erase what you don't need from an image with the Object Eraser
Share a link and get feedback easily from clients and collaborators
Pricing: Free
Platform: Web
---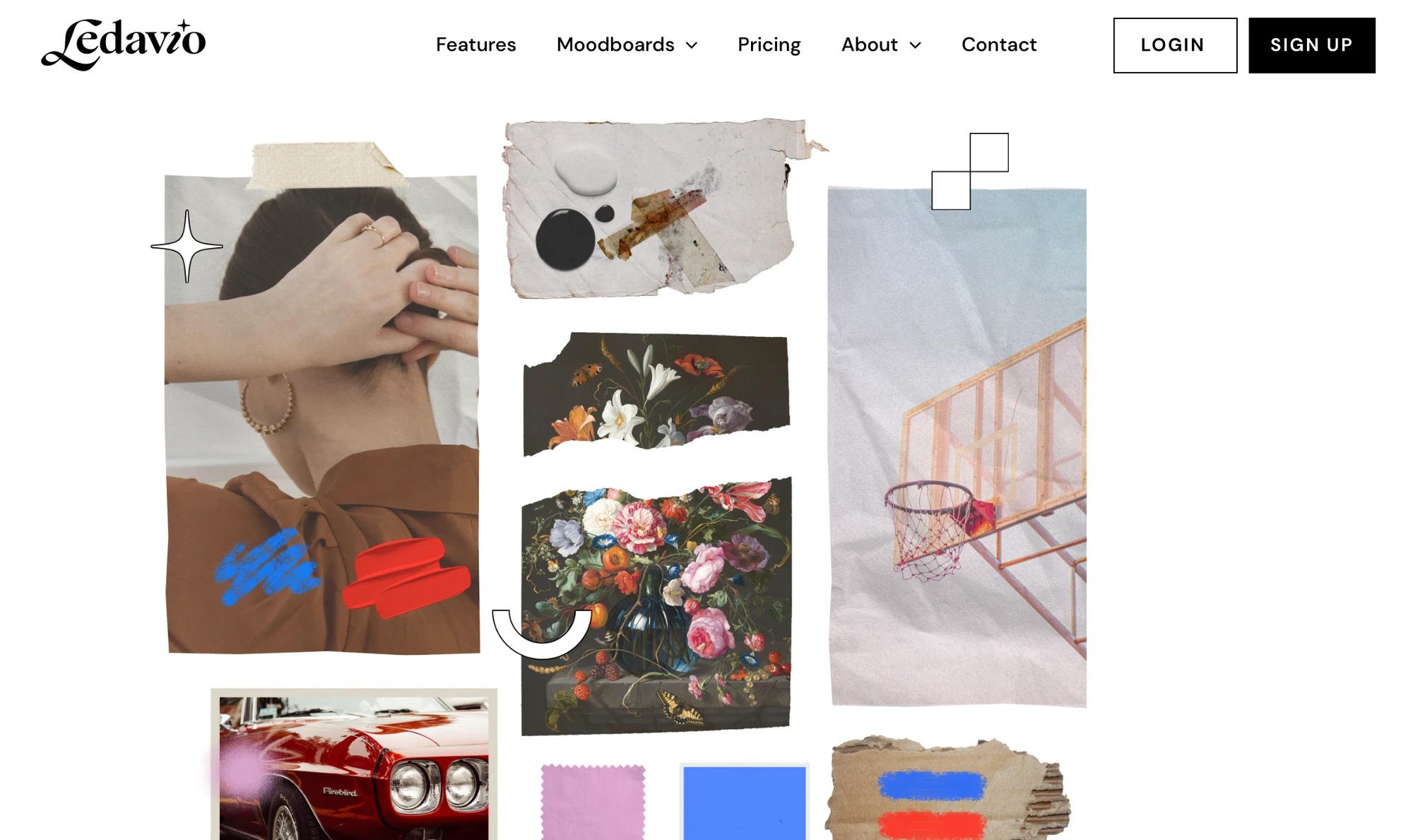 Image from Ledavio Design

Ledavio Design is a free-form and intuitive mood board creator that you can add a new image by uploading it from your hard drive or the web.
Apart from images and illustrations, you can also add stylized text titles, text boxes with larger blocks of text, and sticky notes with comments. Each element on the canvas has customizable options that you are free to adjust or move.
Key features:
Integrated Image Search
Add notes to your boards
Easy Access to Image Source
Provide all web fonts from Google Fonts
Easily edit your images by cropping, scaling, rotating, zoom, arranging, smart align, order.
Pricing:
Platform: Web
---
How to create a mood board?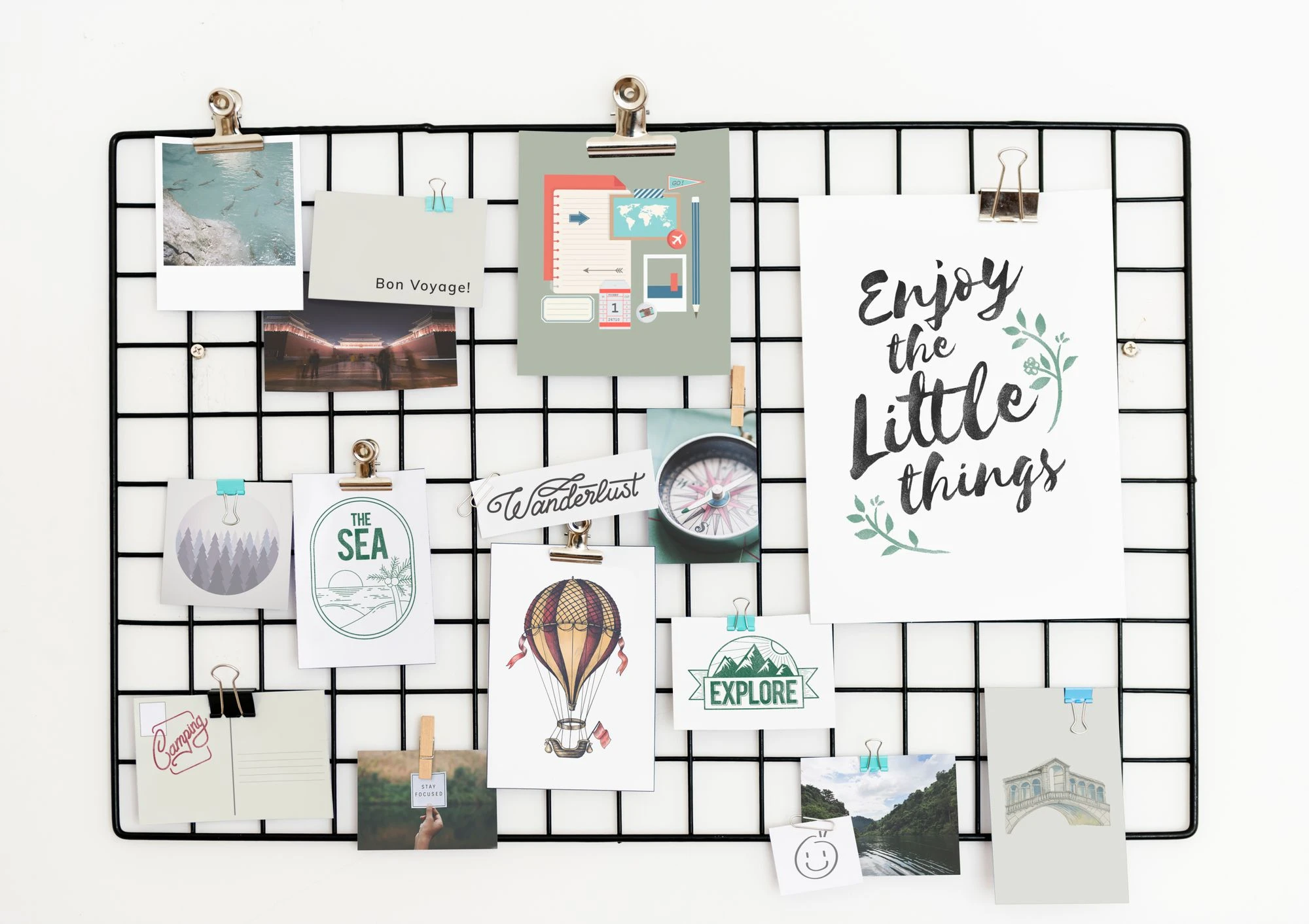 Image from Freepik

Step 1: Determine a Format
Choose whether to create your mood board in a physical or digital format.
If you can, you better use a digital mood board, as it makes it easy to share with colleagues and clients. You can easily collaborate and communicate when working remotely. Moreover, colleagues and clients won't need to meet with you in person in order to see and experience your ideas.
Step 2: Organizing Your Inspiration
Once you've chosen a format, it's time to start gathering the items you need. If you're using a digital mood board, you can include any online images or videos, or upload files from your computer. If you're using a physical format, you'll need to cut out the items that you want to include, or print photos to add to the mood board.
Have no idea where to look for inspiration? Try these websites! 43 Best Websites Designers Love for Finding Design inspirations
Step 3: Add annotations on items
While the visual aspects and elements will do most of the communicating, adding some explanations or notes can be helpful too, especially for your clients. You can explain exactly why something is being added to your mood board and how it can be used or is relevant to the project.
Adding annotations is much easier with digital mood boards compared to physical mood boards. Most apps and tools for creating mood boards include a functionality that allows you to add notes as needed, such as the Eagle app.
Want to Write Down Your Ideas Directly on Images? Eagle is Here to Help!

Image from Eagle — Image Annotation

Step 4: Create Multiple Mood Board
Sometimes, you may need to create more than one mood board for a project. For example, you could create two different mood boards if you're trying to decide between two different directions that you could take the project. It can help your colleagues and clients to easily visualize the options and to choose the one that is the best fit for the project!
Step 5: Collaborate and ask for feedback
Whether you're working on a client project or you're collaborating with a team, it can be helpful to get feedback from others.
A digital mood board is especially helpful for this step, as you can easily connect and collaborate online. Bringing everyone onto the same page in real-time allows you to collaborate on concepts, ensuring a consistent look and feel for your design project.
---
What should be included in a mood board?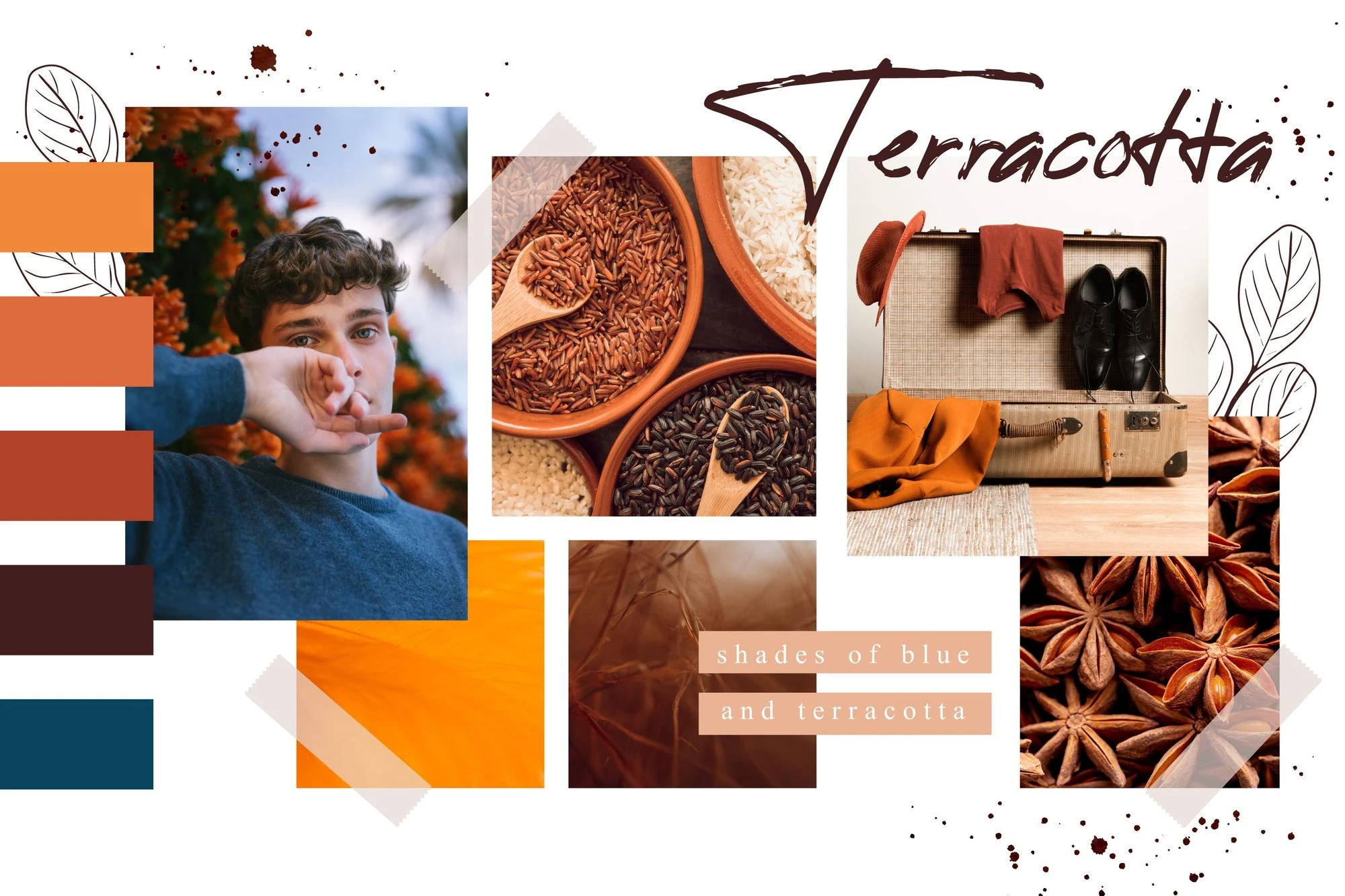 Image from Freepik and designed by coolvector

Every mood board is different, and what it contains will vary from projects. The important thing is to include as many elements as needed to convey the actual look and concept of your design.
You can add the following items to your mood board:
Images:
These can include brand images, stock photography, product images, photos from the web or other image sharing sites, illustrations, and even things like logos. There are more image resources online than you can expect. You can find images on literally every subject, from photos of the pink grass to calendar and light bulb clipart Illustrations on the web, you name it!
Looking for FREE images or icons? Check out these two articles!
47 Best Free and Royalty-free image websites
30 Best Websites for free icons download and usage guide 2023
Colors:
What colors define your brand? Should your colors be warm or cool? Muted or bold?
Incorporating the design color palette is an essential part of most mood boards and it can be included as samples or incorporated into images and other design elements.
Have no idea which colors to use? Try these color tools!
48+ Best Color Tools for Designers to Improve Your Workflow
Visual Metaphors:
Visual metaphors are an important part of modern advertising and branding, and can be included if appropriate. For instance, a fast car for "speedy, " a tiger that is synonymous with "fierceness, " a lock that conveys "security, " or sparkling water to demonstrate "refreshing".
Words:
Words that relate to the brand or message that should be communicated are a vital part of every mood board, and words equipped with images can be quite effective in describing your brand.
Fonts:
Designers should include specific fonts or at least general font styles in their mood boards for any design where the text will be prominent.
Quick Store All Your Fonts in Eagle App

Eagle can help you preview fonts, show font details, display fonts in different color backgrounds, activate and deactivate fonts with just a click! Try Eagle now!

Want to Get Royalty FREE Fonts?
Top 19 Site to Download Free Fonts 2023: Personal & Commercial
Textures:
Any textures or patterns a design will incorporate should be included in the mood board, such as fabric, tiles, paper with texture, shells, buttons, or flowers. It can inspire thought-provoking messaging.
Explanations:
As needed, explanations for elements included in the mood board can add context and make it easier to see how all of the different parts will work together toward the end of the design.
---
How to choose a mood board tool?
All the tools introduced above can help you effectively create a mood board, however, tools are just tools, they can't do all the work for you, you still have to come up with your own inspiration and styles! If you don't know which tool to start with, I suggest you ask yourself:
Which device do you use most often?
Do you have budget? Is the free version enough? Do you have privacy concerns for the storage location?
Do you need a template to start building your mood board? Or you can come up with ideas freely without a mood board template?
Do you prefer mood board on premises or cloud based storage? or able to sync with your preferred cloud space?
What features are most important to you? Need to collaboration abilities with clients or colleagues? Or simply personal usage is enough?
I believe these questions can give you some reference for choosing the right mood board tool for you!
If you are still not sure, the software introduced above all has a trial version, download it to see if it matches your design workflow!
---
Still Hesitating? Creating a Great Mood Board with Eagle!
After viewing all these stunning mood board tools, you must try a photo organizing tool to enhance your design! Eagle is a desktop productivity tool that enables a powerful organizing system for all types of design files.
It can add tags, ratings, and even your ideas or inspiration to any digital assets you have, or you can simply use the "Combine images" to create puzzles, where you may get new creative ideas.
Moreover, you can also use its robust filter to search by the colors, dates, file types, and more, which helps you quickly find a specific design material among thousands without getting lost, Try Eagle!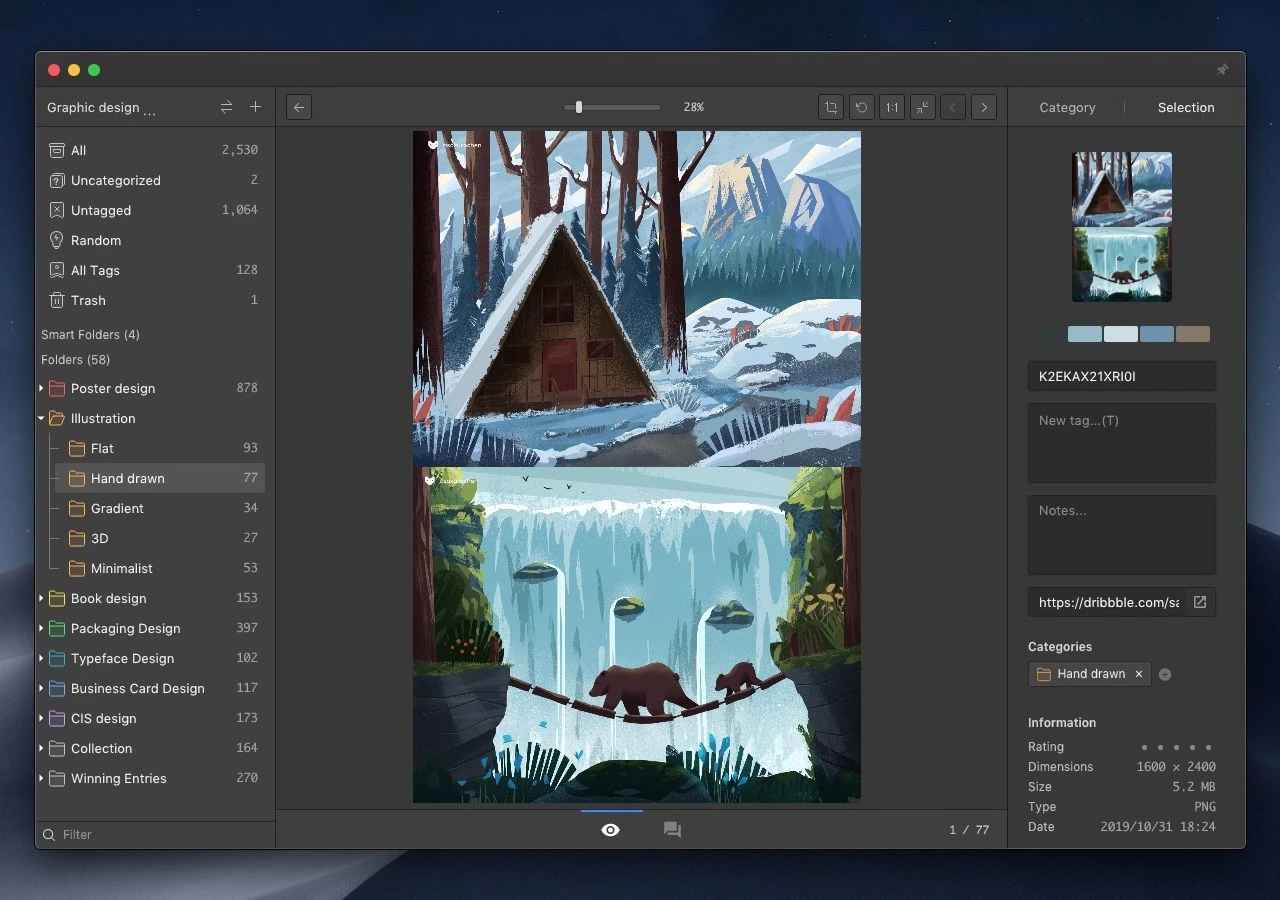 Image from Eagle — Combine images

Lastly, if you are eager to learn more design information and resources, visit and bookmark Eagle blog to become a better creative professional!
If you are still lacking inspiration and incentives to create something new, feel free to dive into Eagle Community to explore stunning assets shared by thousands of designers worldwide. Let Eagle be your best design assistant!