Get Picture Perfect: 20 Best Photo Editing Software In 2023
Want your boring pictures to be turned into something more engaging? Luckily, you are at the right place! No doubt, it's often stressful to find software that has the right features to enhance your images. Fortunately, with this guide, you'll be able to find the perfect image editing software for your editing needs.
Whether you're a beginner or a professional, these photo editing software are accessible to anyone with the least experience in photo editing. So, are you ready to make your social media and websites more appealing?
Discover the 20 best photo editing software of 2023 and achieve picture-perfect results. Enhance your images like a pro with these top picks!
---
Eagle App - Easily Organize your Photos & Images
Being a professional photo editor or someone new to it, finding inspiration on the web and saving it must be part of your daily routine. However, downloading every image to your device without organizing them is a real mess. That's where Eagle comes in, providing a better and more well-ordered way to organize all your images in one place.
Furthermore, Eagle's smart folder feature allows you to categorize and find your images by applying filters such as width and length, name, and tags. This feature enables the smart folder to ensure that all your project files are easily accessible. Additionally, the Eagle browser extension can be integrated with the Eagle desktop app, helping you save all your exciting reference images and design inspirations from the web quickly.
Thankfully, with Eagle's numerous features, you can keep your media assets safe and secure, organized by folders, and locked with passwords, among other options.
Start your 30-day free trial of the Eagle app now!
---
Best 20 Photo Editing Software for 2023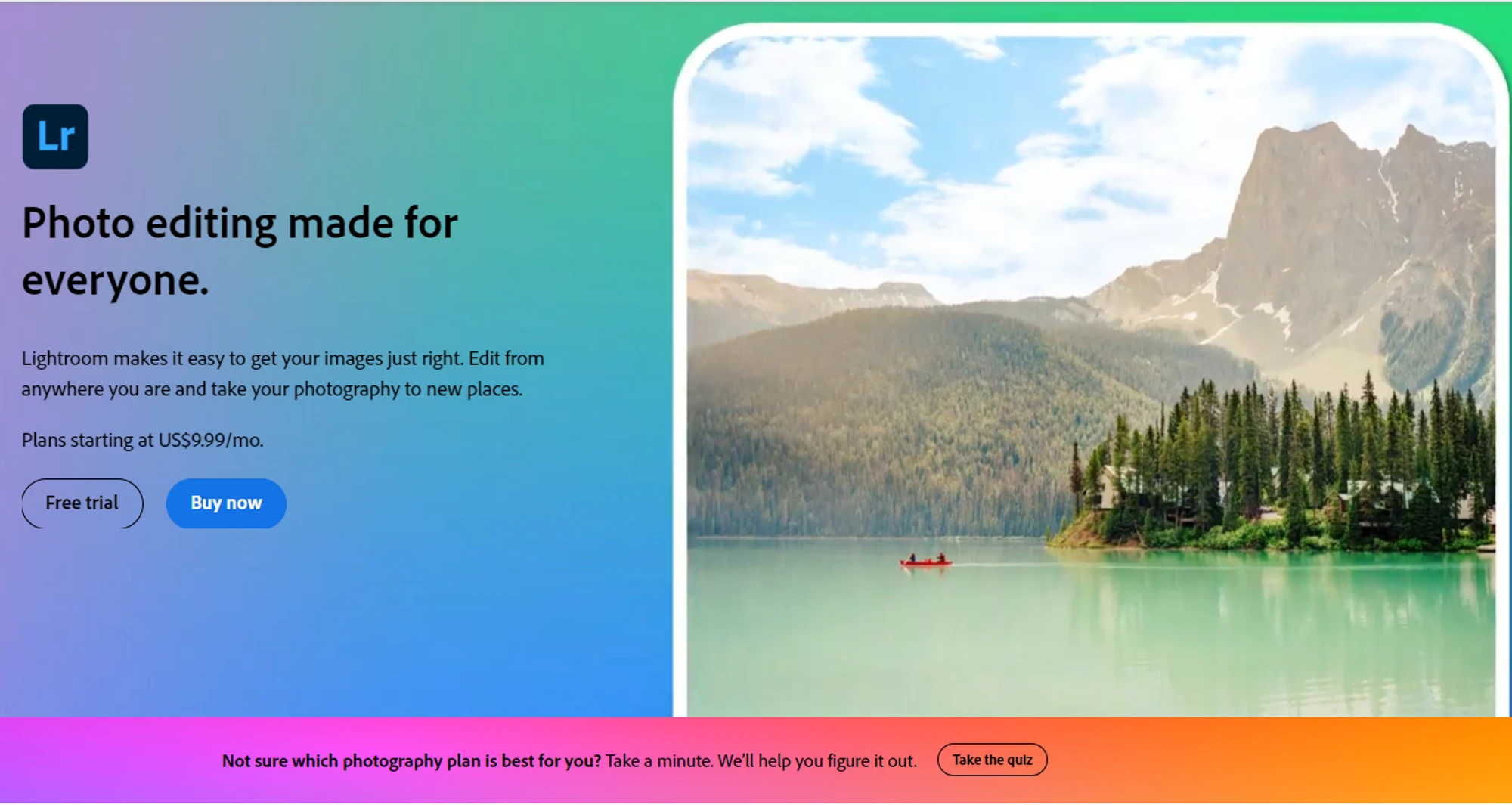 Image from Adobe Lightroom
Adobe Lightroom has been in the market for years now and has the potential to surprise you by enhancing your images with its advanced features. Whether you're a fan of cinematic street photography or want to apply presets of your favorite movies to your images, Adobe Lightroom is the tool for you.
The software is used by professional content creators and individuals looking to make their photography more engaging. With the right approach and features, you can turn your images from boring to interesting in no time.
Features:
Spot removal: You can get rid of specific parts of the image without leaving any rough marks behind.
Custom presets: Create your own custom presets that you can apply to all your images.
Sync your edits: Sync your ongoing projects so you can edit from anywhere across multiple devices.
Pros:
Powerful editing features
Supports a variety of file formats
Can integrate with other Adobe products
Cons:
Can become slow with projects that use multiple resources
Users with no prior photo editing experience might find it complex
Pricing: $9.99/monthly
Operating system: Windows, iOS, Android, macOS, and Web
Simplify your management workflow with photo management software that suits you - find it now!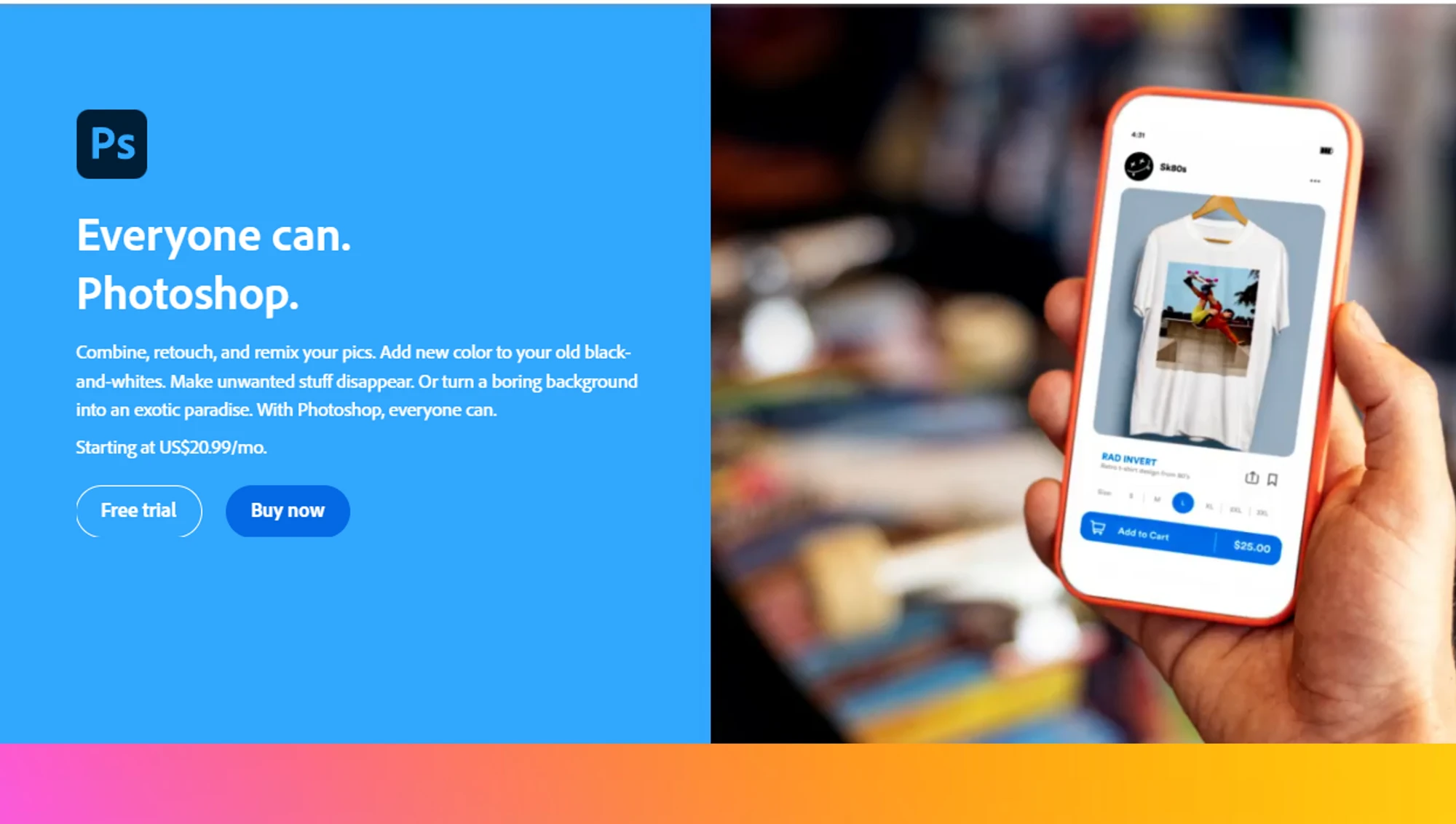 Image from Adobe Photoshop
Photoshop needs no introduction - you've probably heard about it before. The tool is packed with powerful features that every photographer and professional requires. There is no competition when it comes to modifying your images with Photoshop's gradient, text, and masking tools. Moreover, it is used by millions, including brands and individuals who are looking to fix errors and enhance their images to perfection. However, Photoshop can be a complex software to start with, as it has unlimited editing capabilities and can confuse beginners with its layout.
Features:
Layers: You can work on multiple layers of a single image at once.
Selection tools: Photoshop offers a variety of selection tools such as Lasso and Magic Wand, which are essential to edit and manipulate specific parts of an image.
Filters and effects: Photoshop comes with pre-built effects and filters that can be applied to images to achieve a specific look.
Pros:
Advanced and powerful editing features
Customizable interface, which is preferred by many people who want to change the layout according to their preferences
You can export your images in very high resolution
Cons:
The complex interface and understanding of tools is a drawback for the majority as it takes some time to get used to
Photoshop might not function properly on low-end machines
Pricing: $20.99/monthly
Operating system: Windows and macOS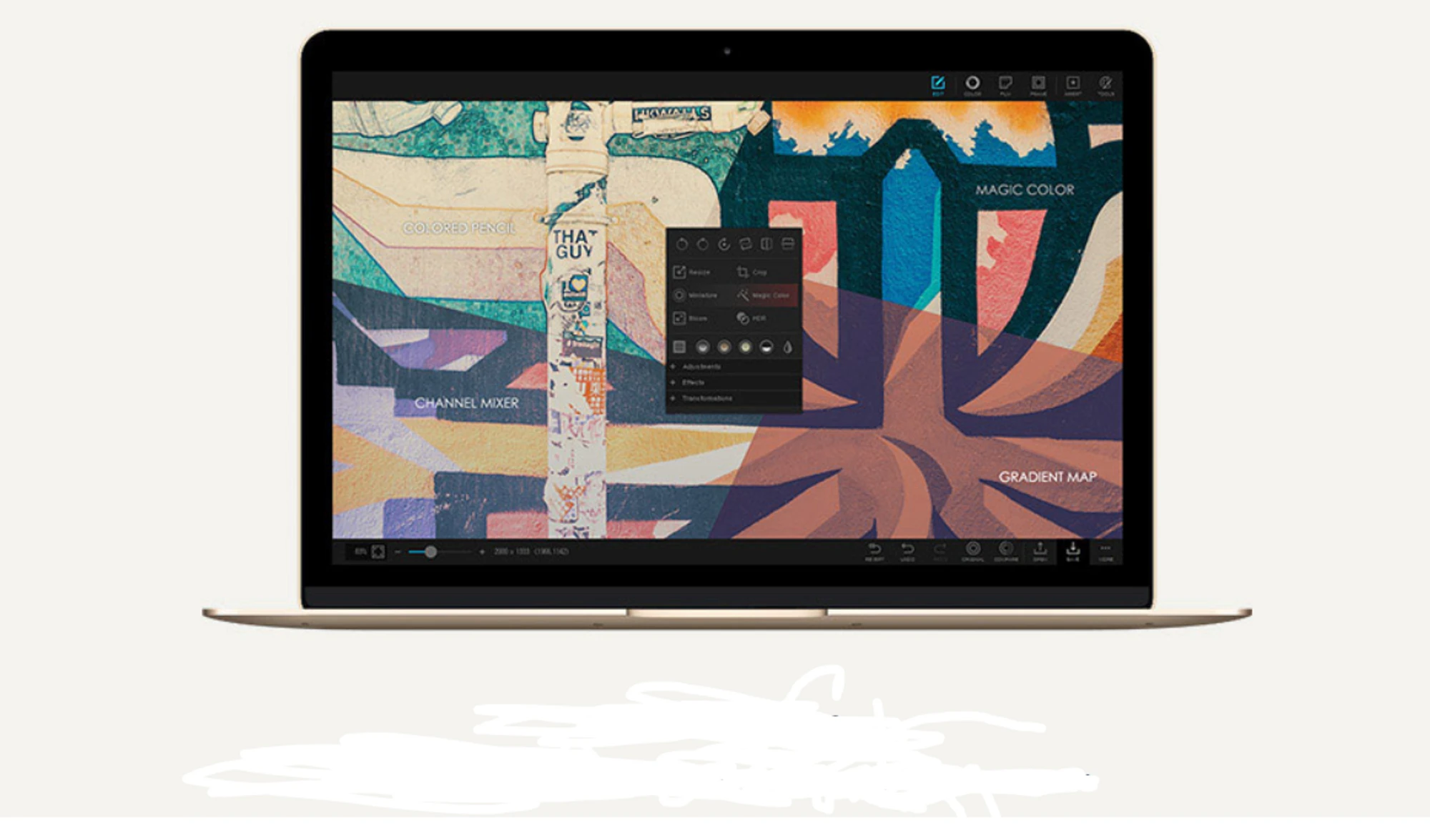 Image from PhotoScape X
Looking for something with a simpler interface? If so, you might want to give PhotoScape X a try. It comes with both basic and advanced editing features that can be used to achieve editing needs such as filters, cropping, resizing, and more. Overall, it can be a good choice for beginners to start with, as it has an easy-to-use and user-friendly interface for those who are looking for batch editing and creating GIFs and collages.
Features:
Create animated GIFs: You can animate and turn your media files into a GIF.
Vast editing features: With more than 1000 filters, effects, and objects, you can enhance your boring photographs and make them more engaging.
Background removal: Remove unwanted parts of your image with Lasso and Magic eraser tools.
Pros:
User-friendly interface and easy to use
Supports RAW image
Offers both basic and advanced editing features
Cons:
Limited file format support
Not comprehensive enough compared to other editors
Pricing:
Free
Pro: $39.99 one-time purchase
Operating system: Windows and macOS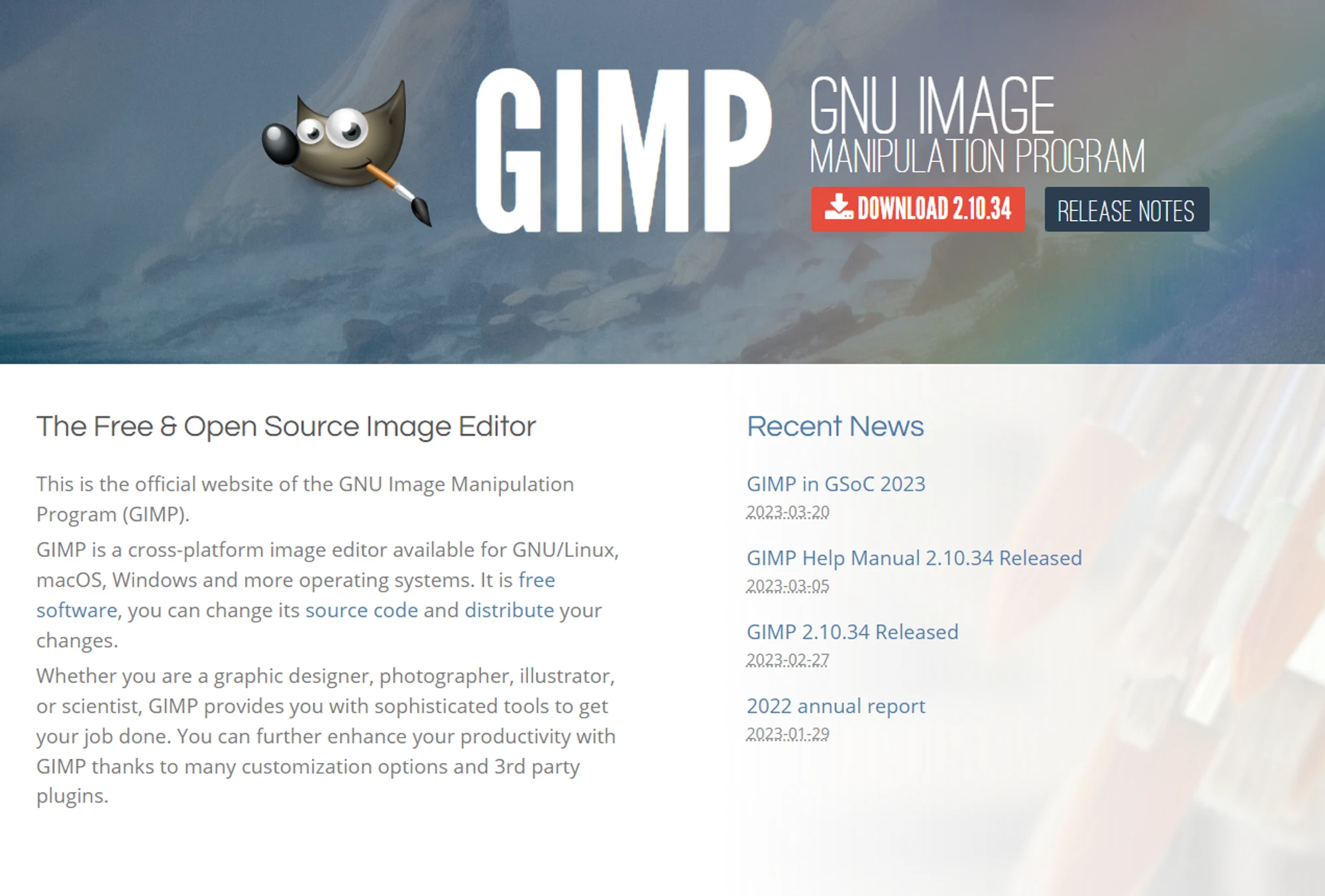 Image from GIMP
GIMP has been a popular name on the list of photo editors for the past 25 years. This free, open-source software has capabilities that can compete with other paid photo editors. Whether you're looking to create logos, mockups, website layouts, or posters, GIMP has got you covered with everything. As the software is open-source, it continuously improves, making it more powerful and feature-rich. Lastly, if you're looking for a free photo editing software that goes beyond and is on par with paid editors, look no further than GIMP.
Features:
Layer-based editing: You can use multiple layers and edit them individually to get a final output.
Flexibility: GIMP's functionality can be extended by adding plugins.
Customizable brushes: With GIMP, you can create your own custom brushes with different settings such as opacity, size, and shape.
Pros:
Free and open-source software
Flexible enough to create different types of graphics
Beginners can take advantage of its experienced and active community of users to get started
Cons:
No built-in feature to undo changes without affecting the original
Not backed up by a support team
Pricing: Free
Operating system: Windows, macOS, and Linux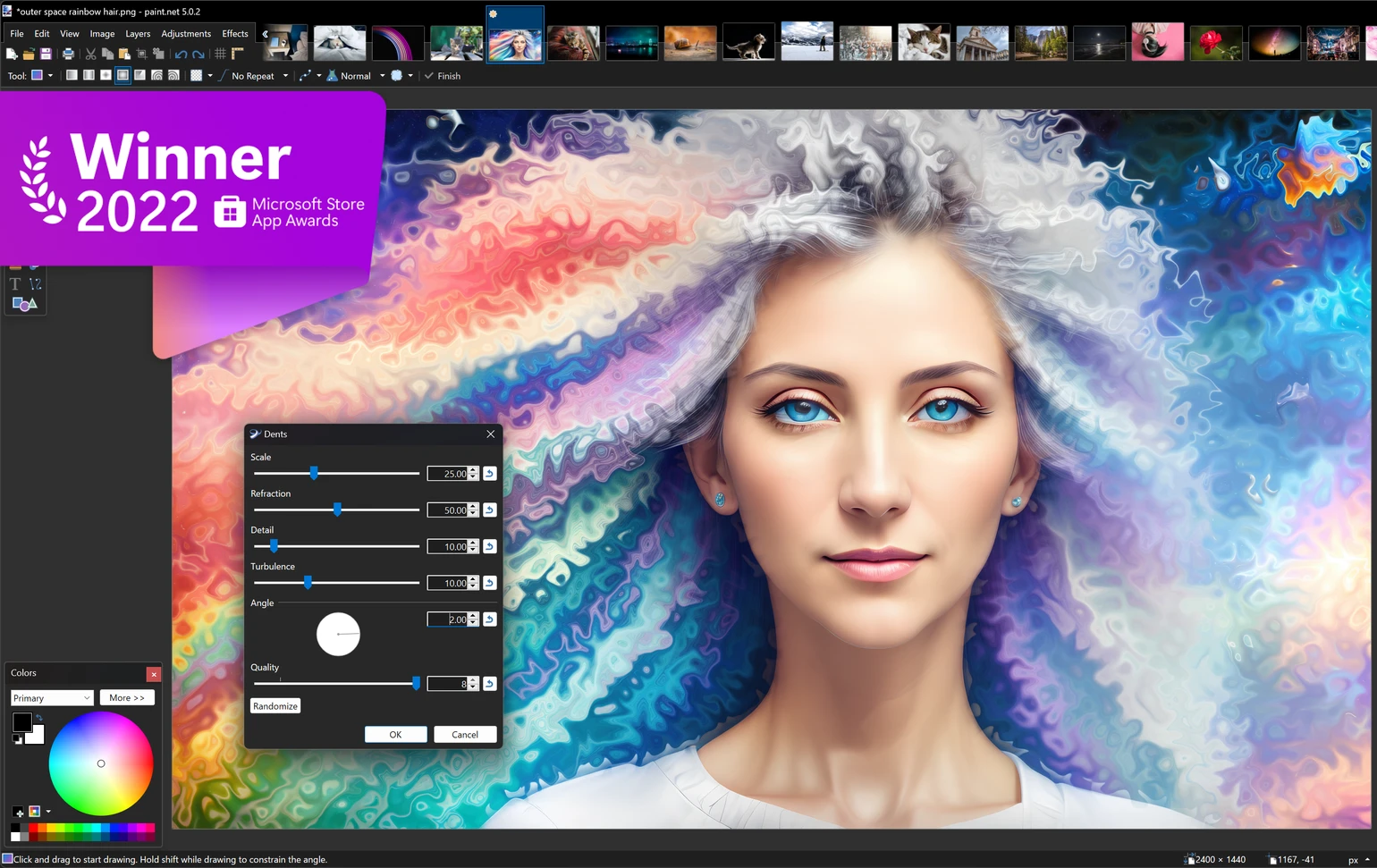 Image from Paint.net
Don't be mistaken by its old-school interface, the image editor is much more than you think. From working on simple touch-ups to creating more complex graphics, Paint.net can be your next favorite editor! Whether you're looking to edit and make minor changes to photos or use it professionally, it is flexible enough to handle all your editing tasks. Additionally, it supports many file formats, making it a versatile editor for a wide range of projects.
Features:
Plugin support: Create your own personalized workspace by adding your favorite plugins to make the editor more effective.
Easy to use: User-friendly interface for both advanced and new users.
Blend layers: It supports layers that can be blended together to create a unique look.
Pros:
Free and open-source software
Customizable interface
Regular updates to keep it responsive
Cons:
Might have performance issues on old computers
No CMYK color mode, which can be a drawback for some creators
Pricing: Free
Operating system: Windows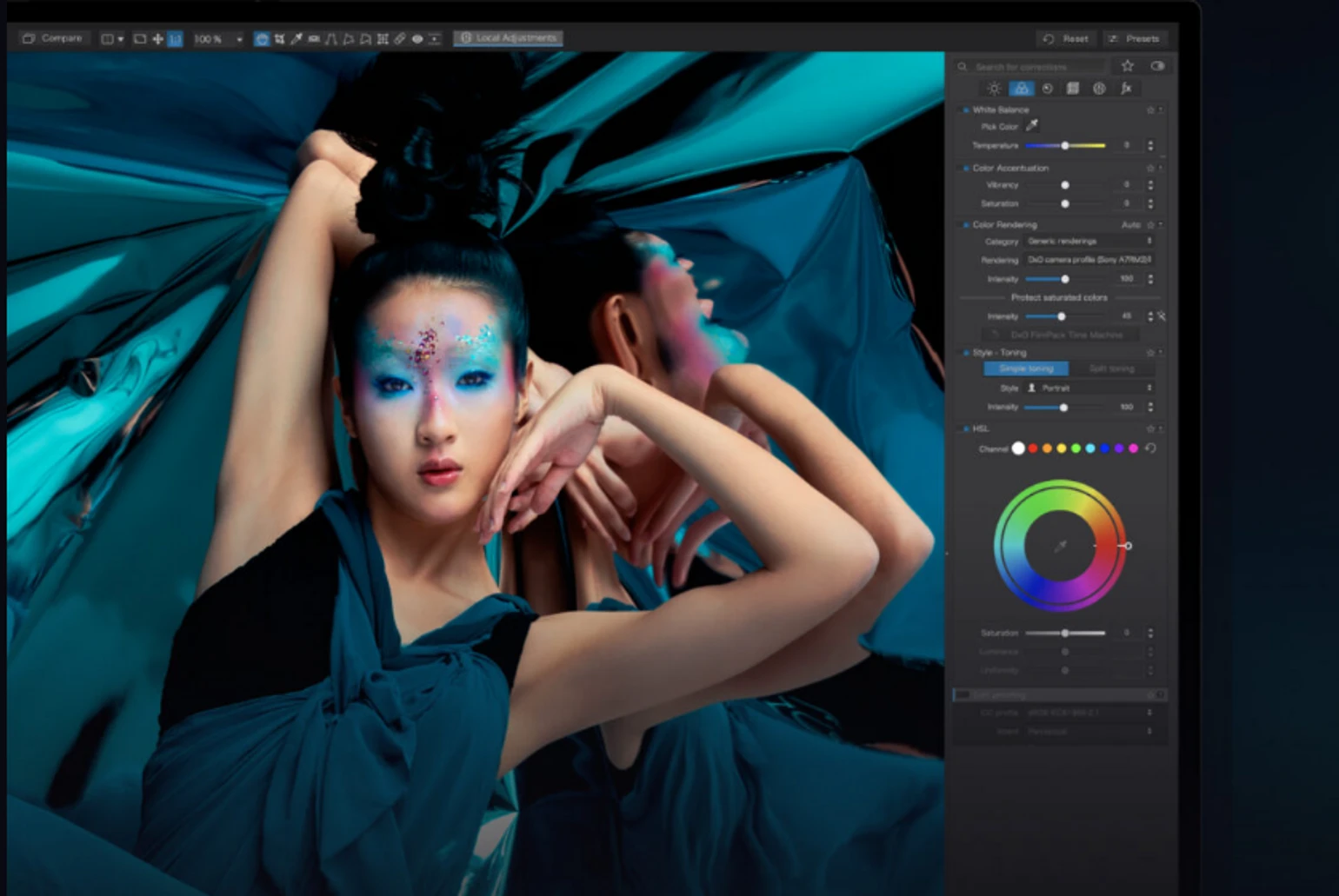 Image from DxO PhotoLab
This editor is the ultimate solution for your RAW photos. Whether you want to enhance the details of your photography or increase the sharpness of your lens, DxO PhotoLab is ready to help you with everything. Truly, this editor can be used for various types of photographs and image editing. However, if you're specifically looking to work on the details or apply noise reduction, give this photo editing software a try.
Features:
Built-in photo management: Create and store all your media files inside the software, minimizing the trouble of organizing your files.
RAW processing: RAW-focused tools to enhance your RAW photos.
Image denoising: Perfect editor to denoise your images to make them appear cleaner and professional.
Pros:
User-friendly and pre-built presets to make quick edits
Supports a variety of camera and lens profiles
RAW editing capabilities
Cons:
Limited support for brush tools and other adjustments
Can get slow while working on large files
Pricing: $219 one-time purchase
Operating system: Windows and macOS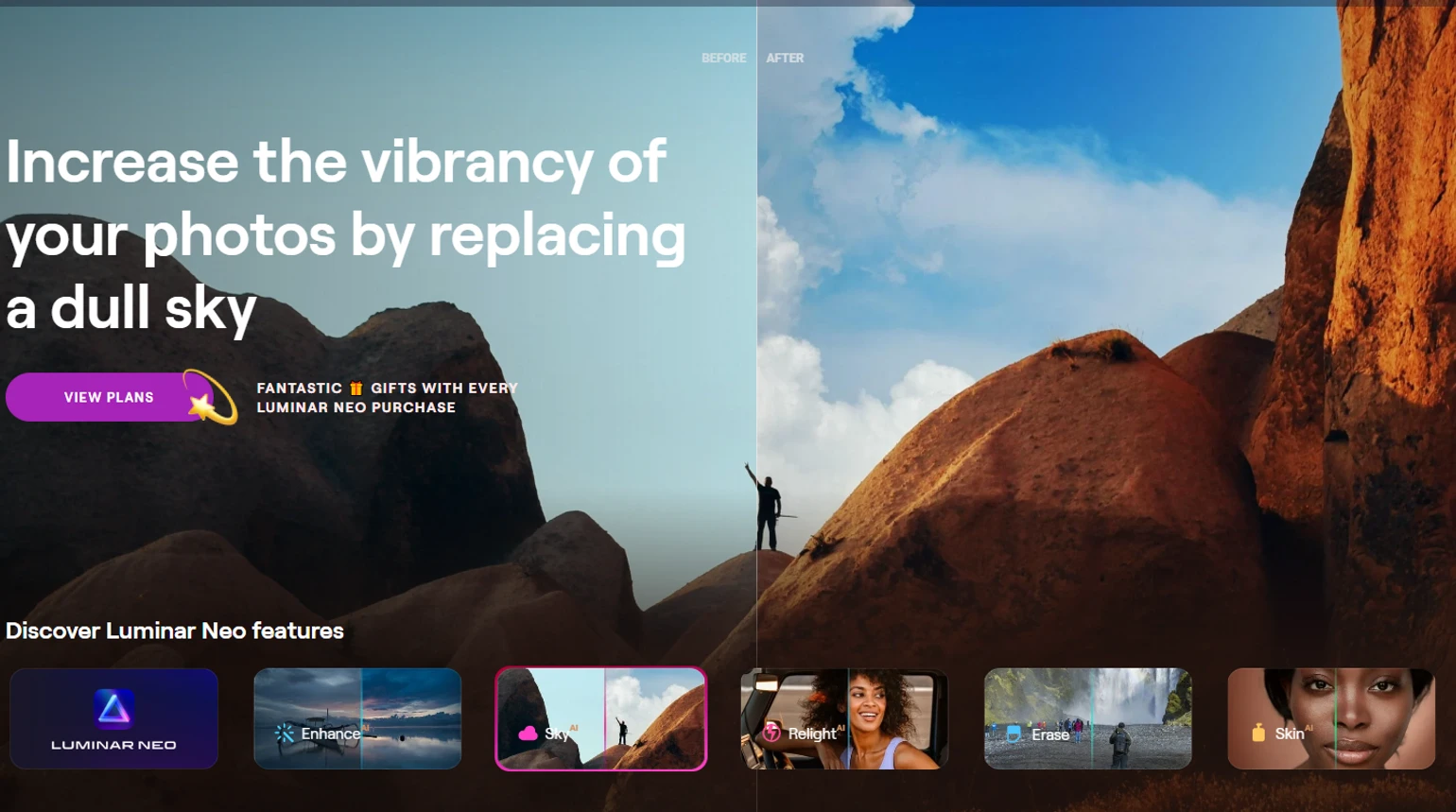 Image from Luminar
If you are new and want to edit your photos with an editor that uses advanced AI to help you achieve editing tasks with maximum ease, Luminar is what you need. Additionally, with a super user-friendly interface, you can easily work on your photo adjustments, layers, masking, and more. Fortunately, this editor can be used as standalone software or can be added to Adobe Lightroom as a plugin.
Features:
AI-powered: With advanced AI, you can complete all your tasks quickly.
RAW editing: Supports a wide range of RAW files, such as NEF, ORF, CR2, CR3, and many more.
Clone tool: Fix damaged pixels that ruin the overall quality of the image.
Pros:
Navigate without confusion, thanks to its user-friendly interface
Variety of presets to help you get started
AI tools to help you complete your tasks in no time
Cons:
Limited capabilities for batch processing
Limited options for exporting images
Pricing:
Explore: $99/year
Pro: $119/year
Lifetime: $149/year
Operating system: Windows and macOS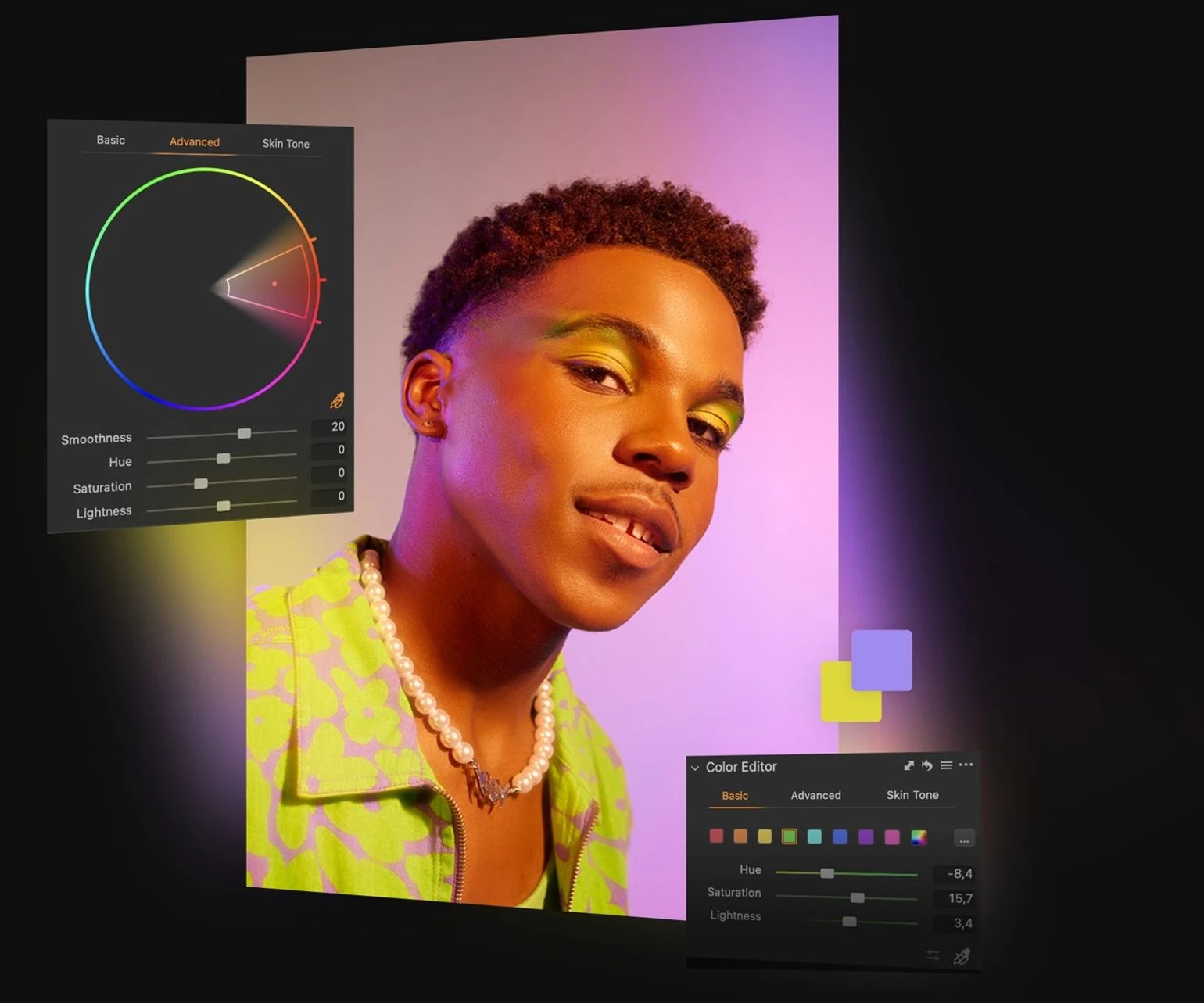 Image from Capture One pro
This is a great solution for startups and businesses looking to enhance their visuals and achieve marketing goals. There are no limits to this image editing software, with over 600 camera lens supports, enabling you to create the best version of your photographs. Moreover, this editor is designed with collaborative tools to help you work on your projects with your stakeholders and colleagues. Additionally, it offers the freedom to work from anywhere on any device, which is essential for every photo editor, whether professional or a beginner.
Features:
Collaborating capabilities: Provides a collaborative environment to let you work together on projects.
Wide range of Cameras support: One solution for all your camera lens and profiles.
Feedback on images: Get feedback from your team and colleagues on your photos.
Pros:
Wide range of editing tools
Responsive and fast performance when working on large RAW files
Supports a wide range of camera brands
Cons:
Limited compatibility with plugins and add-ons
Complexity might be a factor for beginners
Pricing:
Monthly: $24
Annually: $179
Lifetime license: $299
Operating system: Windows and macOS
Image from PaintShop pro
Don't want to spend a lot of time editing your photographs? Try PaintShop Pro, which uses the latest AI technology to help you enhance your images in a moment. The tool is designed and implemented with the favorite features that every photographer needs, from your drone shots to your underwater photographs - PaintShop has got your back for everything you capture.
Features:
AI-Powered: Uses AI to help you make your edits with minimal effort.
Customizable layout: Users can change the layout and create their own custom presets.
Not limited to images: With their smart movie creator feature, you can create highlights and reels.
Pros:
Works smoothly even while working on complex edits
A User-friendly interface makes it easy to navigate
Supports a variety of RAW files from different brands and models
Cons:
Some users may not be satisfied with the brush tools
Complexity might be a factor for beginners
Pricing: $54.99 one-time purchase
Operating system: Windows and macOS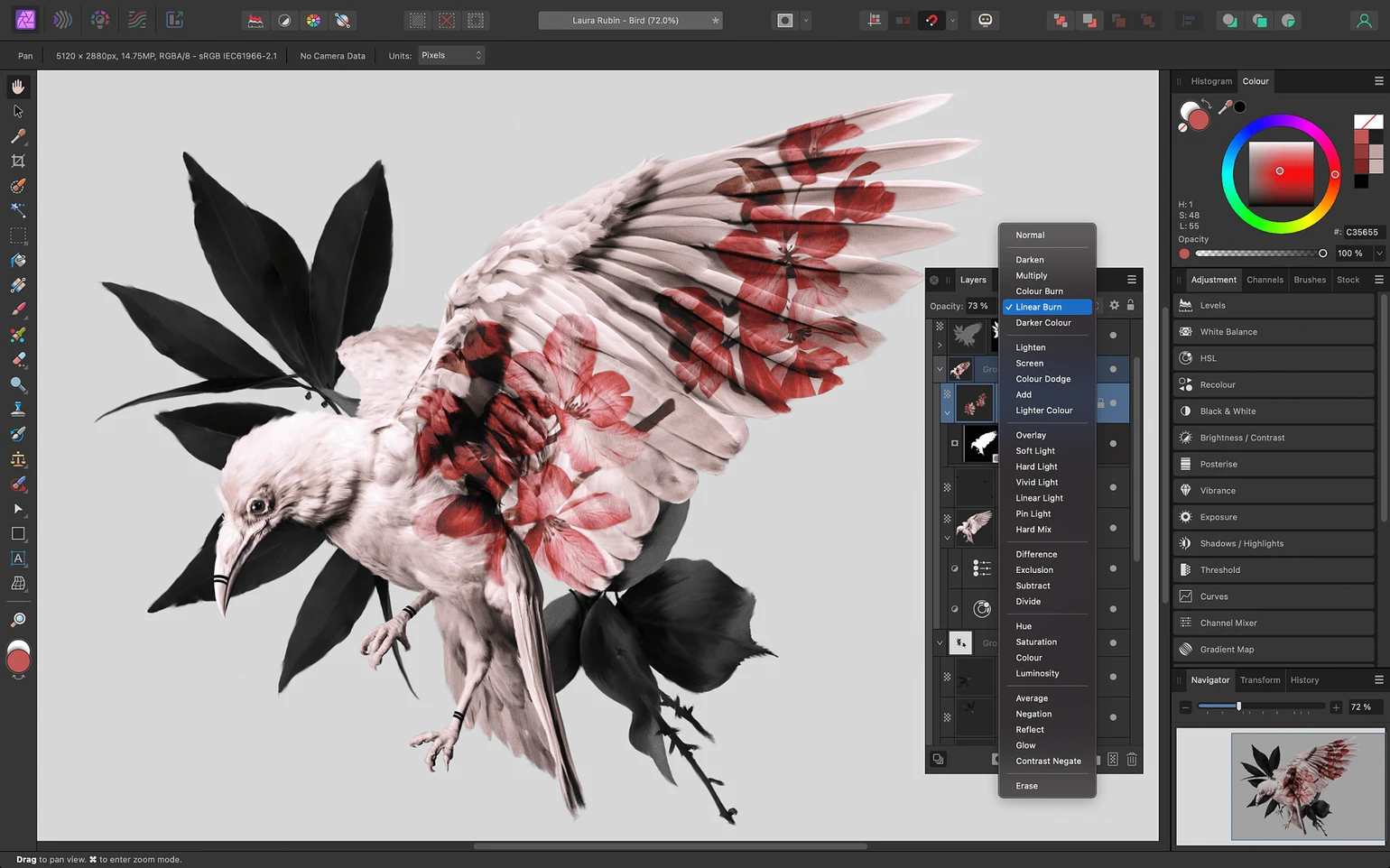 Image from Serif affinity photo
Want to take your photos to the next level? Serif Affinity Photo can help you enhance your images by retouching, sharpening, adding filters, adjusting exposure, and much more. Moreover, you can work on multiple compositions and layers, which can be blended together to give your photos a professional touch. Additionally, the editor is compatible with iPad, enabling users to work on their edits across multiple devices.
Features:
Cross-Platform compatibility: The editor is compatible with iPad, allowing users to work on the same file across different devices.
Focus stacking: If you're into macro photography, you can combine multiple images into a single sharp image with its focus stacking feature.
Panoramic stitching: With the built-in panoramic stitching, you can merge multiple photos into a single panoramic image seamlessly.
Pros:
Can handle high-quality photos
Works on multiple file formats, including RAW
Offers a free trial to test the features before purchasing
Cons:
Occasional crashes and software bugs reported by some users
While it's compatible with iPad, some users have found that it has limited functionality compared to Windows and macOS
Pricing:
iPad: $19.99 one-time purchase
Windows: $69.99
macOS: $69.99
Operating system: Windows, macOS and iPadOS
Want to manage and store all your photography in a single place? Streamline your workflow with Eagle today!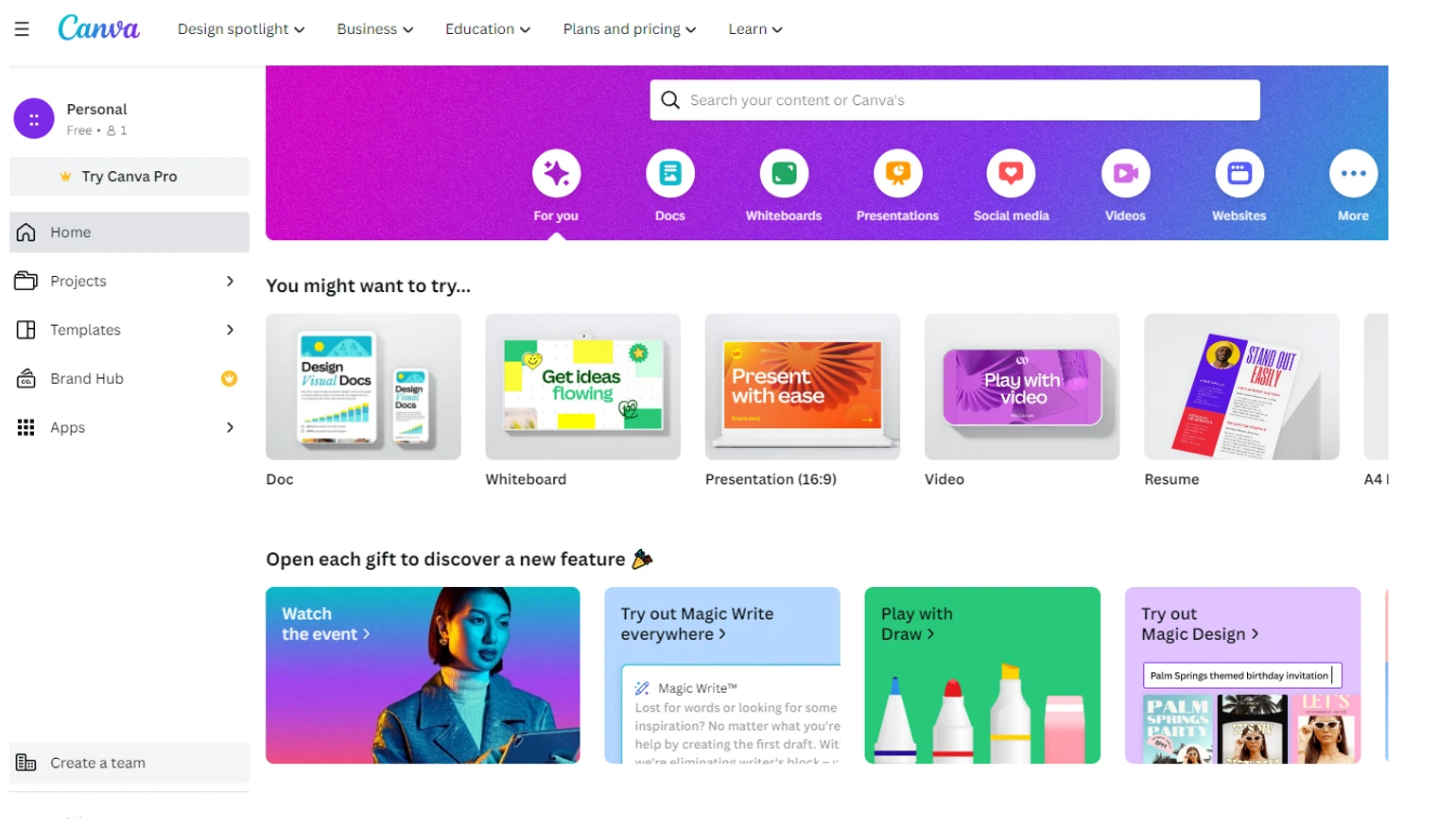 Image from Canva
Don't want to dive into the complexity of an advanced image editor? Well, with Canva, you don't have to. You've probably heard about Canva before, as this photo editor is the ultimate tool for all your marketing and image-enhancing needs. Whether you want to turn your photography into a marketing post or create a YouTube video thumbnail with your captures, there are no limits in Canva.
Additionally, if you're a fan of drag-and-drop editors, you don't want to miss this one.
Features:
Fast and simple: Drag and drop editor.
Pre-built graphics: Pre-built elements, shapes, and design templates.
Integrate with other platforms: Import data from other platforms such as YouTube, Pixton, and Pexels.
Pros:
Easy to use
Export edits in high quality
Animate your images with fonts, shapes, and elements
Cons:
Limited editing resources
Not an efficient workspace to edit large and RAW files
Pricing:
Free
Monthly: $6.49
Yearly: $54.99
Operating system: Web, Android, and iOS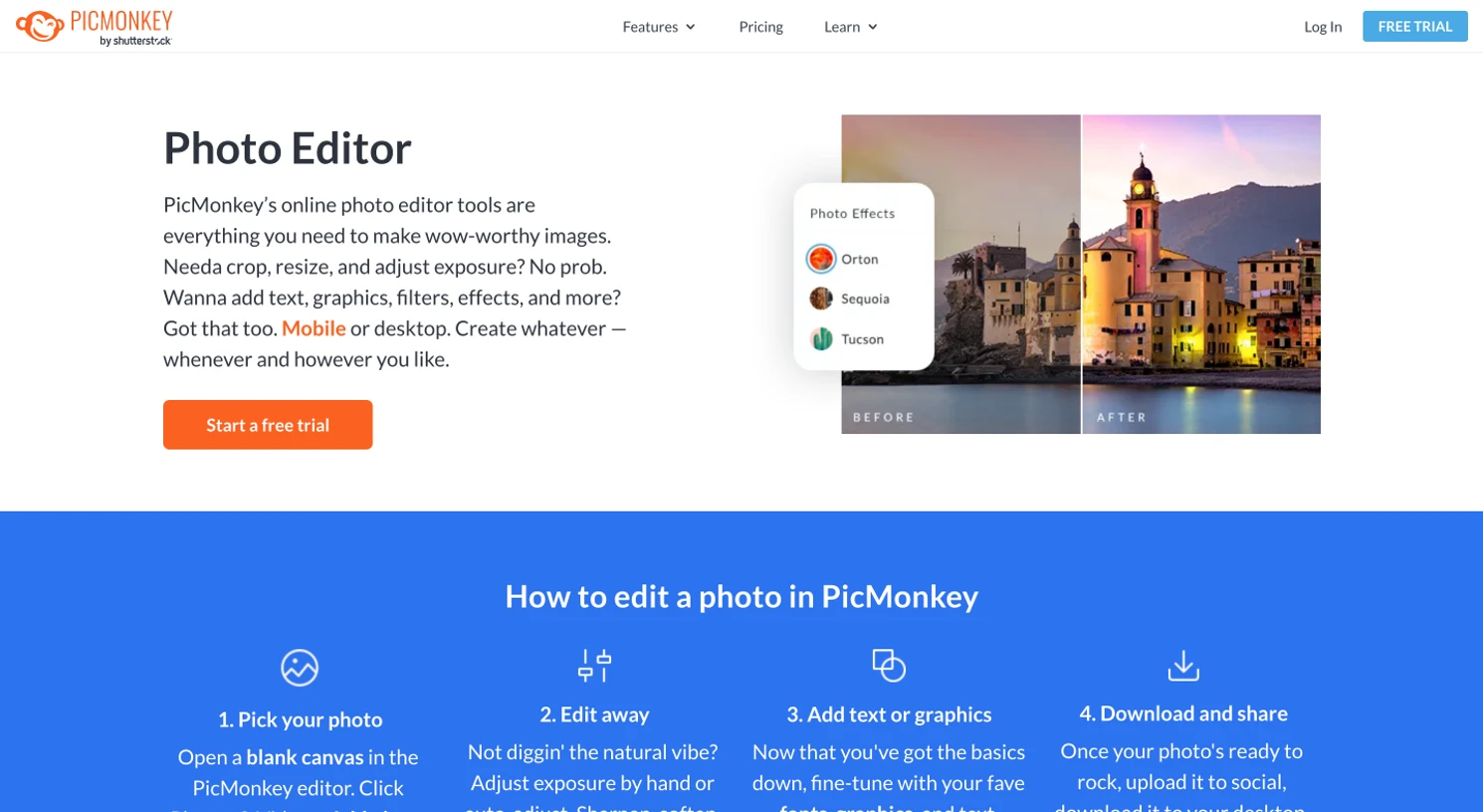 Image from PicMonkey
PicMonkey is similar to Canva but with more capabilities, allowing you to remove the background of your photos in the blink of an eye, and that's not the only thing it can do. Explore the library of PicMonkey of effects, filters, and textures to take your photo to another level. Moreover, with the touch-up tools, you can easily get rid of hair flyaways, clothing stains, and much more with minimal effort.
Features:
Background removal: Get rid of the background within seconds using the background removal feature.
Pre-built assets: Animate or enhance images with pre-built graphics.
Add your own presets: Don't like their textures? No worries, you can also upload your own.
Pros:
Pros:
Limited features and functionality compared to other photo editing software
Doesn't support RAW files
Pricing:
Basic: $6/monthly
Pro: $10/monthly
Business: $19/monthly
Operating system: Web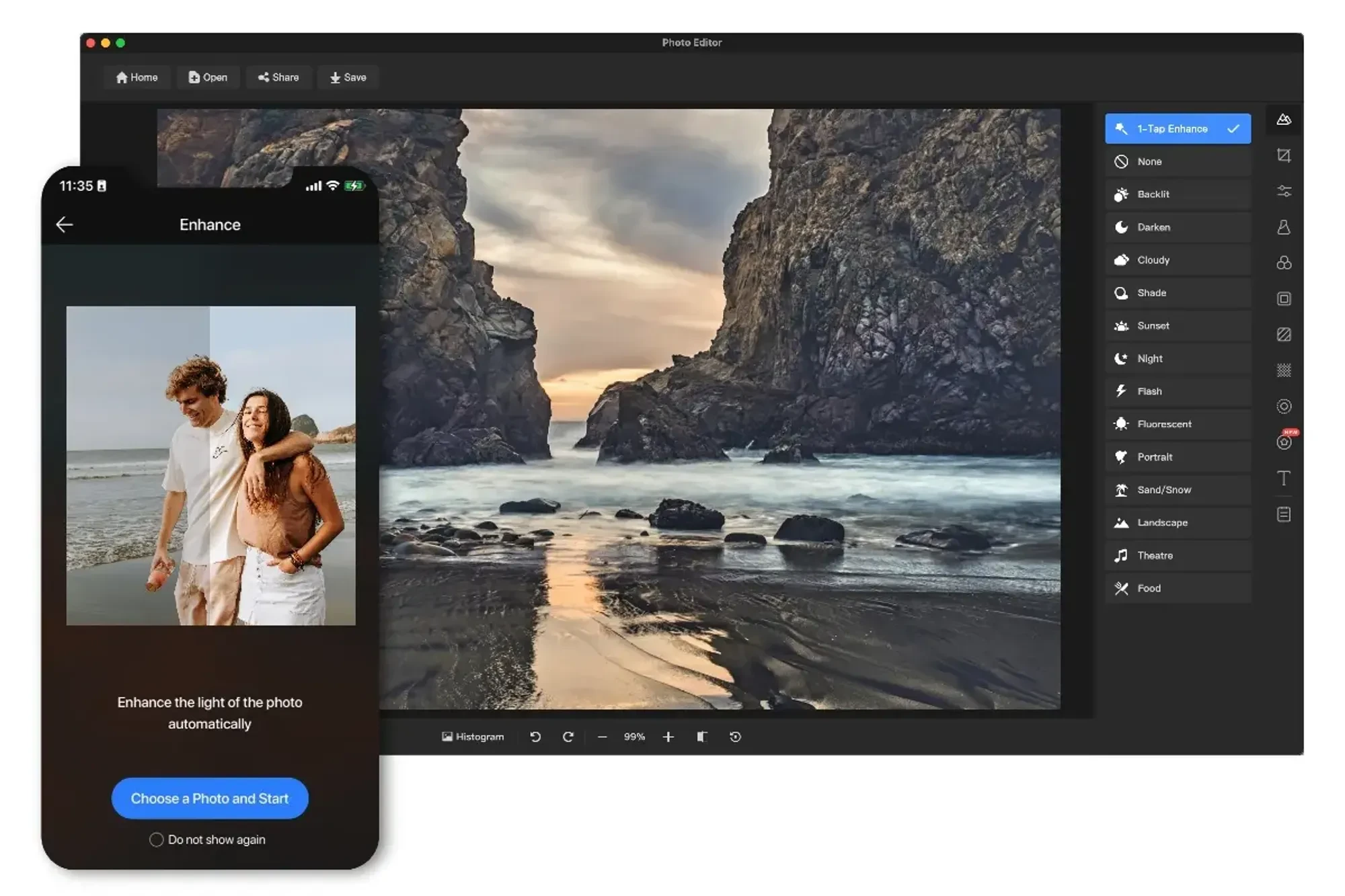 Image from Fotor
Indeed, this editor is great for retouching your images with perfection, refining small details, and completing your edits efficiently with the AI solutions offered by Fotor. From basic changes like removing blemishes and wrinkles to advanced editings such as color correction and HDR, Fotor has the right features to make your photos perfect and ready.
Features:
Magic remover and background removal: Remove the whole background from your picture or just remove the specific parts from the image - all can be done with these features.
Denoising and enhancing details: Enhance photo details and adjust color and luminance noise with ease.
Library of graphics: Add other graphics such as fancy fonts, frames, and elements to make your images more appealing.
Pros:
Web-based editor
Easy-to-use interface
Fast edits with advanced AI features
Cons:
Limited editing capabilities
Might get slow while working on complex edits
Pricing:
Pro: $2.66/monthly
Pro Plus: $5.99/monthly
Operating system: Web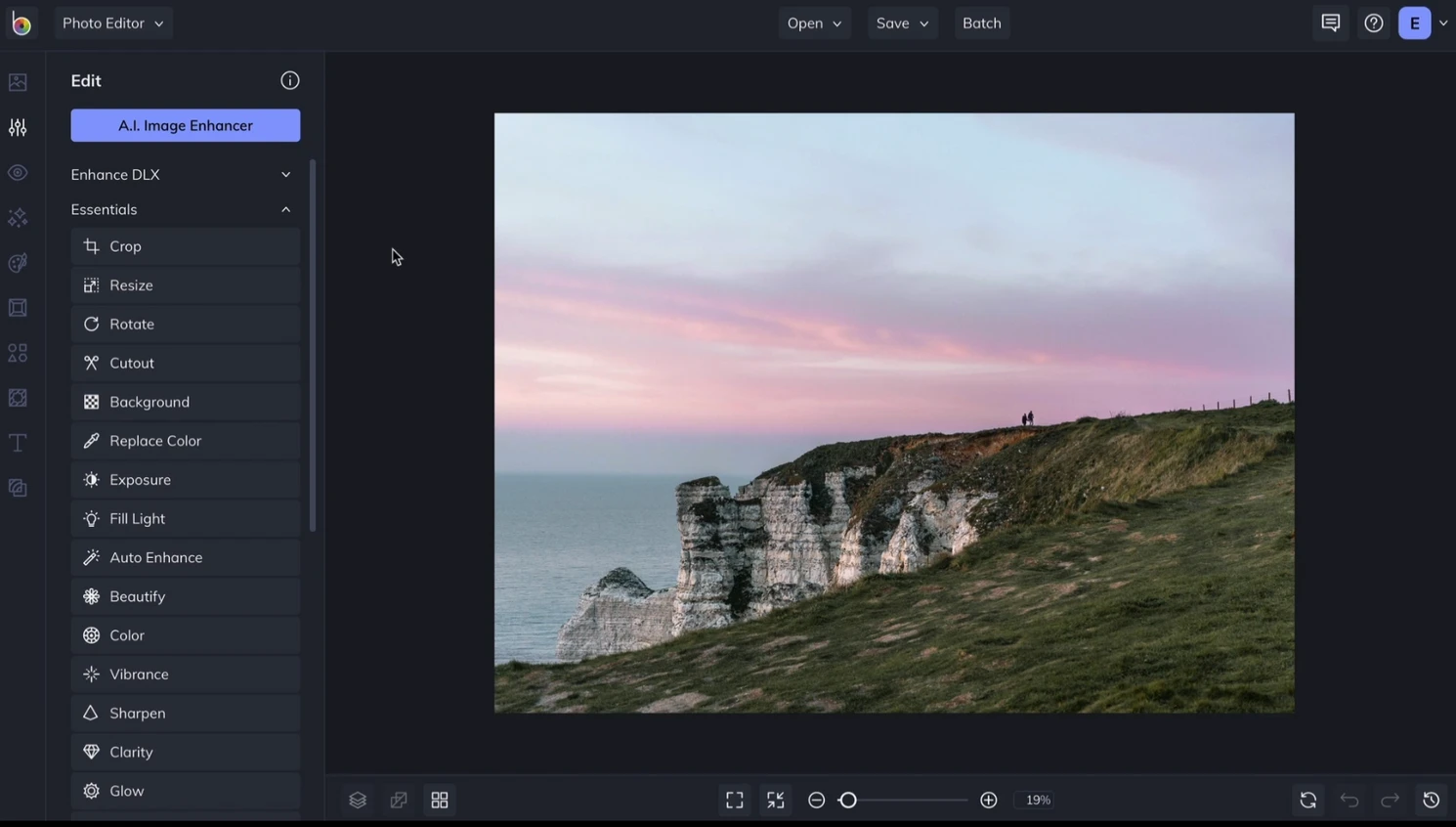 Image from BeFunky
BeFunky is another powerful yet easy-to-use web-based photo editor packed with all the latest essential features. Moreover, the editor utilizes the power of AI to reduce the time and effort required for photo editing while ensuring the final results meet your expectations. This tool can be used by anyone to fix minor details and get rid of unwanted parts from the image with ease.
Features:
Collage maker: Create multiple collages with dozens of layouts to choose from.
Face details: Get rid of wrinkles, pimples, and much more with the help of beautify feature inside the editor.
Filters and effects: Apply a variety of filters and effects to give your photos a different look.
Pros:
Web-based editor
Simplified layout, good for beginners
Realistic edits that leave no marks behind
Cons:
Not as advanced as other photo editing software
Occasional crashes when multiple effects and tools are applied
Pricing:
Free with limited features
Pro: $11.99/monthly
Operating system: Web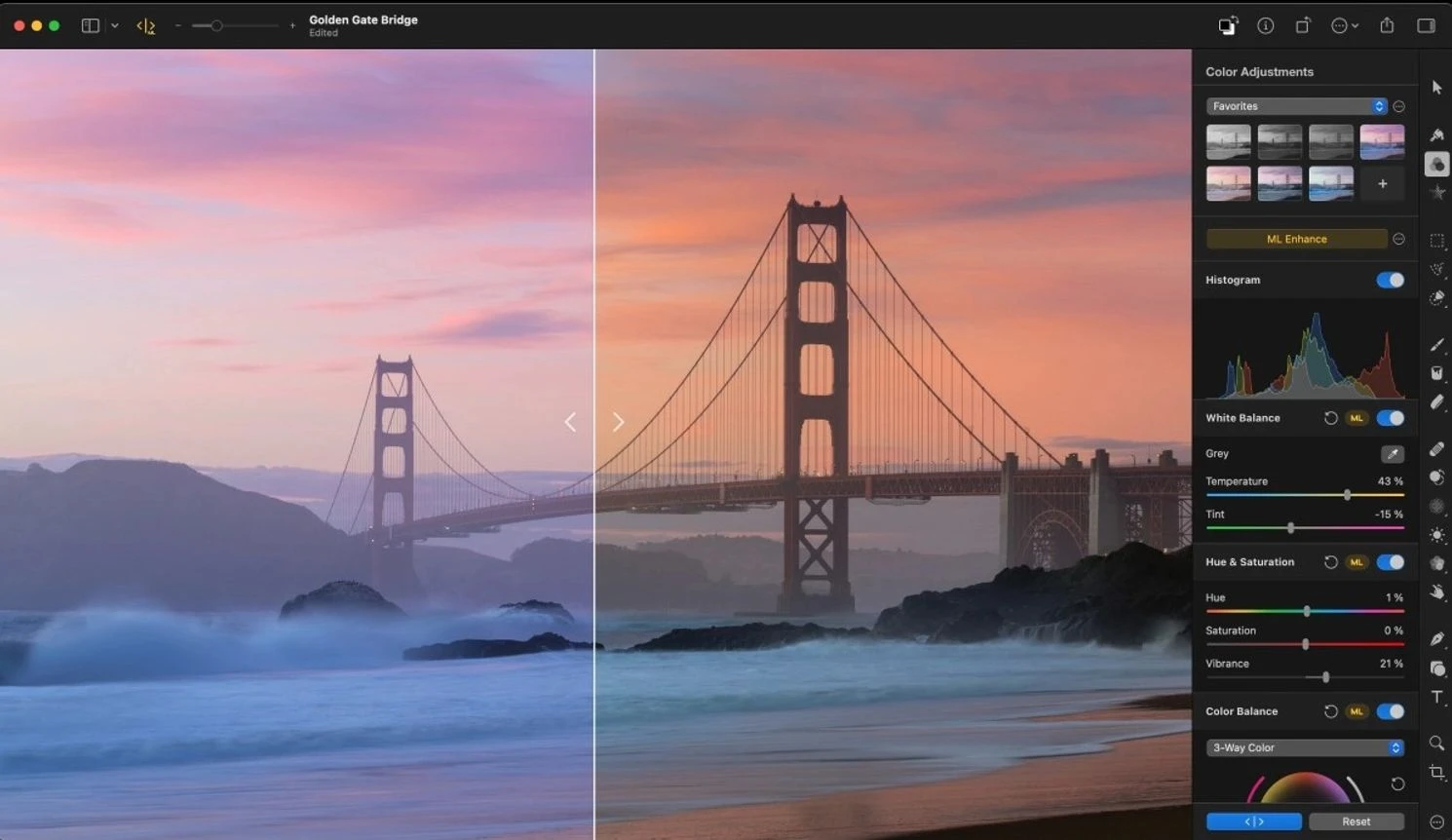 Image from Pixelmator pro
Designed specifically for Mac owners who are looking for professional-level photo image editing capabilities, Pixelmator offers much more than just photo editing. With Pixelmator, you can also draw vector illustrations, make sketches, create paintings, and much more. The tool offers editing solutions for Mac owners who have no advanced knowledge of editing and yet are looking to enhance their images.
Features:
iCloud integration: With iCloud integration, you can store and save your images across multiple devices.
Auto-Enhancing: Boost your editing with smart features such as ML enhance, which automatically adjus.ts the various aspects of the image
Advanced Editing: Packed with a variety of powerful features that can retouch and edit your images to perfection.
Pros:
User-friendly interface
High-quality image editing
Good for various types of edits
Cons:
Only available on Mac
Limited interface customization options, such as adding custom keyboard shortcuts
Pricing: $49.99 one-time purchase
Operating system: Mac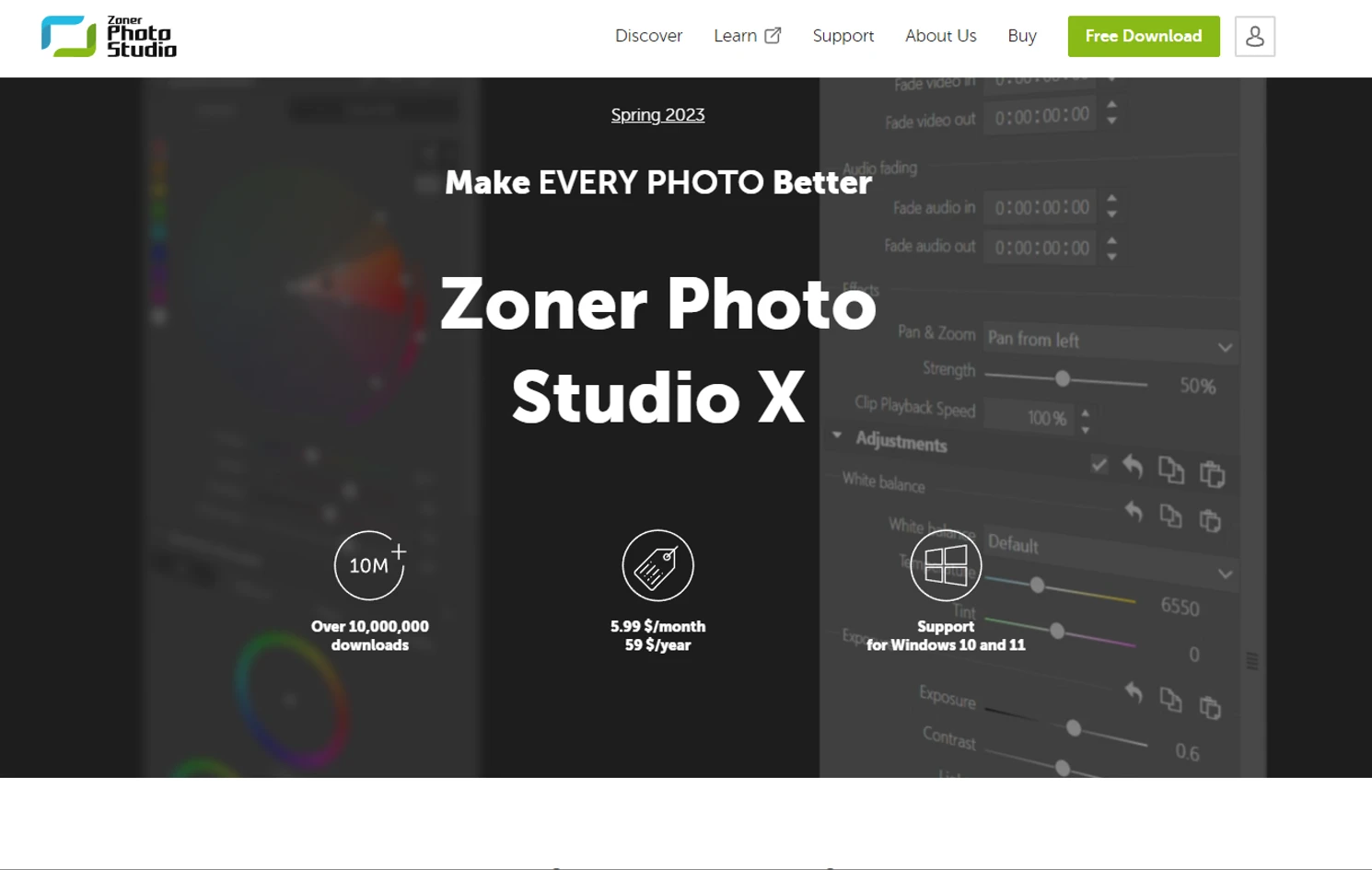 Image from Zoner photo studio x
This is the ultimate solution for your photo editing and organizing needs, Zoner Photo Studio X is known for its multi-tasking capabilities that go beyond just photo editing and include video editing as well. With this editor, you can create photo books using a library of fonts. Moreover, the editor provides the best features to enhance your RAW files, helping you achieve premium quality in your photographs.
Features:
Media organization: You can store and organize media files within the organization section of the interface, making it easy to find and import your files into the editor.
Photo manipulation and adjustments: Adjust and manipulate your images, removing and enhancing specific parts of the image.
Video editor: Edit your videos and add pre-built graphics and fonts to make your visuals more engaging.
Pros:
Support for the 3D and VR images
Flexible workspace
Rename features and tools to make the editor more efficient for your needs
Cons:
Not available on Mac
Some users have reported stability and performance issues
Pricing:
Monthly: $5.99
Yearly: $59
Operating system: Windows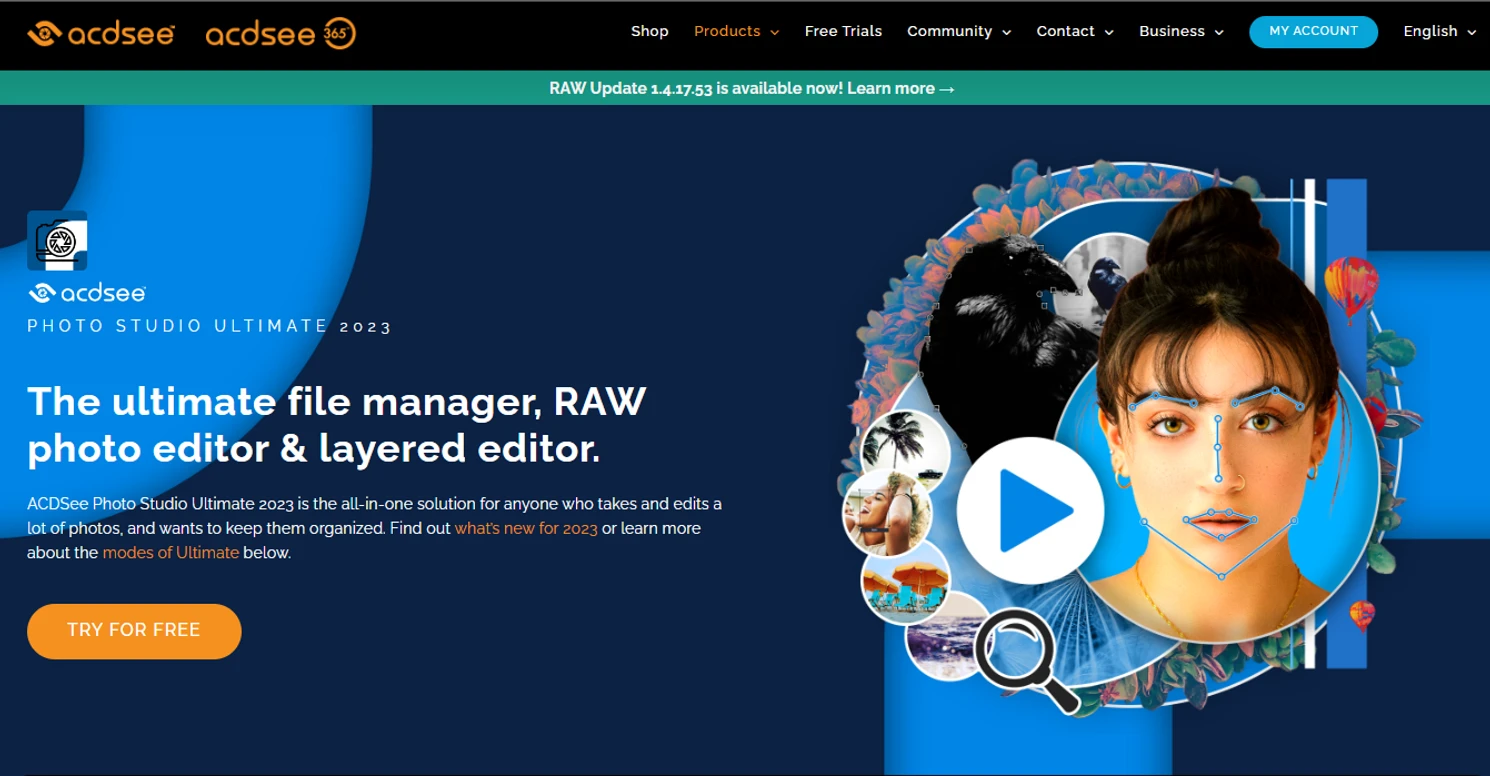 Image from ACDSee
This photo editor is full of surprises and can exceed your expectations with its advanced AI tools. You can change facial details or get creative with panorama stitching - there are no limits with this photo editing software. Additionally, the software is feature-rich and does not require any manual or complicated adjustments. You can edit your images with minimal effort.
Features:
RAW Editing: A Perfect tool to enhance your RAW files with dozens of customization options.
Layered Editing: Edit your images with multiple layers for better control over the editing process.
Digital Asset Management: The tool also provides asset management options to let you store and organize a large collection of media files.
Pros:
A wide range of features for both advanced and basic editing
The editor is optimized and provides a seamless editing experience
Customize your workspace according to your preferences for increased productivity
Cons:
Available only on windows
People with no prior editing experience may find it complex
Pricing:
Monthly: $8.90
Yearly: $89
Operating system: Windows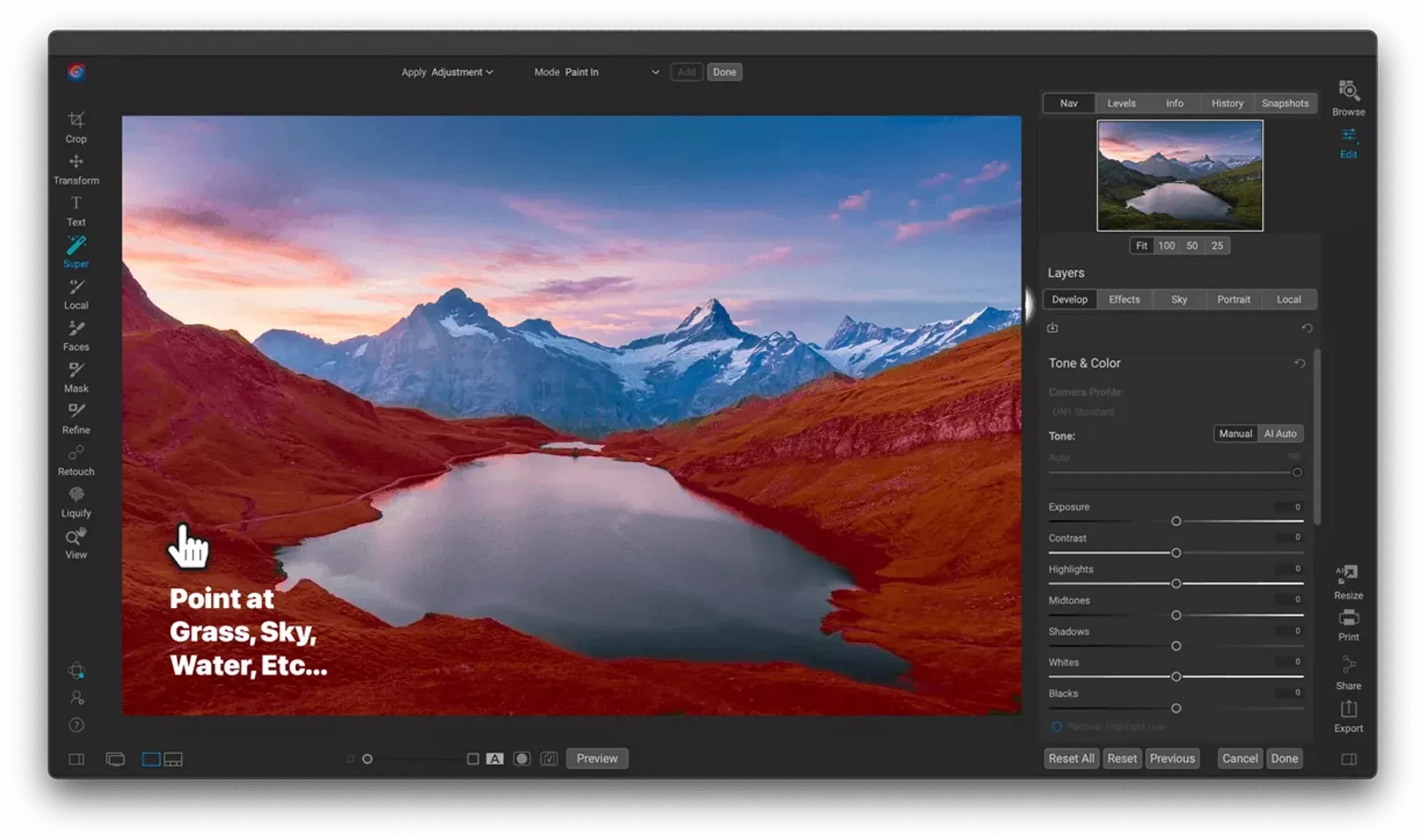 Image from ON1 Photo RAW
ON1 Photo RAW offers all-in-one editing capabilities and is rated among the best photo editors for non-destructive editing, customizable presets, filters, and more. Additionally, advanced selection tools allow you to fix and enhance every minor detail in your photography. The user-friendly interface makes it suitable for both professionals and amateurs.
Features:
AI-Powered tools: Automatically enhance your images with features like AI Match and AI Tone.
Advanced masking tools: Simplify tasks with tools such as color range masks and luminosity masks.
Comprehensive preset library: Create your own custom presets or choose the pre-built presets to save time.
Pros:
Non-destructive editing ensures the original image remains unchanged
Can be used as a plugin for Adobe products
Batch processing and multiple export options
Cons:
Performance issues may arise with large files and low-end machines.
Some features may be overwhelming for new users.
Pricing:
Upgrade: $59.99 one-time purchase
Full: $79.99 one-time purchase
Operating system: Windows and macOS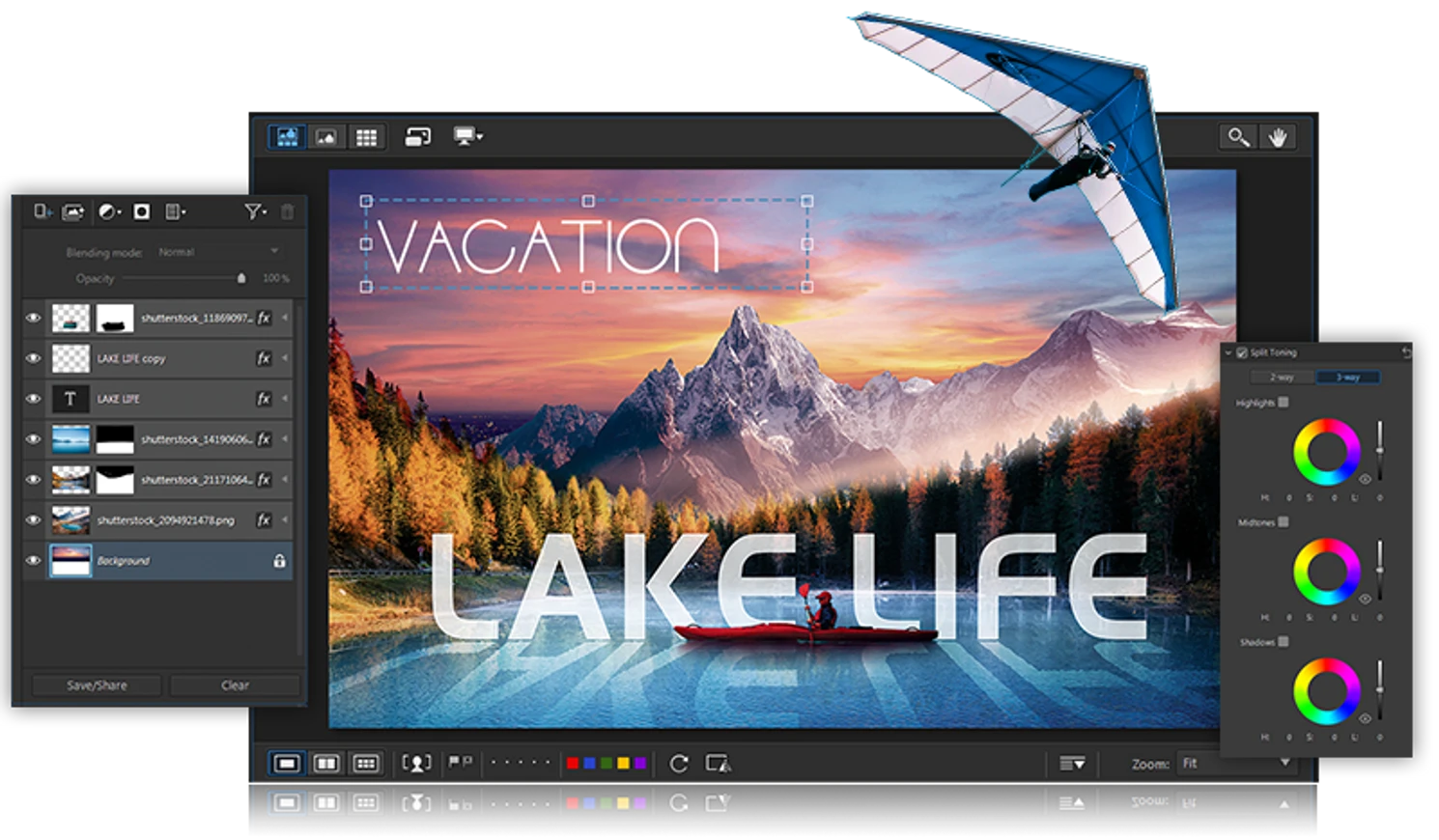 Image from CyberLink photo director
CyberLink Photo Director is a comprehensive photo editing software installed with all the latest and essential features for professional or new photo editors. This editor has brought maximum ease to the lives of photo editors by introducing AI tools that enable you to achieve your editing goals in the shortest possible time. From advanced editing tasks such as layering and compositing to basic adjustments like removing unwanted objects or people, or making changes to tones, colors, and brightness, everything can be done efficiently with CyberLink Photo Director.
Features:
Touch-up tools: Enhance portraits and selfies with touch-up tools such as face tools, skin smoothing, eyebrow shaping, and more.
Animate photos: Bring your photos to life with multiple animation options.
Photo effects: Make your photos more appealing by applying photo effects.
Pros:
Unique and versatile features
Quick editing with AI-powered features
Can be used for any kind of image-enhancing needs, including RAW
Cons:
High system requirements to run the software smoothly
Limited printing options, a drawback for editors who are looking for high-quality prints
Pricing:
Monthly: $14.99
Yearly: $39.99
Operating system: Windows and macOS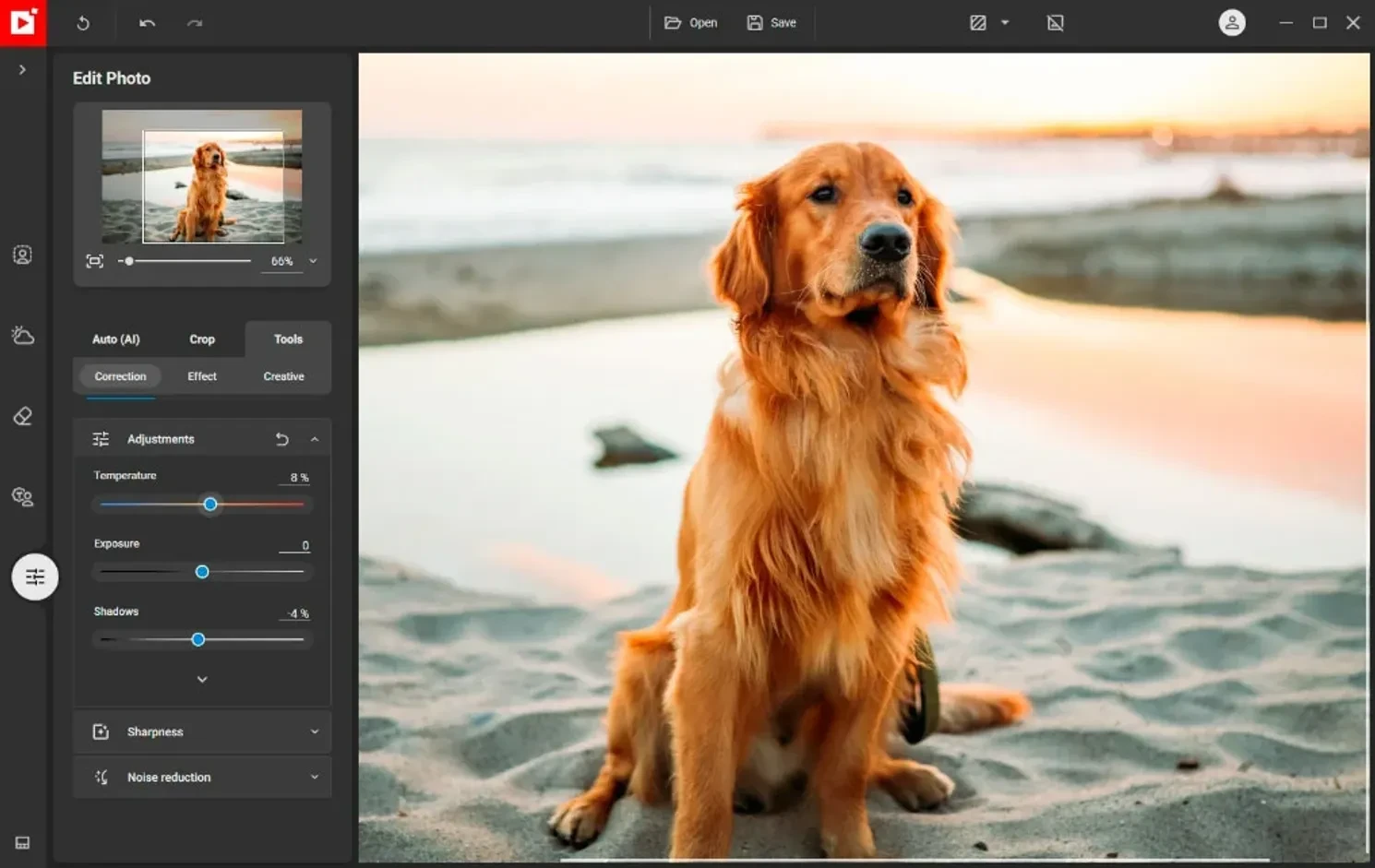 Image from InPixio
In the list of best photo editing software, you don't want to miss InPixio for its image capabilities. Whether you're looking to remove or replace the background or enhance your nature photography by replacing the sky, InPixio's smart features allow you to complete your tasks in just a few minutes. The key feature of this editor is its selection-removing tool, which erases the selected part intelligently while maintaining the overall look of the image.
Features:
Background removal: Removes the background with a single click.
Replace sky: Replace the sky realistically.
Erase objects: Erase unwanted objects seamlessly.
Pros:
Supports a variety of file formats
User-friendly interface to help new users
Comes with multiple pre-built presets and filters to enhance your photos
Cons:
Watermarks in the free version
Not as advanced as other photo editors
Pricing: Yearly plans of InPixio include
Standard: $29.99
Pro: $39.99
Ultimate: $59.99
Operating system: Windows and macOS
---
FAQ
What Is Photo Editing Software?
Photo editing software is used to manipulate digital images, implementing a variety of tools and features to enhance and edit images to make them more appealing. Photo editing software is commonly used by professional photographers, graphic designers, and artists.
What Should You Look for in Photo Editing Software?
Before choosing photo editing software, there are some essential features and tools to consider, such as:
Ease of use: If you're new to photo editing, choosing complex and advanced software may not be the best option to start with. Look for software with a user-friendly interface to help you edit your images without confusion.
Editing capabilities: Look for the editing features that match your needs, as some software is focused only on basic editing, such as cropping, adding effects, and applying filters. However, if your editing needs go beyond that, you may want to choose more advanced software.
Go for leading editors: Editing can get complicated, so choosing software with a large community of users who contribute tutorials and guides can be helpful.
---
Conclusion
Well-edited images can attract a larger audience and make your photos more engaging. Whether you're looking for editors with creative tools or to enhance your images with minimal effort using AI-powered tools, these 20 editors can help both professional editors and people who are new to editing.
Additionally, if you're not confident in your ability to choose the right editor, some software offers a free trial so you can test their features and see if they meet your needs. So what are you waiting for? Start surprising your viewers and get creative with these editors.
Store and organize your edited photos, Start your free trial of Eagle App now!