A man designing a flyer on a laptop/ Image from Unsplash
A graphic designer is a creative professional who plans and creates visual solutions to convey or communicate information. Their work can involve a lot of inventiveness and imagination, but it also requires technical skills and knowledge of the relevant software.
According to a report from IBISWorld, the graphic design industry is worth around $45.8 billion globally as of 2021. The impact of the design career path has become widespread because of its growing importance in almost all professional fields. The same report suggests that freelance graphic designers represent around 90 percent of industry participation.
Graphic design is one of the most valued professional fields nowadays. The modern job market awards creativity. That's why companies are always looking for designers who can produce appealing content and brand visuals for various organizations. This is possible through design software and accurate technical skills. If you want to land a job as a graphic designer, read the following points below.
Recommend reading: Beginner's Guide to Graphic Design Software & Tools for Mac 2022
---
Key Steps to Become a Great Graphic Designer
If you want to start a promising career path in the design industry, these are the most important factors you must apply to produce excellent illustrations.
1. Understand the Graphic Design Landscape
Being a designer means much more than putting beautiful shapes on the screen. In this field, you have to analyze the visual concept of every element so that it fits into the commercial message of the product or service. Apply an all-around vision to deliver an innovative and modern design.
Studying visuals and their interaction with the world is the career's key premise to understanding the designer landscape better. The quality of the results you get will depend on your performance when using the tools you need for the design scheme.
2. Constant Practice
Each time you sit in front of your laptop, use advanced tools to delve into the details of graphic design. For instance, Design Tuts+ is a well-regarded resource that can teach you how to design. This program will teach you the fundamentals of design, Photoshop, and drawing theory.
Gibbon is another excellent program to practice and optimize your design performance. The software has a wide range of storytelling and copywriting options that'll allow you to have your own set of resources. This way, you'll boost your design-learning journey.
3. Think Like a Graphic Designer
To succeed as a designer, you must think like a professional designer. Set no limits for yourself in your learning journey. Focus on understanding mental models, recognizing core interaction flows, and design patterns. These are the things that'll turn you into an accurate graphic designer. Develop an instinct to spot a particular aesthetic design, which is an important characteristic of this job.
4. Take Classes
Learning from an experienced designer is the most important thing you have to consider when getting into this career. In-person classes help you understand difficult subjects and hone your work as a designer.
That's why you have to take advantage of those lessons to get various technical skills. Dedicate time to developing your design thinking, trying out different typefaces, and using software by yourself.
---
Must-have Graphic Design Resources to Develop your Skills
Below you'll find several resources that'll help you in your journey as a graphic designer. These resources will provide visual guidelines as you progress in your career.
1. Stock Image Database
Stock image databases provide non-copyright and royalty-free images. You can use these sites as a point of inspiration for your designs and illustrations. It's a free tool that you can use as you make visuals. Some of the best stock image websites are Pexels, Unsplash, and Pixabay.
Related article: 47 Best Free and Royalty-free image websites
2. Mockup and UI Assets
A good user interface (UI) is a key piece in the structure of a designed art. You can access UI resources to outline a framework that optimizes and navigates consumers' habits and experiences. You can download from a library of templates, fonts, and graphics to create your customized site or app. UI format providers like Pixelbuddha, PSD Repo, or EpicPxls are great places to start.
3. Typography Resources
All designers need different types of fonts and writing formats to help them with the graphic frameworks with a previously shaped structure. These tools help designers choose the best combinations by mixing and matching different fonts for the appropriate pairing. You can get them from sites like Google Fonts, Adobe Type Products, and Fortifier.
Related article: Top 19 Site to Download Free Fonts 2022: Personal & Commercial
4. Graphic Design Inspiration
Inspiration is where the creative process begins. Without inspiration, there would be no graphic design. That's why many platforms curate the best design resources to inspire and speed up the design process. You can use UpLabs, Awwwards, Patterns, and Behance.
Related article: 43 Best Websites Designers Love for Finding Design
---
4 Techniques That'll Help You Advance Your Career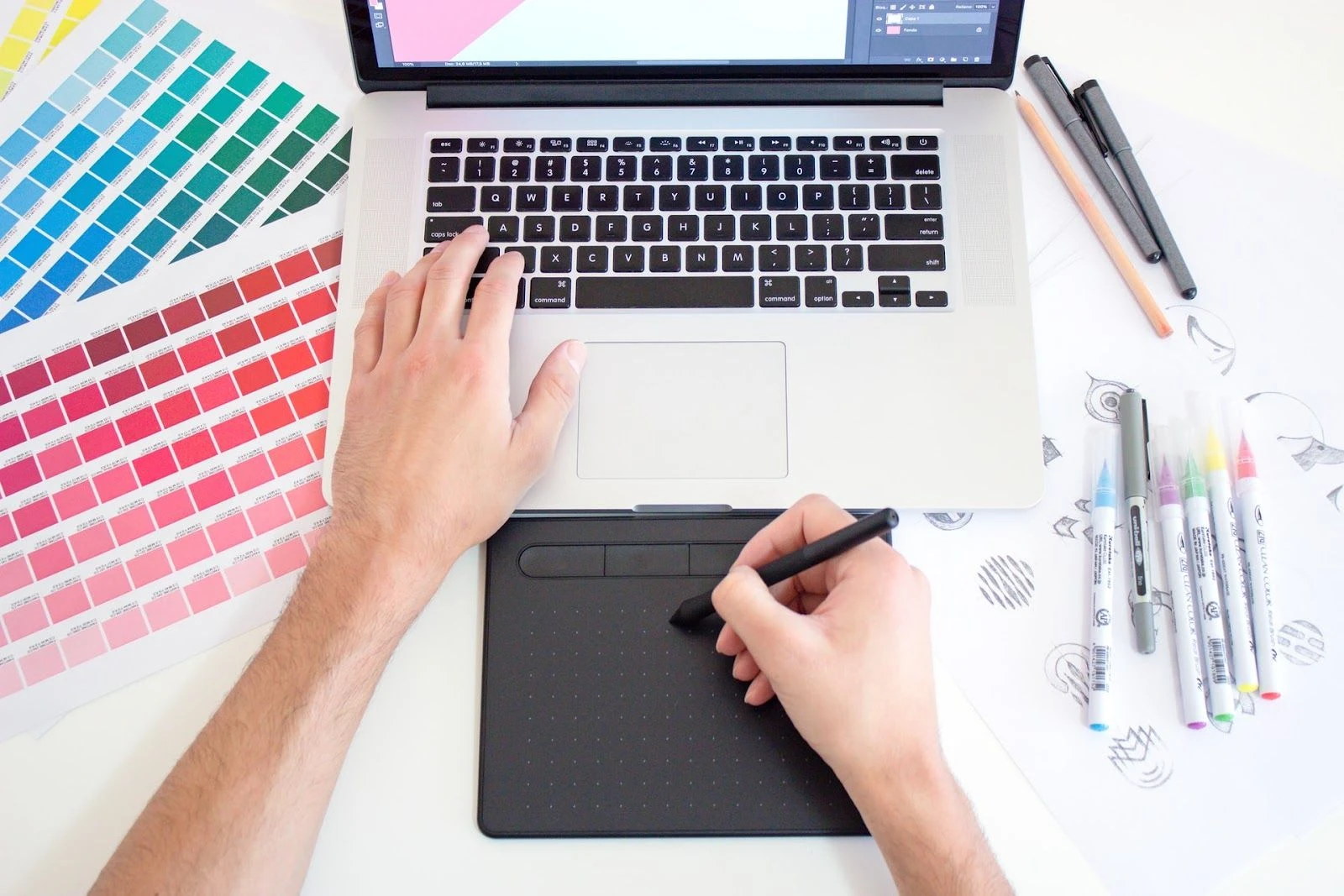 There are limitless ways to make your graphic designs pop and stand out from the crowd/ Image from Unsplash

1. Add Contrast
This is one of the most basic and easy-to-learn techniques in the world of graphic design. Platforms like WordPress use color to contrast their most popular link. You can choose a palette of blues and grays to mix and play with the color tones.
2. Gradients
This technique can generate attractive quality benefits due to its visual appeal. Sites like Media Temple have slopes on nearly every page of their website. It has a wide range of logos, headlines, buttons, and backgrounds with subtle or minor gradients to emphasize the designed products.
3. Anti-Aliasing
It consists of a technique used to fit texts strategically into websites according to the design structure. Anti-aliasing has a special use in web design because it's partially determined by whether the text will be in HTML or shown as an image. For example, web browsers and operating systems automatically smooth out HTML text to adapt it to the aesthetic elements.
4. Blur
This is perhaps one of the main elements of graphic design. It's key to performing excellent procedures. Study how to blur objects in the foreground, background, or entire design. This way, you can dramatically increase the impact of your project to make it more appealing to users.
---
5 Tips to Grow as a Graphic Designer
1. Further Your Design Career by Thinking Outside the Box.
Increase your added value as a professional in design by going beyond your specialty. Complete your designing skills with printing, digital marketing, video editing, or photography.
2. Stay Loyal to your Design Aesthetic Within Your Career.
Work on and look for projects that showcase your best qualities and skillset. Maintain the standard procedures you learned to create aesthetic harmony in your designs at all times.
3. Always Stay Positive about Your Design Career.
Keep yourself focused on approaching things with a positive mindset. This simple but hard-to-develop quality will help you become a great designer with a proactive work attitude.
How to Get Graphic Design Clients: Tips & Freelance Site Review
4. Surround Yourself with Experienced Colleagues.
Getting deep knowledge about graphic design is possible if you learn from industry leaders. There's no better way to learn more and grow faster than to speak with people who have already developed high-standard design projects.
5. Train Your Brain to Find Design Career Inspiration Everywhere:
Make your mind more acute. Keep your mind sharp by looking for strong designs everywhere. Choose the formats that engage customers the most. Apply designing parameters used in architecture, art, and interior decorating.
---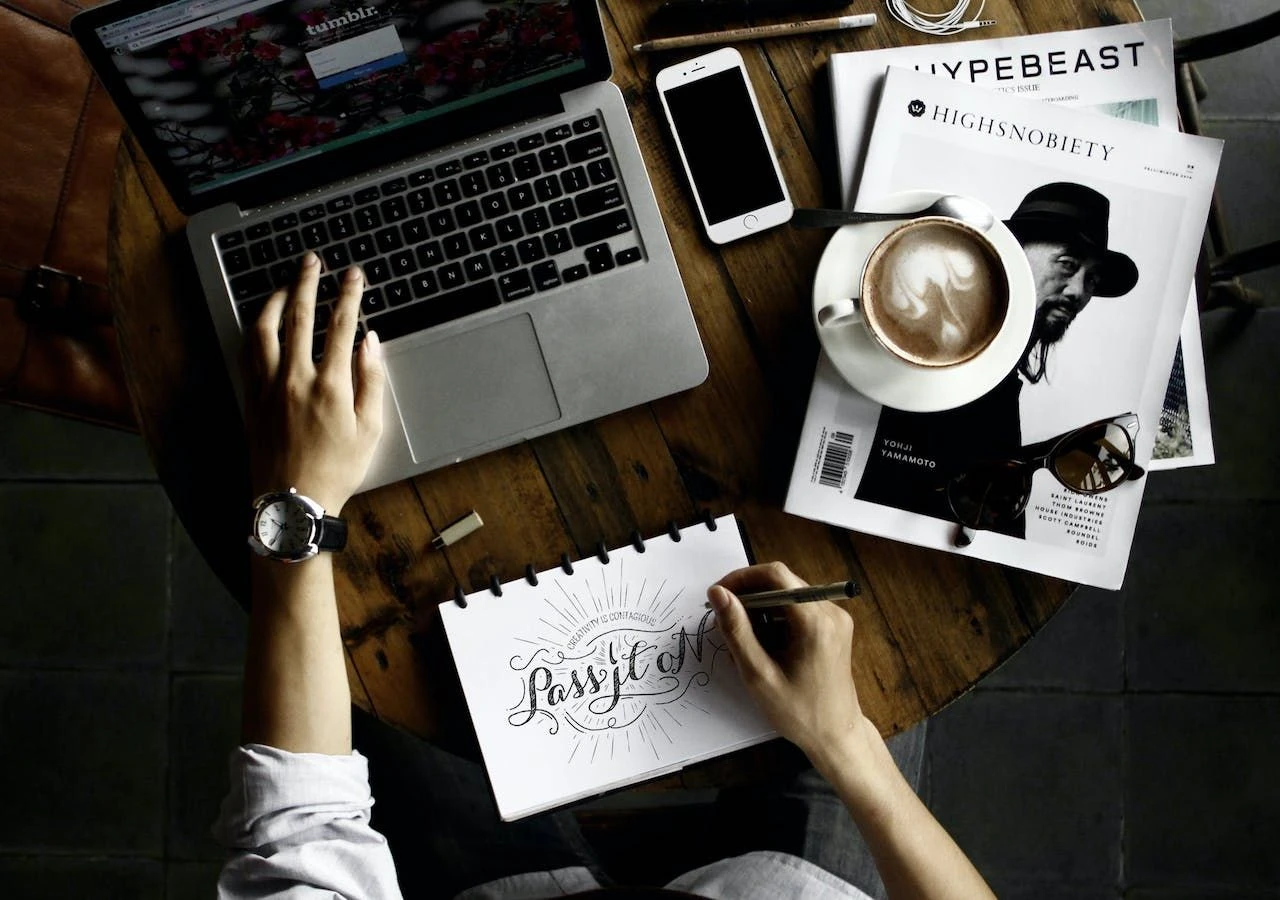 Image from Pexels

Valuable Technical Skills You Must Have to Stand Out
1. Design Principles
If you adhere to your values without deviating from them, you'll create exceptional design. Graphic designers must understand how to combine lines, color, form, space, texture, typography, size, and emphasis. Research and practice harmony to develop aesthetically attractive and well-structured illustrations.
2. Ideation
The capability to create innovative ideas is the skill that bolsters a designer's performance. Always be fluent in the creative process of generating, developing, and communicating valuable ideas. Ideation involves a few steps, including research, development, evaluation, and application. Get dedicated to each one of them, and you'll be a great designer.
3. Branding
A good designer can transform ideas into commercial messages through aesthetics and visual elements. Logos, colors, typography, illustration, photography, and graphic elements are resources they have to adhere to a corporate identity using high standards.
4. UX and UI Design
As a graphic designer, another aspect that'll increase your professional value is UX and UI design. Graphic design strategies can create outstanding user experiences and user interfaces to improve your work and stay competitive in the job market. A UI/UX designer can create designs that are both visually appealing and functional.
5. Technology
A designer must be tech-skilled and efficient. Some of the technologies that graphic designers use include Adobe Illustrator, Adobe InDesign, Adobe Photoshop, Adobe After Effects, and Sketch. Graphic designers also have to learn to code and know programming languages, such as HTML and CSS, and content management systems like WordPress.
---
5 Soft Skills that All Graphic Designers Should Have
1. Creativity
This is the essence of graphic design. You must attract people's attention while expressing a message, which involves a great deal of creativity. This attribute may be developed by putting all your creative thoughts into action.
2. Communication
Work on your communication skills to let customers know how your designs fit into their specific goals. Apply effective communication with colleagues and clients. At times, graphic designers may need to explain a design decision to people without a design background in simple and understandable terms.
3. Strategy
A designer must also be a strategist in his field. You have to learn to conduct market research, brainstorm, develop ideas, and check designs. Adapt your strategies to the patterns and trends in a specific market segment. One of your roles as a graphic designer is to establish a content plan for advertising campaigns.
4. Problem-Solving
Manage problems to provide unique and beneficial answers. Throughout the design process, graphic designers apply problem-solving skills. Fitting a visual piece into another can be more complex than you think. This may entail troubleshooting design flaws or changing designs to fit customer demands.
5. Time Management
Work in an efficient manner and design great projects despite tight deadlines. This is important for all graphic designers. You must meet deadlines from various clients. Graphic designers must manage their workloads and prioritize to complete them on time. A designer who knows to organize their team and their ideas can get big tasks easily and quickly.
Recommend reading: How to Organize your UX/UI Design Assets and Inspirations Files
---
Tips and Tricks on How to Write a Graphic Design Resume
Below you'll see some tips and tricks on how to write a graphic design resume. This is a general rule of thumb that you can follow when updating or creating a resume.
1. Contact Information
Start first with your name, email address, and phone number. These are important for when you get callbacks for interviews.
2. Portfolio of Work
Arguably the most important portion of your resume. If you've made a lot of work for different clients, highlight the ones that match the company that you're applying for.
3. Educational Background
List down your highest educational attainment along with your academic achievements.
4. Technical and Soft Skills
Emphasize the relevant skills that you have that you want to point out to potential clients.
5. Hobbies and Interests
This section is not necessary, but if you want a little color or personality to your resume then don't hesitate to add your hobbies and interests. These can be hiking, traveling, or reading books.
Read more: How to Start a Design Portfolio: Beginner Guide & Inspirations
---
What Can You Do With a Graphic Design Career?
You can do various jobs with a graphic design career. Examples of graphic design jobs include social media management, digital marketing, or packaging conceptualization. There's also a myriad of companies and agencies that seek creative professionals in the graphic design field.
According to the US Bureau of Labor Statistics (BLS), there's positive employment growth for graphic designers. The data posits a job outlook of three percent which is slightly below the national average. It also suggests that there'll be 23,900 new job openings each year, over the course of the decade.
Furthermore, graphic designers are also paid well. According to Payscale, the average base salary of a graphic designer is around $47,389. The top 10 percent of graphic designers have a compensation of about $66,000. While the bottom 10 percent have a salary of around $35,000.
---
Conclusion
If you want to build a bright future for your career path in graphic design, study hard and put the resources, steps, and tips mentioned above into action. Be disciplined and focus on your goals for every project you work on. Additionally, remember that designing is much more than putting visual pieces together. It's about creativity, invention, imagination, and an accurate eye to turn ideas into well-conceptualized realities.
Lastly, if you are eager to learn more design information and resources, visit and bookmark Eagle blog to become a better creative professional!
If you are still lacking inspiration and incentives to create something new, feel free to dive into Eagle Community to explore stunning assets shared by thousands of designers worldwide. Let Eagle be your best design assistant!