Best Guide to Digital Asset Management Software for Designers
As a designer, are you having trouble locating all your images files? version xyz files? the reference materials you saved months ago? or even that invoice your client sent you just now but you still can't happen to find it?
If you are having all these problems then you should get to know digital asset management software, it will not only help you solved all the above issues but also save you time to focus on meaningful design creation!
In this article, we will break down all the information you need you know about digital asset management software for designer, tools suggestions, and FAQs! Let's dive in!
---
All You Need to Know About Digital Asset Management
What is Digital Asset Management?
Digital Asset Management is used as a computer application that help users to store, organize, categorize, track and browse all your digital media assets in one place for easier management. The digital assets can be anything such as images, files, videos, fonts, urls, notes or proprietary file formats.
What can digital asset management software do for you?
Most of the digital asset management software allows users to
Give Assets Index — Apart from the already known metadata from the original file, you can add index such as tags, notes, rating for easier search and retrieve of files.
File Creation — Create file within the software or import files from various platform.
Streamline Workflow— Can easily categorize, sort and manage files
Version control— Files usually go through different stages of revision from establishment to finalization. This function allows to documents different version of files.
Access control — To give you security controls ensuring only relevant people have access to digital assets, such as partners, departments, clients or even between teammates.
Do Designers need Digital Asset Management?
Anyone looking to optimize your digital asset workflows needs a DAM software. Whether you are only one mans team, small business, or even in a huge company, regardless of sizes, you can benefit from the function that digital asset management software provide.
For designers, it's a great way to speed up your creative workflows. Being able to search and find files in seconds saves valuable time. Instead of wasting time on searching or recreating, designers can just repurposing owned assets.
What kind of designers need Digital asset Management?
Those who would like to achieve the following
Speed-up brand growth and increase brand consistency across all your branded content.
Create marketing materials with dynamic templates
Optimize creative workflows and keep track of reference from different platforms
Own huge chunk of different files formats, looking for solutions to search them all in seconds
---
The Best digital Asset Management software for designer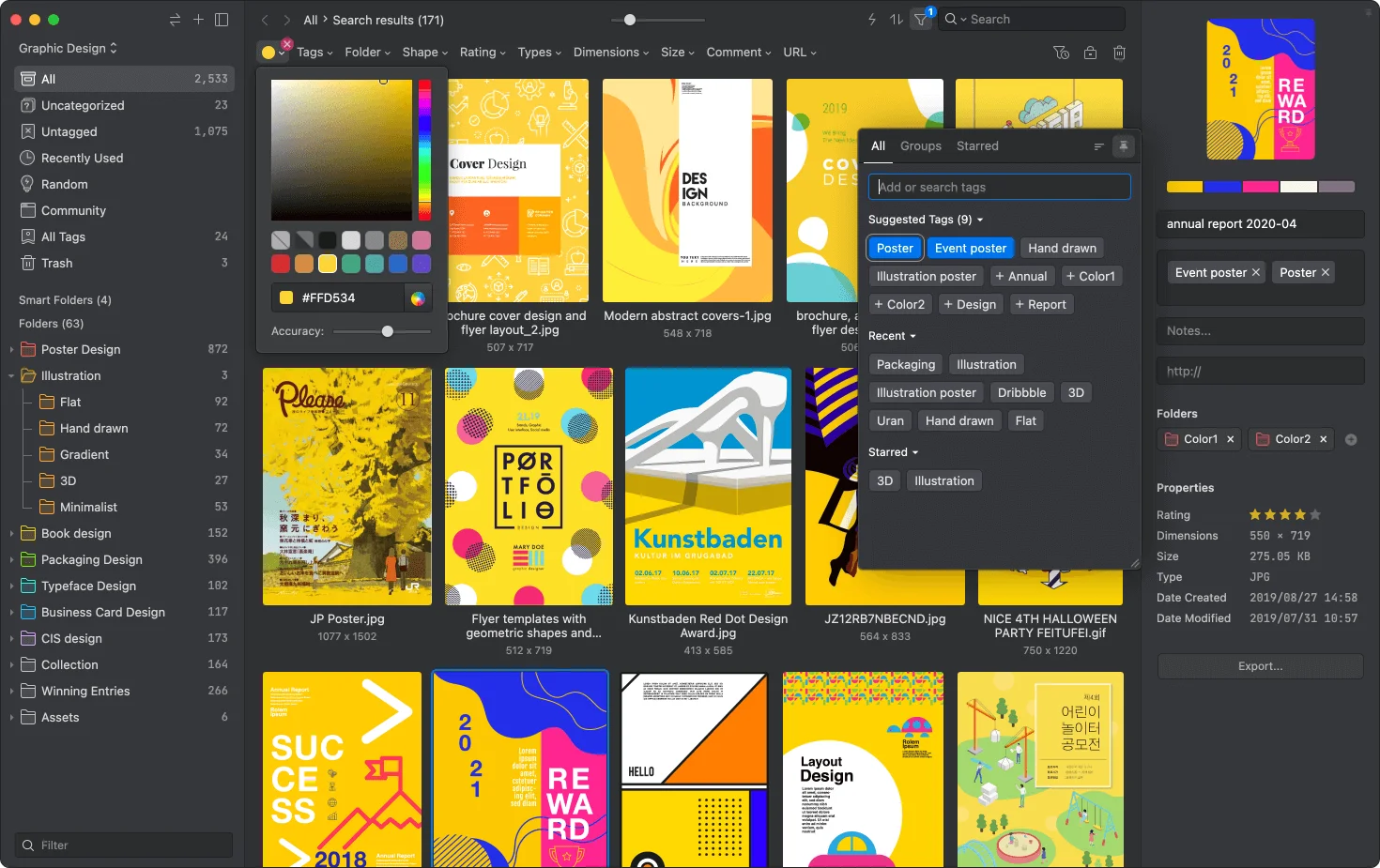 Eagle is a desktop DAM tool for organize and collect digital assets made by designers for designers. It has a very clean UI and UX, their creators have made it very clear that the product is for solving daily research, collect, organize and browse for digital files.
It supports over 81+ popular designer working formats preview, which is super handy for those is the only designer on your team. It's another strong capability is categorizing, especially the amazing color filter option that no other tools can beat allows you to find the exact files you are looking for without making a mess on your PC.
Eagle also comes with an extension to gather ideas, and collect all reference images you see from the web, whether it's bulk save ideas, full page screenshot or capture area only.
Key Features of Eagle:
Instant preview 81+ design formats: images, psd, ai, pdf, fonts, svg, gif, 3D. It even support formats like figma, C4D, videos, mindnode and xmind.
Advance filter options: colors, shapes, size, dimensions, tags, ratings, annotations
Easy to use, beautiful UI and UX
Pricing:
Free Trial 30 days, No subscriptions
One license US$29.95 can pair with 2 devices (Mac or Windows)
Educational discount available for 30% off
Platform: macOS & Windows, extension (Chrome, Edge, Firefox, Safari) support cloud
---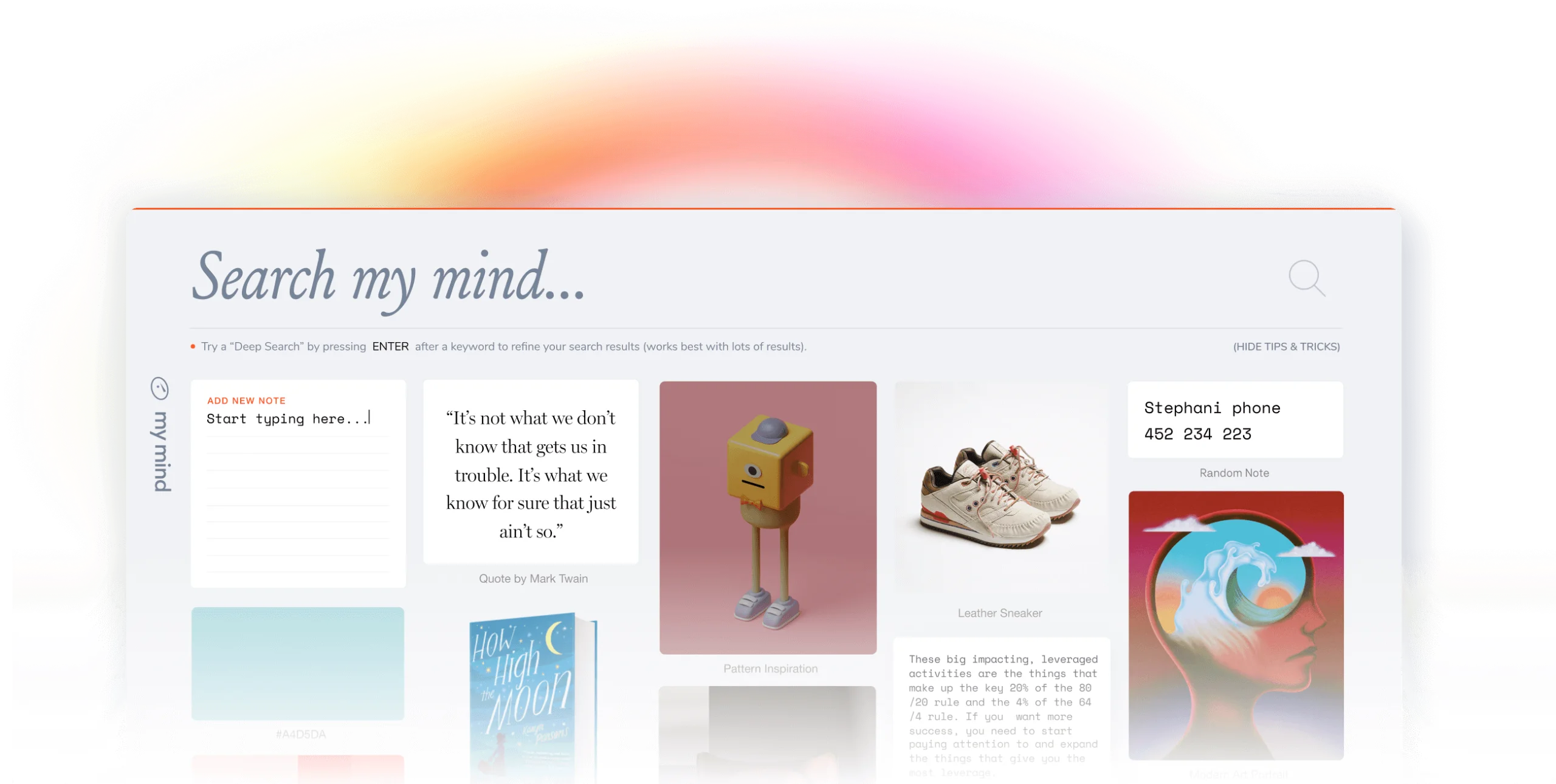 my mind is a place to organize your design notes, bookmarks, inspiration, articles, and images that integrated with AI. Tho to compare my mind with other tools on the list you will find it fairly limited, but it can capture notes online, text clipping, image organizing, collect highlights & inspirations which can be useful when doing a design research.
Key Features of my mind:
OCR text recognition for finding text in visuals
Supported most image formats(GIF, JPG, PNG etc.) and PDF files.
Pricing:
Student of Life: $5.99/month, maximum 15MB per file size, total of 100GB
Mastermind: $11.99/month, maximum 50MB per file size, total of 200GB
Platform: iOS, Android, macOS, Extension(Chrome, Brave, Edge, Firefox, Safari)
---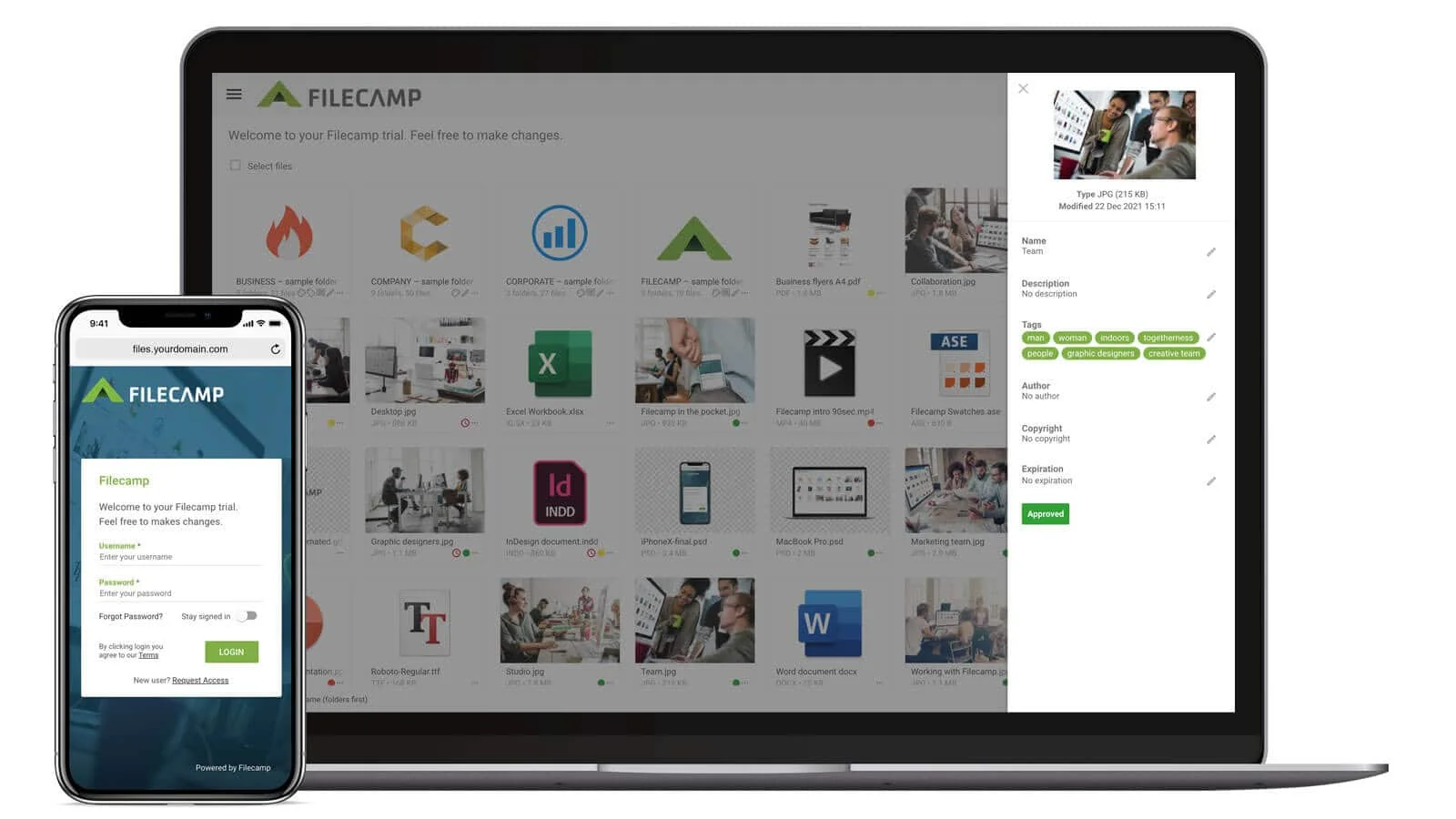 Filecamp is a cloud-based digital asset management software that helps designers organize and share their design assets such as images, logos, colors, and inspiration. With advanced search filters, you can instantly find the necessary design files by keywords, tags, type, and expiry date. Besides that, if you want to review creative works, it also offers built-in commenting tools.
Key Features:
Commenting and approval of brand assets
Unlimited users access regardless of plan
Share files with client with teams and third-parties
Pricing:
Free for 30 days
Basic $29/month, 20 GB Storage
Advanced $59/month, 50 GB Storage
Professional $89/month, 100 GB Storage
Platform: macOS & Windows, iOS, Android, Web
---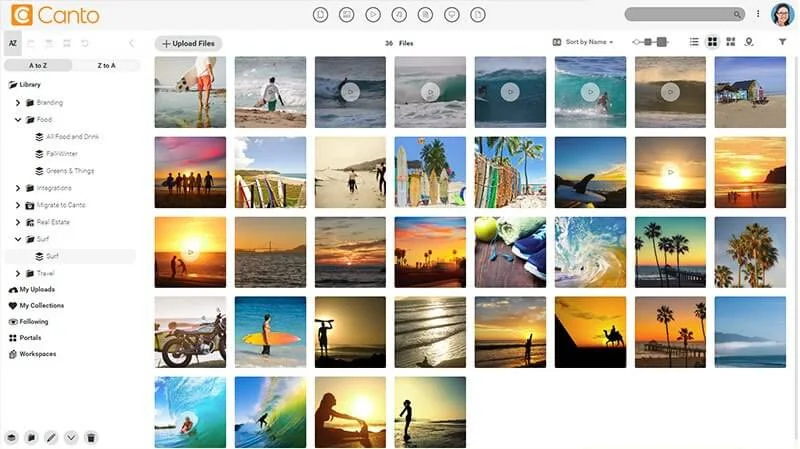 Canto is one of the most experienced digital asset management software in the market, it's especially suitable for big team sizes who work between different departments or clients. It has the ability to store and access data and information, give permissions and restrict to certain users. Very easy to share links with third party users.
Key Features:
Version Control
Asset Sharing, Access control
Asset Categorization
Pricing:
quote-based plan upon request and has a 15-day free trial.
Platform: • Cloud, SaaS, Web-Based, macOS & Windows, ios
---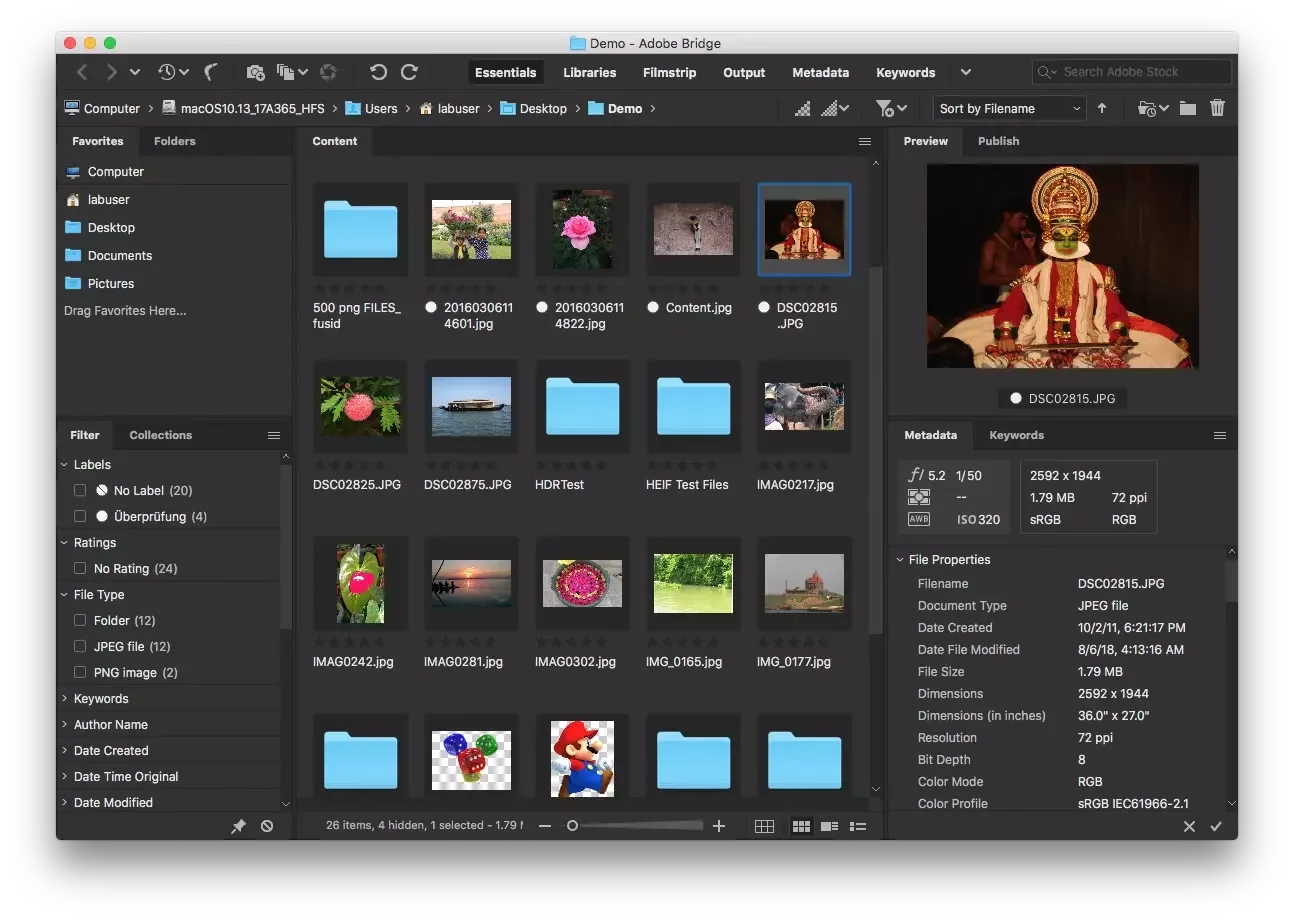 Adobe Bridge is a design asset management tool and is a part of the Creative Cloud ecosystem. If you're working exclusively with other Adobe products, Bridge is the gem digital asset management software for you, it provides sorting, search, ratings, tagging, and even built-in photo editing capabilities. One of the things you have to look out for is every time you open the software, it scans all your files on PC, so if your digital files grows daily then might need its importing files can sometimes take quite a while!
Key Features:
Edit assets by opening them right inside Creative Cloud apps
Organizing assets with labels, ratings, metadata, and keywords
Export images in multiple formats
Pricing:
Free if you have Adobe Creative Cloud Account
Platform: Desktop Apps for Windows and macOS
---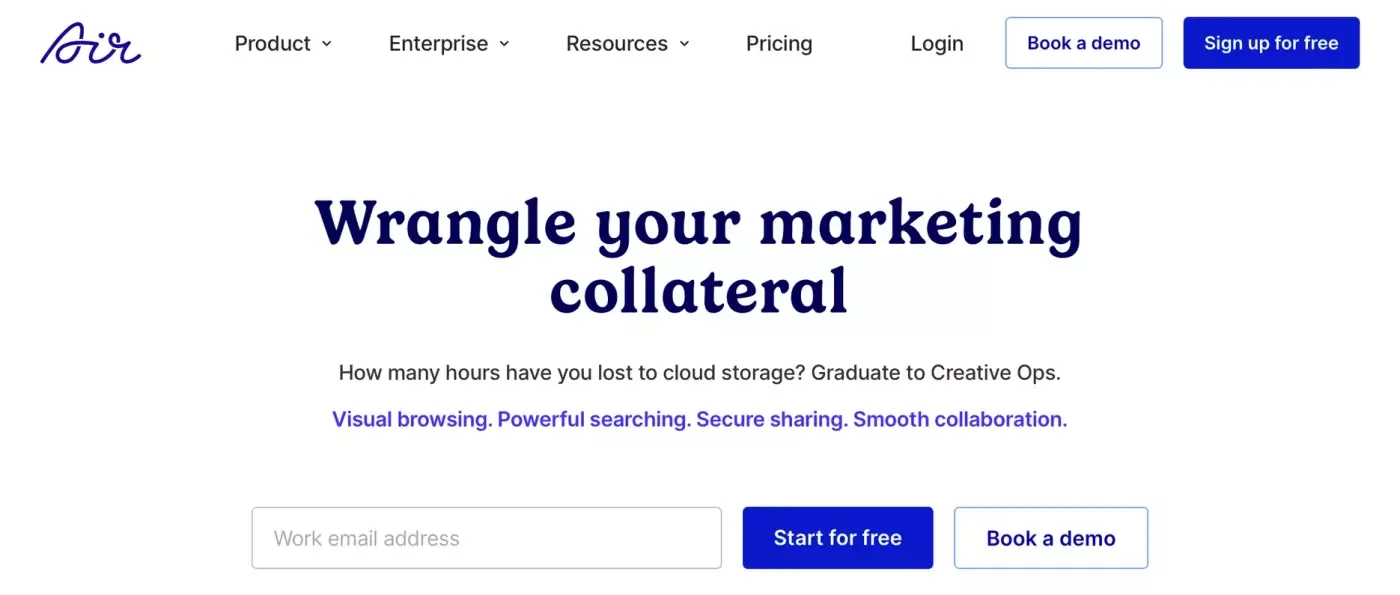 Air is designed with creators in mind, and has many practical features you need to keep your image and design files organized and easy to access.
Smart Search is one of its common functions, which helps you find the design assets you're looking for at the moment. This feature works a lot like a search engine, allowing you to use smart tags and image recognition to find the assets you need quickly and easily, giving creators back time to focus more on their design work.
Key Features:
Automatic duplicate detection
Timestamp and point-based comments
Organizing assets for personal workflow
Pricing:
Free, 5GB Storage
Plus: US$10 per user/ month, 200 GB Storage
Pro: US$25 per user/ month, 2T Storage
Platform: macOS & Windows, extension (Chrome, Edge, Firefox, Safari) support cloud
---
Digital Asset Management Software for Designer Comparison
Features

/ Brand

Eagle





my mind





Canto





Filecamp





Adobe Bridge





Air





Create Index

✅

✅

✅

✅

✅

✅

Batch rename

✅

❌

❌

❌

✅

❌

Version Control

❌

❌

✅

✅

✅

✅

Access Control

❌, password protection available

❌

✅

✅

❌

❌

Software Type

Self hosted, support cloud storage

Cloud base

Cloud base

Cloud base

Self hosted, only support adobe cloud

Cloud base

Supported previewing format

Over 81+ formats : images, RAW, .psd, .ai, .pdf, svg, gif, 3D, figma, C4D, videos, fonts, xmind and more.

.gif, .jpg, .png, .pdf

images, videos, .pdf, .ppt, adobe file formats

.pdf, .psd, .ai, .eps, .jpg, .tif, .mov, .avi, .mp4, .swf, .flv

image files and adobe file formats

image, RAW, video, audio, ai, eps, pdf

Platform

macOS, Windows

Extension

:

Chrome, Edge, Firefox, Safari

Web, iOS, Android, macOS,

Extension

:

Chrome, Brave, Edge, Firefox, Safari

Web, macOS, Windows, iOS

macOS, Windows, iOS, Android、Web

macOS, Windows

macOS, Windows,

Extension

:

Chrome, Edge, Firefox, Safari

Pricing

One time payment,




USD$ 29.95,

pair with 2 device

Student:

USD $5.99/month, 100GB




Master:

USD $11.99 /month, 200GB

Get Quote

Basic:

USD $29 /month, 20 GB




Advance:

USD $59 /month, 50 GB




Pro:

USD $89 /month, 100 GB

Free

if Register Adobe Creative Cloud

Plus:

USD $10 /month/per person, 200 GB




Pro:

USD $ 25/month/per person, 2T

Trial

30 days

Free version, 100 Files

15 days

30 days

Free version

Free version, 5GB storage
Made by Eagle Team
---
Digital Asset Management software for Designer FAQ
What is a digital asset?
Digital assets is the file that you can use and access online. Such as images, files, videos, fonts, urls, notes, office documents or proprietary file formats.
Why is digital asset management important to designers?
Often as a designers, you have to do everything yourself such as graphic design work, write copys, or come up with project proposals. And things don't really work in your favor as everything is all over the places. This is when digital asset management tools comes in handy to save you, all your assets are stored in a single library, so you can access them all at once!
How to choose Digital Asset Management software?
I believe the above mentioned softwares allows you to organize and manage your digital assets in real time, but they can't do it all for you. You still have to, at the very least, save and organize all the digital resources yourself. If you still don't know where to start, just ask yourself :
What kind of device do you work on the most?
What is your budget? Do you need a lot of storages spaces?
On premises or cloud based? or able to sync with your preferred cloud space?
What kind of feature is the most important to you? do you need team sharing abilities or simply personal usage is enough?
I believe with these questions you already have a clear answer to your mind! Try out the softwares to see if they suits you, eventually, you will know what you need! Share with us!